The Mar-a-Lago raid is a dangerous moment for America
Those desperate to lock up Trump are a menace to the republic.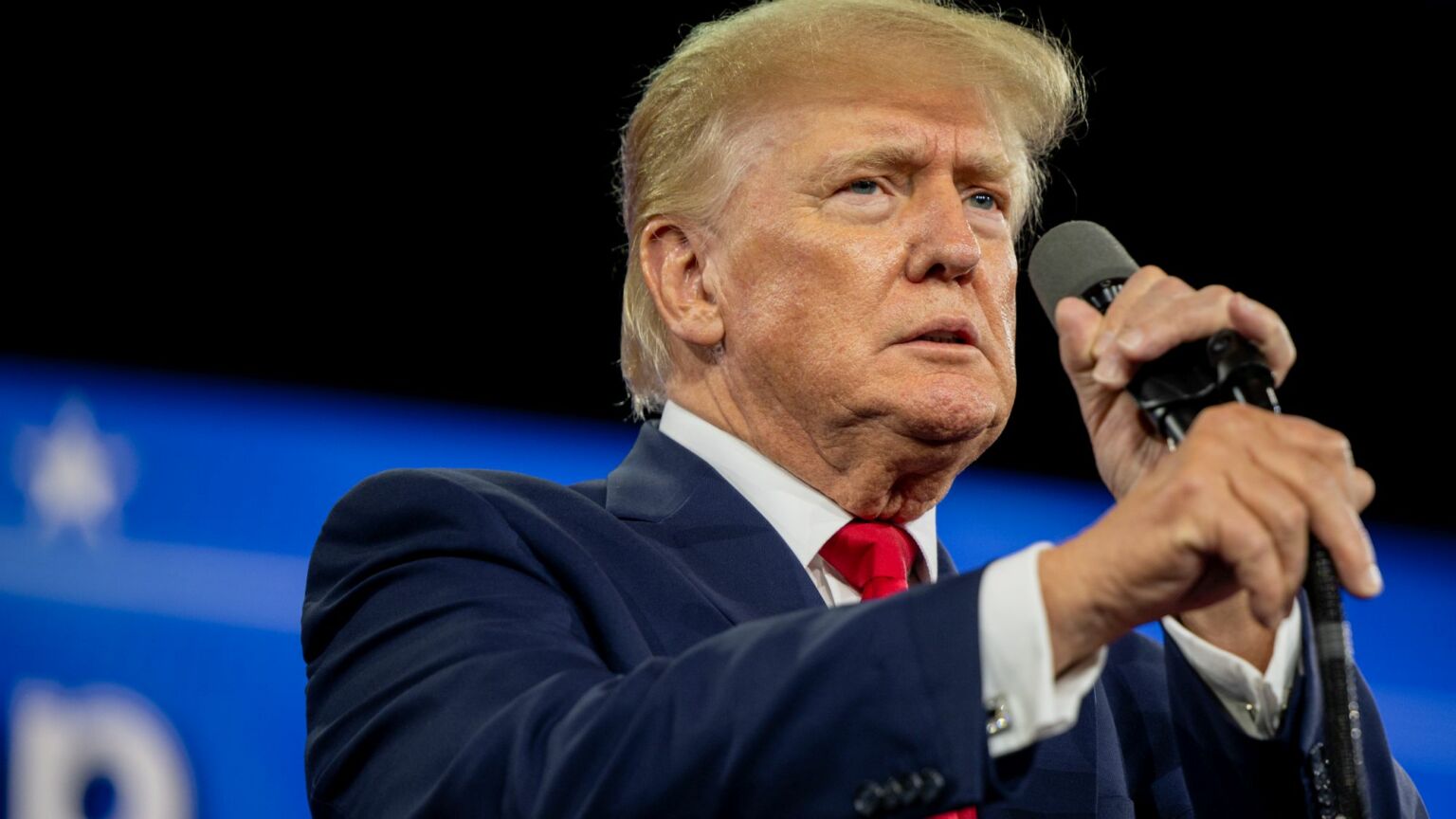 You know a nation is in trouble when its security services are raiding the residence of a former president. Doubly so when said nation's supposedly liberal intelligentsia seem tickled pink about this unprecedented development, without a whiff of concern or scepticism about what the feds are up to. That's where the United States is at the moment, in the wake of the FBI's search of former president Donald Trump's Mar-a-Lago home in Florida on Monday, reportedly over a dispute about missing official documents.
There's still much we don't know about this bizarrely explosive dispute between Trump and the National Archives. But what we do know is puzzling, to put it lightly. According to the New York Times, officials had been after Trump for months over official and potentially classified materials he still had in his possession. After archivists retrieved 15 boxes of documents, including some sensitive material, the US Department of Justice was called in. A grand jury was convened. Federal investigators, including counterintelligence officers, were deployed. And, unsatisfied with what had been retrieved, officers then secured a search warrant.
Why this couldn't have been handled in a somewhat more discrete fashion, without armed agents and everything, is not yet clear. Think back to Hillary Clinton's notorious email server and you see allegations like this are not unprecedented, but this raid certainly is. Former spooks on liberal cable-news networks have reassured Americans that everything must have been on the up and up, because the raid would have required the sign-off of a judge, FBI head Christopher Wray and attorney general Merrick Garland. 'They wouldn't do this unless they had the goods' is the line being trotted out across corporate media.
To at least half of America, of course, this is about as reassuring as Joe Biden insisting he remembers where he parked the car. As left-wing journalist Matt Taibbi notes, similar reassurances were offered over and over again during the ludicrous Russiagate scandal, to justify official investigations, insane claims and even the surveillance of Trump advisers. In the end, of course, the idea that Trump was Putin's puppet turned out to be an elite conspiracy theory. Still, the FBI and its newfound liberal cheerleaders are now hoping to rely on a level of blind public trust that no longer exists, if it ever existed at all.
Meanwhile, more critical voices have dared to wonder if something else might be going on here. National Review's Andrew McCarthy argues the raid was likely a fishing expedition, aimed at gathering evidence to pin Trump on charges for inciting the 'January 6' riot or over his mad efforts to overturn the result of the 2020 election – charges, McCarthy argues, which would be incredibly difficult to pull off. Given Trump might well run again in 2024, many have concluded that this is all another attempt to discredit Trump if not take him off the field entirely.
You don't need to be some QAnon nutter to think there might be something in this. To say the institutions of American justice have become alarmingly politicised is not to indulge in deep-state conspiracy theories. Merrick Garland has been under intense pressure from Democrats to prosecute Trump for something, anything, since he took office. As the New York Times reported in April, Joe Biden has told confidants he believes Trump is 'a threat to democracy and should be prosecuted' over 'January 6' – a chaotic pro-Trump riot which has been transformed, in liberals' feverish imaginations, into a serious coup attempt led by Trump himself.
Joe Biden probably isn't orchestrating a witch-hunt against his old rival – the White House insists it had no advance warning about the search on Mar-a-Lago. But there's no doubt that large sections of the American state, the media elites and the Democratic base have been gripped by the conviction that Trump is not just a bit of a crook and a very bad loser, but also a proto-fascistic threat to the republic. It is undeniable that the DoJ is under significant political pressure to finish him off once and for all.
You saw that in some of the chatter in the wake of the Mar-a-Lago raid. Marc Elias, formerly the top lawyer for the Hillary Clinton campaign, got Democratic Twitter all excited on Monday night when he pointed out that the penalties for improperly handling government records include disqualification from public office. As it turns out, this wouldn't apply to a Trump 2024 bid, as only the Constitution sets the criteria for who can run for president. This was all argued out in 2015, when Republicans hoped that Hillary's emails might rule her out of the running. But for a few hours on Monday night, at least, the thought cheered leading Democrats no end.
No one should be above the law. If Trump has committed crimes he should be held accountable. But at the same time he should not be singled out and pursued with much more vigour than his similarly dodgy forebears. If that is what is going on here – there's still much we just don't know – then American democracy is in real trouble. So dreadful is Joe Biden's leadership, even the discredited Trump is currently beating him in the polls. The influential people egging on the justice system to get Trump are – let's be generous here – not solely motivated by a noble desire to uphold the rule of the law. From Russiagate to the Mar-a-Lago raid, the elites have been fantasising about Trump ending up in a prison cell since before he was even elected.
Now, Trumpists hardly hold the moral high ground here. 'Lock her up' was essentially one of Trump's 2016 campaign slogans, nodding to Hillary's alleged crimes in office. Nor can they pose as warriors for democracy after refusing to accept and ineptly trying to thwart the 2020 election, based in large part on batshit conspiracy theories. But given Hillary Clinton still believes she would have won the 2016 election were it not for those pesky Russians, the Democrats are just as conspiratorial and anti-democratic, just in a more socially acceptable, Martha's Vineyard kind of way. Similarly, where the incompetent Trump tried and failed to punish his political enemies, the Democrats are now showing him how it's done.
Even if you put the cases against Trump to one side, the American justice system under Joe Biden has undoubtedly become more overtly politicised and authoritarian. How else could you account for attorney general Merrick Garland ordering the FBI to go after parents who were protesting against school boards over critical race theory and mask mandates being forced on their kids. Then there's the reticence of this one-time Supreme Court nominee to protect conservative justices following protests outside their homes – not to mention a botched assasination attempt against Justice Kavanaugh, which everyone seems to have forgotten about.
Those dreaming of Trump in handcuffs should be careful what they wish for. Trump would be turned into a martyr. Plus, as the old saying goes, if you come for the king, you best not miss. If Trump heads into the 2024 campaign a free man and eligible to run, his erstwhile dicey chances of retaking the White House would be much improved. Meanwhile, things like the Mar-a-Lago raid will become another pretext for less-than-principled Republicans to pursue their Democratic opponents by any legal means necessary.
The DoJ and the FBI would do well to explain what went on on Monday night and why. But in so many ways the damage is already done. Even if this unprecedented raid turns out to be entirely unjaundiced by the intense political climate surrounding it, there are many Americans who simply won't believe what they're being told. After years of watching the elites go berserk, desperately trying to put Trump and the deplorables back in their basket, you almost can't blame them. Blame the elites, who after years of demonising ordinary people now have the gall to demand their trust.
Tom Slater is editor of spiked. Follow him on Twitter: @Tom_Slater_
To enquire about republishing spiked's content, a right to reply or to request a correction, please contact the managing editor, Viv Regan.