The problem with Hunt's 'back to work' budget
The chancellor is trying to coax people back into poorly paying, insecure jobs.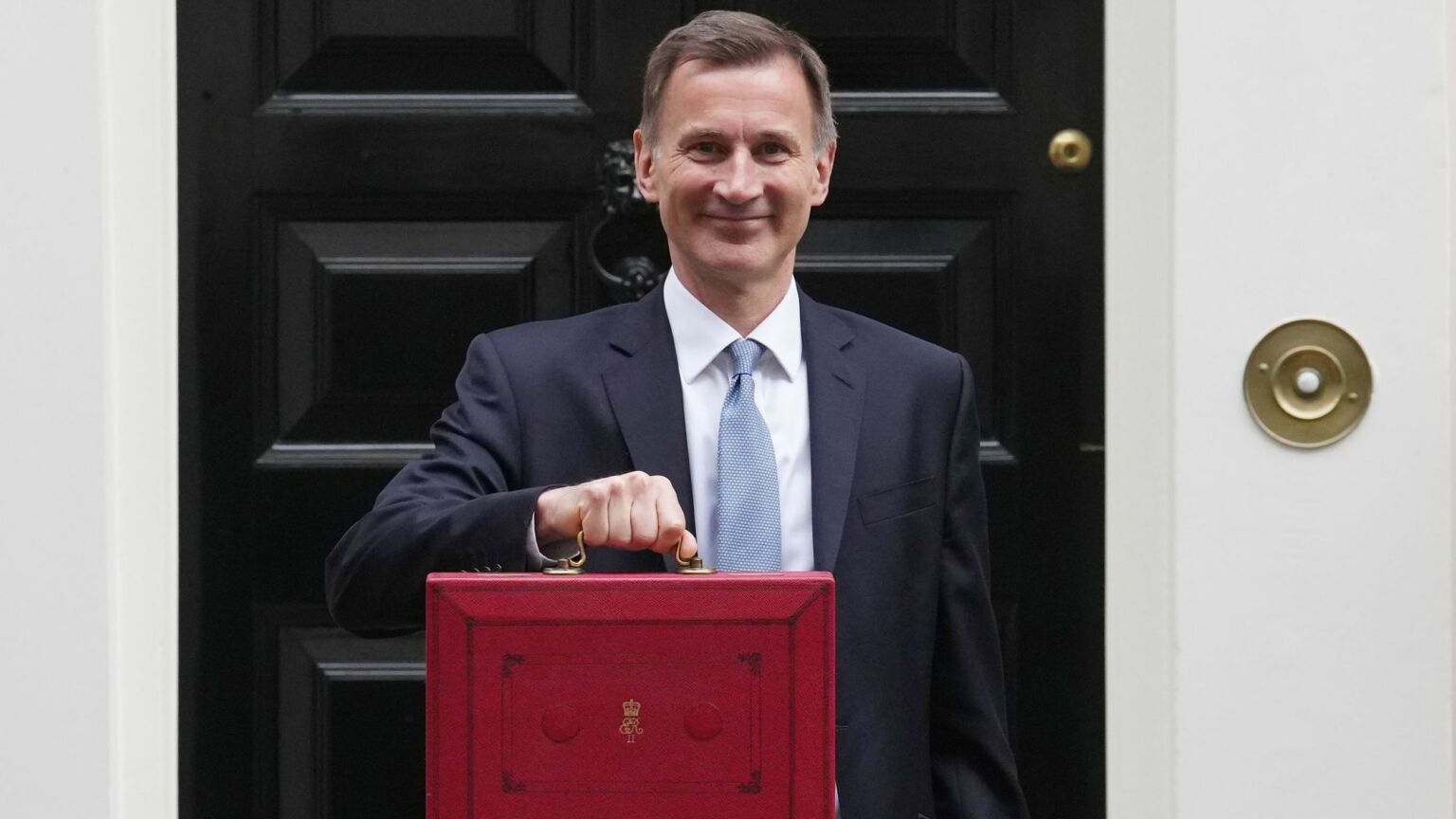 In January, prime minister Rishi Sunak announced his five key priorities for 2023. Conveniently for him, his first priority was something that is very likely to happen regardless of what his government does. Sunak's top pledge to 'halve inflation' came a few days after just about every new-year economic prediction said that inflation would fall by at least half during 2023. Chancellor Jeremy Hunt adopted a similar hollow ploy in his budget statement yesterday, setting himself up to take credit for something that is already happening anyway.
Alongside all the familiar, disingenuous boasts about promoting growth and business investment, Hunt also placed a distinct emphasis on this being a 'back to work' budget. He highlighted the importance of 'tackling labour shortages that stop [businesses] recruiting… by breaking down barriers that stop people working'. Yet ever since the threat of further pandemic shutdowns lifted last year, people have already been returning to work, pretty much as normal. So why the focus on getting people back to work now?
The UK economy is stuck in a productivity slump. Wages have been stagnant for around two decades, and there is no sign of this changing. Indeed, real wages are currently falling faster than at any time since the financial crash in 2008. Meanwhile, large numbers of low-productivity businesses offer mostly insecure and low-grade jobs. Hunt's 'back to work budget' ignored all of these fundamental economic problems.
In and of itself, increasing employment is no bad thing. It is good to remove any barriers there may be to people entering the job market, whether that be rules, regulations or other disincentives. In this sense, we should welcome some of Hunt's limited changes that should make it a bit easier for disabled and sick people, older people and people with childcare responsibilities to work. But the problem with today's labour market is not that there are too few workers. The real problem is that there are too few good jobs that people want to do.
The budget is an attempt to respond to widespread concerns that post-pandemic labour shortages are holding back economic growth. Last year, there was a lively discussion about the problem of Britain's 'missing workers'. This was variously attributed to increased early retirement during lockdown, rising levels of sickness and disability due to Covid or the NHS backlog, and reduced migration flows because of Brexit.
But by last December, retirement numbers had already fallen back below pre-pandemic levels. In fact, the Office for National Statistics (ONS) reports that people have been returning to work pretty much every month since the lockdown-induced employment trough at the start of 2021. Today, employment numbers continue to creep up, probably partly in response to the higher cost of living. The level of overall employment now exceeds its average in 2019.
The justification Hunt gave for his emphasis on the labour market is that 'excluding students, there are over seven million adults of working age who are not in work'. He claimed that the economy would be bigger if some of these people filled current job vacancies. Seven million is indeed a big number. But this is not a new phenomenon.
In the 25 years between 1993 and 2019, only four of those years had fewer than 6.7million people not studying, working or seeking work. And throughout that timespan, the working-age population was smaller than today. This means that in the past, a relatively bigger portion of the population was not working or studying. Given that today's inactivity rates are hardly exceptional, even despite the recent disruption of lockdown, it seems an odd time for the chancellor to present a 'back-to-work' budget.
Certainly, there are sectors where employers are finding it tough to recruit today, but that is not a new problem either. Usually, it is the least attractive, lowest-paying jobs that are hardest to fill. There is an obvious answer to this – to raise pay and improve working conditions. As Alan Manning, former head of the government's Migration Advisory Committee, has pointed out: 'Shortages are always caused by poor pay and conditions. We're short of people who want to do these jobs, not [of people] who are able to.'
So far, however, most employers do not seem to be responding to employment shortfalls by boosting wages. According to the Financial Times, data from HM Revenue and Customs show that pay growth in the sectors most struggling with vacancies has lagged behind the UK average. This probably reflects the fact that these are low-productivity sectors, populated by some of the most financially squeezed firms.
All roads lead back to the UK's investment and productivity problem. The government's focus on 'back to work' is partly a way of distracting from its apparent cluelessness about how to solve these issues. It has no idea how to get productivity firing up or how to generate enough good-quality jobs for people. Concerns about the labour market also reflect the reality that Britain has become increasingly dependent on labour-intensive activities.
Looking back at the sources of the UK's economic output over the past seven decades, three trends are evident. First, real economic growth has been in long-term decline, dipping in the 1970s and falling again from the 1980s. Second, this secular output decline has been driven primarily by the falling rate of productivity growth, as measured by output per worker. Both these expressions of the UK's worsening economic outlook are well-documented and are usually described as the Long Depression.
However, a third trend has been less recognised. The contributors to output growth have shifted decisively since the Second World War – from productivity growth to the size of the workforce. Initially, the vast bulk of economic growth came from rising levels of productivity. Until the 1970s, increased employment accounted for less than one-tenth of the economy's growth. In the subsequent decades, growth has increasingly relied upon getting more people into work. From the 1990s, the average employment contribution to growth jumped to more than a third. In the decade after the financial crisis, it rose to almost two-thirds.
In other words, over the past four decades, the British economy has shifted from a productivity-driven economy with moderate growth to a low-growth, low-productivity and predominantly employment-driven economy. As corporate investment and productivity growth have atrophied during this Long Depression, Britain's economy has become more labour dependent.
As business leaders have increasingly given up on investing in technology and innovation, they have become reliant instead on hiring more workers to increase output and expand their revenues. The concern shown by business groups, and now by the government, about a maladjusted labour market is fuelled by this greater dependence on labour. This is typically a problem associated with less-developed countries, rather than developed ones like Britain.
The big labour-market story of the past quarter-century, then, is not the labour 'shortages' that we hear so much about. Rather, it is the huge expansion in the size of the workforce. Total employment increased by over six million between 1997 and the eve of the pandemic – an expansion by nearly a quarter. This steady extension of demand for workers (in both the private and public sector) underpins those deluded government boasts about delivering record-low levels of unemployment. This low unemployment has been driven mostly by recruitment into lower-quality and less-secure roles.
Among the fastest sectoral increases in employment over this period were hospitality, restaurants and hotels (up one-third), public administration and social-security workers (up 42 per cent), education (up two-thirds), health and social work (up over a half) and other miscellaneous services (up 44 per cent). Together, these generally lower-productivity and usually lower-paid jobs accounted for almost three-quarters of the net workforce increase.
Unsurprisingly, manufacturing is where the most jobs were lost over the same period. Manufacturing jobs declined by a third – representing a fall of 1.4million jobs, many of which offered above-average pay. This is the problem in our labour market – not labour shortages, but a shift to fewer decent, well-paying jobs in sectors that people find attractive.
Hunt remarked in his budget statement that: 'If we matched the [over-55s activity] rate of Sweden, we would add more than one million people to our national labour force.' He also said that 'If we matched Dutch levels of participation, there would be more than one million additional women working'. These claims are flawed. Yes, they work arithmetically, but they ignore the fact that there are not enough appealing jobs on offer in Britain to get people back into work.
The government's attempts to cajole people into work are yet another short-term diversion from Britain's real economic problems. Hunt is avoiding the much harder task of restructuring the economy to generate good jobs and growth. The government's own official forecaster, the Office for Budget Responsibility (OBR), seems to recognise that, in terms of creating growth, this budget was another dead duck. In fact, the OBR reckons the combined impact of Hunt's policy announcements on medium-term economic growth will actually be negative.
Four months ago, the OBR forecast real economic growth per person of 2.3 per cent in 2025, 2.3 per cent in 2026 and 2.0 per cent in 2027. Now it is forecasting less growth for every year – 2.0 per cent in 2025, 1.7 per cent in 2026 and 1.5 per cent in 2027. The OBR also downgraded its expectations of labour-productivity growth in each of these three years.
The chancellor got even deeper into fantasy economics when he announced his goal of encouraging business investment. He heralded that his latest plan for 'long-term, sustainable, healthy growth' was removing 'obstacles that stop businesses investing'. Even the OBR expressed scepticism about this, reducing its projections for business investment each year from 2023 through to the end of its forecast in 2027. As a result, it now concludes that medium-term growth is likely to remain 'a percentage point lower than the average growth rate in the decade prior to the financial crisis and around 0.2 percentage points below the post-financial-crisis average'. This is the economic performance that Hunt boasted 'is proving the doubters wrong'.
It is well-known that the OBR's forecasting record is far from perfect. However, it is a little disingenuous for Hunt to claim that his was a 'Budget for Growth' without mentioning the OBR's verdict that anticipated growth rates have fallen – not least as Hunt and Sunak were so critical of their predecessors, Liz Truss and Kwasi Kwarteng, for ignoring the OBR in their infamous mini-budget last September.
We need an end to the smoke and mirrors. We need a government that is honest enough to argue for a radical shake-up of our economy and for the disruption that will entail. What is needed is a major economic restructuring to facilitate better conditions for business investment and to create good jobs for people. That is the only sure way of bringing about durable growth and higher living standards. The scandal of low-paying, poor-quality jobs must not be allowed to continue.
Phil Mullan's Beyond Confrontation: Globalists, Nationalists and Their Discontents is published by Emerald Publishing. Order it from Emerald or Amazon (UK).
To enquire about republishing spiked's content, a right to reply or to request a correction, please contact the managing editor, Viv Regan.