Stop calling Shamima Begum a victim
The media elite's sympathy for her is a grotesque insult to those slain by ISIS.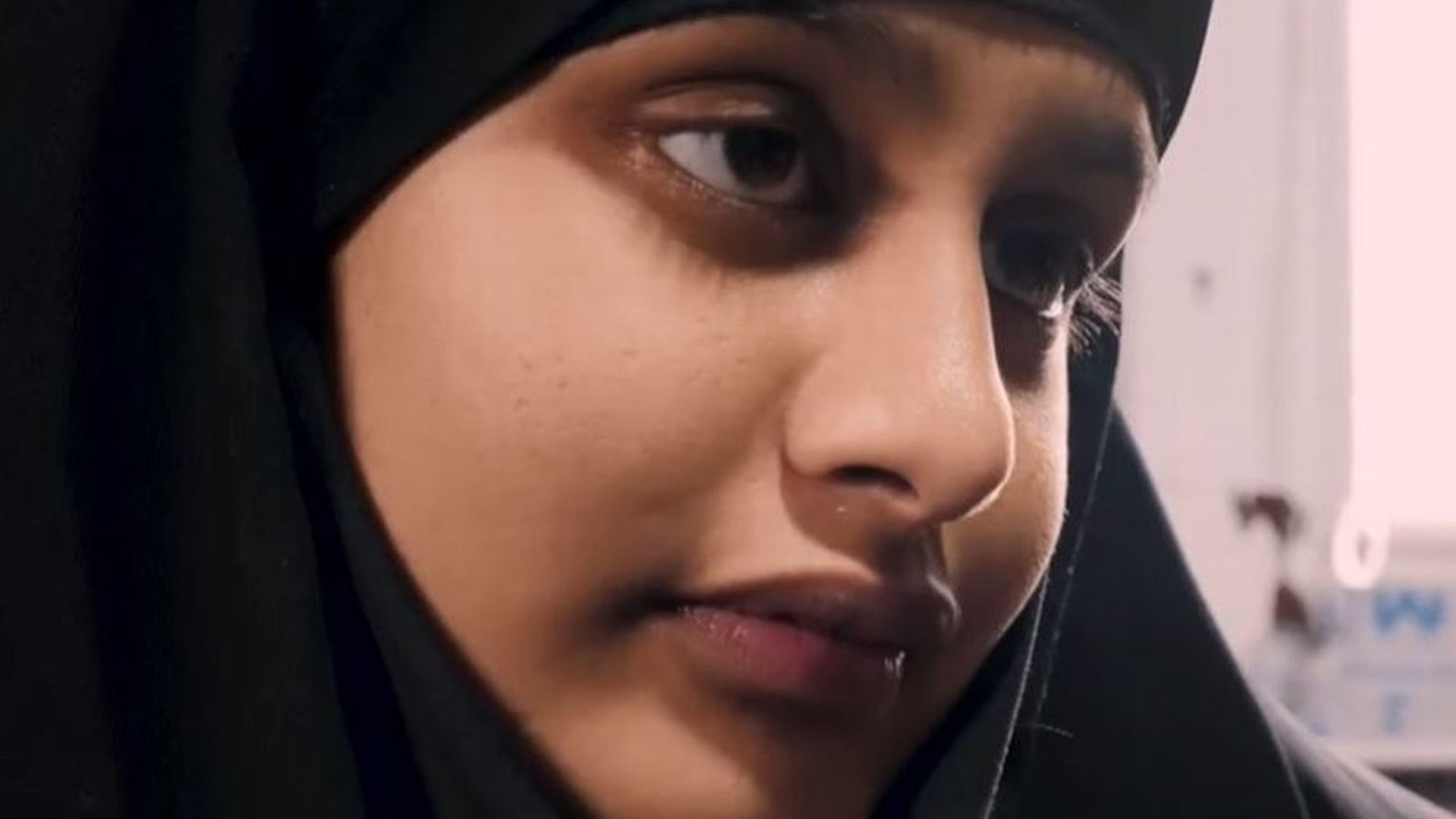 ISIS bride Shamima Begum is not coming back to Britain. Earlier today, an immigration court ruled that the decision to deprive her of her UK citizenship was lawful.
The core argument of Begum's legal appeal was that she did not join ISIS of her own accord. Instead, when she infamously fled London for Syria in 2015, she was supposedly a victim of 'grooming' and of 'human trafficking'. The judges were sympathetic to her side. But, ultimately, they accepted that back in 2019 then home secretary Sajid Javid had sought the requisite national-security advice before rescinding her citizenship and had reason to consider her a threat.
The ruling seems to have come as a surprise to many in the media, especially to those outlets that have largely swallowed Team Begum's arguments. Open any broadsheet newspaper, or turn on a mainstream TV channel, and you could be forgiven for forgetting why she ever became such a nationally loathed figure. There is now a clear elite consensus that Begum is not a villain, but a victim. It is a consensus built on a seemingly wilful blindness to Begum's ISIS past.
In just the past few week's alone, the ISIS bride has graced the front page of the Times Saturday magazine, and has been the subject of a prime-time BBC documentary and a major BBC podcast series. Each of these outings had an unmistakably sympathetic slant.
Meanwhile, the question of national security, of whether Begum is a threat to the UK, seems to have been airbrushed from the national conversation. It is treated as mere footnote in much media coverage. The BBC piece on Begum's failed appeal features just one mention of her having joined ISIS. At no point does it explain any of the national-security implications that drove the government's decision. It also contains no details on what she might have got up to in Syria.
A great deal of media commentary doesn't just fail to mention Shamima's alleged crimes – it dismisses them as irrelevant. Caveats like 'Yes, she joined ISIS, but…', or 'she did nothing wrong, other than joining ISIS', appear with shocking frequency.
For instance, Begum's only real crime, we learn in today's Evening Standard, is that she '"came across in the wrong way" on television' when she was first discovered in a Syrian refugee camp in 2019. The Times pursued a similar line at the time. According to columnist Caitlin Moran, 'Shamima has been made stateless because she came across like a dick on TV. That's it. She gave an interview in which she acted like a massive bellend.'
Of course, these were the media interviews in which Begum expressed zero regret for joining ISIS. In which she said she was unphased at seeing severed heads in bins, as they probably belonged to the 'enemies of Islam'. And in which she even expressed support for ISIS's slaughter of British teenagers in the 2017 Manchester Arena bombing. These were not awkward faux-pas – they were the ramblings of a member of a barbaric terror group.
Shamima maintains that she did nothing bad in all those years she spent in Syria, from her arrival in 2015 until the fall of the ISIS caliphate in 2019. She says she was merely a housewife, mostly confined to an apartment in Raqqa. She admits to joining ISIS, but claims she was never an active participant.
Much of the media have reproduced these claims, often uncritically. But there are several well-sourced, well-founded allegations that say otherwise.
According to Sound and Picture, an anti-ISIS campaign group whose members lived under ISIS rule and followed its recruits closely, Begum was enrolled in the al-Tala'ia camp. Here she reportedly spent three months being given religious and military training. The recent BBC documentary, The Shamima Begum Story, features a witness who said she saw Shamima at the training camp.
After this, Begum is reported to have graduated to join the Khansaa Battalion, a notorious all-female police squad. She is then alleged to have joined the al-Hisba – ISIS's notorious religious morality police. In that role, she will have been able to impose penalties – from lashings and imprisonment to executions and hand amputations – on anyone deemed to have transgressed against Islamic law. She would have been allowed to roam the streets of Raqqa with a Kalashnikov rifle.
After Sajid Javid stripped Begum of her citizenship, he later said in a TV interview, 'If you knew what I knew, you'd have made exactly the same choice'. One thing that we know he was briefed on in 2019 was the allegation that Shamima had sewn bombers into suicide vests, so that they could not be taken off. This claim came from either the CIA or Dutch Military Intelligence.
It is also simply not true that ISIS brides like Begum were expected to be subservient homemakers. Many were active participants in the genocide and torture of the Yazidis, for example.
Nevertheless, some will still try to claim that Shamima was the real victim here. Or that even if she did wrong, she was 'brainwashed' by ISIS propaganda or groomed by manipulative recruiters.
The propaganda excuse falls flat when you consider that videos of ultra-violent acts were integral to ISIS's appeal to would-be radical Islamists. Begum has even admitted to hearing of a gruesome video, in which a Jordanian pilot is burned alive by ISIS militants, before she left London for Syria (she has claimed she thought ISIS was trying to save his life after he had crashed his plane). As for the charge of 'grooming', Begum herself says she was persuaded not by a professional recruiter, but by one of her schoolmates, Sharmina. Plus, Begum and the two girls she travelled to Syria with in 2015, Amira Abase and Kadiza Sultana, were all resourceful and bright, not dumb dupes.
Another contrived excuse that is now often made for Shamima is that she was 'trafficked' into Syria. It is true in a crude sense that she and her friends needed the help of an infamous people smuggler – a man called Mohammed Rashid – to cross the Turkish border illegally. We now know that Rashid was acting as an informant for Canadian intelligence. He wasn't planted in the field, but he was sharing information.
Rashid's backstory has led many to claim that her trip 'could have been prevented' had a 'Western spy' not helped her into Syria. Or that she was 'smuggled out of the UK' by a 'NATO state-security asset'. All of these arguments seem to suggest that the Rasheed is the only one with any agency, while implying Western knowledge or even involvement in the girls' trip – even though there is no evidence of this. In reality, Begum and her friends sought his assistance, for the fairly obvious reason that they wanted to get into Syria. The girls were not smuggled or trafficked into ISIS territory against their will, as is often suggested.
This is what we need to bear in mind when we consider Shamima's fate. The attempts to rehabilitate her rely on distortions, half-truths and the sidelining of her ISIS past. It is striking that many of those arguing that Shamima should be welcomed back to the UK so that she can stand trial – often oblivious to how difficult this would actually be, and how few returning jihadists have been convicted – are so blithely uninterested in her crimes.
These people seem to have convinced themselves that Shamima is a victim, not a perpetrator. What an insult to the victims of ISIS's barbarism.
Fraser Myers is deputy editor at spiked and host of the spiked podcast. Follow him on Twitter: @FraserMyers
To enquire about republishing spiked's content, a right to reply or to request a correction, please contact the managing editor, Viv Regan.