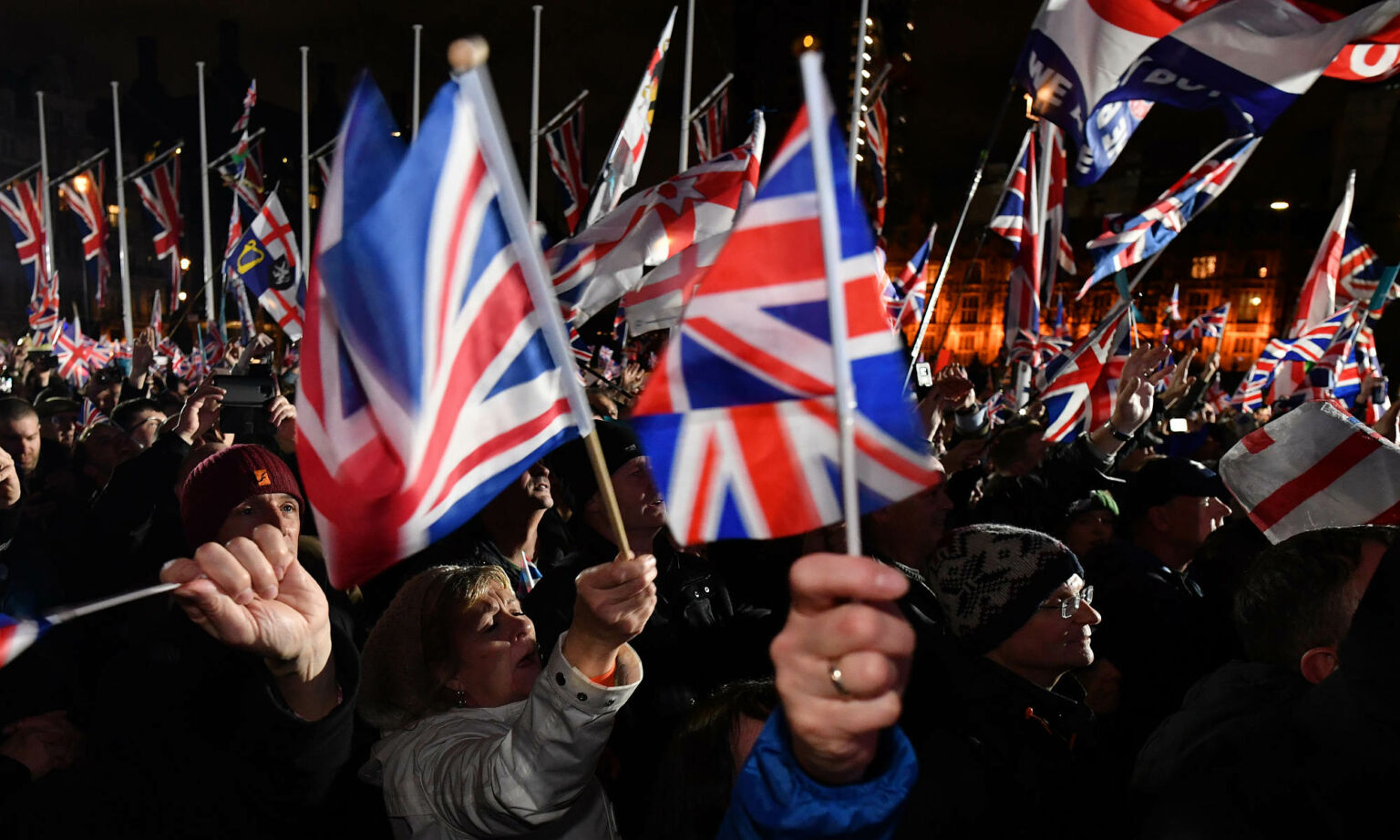 Long-read
Je ne Bregret rien
Leave voters' only real regret is that the Brexit spirit has been squandered.
As the third anniversary of Brexit Day (31 January 2020, when the UK formally left the European Union) approaches, another awkward portmanteau word has entered the never-ending debate: 'Bregret', short for Brexit regret.
High-profile Remainers and assorted Britain-bashing doomsters are running riot across the media again, claiming that many of us who voted to leave the EU are now suffering from 'buyers' remorse'. Apparently, we slow-witted Brexiteers have finally realised that Remainer predictions of economic apocalypse following Brexit were right all along.
As the New York Times, global voice of the anti-populist elite, headlined the story in November last year with undisguised relish, 'Buffeted by economic woes, UK starts to look at Brexit with "Bregret"'.
Speak for yourselves. The truth is that powerful feelings of 'Bregret' remain the preserve of the Remainer establishment itself. These smug elitists were shocked to their core by the result of the June 2016 referendum and have never got over it.
Led by David Cameron's Conservative government, every major UK political party, Western leader and global institution backed the Remain campaign and warned of dire consequences if the UK voted to leave the EU. Their 'Project Fear' was amplified throughout the referendum campaign by the BBC and the rest of the Remainstream media.
Yet in the event, a remarkable 17.4million people refused to be cowed into submission and voted Leave – the biggest popular vote for anything, lest we forget, in British history. Remainer elites inside and outside parliament have been striving to undermine and even overturn that democratic revolt ever since.
They delayed the UK's formal exit from the EU for three and a half years. And they have spent the past three years since Brexit Day trying to neuter Brexit in practice, to ensure that Britain remains closely tied to the EU and stays trapped under Euro rules. Their most bitter Bregret is that the British people were ever allowed a vote on such an important issue in the first place.
On the other hand, many Leave voters might feel a very different type of Bregret today – they regret that so little has changed and that, contrary to the slogan on which Boris Johnson's Tories won the 2019 General Election, nobody in power has been prepared to 'get Brexit done'. Instead, it has been stymied by a lack of political will in the face of the powerful Remainer establishment. But recognising that failure is not at all the same thing as regretting the Brexit vote, far less being prepared to give up on popular democracy.
Propaganda about an alleged new wave of Bregret is based on the notion that Brexit is now obviously to blame for all of the problems besetting Britain. Sometimes the Remainers' 'Blame Brexit' stuff is simply pathetic. Witness, for example, Jon Sopel, one of the arch Remainers who left the BBC in order to express their prejudices even more blatantly, complaining about middle-class Brits having to queue for passport control en route to their European skiing holidays. More seriously, they are determined to drive home the message that Brexit is at least partly responsible for all of Britain's current problems, from the cost-of-living crisis to unaffordable energy bills.
Remainers have seized upon some recent opinion polling as evidence that their message is getting home, that the penny has finally dropped with 'uninformed' Leave voters and that Bregret is growing. For example, on Christmas Eve, The Times reported that only one in three Leave voters believe that Brexit has been a success and that almost half think it has been worse for Britain than they had imagined it would be. Some other polls have looked equally grim for Brexiteers.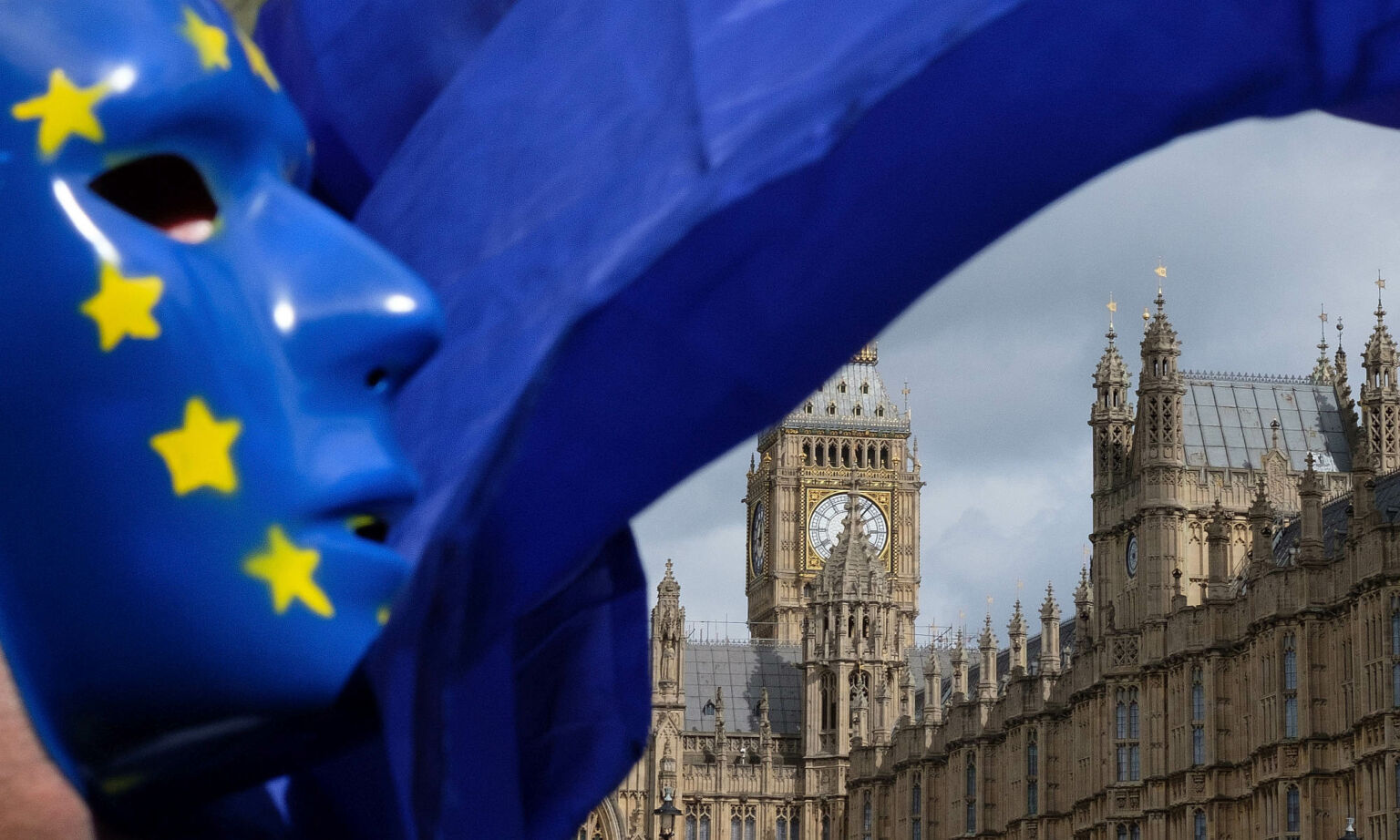 Anti-Brexit demonstrator outside the Houses of Parliament, 11 September 2017.
It is worth restating, of course, that opinion polls are not neutral instruments. Often they are designed to drive public opinion rather than merely reflect it. Even on the day of the 2016 referendum, respected pollsters were predicting an easy victory for Remain, prompting leading Tory Brexiteer Michael Gove to retire to bed early, rather than stay up for the actual results. These latest polls might appear equally loaded to support the Remainers' case.
Even taken at face value, the polls do not quite support the headlines about deep-seated Bregret sweeping the nation. The poll reported in The Times showed that, despite a widespread sense of Brexit not having delivered, 'While just 20 per cent of all voters thought Brexit had been good for Britain, only 47 per cent would vote to reverse it'. That is less than the 48 per cent who voted Remain in the actual 2016 referendum.
In the Spectator, meanwhile, Matthew Goodwin's analysis of the polls reveals that seven out of 10 voters now say Brexit has been as bad as or worse than they expected. Yet despite those figures, he notes, fewer than one in five Brexiteers has 'buyers' remorse' about voting Leave in 2016. In other words, despite all their current misgivings, more than 80 per cent of Leavers still believe that they were right to vote for Brexit. The anger remains particularly tangible among working-class Brexit voters in Red Wall seats.
On the other side, anti-Brexit feelings are by far the strongest, Goodwin observes, among those who had been too young to vote in 2016. Of the 18- to 24-year-olds polled, an overwhelming 79 per cent say they would now vote to rejoin the EU. Those numbers might be worrying, but hardly surprising or disappointing. That generation has (literally) been schooled in a woke Remainer outlook. Few among them will ever have heard a good democratic case for Brexit and against the EU.
Those Remainers peddling the 'Bregret' line might have enjoyed some media success in blaming Brexit for the current problems facing our economy and society. But that does not mean their case makes any more sense than it did seven years ago on referendum day. Since Brexit Day in 2020, Britain like the rest of Europe has been hit by unpredictable crises, notably caused by the Covid-19 pandemic and Russia's war in Ukraine.
What does any of that have to do with the vote for Brexit? Have EU member states somehow remained immune to the problems besetting Britain? Hardly. Yet Britain is not faring noticeably worse than most of them and can still show some successes in, for example, attracting outside investment (always reported in the Remainstream media with the caveat, 'Despite Brexit…').
As Phil Mullan has analysed at length on spiked, the UK's 'zombie economy' is indeed facing very serious difficulties, but these generally have little or nothing to do with Brexit. Leaving the EU was never going to be a magic solution to those deep-rooted historical problems. But nor has it proved to be the unique economic drag that critics now claim.
In any case, it should be little wonder that an economic 'Brexit dividend' often seems hard to find. After all, the Remainers are still in charge of economic policy. Under supposed Brexiteer prime minister Boris Johnson, there was little challenge to the pro-EU orthodoxy ingrained in the UK Treasury. Now, without even the need for a second referendum, the Remainers have taken back full control, with arch EU lackey Jeremy Hunt installed as Tory chancellor. Feeble prime minister Rishi Sunak always claims to have voted Leave, but has never knowingly raised his voice or a finger to push Brexit through. As a result, the UK remains embedded in the EU consensus, just another low-growth, dead-end economy.
Yet contrary to Remainer claims, Britain's undoubted economic problems post-Brexit have not led to a wave of active Bregret among most Leave voters. One good reason for this is that Leavers always understood Brexit was about more than the price of eggs or energy. Brexit was basically about the bigger issues of democracy and national sovereignty. That was why the Leave campaign's pledge to 'take back control' struck such a chord with millions who wanted to break free from unelected, unaccountable EU courts and commissions – and from the unrepresentative British establishment that kowtows to them.
It is surely here that the greatest Bregret exists among Leave voters – not that they voted for Brexit, but that they didn't get the greater sovereignty and democracy they voted for.
The advantages of independence from the EU might have been clear on some issues, such as the UK's faster rollout of Covid vaccines and firmer support for Ukraine against Russian aggression. Yet on other issues, far from being completed, the Brexit revolution never really started.
Most importantly, since the Brexit vote the establishment has acted to thwart democracy on every front. That was why it took those dispiriting three and a half years to even get from the referendum to Brexit Day, as powerful hardcore Remainers manoeuvred tirelessly to stymie it and sell it out. And they are still at it today.
It is telling that the House of Lords, that bastion of anti-democracy in British politics, has been to the forefront of the Remainers' rearguard campaign since 2016. As one baroness put it soon after the referendum, 'with no constituents to fear' the unelected members of the Lords are best placed to ignore and seek to overturn the decisions of the electorate.
More than six years later, Remainer lords are still trying to stop the government's one Brexit measure – a bill to shelve thousands of EU laws that clog up the UK's statute book. Some on the left seek to justify the Lords' ambush of democracy by spreading scare stories about how the proposed changes will undermine workers' and women's rights, as if these ermine-clad Remainer elitists are the real defenders of freedom.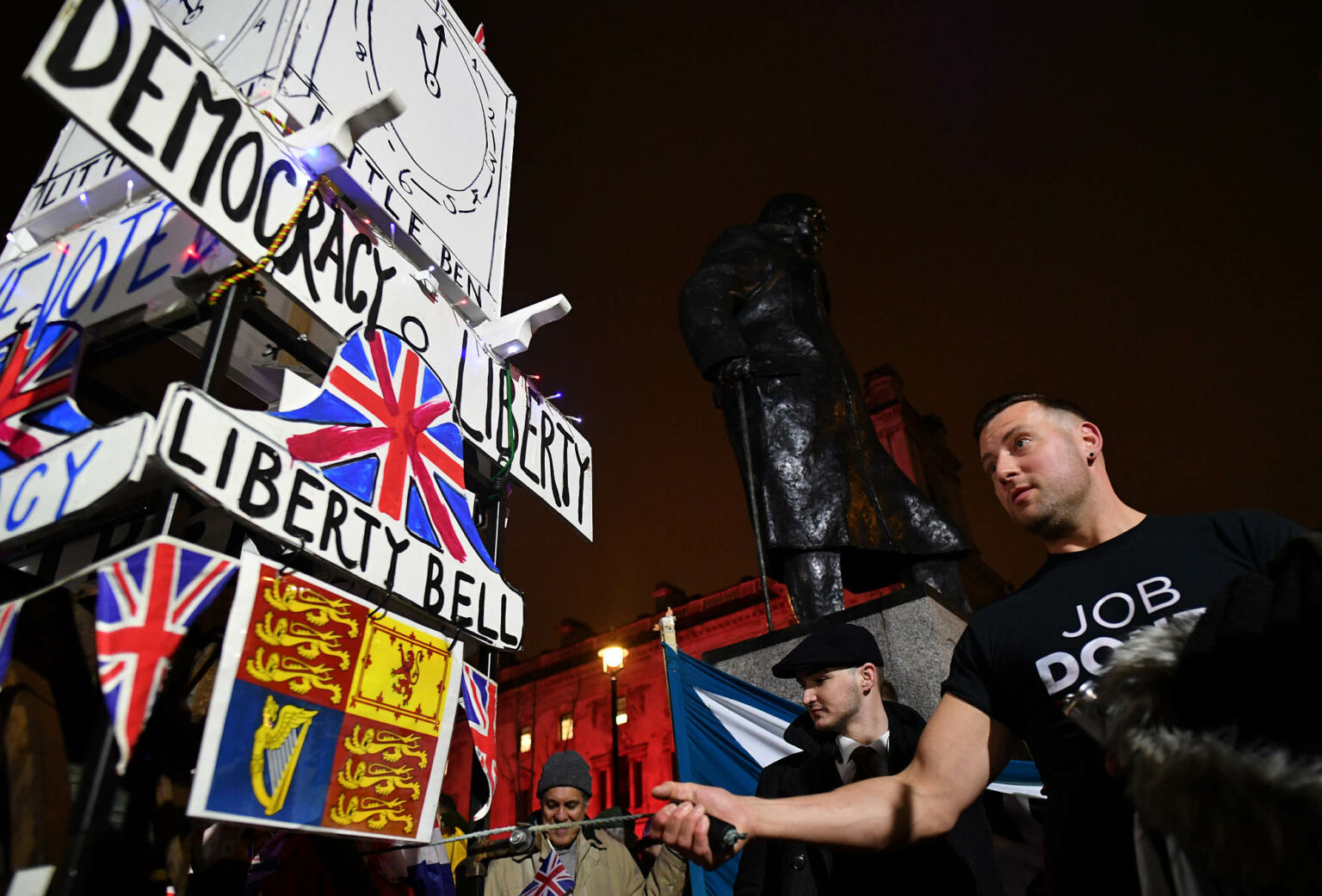 Brexit supporters gather ahead of the Brexit Day celebration party at Parliament Square, 31 January 2020.
But it's not all the Lords' fault. The Tory government elected to 'get Brexit done' has sold the promise of Brexit short on everything, from the Northern Ireland Protocol to fishing rights. Even that one current bill to remove EU laws, the Retained EU Law (Revocation and Reform) Bill 2022, does not go nearly far enough. And there is still no sign of the promised new laws to enable Britain to break free from the power of the European courts and the European Convention on Human Rights, which gives unaccountable judges the right to overrule elected leaders.
Far from 'taking back control', it now appears as if nobody is in control of British political life. The lack of leadership from all of the pathetic, principle-free parties leaves the 'blob' of Remainers who run every public institution able to carry on in charge, regardless of referendum results or elections.
Many Leave voters feel bitterly betrayed by the Tories. Yet there is little confidence that things would be better under a Labour government. Labour Party leader Keir Starmer recently used the slogan 'take back control' in a blatant attempt to appeal to Red Wall voters. Few seem likely to forget it was Starmer, as Labour's anti-Brexit spokesman under Jeremy Corbyn's leadership, who led the campaign demanding a second Brexit referendum to overturn the result of the real one. Despite his claims to accept Brexit now, Starmer wants to dump it in practice by re-establishing closer links with the EU.
Some of us only ever saw Brexit as the start of a democratic revolution to change the way Britain is governed; to breathe new life into democracy by reuniting its two constituent parts – demos, the people, and kratos, power / control. That democratic revolution was betrayed almost before it had begun – hardly surprising under the Tories. However, it is not over by a long chalk.
The dream of Britain's political class in 2023 is effectively to turn the clock back to the pre-Brexit politics of the 2015 General Election. That was contested by three party leaders – Cameron of the Conservatives, Labour's Ed Miliband and Nick Clegg of the Liberal Democrats – who all looked and sounded the same. If you had cut up their banal scripts from the televised debates and switched the quotes around, it would have been impossible to tell who had said what. There were echoes of that in the recent New Year messages from Sunak and Starmer, who both repeated the same empty platitudes as each other.
But however hard they might wish to turn back time, there is no putting the democratic genie back into the bottle. Over the past year we have seen how, from Italy to Sweden, every time Western political elites breathe a sigh of relief about the return of normalcy and declare that 'the adults are back in charge', another populist surge erupts to throw them out again.
The UK is no exception, despite claims to the contrary. We might recall how, four years ago, the Brexit we voted for seemed doomed never to happen at all. Tory prime minister Theresa May was trying to force through a deal with the EU that looked more like the surrender treaty you sign after losing a war. Then, in April 2019, Nigel Farage launched the Brexit Party. Within six weeks it had won the European elections with many more votes than the Tories and Labour put together, becoming the biggest party in the European Parliament. The Tories were forced to dump May, elect Boris and pledge to 'get Brexit done'.
Today, British politics remains in a fragile and unpredictable state, with Brexiteers still looking for a new political force to give them a voice. Don't bet against another populist rising of one sort or another.
Above all, the battle for a real Brexit is still a fight for greater democracy. That is a fight we need to take to young people, to win more of them over as we have seen can be done when we challenge the woke consensus on free speech. The alternative is simply to write off a generation, which would be just as stupid as the Remainers slandering any Brexiteer over 40 as a racist gammon.
So, three years after Brexit Day, there are no Bregrets here over voting Leave. Of course we never trusted the Tories to get Brexit done. But we still know it was the right thing to do. Brexit was and remains the greatest anti-establishment revolt of my lifetime. Now we need to find new ways to revive and redirect the Brexit spirit in UK politics.
In any case, like it or not, there is still no hiding from the Brexit debate. As all the recent Remainer fantasising about Bregret confirms, it remains a big dividing line in political life. The future is still to be shaped in the battle between popular democracy and political elitism. For today: non, je ne Bregret rien.
Mick Hume is a spiked columnist. He is the author of Revolting! How the Establishment is Undermining Democracy – and What they're Afraid of, is published by William Collins.
To enquire about republishing spiked's content, a right to reply or to request a correction, please contact the managing editor, Viv Regan.