Our empty PM
The political class is devoid of vision and wedded to failed orthodoxies.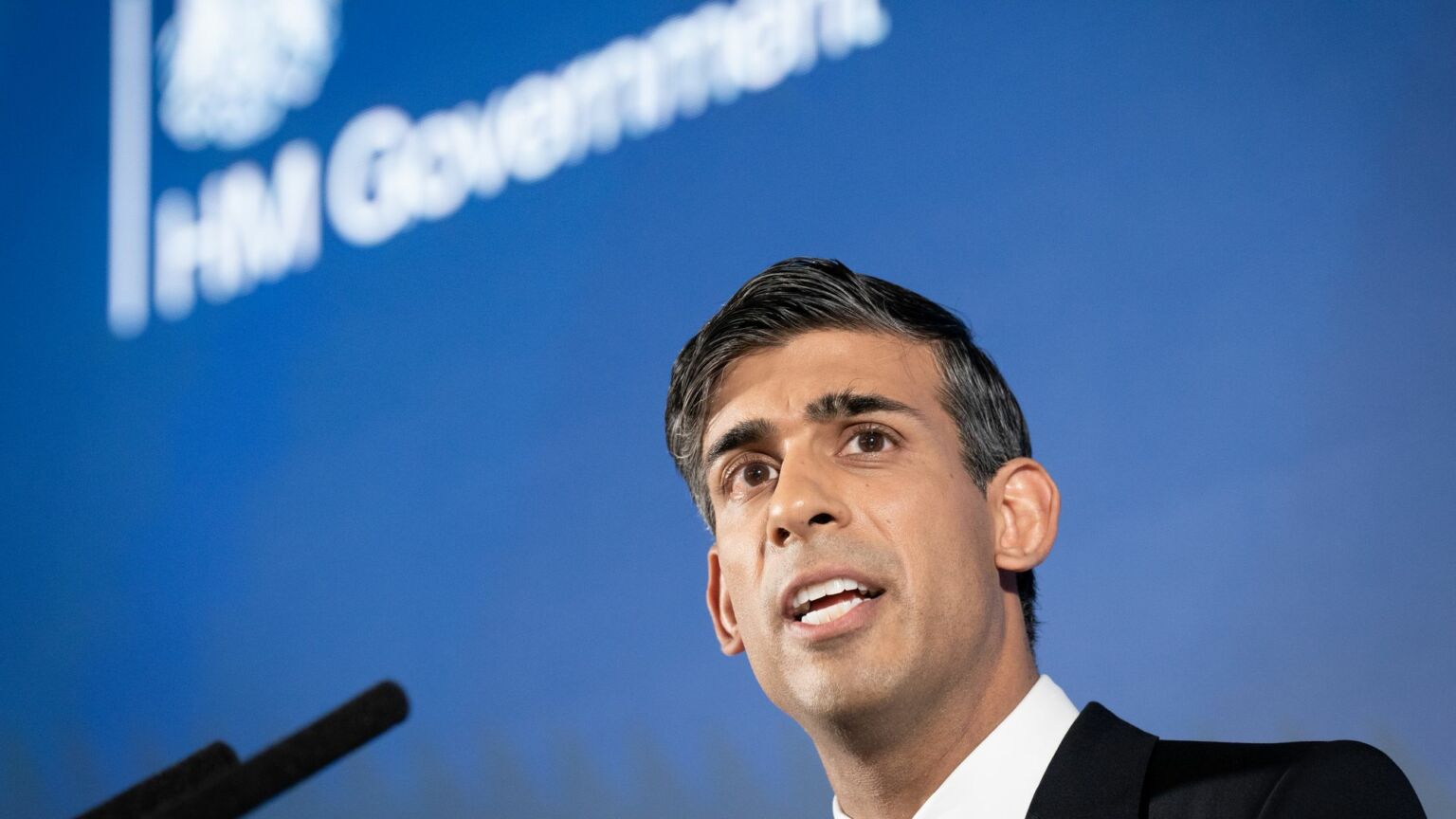 Many people are slamming UK prime minister Rishi Sunak today for failing to step up to the scale of the crises facing the country. Following Sunak's first big speech of the year, in which among other announcements he said young people should study maths up to age 18, the commentariat have all been trotting out some version of the same line. 'The NHS is falling apart, the railways are shut down by strikes, and you're offering us double maths?', they chuckle, seemingly unaware that everyone they know has already made that joke.
On one level, they've got a point. Sunak's new five-point pledge – to halve inflation, grow the economy, shrink the national debt, cut NHS waiting lists and stop the Channel crossings – was light on the details. When asked what specifically he would do with the health service or the economy, he largely gestured to money already pledged and tinkering schemes that had already been announced. None of which is commensurate with the lockdown- and war-stoked clusterfuck we find ourselves in – nor the chronic economic problems that Covid and Ukraine brought to the surface.
But the problems with the speech didn't end there. After all, this was trailed as Sunak's Big Vision Speech, a phrase which usually suggests the person delivering it doesn't have much vision at all. So it is with Sunak. With the Tory Party trailing Labour by 20 points, we were told we'd get a taste of the PM's 'ambition' for the country – something to resuscitate his electoral prospects. What we got – on top of the maths thing – was warm words about family, enterprise and world-class education. Motherhood and apple pie weren't explicitly mentioned, but I guess we'll have to wait for the manifesto.
Sunak likes to talk about delivery. But what it is he wants to deliver – beyond his five helpful pledges – is not at all clear. What sort of society does he want to carve out? What principles guide him? What's his ideology? I don't think he knows. He just dispenses airy platitudes, focus-grouped to within an inch of meaninglessness, like one of those talking greetings cards. We must 'strive for excellence', we must 'build a better future'… No one short of a psychopath would oppose any of this.
In the Q&A, Gary Gibbon from Channel 4 News surprised the handfuls of bored viewers at home by actually asking a good question. He mentioned Italy, a nation that has routinely been taken over by technocrats in times of crisis in recent years. Is Rishi our technocrat? Our Monti? Our Draghi? Sunak dodged the question, and not even particularly well, before returning to his five People's Priorities, desperate to click back into his practised, creepily Blair-esque schtick. Which pretty much answered Gibbon's question anyway.
This is all thoroughly depressing. Not only do our leaders show no signs of getting a grip on the immediate problems that confront us, they clearly have no broader vision for the future, either. The same goes for Keir Starmer's Labour Party, which earlier this week was talking up its plans to 'radically overhaul' jobcentres, so that local authorities are more in charge of them, or something. Perhaps that's a sensible idea. But it's hardly the stuff history books are written about, is it? Labour and the Tories are once again dancing on the head of a pin.
What's more, both parties appear to be wedded to the same old elite groupthink, even as the disastrous consequences of that groupthink become clearer by the day. For one thing, you would have thought that a leader interested in building a more prosperous economy, out of the mire of this awful energy crisis, would have something to say about cheap and reliable energy. Instead, we got some murmurings from Sunak about how innovation will smooth our path to Net Zero. Similarly, Starmer's 'big idea' from his party-conference speech last year is a nationally owned renewables firm.
There are many in the media who have welcomed this return to 'boring' politics, to managerial 'competence' after that Brexity, populist blip. But I fear with Sunak and Starmer we are about to find out, once again, that technocratic rule is not only deathly and undemocratic, but also particularly disastrous in difficult times. The alleged experts have a habit of deepening rather than resolving the crises we face. Those distant from the people and deprived of any vision can so easily make matters worse – by sticking to the same received wisdom, moving from one five-point plan to another, without ever questioning how we got here, let alone dreaming of where we might want to go next.
We stand among the rubble of so many failed elite orthodoxies, and yet our leaders are just staying the course, while mumbling something about maths. Now more than ever, we need to put big ideas back at the centre of political life.
Tom Slater is editor of spiked. Follow him on Twitter: @Tom_Slater_
To enquire about republishing spiked's content, a right to reply or to request a correction, please contact the managing editor, Viv Regan.