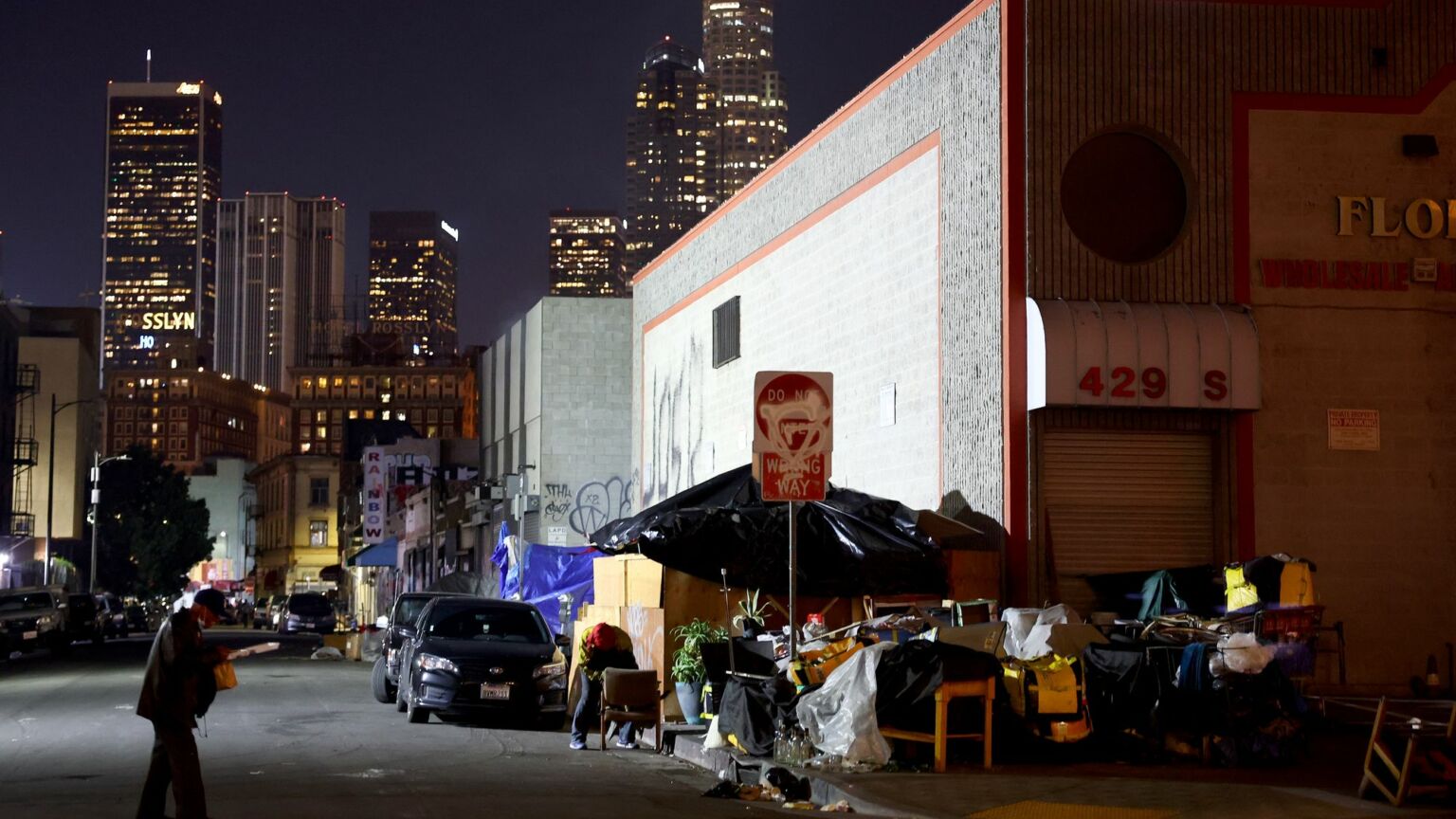 How the Californian dream became a nightmare
Once a byword for aspiration, the golden state is crumbling under the weight of 'progressive' ideology.
For Americans, California once looked like the future. It was a state defined by risk-taking and utopian dreaming. Yet for most Californians today, the upward mobility so central to the state's ethos is rapidly disappearing. For decades, California was the primary destination for both other Americans and for foreign immigrants. Now, this trend has gone into reverse, with people and companies leaving the state. Population growth, already slowing over the past decade, has turned negative for the first time in modern California's history, largely due to the state's shrinking middle and working classes and its loss of families.
California's difficulties undermine the notion, so fashionable today, that with the right mixture of technology and utopian dreaming, societies can forge a future that is both green and widely prosperous. In reality, California now has America's worst rates of cost-of-living-adjusted poverty and functional illiteracy, the worst housing affordability in the continental US and a devastating shortage of mid-skilled jobs. What's more, in 2022, California suffered some of the lowest personal-income growth rates in the country, and its GDP grew at less than half the pace of its arch-rival, Texas.
California's struggles demonstrate what happens when an economy shuns both industry and solid middle-class jobs. Instead, it has placed heavy bets on ephemera, like social media and entertainment. The failure of this approach now stands exposed. Today, California's once-huge budget surplus has morphed into a deficit of $25 billion, one that may become even higher in the coming years, given the high chance of recession. Because of this, California's political class is under pressure either to shrink its expansive welfare state and regulatory regime, or to raise taxes – although taxes are already among the highest in the country. Meanwhile, companies are deserting California in droves, as are some of its top one per cent of earners, who pay roughly half of the state's income taxes.
All this runs in stark contrast to California's historic reputation as a land of opportunity. As historian Kevin Starr argued in his 1973 study, Americans and the California Dream, California long ago 'entered American awareness as a symbol of renewal'. The California dream – one which the Biden administration is seeking to emulate – combines techno-optimism with a new-age spiritualism and, most critically, apocalyptic environmentalism. An amalgam of 'cybernetics, free-market economics and counter-culture libertarianism' constitutes what Richard Barbrook and Andy Cameron described in 1995 as 'the Californian ideology'.
In the early days of the tech revolution, the Californian ideology was notably egalitarian. In 1972, Californian author Stewart Brand predicted that the advent of computers would herald an era of enhanced 'spontaneous creation and of human interaction', empowering all of society 'as individuals and as co-operators'. The 'early digital idealists', as computer scientist and writer Jaron Lanier noted in 2014, envisioned a 'sharing' web that functioned 'free from the constraints of the commercial order'.
Initially, this model worked for most residents of Silicon Valley, as well as those inhabiting the aerospace-dominated areas of southern California. High-wage jobs allowed the workforce to buy homes, raise families and send their kids to college. And as left-wing scholars Manuel Pastor and Chris Brenner noted in 2015, Silicon Valley was also among the most egalitarian areas in the US. It was the ultimate beacon of opportunity. That included for immigrants, particularly from east Asia, who set up small tech businesses and launched larger firms.
Today, the oligopolist overlords of Silicon Valley, like Apple, Meta and Google, all enjoy market dominance. Those entrepreneurs who are not embraced by big venture-capital firms live largely at the sufferance of these tech overlords. One online publisher describes his website's dependence on Google for ad revenue as being like 'a serf on Google's farm'.
Once a beacon of upward mobility, California's tech-dominated economy has now become what analyst Antonio García Martínez describes as 'feudalism with better marketing'. California has the fourth-highest GINI inequality index out of American states, and has experienced a sizeable expansion of inequality since 2010, according to American Community Survey data. Despite California's fanatical commitment to 'anti-racist' affirmative action and racial preferences, African-Americans and Latinos perform poorly in terms of income and homeownership in Los Angeles and the Bay Area, with the latter among the most segregated places in the US. The gap between California's fantastically rich elite and the struggling masses illustrates the emptiness of the elites' supposedly 'progressive' values.
California's embrace of green ideology has been particularly destructive to the economy. Technology companies have been key backers of California's unproven and costly climate-centred policies, which are the most expensive in the US. While such policies are less directly damaging to digital companies, they have proven devastating to California's other industries, notably to manufacturing, logistics and agriculture. California, the ultimate advanced industrial power in the late 20th century, has haemorrhaged industrial jobs in the 21st. Its severe underperformance compared with rivals extends to construction, professional and business services, and increasingly even tech.
Much to the chagrin of the state's 'progressive' elites, California's racial politics isn't getting any better, either. Indeed, California's green policies are effectively reviving segregation. Even environmental groups have taken notice. Policies pushed by 'overwhelmingly white climate activists, underwritten by its overwhelmingly white billionaires', notes the Breakthrough Institute's Jennifer Hernandez, have fostered 'a new Green Jim Crow era in California'.
California's poor environment for business, particularly its long delays for business permits and its high energy prices, have meant that even production industries that originated here, like semiconductors and renewables, are now headed elsewhere. Although headquartered in California, microchip firm Intel plans to invest $20 billion in two Arizona plants, in addition to a massive new Ohio facility. The Taiwan Semiconductor Manufacturing Company is also building a new $12 billion plant in Arizona, while South Korea's Samsung has plans to build a $17 billion facility in Texas. Most new electric-vehicle and battery plants are located either in the Midwest, the South or other locations east of the Sierra Nevada. Overall, California's per-capita investment today lags by a factor of 10 or more, compared with states like Texas and Ohio.
The damage goes well beyond jobs. Typically, it is wealthy people who install solar panels or who drive electric vehicles, both of which are subsidised by the state. Meanwhile, people in California's hotter and poorer interior find themselves far less able to afford its exorbitant electricity prices, the highest in the continental US. Californians have also suffered from poor housing policy, which seeks to pack people into dense urban areas and to encourage them not to drive cars, all as part of a green agenda. These policies are terrible for single-family homeownership and suburban growth – all at a time when the housing market, here and elsewhere, is shifting further towards such suburban and lower-density areas. This poses challenges for technology companies and other professional firms who are seeing their younger workforce leave for other states.
Discontent is brewing. Californians are all too aware of the state's high house prices and growing inequality. Most Californians, according to a poll by UC Berkeley, think the state is headed in the wrong direction. Many are also concerned about the impact of draconian green policies on the economy. Governor Gavin Newsom, helped by California's pliant media, tends to blame most of his state's problems on climate change – everything from wildfires and floods to water shortages and a failing electric grid. Yet California's economic realities cannot be explained away forever.
Newsom is widely thought to be considering a bid for the presidency in 2024 or 2028. California's weak economy and budget deficit may force him to recast himself as a fiscally conscious moderate, in the vein of Bill Clinton. After all, it reflects poorly on Newsom that rival states like Gregg Abbott's Texas and Ron DeSantis' Florida have achieved large budget surpluses. Indeed, several red states are even initiating tax cuts.
At the level of state politics, Newsom has less to fear from California's inept Republicans than he does from key political allies, notably the public-employee unions and California's green lobby. Progressives, who increasingly dominate California's Democratic Party, will likely back efforts to raise income tax and to add new payroll taxes to pay for universal healthcare. Even more of a headache for Newsom are progressives' plans for a stringent wealth tax, which they hope to apply even to some who have left the state. Newsom will also have to fend off ultra-expensive proposals now coming from the state legislature, including a proposed 32-hour work week and multibillion-dollar reparations for descendants of former slaves (even though California was never a slave state).
In the past, Newsom's approach to inequality has been to turn on the spending taps. He has disbursed thousands of dollars of goodies to households and provided massive direct subsidy programmes for housing and healthcare for the poor, the undocumented and the underemployed. But faced with a budget deficit and a weak economy, Newsom will struggle to maintain such vast spending.
California's green policies have created conditions likely to cause massive energy shortages on the power grid. If he does run for president in 2024, large-scale blackouts could become fodder for anti-Newsom political ads. He has only belatedly started to recognise reality by allowing the continued operation of California's last nuclear plant, and even its gas plants.
Yet any attempt to change direction from Newsom will face great opposition from so-called progressives, who have expanded their hold on Democratic bastions like Los Angeles and Oakland – and whose politics are becoming more radical still. In November, progressive stalwart Karen Bass was elected LA mayor along with similar city council candidates – despite the fact that progressives have presided over masses of homelessness, a very weak economy and rampant crime. Meanwhile, nationally, the likely successors to California's incumbent senator, 89-year-old centrist Dianne Feinstein, are all from the 'progressive' left. It seems unlikely anyone with middle-of-the-road credentials can now win a Democratic primary state-wide.
Yet the future is not hopeless. The potential for pushback from voters is clear in the polls. And the more moderate parts of the state – notably, the Inland Empire east of Los Angeles – are generally gaining residents, while progressive-dominated urban cores like Los Angeles and San Francisco are shrinking. At the same time, there are signs of dissatisfaction from Latinos, who dominate the blue-collar economy, and Asians, who often own small businesses and are the worst impacted by California's 'anti-racist' policies in education.
In its current form, California is less a role model than a cautionary tale. But all is not lost. California still enjoys leads in a series of key industries, ranging from nuclear fusion, medicine, space and semiconductor design to mass entertainment and high-tech agriculture. Much of its population retains a large innovative streak, and could still adapt to changing economic conditions. Any revival, however, will need more than just some minor adjustments by Newsom and the legislature – it will take sustained pressure from Californian voters demanding something very different.
Joel Kotkin is a spiked columnist, the presidential fellow in urban futures at Chapman University and executive director of the Urban Reform Institute. His latest book, The Coming of Neo-Feudalism, is out now. Follow him on Twitter: @joelkotkin
To enquire about republishing spiked's content, a right to reply or to request a correction, please contact the managing editor, Viv Regan.