No, Mother Nature is not punishing California
It is crazy to blame every bad weather event on mankind.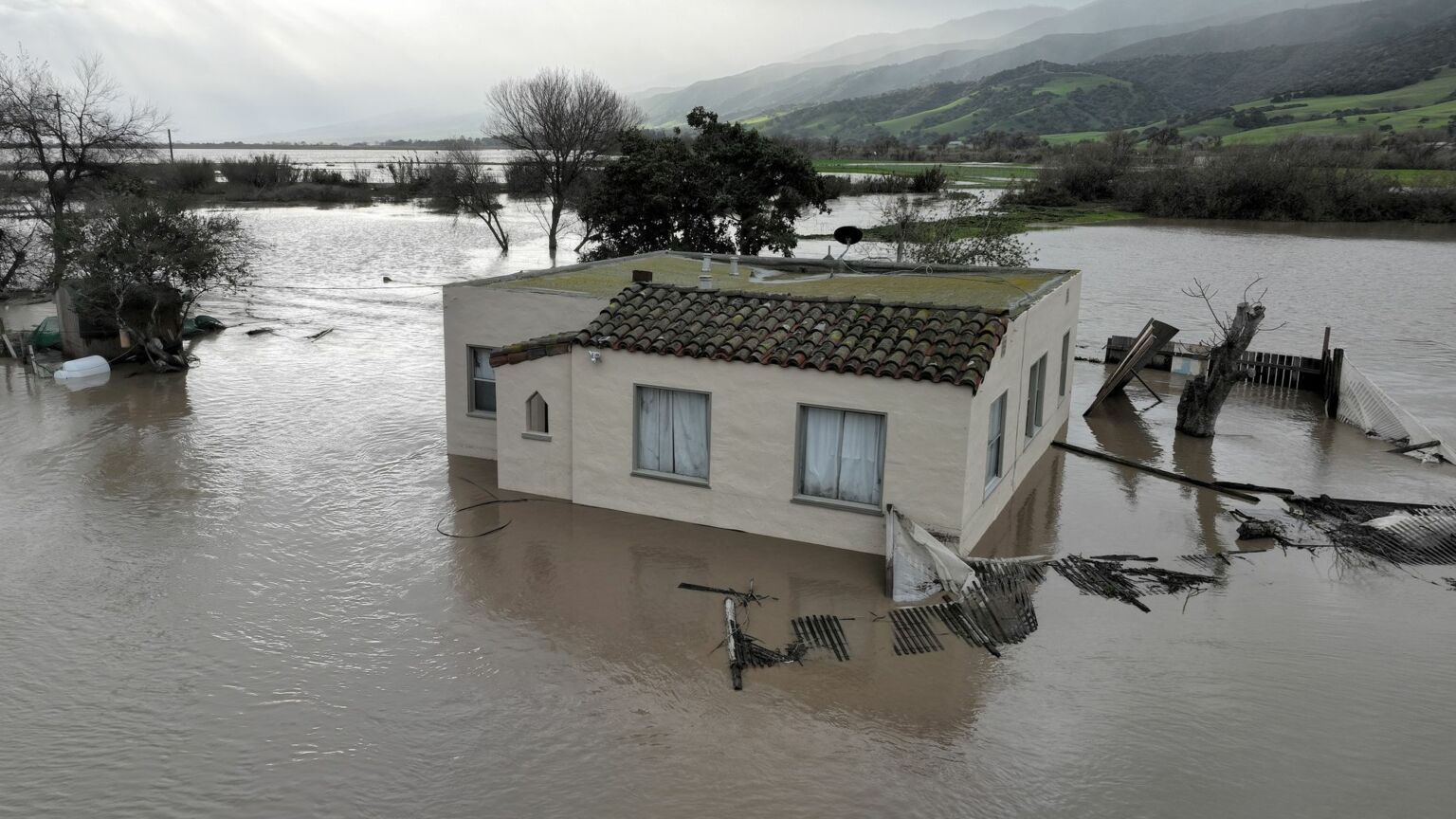 There's always been an irony in the haughtiness of America's coastal elites. These people look down on Middle Americans and their cranky beliefs – they 'cling' to religion, as Obama infamously said – and yet they themselves hold far wackier views. They think there's a hundred genders. That racism is the original sin of the United States that will never be washed away. That whites must engage in the self-mortification of checking their privilege. And that climate change is Mother Nature's punishment of mankind for his hubristic industrial antics. That last one is positively pre-modern. It makes the other religions in the US look perfectly sane.
The right-on religion of the supposedly Smart Set has been on full display over the past week. As California has been battered by storms and floods, the cry has gone out that this is Gaia reprimanding fallen humanity. Ellen DeGeneres has been weather-hysteric-in-chief. She posted a video of herself standing by a roaring creek near her mansion in Montecito in which she said: 'Mother Nature is not happy with us.' 'We need to be nicer to Mother Nature', she said. Appease the gods of nature that we might be delivered from their fury! This idea that California's terrible weather is something more than terrible weather, something portentous, something punishing, has been widespread. These storms are a 'glimpse of the future', says the New Yorker. One climatologist points the finger at 'human-caused climate change', which is apparently 'amplifying' mad storms. We can try to contain overflowing rivers, said a California official, but 'Mother Nature has other plans'.
Ascribing intent to nature – she's 'unhappy', she has 'plans' – is crazy. It comes across like a secular version of those hardcore Christians who insist bad weather is God's punishment for our sins of the flesh. Who can forget when Kevin Swanson, a hotheaded preacher in Colorado, said Hurricane Harvey in Texas in 2017 was God's violent admonishment of the American people for their embrace of homosexuality. 'Unless Americans repent', he said, they'll 'perish'. The coastal elites mocked Swanson's eccentric claim that a hurricane contained the homophobic fury of God, yet they now claim that storms in California express the climatic fury of Nature. One of America's best-known homosexuals – Ellen – sees a raging river and says it's nature sending us a message. Not that homosexuality is bad, but that all of mankind is bad. In both cases, weather is said to be scolding us, whether for sexual crimes or industrial crimes.
The storms in California are dreadful, there's no question about that. Heavy rain has been drenching the state since the end of December. Waterways have burst their banks. At least 19 people have died, thousands have been told to evacuate their homes and around 25million people are currently under a 'flood watch'. President Biden has officially declared it an emergency. But the idea that these storms are a result of 'human-caused climate change', even that they are giving violent voice to Gaia's displeasure with human beings, just does not stack up. This claim smacks of the irritating tendency among the elites to view man's presence on the planet as a problem, deserving of rebuke.
As some observers have pointed out, the state of California has been flitting between drought and storms pretty much forever. As one report puts it, 'wet winters and dry summers are a natural part of California's weather patterns going back millennia'. There was a worse deluge than today's in December-January 1861-1862. The Great Flood, they called it. Did modernity, then in its infancy, cause that too? Some have even pointed to the upsides of the current rainfall. For one, it has helped to alleviate the drought California had been labouring under since the summer. There is a 'blessing' in all this water for our 'drought-ravaged state', says one observer.
Of course, the summer drought was likewise interpreted by the climate religionists as proof that humanity is screwing up the planet. California is 'the driest [it has been] in 1,200 years', said the Washington Post in May last year. Yet as Steve Milloy quipped: 'So why was it so dry 1,200 years ago when CO2 was at pre-industrial levels?' Maybe, just maybe, there has always been strange and sometimes calamitous weather, long before human beings started driving 4x4s and using plastic straws and wearing 'fast fashion' and all the other things that the eco-doomsayers claim are whipping up punishing storms from unhappy Mother Nature.
Time and again, natural events are interpreted as the consequences of human excess and sin. Like those ancient communities that believed every earthquake and plague was a sign of divine displeasure, today's far better-educated, supposedly rational elites view every flood and tornado as signs of planetary displeasure with our sin of living beyond our means. A writer for The Hill summed up this febrile view in 2021, when he said today's 'raging wildfires, floods and pandemics' make it feel like the 'End Times'. '[And] it's our own damned fault', he said. In short, we're bringing all this fire and sickness upon ourselves by being such a reckless species. 'So the Lord plagued the people…'
Amid all this secular self-flagellation and doom-mongering, it's easy to forget that climate-related deaths are declining. Last year, there was an exceptionally low number of climate deaths around the world. We're being told, in the wake of California's stormy troubles, that we must now stop talking about 'climate change' and instead talk about 'climate chaos'. The truth, though, is that the vagaries of nature are less of a problem for mankind than they've ever been, thanks to the very modernity the eco-elites profess to hate. California is facing a very serious practical challenge, not an apocalyptic lecture from on high. We urgently need to drain the hysteria from the climate discussion.
Brendan O'Neill is spiked's chief political writer and host of the spiked podcast, The Brendan O'Neill Show. Subscribe to the podcast here. And find Brendan on Instagram: @burntoakboy
To enquire about republishing spiked's content, a right to reply or to request a correction, please contact the managing editor, Viv Regan.