The trans debate is beyond satire
The row over Scotland's gender-recognition bill has unleashed an uncontrollable spasm of absurdity.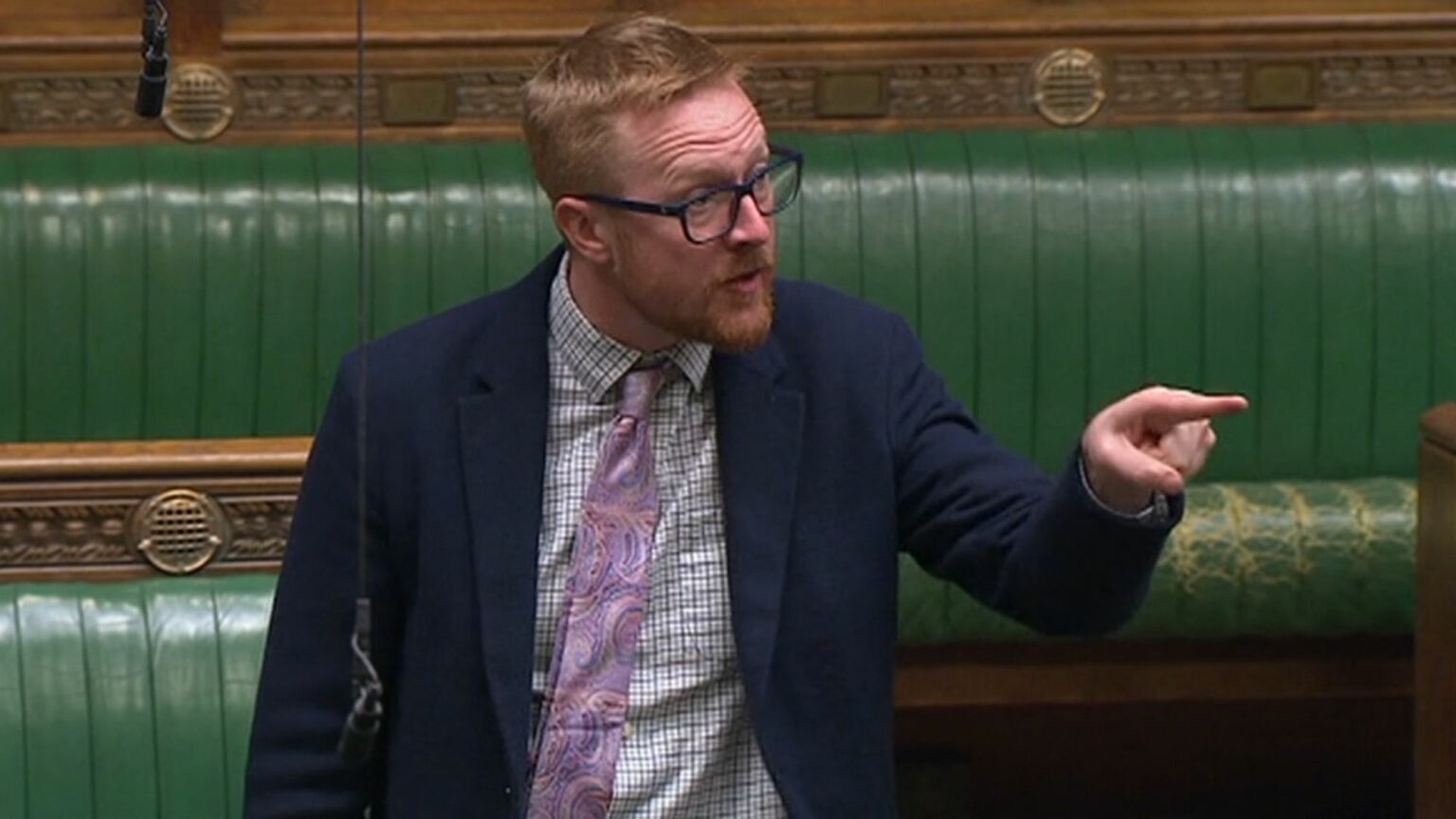 It has been a busy week in TransWorld. Trans-rights champion Lloyd Russell-Moyle MP had to apologise for stabbing a hostile finger at a female MP in the House of Commons on Wednesday. Conservative MP Miriam Cates had just recounted a personal experience that underscored her unease about proposed measures that would expand access to female lavatories to anyone who feels like it, during a debate over Nicola Sturgeon's Gender Recognition Reform (Scotland) Bill. Russell-Moyle denounced her retelling as a 'dogwhistle'.
During his speech, Russell-Moyle was himself evocative, if not of a mole, then certainly of some small, amusingly infuriated, jabbering woodland creature, possibly from a Pixar movie about a proposed development in the 13.5 Hectare Woods that threatens his nut supply. I don't know if he keeps a secret diary like his near-namesake Adrian, but he certainly communicates with the wider world as if expecting no more pushback on his ludicrous lack of self-awareness than one would get from one's own private journal. He also has an adolescent's conviction that the world is unfair. I'm just waiting for him to complain that Keir Starmer isn't even his real dad.
This rumpus was created by the SNP's determination to pass gender-recognition legislation that would bring Scotland in line with Canada, but would push it out of kilter with the rest of the UK. This was Holyrood's latest legislative attempt to present itself as so much more in tune with the modern world than the stuffy old patriarchs to the south. And sod any women who say different.
When Westminster – rightly – decided to overrule it this week, this triggered probably the most significant blow to the prospect of the Union surviving intact since Brexit (which is probably what Sturgeon was hoping for).
Fearing perhaps that the SNP had stolen a march on its radical credentials, the Scottish Green Party managed to take the trans debate to new heights of absurdity. On Monday, a Green MSP called Maggie Chapman refused on LBC to rule out the prospect of eight-year-olds choosing to change sex. Perhaps a woman growing up with the name Chapman can be forgiven for experiencing some confusion, but this seems a little wild.
Meanwhile, in an ostensibly separate matter, the endless equivocations and reversals continued over the UK-wide bill intended to outlaw 'conversion therapy' – ie, coercive treatments for those struggling with their sexuality, which demand they just stop being silly and straighten themselves out. At least, that's what conversion therapy used to mean, until 10 minutes ago. Now it might also mean refusing to accept at face value a teenager's trans identity – and perhaps also her demand that you slice off her breasts, at her second or third request. This, not surprisingly, has struck some parts of the Tory Party as not being the sort of thing that Burke, Oakeshott and Scruton used to understand as 'conservative'. Thank heavens for Kemi Badenoch, who is planning to write to all Tory MPs to set out her objections.
And finally, for now, the Science Museum – the actual Science Museum – this week removed a 'trans-inclusive' display that playfully teased visitors with the intractable question of whether they, or science, could distinguish a boy from a girl. To underscore the apparently arbitrary nature of such distinctions, it presented a few harmless gadgets such as chest-binders and penis-simulating underwear 'packers'. It also celebrated the process of 'transitioning' from one sex to the other as a 'hero's journey', which certainly puts the Neil Armstrong exhibit into perspective. One small step to become a man?
I can't help thinking that the Science Museum's near neighbour, the Victoria and Albert Museum, would have been a better place to explore gender signals and coded behaviour with carefully chosen artefacts from fashion and design. We could then leave the Science Museum to focus on the immutable genetic architecture underneath.
It all feels at once crazy and desperately familiar. And this column really would like to move on from it, I swear. To note with relief that the spasms of absurdity – part-Wonderland, part-Lilliput and part-Little Red Book – had subsided, and that we could get back to discussing Britain's rather more pressing economic issues. We have a catastrophic ongoing productivity paralysis, huge mental- and physical-health aftershocks from the anti-Covid measures, serious eruptions of public-sector industrial action and a long-term decline in living standards when set against many other developed nations. The country is in serious danger of making the journey that Christopher Hitchens referred to following his cancer diagnosis, 'across the stark frontier that marks off the land of malady'. This is no time to be re-arranging the gender of the deckchairs.
In his matchless satire, Gulliver's Travels, Jonathan Swift noted an issue that had caused untold bloodshed and repeated revolutions in the land of Lilliput – namely the dispute between those who insisted a boiled egg should be cracked open at its narrow end, and those who said the big. Widely perceived as satirising another trans issue – the equally supernatural one of the exact nature of the Eucharist – it maps so closely on to the present debate that it might be construed as anticipatory plagiarism of reality.
Meanwhile, Alice in Wonderland bequeathed to the world the principle of the 'Red Queen' – the evolutionary arms race in which adaptations are always in danger of being outpaced by counter-adaptations from competitive organisms. This too reminds me very much of the endless mutations of supposedly 'progressive' causes, where activists are determined to have something to be furious about, regardless of how many of their demands are met by an exhausted public who just wants the screaming to stop.
We cannot concede reality. That would be too much. We must continue to assert logos. But by God, whether the trans debate is a psy-op by Yuri Bezmenov's Kremlin, or by an incredibly cunning Conservative Party dark-ops team, the demoralisation it causes is at times very, very real.
Simon Evans is a spiked columnist and stand-up comedian.
To enquire about republishing spiked's content, a right to reply or to request a correction, please contact the managing editor, Viv Regan.