This ban on 'trans conversion therapy' is utterly misguided
Clinicians could soon be criminalised for treating people with gender dysphoria.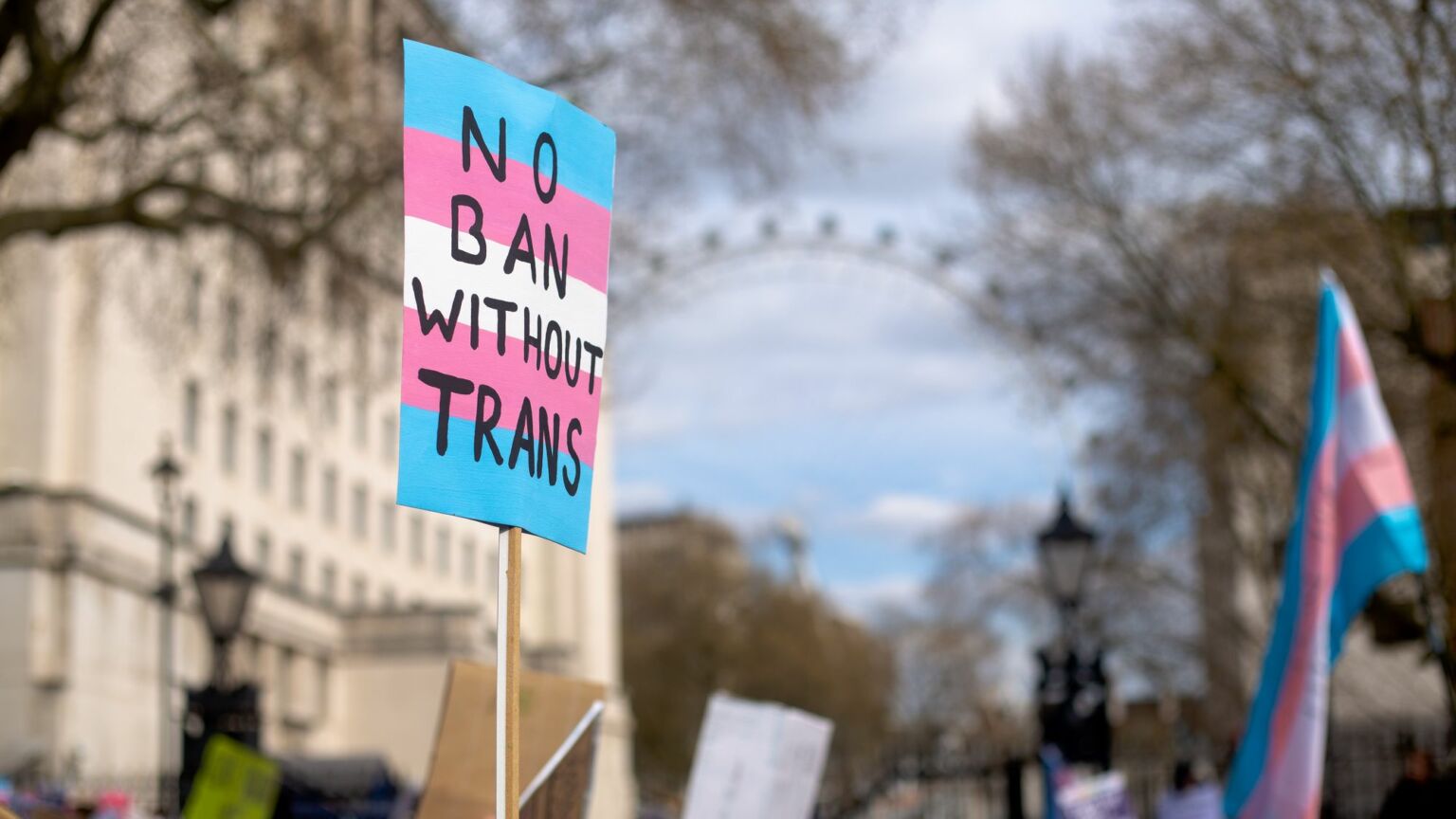 Here we are again. It seems the forces pushing for a ban on so-called trans conversion therapy in the UK were just too powerful. God could have threatened to unleash a kitten-killing plague, or Sir David Attenborough could have ridden up the Thames and into parliament on the back of a blue whale, with a banner saying 'don't introduce this mad law', and still the proposed ban would still have found its way through Westminster. Warnings about unintended consequences from senior political insiders have been dismissed. And the testimonies of medical professionals, concerned that therapists could be criminalised for doing their jobs, have been blithely swept aside.
A ban on conversion therapy was first proposed by UK prime minister Theresa May in 2018. Last year, Boris Johnson's government watered this proposal down so that it would only outlaw attempts to change people's sexual orientation, dropping earlier proposals to ban so-called trans conversion therapy. Following multiple u-turns and changes, the government announced today that a bill will be published shortly. Crucially, this new bill will include a ban on trying to change a person's 'gender identity'.
The proposed ban on 'trans conversion therapy' was initially dropped last year because No10 was concerned that doctors, therapists and parents would be discouraged from exploring the reasons why young people might be confused about their gender. Ministers were probably hoping that the proposal might be allowed to quietly fade away, as an embarrassing and poorly thought-through gesture. But the bleating flock of Guardianistas sunk their molars in. The call to ban 'trans conversion therapy' has since attracted hordes of unthinking, do-gooding luvvies, culminating in Stephen Fry's painfully on-brand 'Stop Dithering' campaign and open letters signed by religious leaders (including former Archbishop of Canterbury, Rowan Williams).
Unsurprisingly, this campaign has also been the focus of legion LGBT groups. Last year, around 100 such groups withdrew from the government's LGBT-rights conference, Safe to Be Me, after it was proposed that gender identity be excluded from the conversion-therapy ban.
Thankfully, there is no evidence that conversion therapy of any type is widespread in the UK. A survey by LGBT groups found only 51 people who said they had experienced the practice of gender-identity conversion therapy. When the government commissioned Coventry University to explore the issue, researchers were forced to look to the US for real-life examples. Nowadays, actual conversion therapy is hardly more prevalent than the practice of dunking old women into ponds to see if they're witches.
Activists and politicians talk of 'conversion therapy' purely to incite a moral panic. We all know that gay conversion therapy is as backward as it is pointless. It invokes a shameful folk memory of gay men strapped down with electrodes on their temples in dismal psychiatric hospitals. And so the narrative runs that if you don't support a ban on 'all forms' of conversion therapy, then you are excusing torture. In truth, the kind of practices that would be targeted by a ban on 'trans conversion therapy' bear no resemblance to those horrors of the past.
Gender dysphoria is a feeling of extreme discomfort in one's sexed body. For trans activists, this is an innate feeling that must simply be 'affirmed' – by medical professionals and by society at large. Anything less, in the view of activists, is transphobic. But, of course, it isn't that simple – many who 'transition' live to regret it.
There is a danger that by banning so-called trans conversion therapy, we will make it difficult for professional therapists to talk through and work out what is causing someone's gender dysphoria. It will pile yet more pressure on clinicians to simply affirm a person's sense that he or she is born in the 'wrong' body, rather than question it. Talking therapies could end up being branded as 'conversion therapy' if the result is that a patient decides they no longer wish to transition.
Clinicians who fail to agree with a patient's self-diagnosis of trans could face serious repercussions – a similar bill in Canada has even led to criminal sanctions. This could lead to an exodus of clinicians from the field, leaving desperate and vulnerable people without appropriate support.
One group this ban will have a particularly pernicious effect on is gay and lesbian youth. Evidence from the soon-to-be-closed NHS Gender Identity Development Service (GIDS) shows that a disproportionate number of the young patients referred to the Tavistock clinic are same-sex attracted.
So many young gay people have been sent down a path towards changing gender that, according to whistleblowers, Tavistock clinicians used to make dark jokes that soon 'there would be no gay people left'. Matt Bristow, a gay psychologist who worked at the Tavistock, said in an employment tribunal in 2021 that he feared the clinic was effectively running 'conversion therapy for gay kids'. Many children who say they want to change sex, he said, are embarrassed to be gay or are being bullied for it.
The grim irony here is that if the government bans 'trans conversion therapy', chilling the prospect of exploratory counselling, more gay children could end up being pushed down the path of irreversible medical treatment. Affirming someone's gender dysphoria can end up becoming a form of gay conversion therapy – turning a gay girl into a heterosexual transgender boy, for instance. Gay-rights campaigners have referred to this phenomenon as 'transing away the gay'.
As Dennis Kavanagh of the Gay Men's Network (GMN) argues: 'This bill risks doing irreversible and serious harm to a generation of gay children.' 'This government u-turn is a catastrophe for gay rights', he says.
The ban on 'trans conversion therapy' is what you get when you listen to all those supposedly 'kinder' people – who obsess over the best way to appear as trans allies, without thinking through any of the consequences. The result is that gay, lesbian and bisexual youth are thrown under the bus. This bill is deeply misguided and must be resisted.
Jo Bartosch is a journalist campaigning for the rights of women and girls.
To enquire about republishing spiked's content, a right to reply or to request a correction, please contact the managing editor, Viv Regan.