Fay Weldon, a free-thinker to the end
Britain has lost a literary light and fearless teller of truths.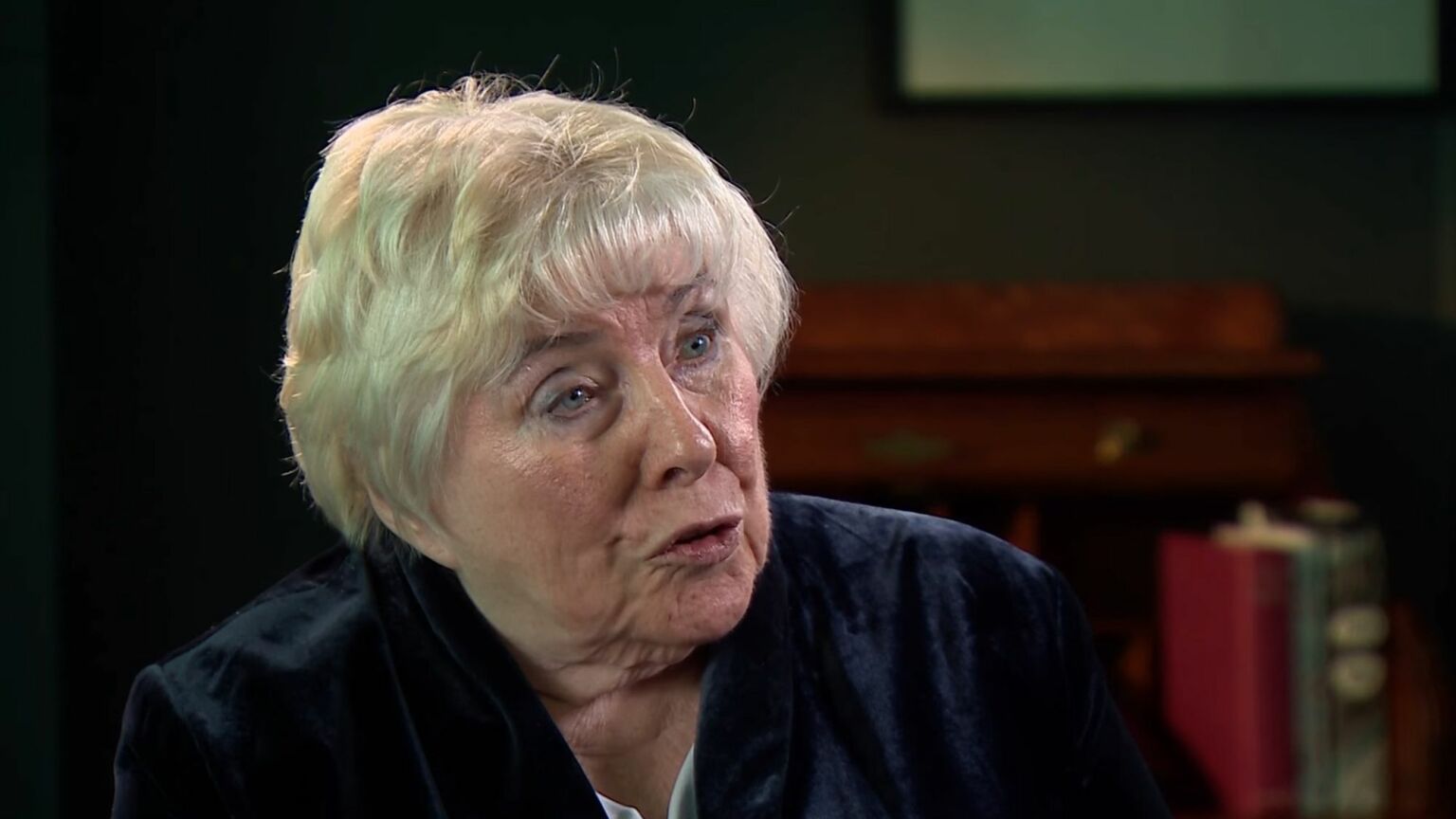 Fay Weldon, writer and hero of the women's liberation movement, has died. She was 91. She'll be remembered for many things. Her feminism. Her subsequent turn against feminism. Her dazzling, acerbic prose. The Life and Loves of a She-Devil, her best-known novel. Praxis, her best novel. Her TV writing, which famously includes penning the first episode of Upstairs, Downstairs. And of course her life, which was superbly lived, and which she divided into two parts: the 'mildly scandalous' and 'delinquent' years, that lasted till she was 32, and the serious years, in which she became, by her own definition, a 'writeaholic'. Her autobiography – Auto Da Fay – is a rollicking read.
There's something else she should be remembered for, too. Her free-thinking. She was a free-thinker to the last, even when it cost her. She seemed almost allergic to orthodoxy. In the Sixties, she bristled against the then ruling consensus on women – namely, that they were little more than providers of 'sexual, childcare and cooking services' to men. Her first novel, The Fat Woman's Joke (1967), tells the tale of a middle-aged woman who flees the marital home when her husband suggests they go on a diet. The misery! It's a proto-feminist parable, back when feminism was funny, full of female fury and cake. It's hard to imagine today, in our irritating era of girl-bosses, just what a revolt of the imagination occurred when Weldon and others wondered out loud if perhaps women should be more free. A news report on a 2008 reunion of some of the original British women's libbers captured it well – when Weldon and others were pushing 'the concepts of equal rights for men and women, equal pay, and equality of opportunity', they 'were still just that: concepts'.
Weldon's prolific work – she wrote 31 novels, and much else besides – focussed on women and their rifts with men. And with each other. Her female characters were never ciphers for feminist messaging. Some of them were deliciously awful. She wanted to show that women can be 'a little bit bad', she said. 'There are as many bad women as bad men', she said in 2017, a statement that feels as revolutionary today, when we're all meant to gnash our teeth over toxic masculinity, as her celebration of fat, free women must have felt back when demure, peckish domesticity was the highest expectation of the female species. Her most brilliantly dreadful heroine was Ruth Patchett, in The Life and Loves of a She-Devil, who exacts revenge on her husband and his fancy mistress. 'Hate obsesses and transforms me', she says. 'I sing in praise of hate, and all its attendant energy. I sing a hymn to the death of love.' There was never any Eat Pray Love bullshit with Fay.
In later life, she became as agitated by feminist orthodoxy as she had once been by patriarchal orthodoxy. She wasn't convinced that feminism had truly liberated womankind. 'Once it was only the men who were wage-slaves… now it's the men and the women too', she said. Perhaps capitalism was the problem all along, she posited, and who's going to argue with that? She was perplexed by 'victim feminism'. She and the other funny, furious warriors for women's lib didn't fight all those battles just so women could skulk around moaning about men, she said. She took a well-aimed swipe at the modern obsession with sexual harassment. 'In my youth, what is now seen as sexual harassment was seen as welcome attention', she said, to the spitting horror of younger feminists who think a clumsy come-on is on a spectrum with rape. In 2017, she emailed me with alarm: 'I see that the secretary of defence [Michael Fallon] has resigned because he put his hand on a girl's knee 15 years ago… Return of the tumbrils!'
To someone like Fay – who'd been a single mum, a jobbing copywriter, a woman in the then man's world of letters – feminist self-pity made no sense whatsoever. It was 'right and proper' that women saw themselves as victims 30 years ago, she said, 'when they couldn't earn, they couldn't work, they couldn't join the professions'. But 'all that has changed', she cried. She threw some tasty hand grenades into the new feminist consensus. What's wrong with a woman picking up her husband's socks, she asked? The women who accused Trump of sexual harassment were 'foolish' and 'neurotic', she decreed. And on each occasion she was accused, with tedious predictability, of 'betraying' feminism, in the words of today's New York Times obit. She wasn't betraying anything. She was remaining faithful to the dictates of her conscience, which in the Sixties held that the 'male ideal' exercised too much power over society, and in the new millennium held that the supposed female ideal, or at least institutionalised feminism, was now the jackboot on too many necks. Feminism had become an 'oppressive force', she thought.
Weldon had little time for the ideology of transgenderism. She fully supported the right of people to play about with their gender, but she didn't believe men can become women. Like her old comrade in second-wave feminism, Germaine Greer, she thought that 'just to get one's genitals chopped off doesn't make you a woman'. In Death of a She-Devil – her 2017 sequel to The Life and Loves of a She-Devil – the once bitter wife Ruth Patchett is now a feminist tyrant whose grandson transitions to become a 'woman'. 'If you can't beat us, join us', Ruth tells him. Weldon didn't mince her words – the trans ideology is not an extension of feminism, but its negation, she suggested. 'Man now controls the best weapon woman ever had, the body he so envied, its very moods and subtleties. He can become her.' Men in dresses were never going to fool a freedom-fighter like Fay. She could spot unjust male power even when it was wearing lippy.
Weldon clashed with the literary elite, too, despite being one of Britain's best-known, best-selling novelists of the late 20th century. I loved the time in 2000 that the Bulgari jewellery house asked her to do some product placement in one of her novels for a reputed £18,000, so she wrote a novel called The Bulgari Connection. No half-measures! 'My name will be mud forever', she thought to herself. Then she thought: 'I don't care. Let it be mud. They never give me the Booker Prize anyway.' Even in her early job as an ad copywriter in the Sixties she made waves. She famously popularised the slogan 'Go to work on an egg'. Even better was her proposed slogan for a new brand of vodka: 'Vodka gets you drunker quicker.' Her bosses vetoed that one, the idiots. Men didn't like Fay's honesty, and what could be more honest than emblazoning a billboard with the real reason people buy vodka?
Britain has lost a literary light, a fearless shatterer of glass ceilings, a truth-teller par excellence, and a woman who boosted the liberty and gaiety of the nation. Fay was always incredibly kind and encouraging to me and an enthusiastic reader of spiked. In one of her last emails to me, she said: 'What a relief to see spiked has all these troops ready for mustering on the right side of the battle. All is not lost!' Indeed it isn't, Ms Weldon, and that is thanks to people like you.
Brendan O'Neill is spiked's chief political writer and host of the spiked podcast, The Brendan O'Neill Show. Subscribe to the podcast here. And find Brendan on Instagram: @burntoakboy
Picture by: YouTube / BBC Newsnight.
To enquire about republishing spiked's content, a right to reply or to request a correction, please contact the managing editor, Viv Regan.