Three cheers for 'TERF Island'
In 2022, Britain's gender-critical feminists scored some stunning victories against trans ideology.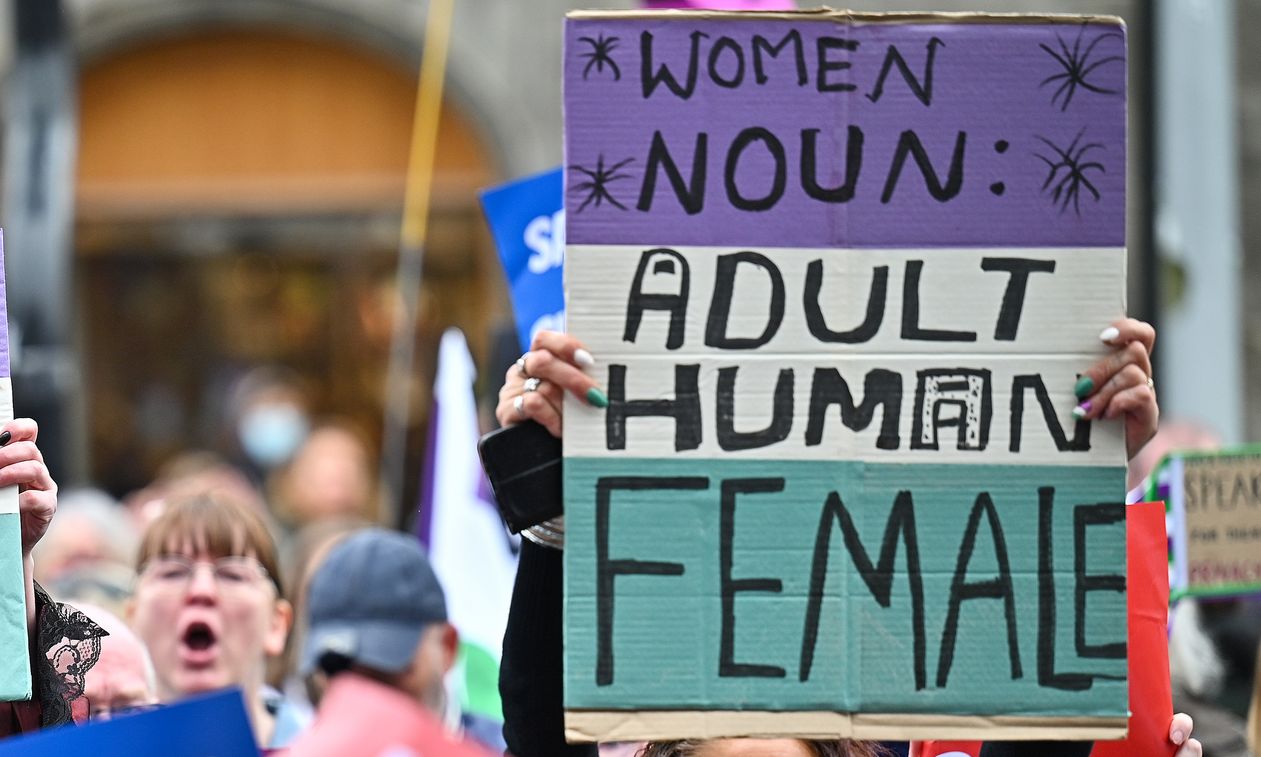 Donate to spiked this Christmas, and help keep us free, fearless and independent.
This Christmas, heretics, rebels and free thinkers have every reason to feel jolly. Because 2022 has been the year that the British public said 'no' to the worst excesses of US-imported grievance culture – most notably to transgenderism. And those leading the charge through the courts, institutions and streets have been middle-aged women who refuse to take any shit.
A heroine to whom we all owe a debt is researcher Maya Forstater. In 2019, Forstater was forced out of her job at the Centre for Global Development think-tank, for holding what have become known as 'gender-critical beliefs'. Forstater took her employer to court, and although she lost the original tribunal case, this was overturned in 2021 after an appeal ruled that gender-critical beliefs must be protected from discrimination under the Equality Act. Today, because of Forstater, the right to hold the (once unremarkable) belief that there are two sexes, that sex is immutable and that sex matters is legally protected within workplaces. In July this year, a second employment tribunal ruled that Forstater had indeed been a victim of discrimination by her employer. It was a resounding vindication of her three-year stand.
One reason why Forstater stepped up to the task of taking on institutionalised trans ideology is because trade unions were not interested in protecting their gender-critical members. And in doing so, the bloody-minded Forstater won what is now recognised as a landmark victory for workers' rights.
Next up in the list of vindicated middle-aged women is the remarkable founder of Transgender Trend, Stephanie Davies-Arai. The long-standing feminist campaigner first began to raise the alarm about the rising numbers of children identifying as the opposite sex seven years ago. She founded Transgender Trend in 2015 to collate research to 'help explain the sudden upwards trend of referrals of children and adolescents to the Tavistock Gender Identity Development Service (GIDS)', the NHS's specialist gender-identity clinic for young people. Until Davies-Arai came along, there had been little data collected.
For her campaigning, Davies-Arai has been relentlessly targeted by trans activists. When Transgender Trend put together a resource pack for schools in 2018, trans-activist organisations including Stonewall, Gendered Intelligence and Trans Media Watch, denounced the advice as transphobic and unlawful. In March this year, Susie Green, then chief executive of trans-youth charity Mermaids, refused to share an online platform with Davies-Arai at an event organised by Great Ormond Street Hospital.
Then, just a few months later in July, Davies-Arai was recognised in the late queen's Jubilee birthday honours list and awarded a British Empire Medal for her services to children. Mermaids, meanwhile, following a series of allegations of safeguarding failures, is now being investigated by the Charity Commission. Green has resigned as Mermaids CEO, and the Tavistock gender-identity clinic in London is also soon to be closed.
The decision to close the Tavistock was announced in July, following a report by leading paediatrician Dr Hilary Cass, which found the clinic's model of care is 'not safe' for children. The interim Cass review, published in February this year, vindicated many of the concerns first raised by Transgender Trend. Stephanie's medal is well-deserved.
Another principled and courageous woman to take a stand against the gender authoritarians in 2022 was criminal barrister Allison Bailey. In July, Bailey won a legal victory against her employer, Garden Court Chambers (GCC), who she accused of victimising her for her gender-critical beliefs. A black lesbian who survived child abuse, Bailey wrote a powerful witness statement documenting how colleagues at her self-styled 'progressive' chambers had turned against her and labelled her 'transphobic'. While Bailey was facing discrimination at GCC, GCC was paying a fee to trans lobby group Stonewall for membership of its 'Diversity Champions' scheme. The scheme helped GCC to develop its diversity and inclusion policies.
As well as suing her employer, Bailey also took Stonewall to court in the same tribunal. Bailey's employment tribunal held that 'gender identity theory as proselytised by Stonewall is severely detrimental' to women, particularly lesbians. However, the legal case against Stonewall was dismissed. Next year, Bailey is set to challenge that in an appeal.
Questions about the veracity of Stonewall's legal advice have now tainted the charity's brand in the eyes of many institutions. Various bodies across the public sector cut ties with Stonewall this year because of this. Nonetheless, Stonewall continues to work with over 850 organisations as part of its Diversity Champions scheme. It enjoys widespread support within law firms and finance, and remains a powerful force in many institutions. Taking it on in the courts is an essential first step to weeding out the pernicious influence of Stonewall on civil society – and no one is better placed to challenge Stonewall than Bailey.
Progress is not just being made in the courts – it is happening on the streets, too. Grassroots and gutsy campaigner Kellie-Jay Keen is the founder of Standing for Women. Her magnetic presence has long united people from all backgrounds under the banner of the dictionary definition of 'woman' as 'adult human female'. This year, Keen has been touring the US, organising free-speech rallies across the UK and giving a microphone to any woman concerned about the march of gender ideology. Keen has also had to face off against the balaclava-clad bully boys of Antifa in just about every city she visits. Her monthly rallies vow to 'take back the public square, one corner at a time'.
Yet despite her bolshy stand for women, Keen has been given the cold shoulder by some establishment gender-critical voices who argue that feminism should remain tied to left-wing politics. Keen shrugs this off. And her following continues to grow.
But while dissenting voices are becoming louder in England, elsewhere in the UK the grip of trans activism is tightening. The Scottish parliament voted to introduce gender-self identification just before the Christmas recess, which will make one's legal sex a matter of subjective choice. This means that women-only hospital wards, shelters and prisons will be obliged by law to admit males who have an easily obtainable gender-recognition certificate. In practice, this has been the case for some time. Indeed, the current head of Rape Crisis Edinburgh, which is supposed to be a women-only post, is a man who identifies as a transwoman. The SNP sees no problem with this. Indeed, it is determined to obliterate single-sex spaces, seemingly just to stick it to the Tories in Westminster.
Braced against the might of these moronic perv enablers is Harry Potter author JK Rowling, who announced earlier this month that she would provide funding for a women-only sanctuary in Edinburgh, called Beira's Place. One might imagine that this philanthropic gesture would be met with praise. But for launching this rape-crisis centre, Rowling, who is herself a survivor of sexual and domestic violence, has been cast as a transphobe. Ignoring the smears, the indefatigable Rowling continues to use her significant clout to hold a vital line for women in Scotland.
As 2022 draws to a close, it's time to raise a glass of eggnog to these no-nonsense middle-aged women speaking truth to power. Over the past 12 months, these Amazonians in sensible shoes have shone a light on the activities of trans lobby groups in courtrooms, workplaces and the public square. And thanks to their efforts, the era of 'no debate' on the trans issue has melted into a grubby puddle.
Jo Bartosch is a journalist campaigning for the rights of women and girls.
To enquire about republishing spiked's content, a right to reply or to request a correction, please contact the managing editor, Viv Regan.