Why TERFs need to leave the left
Too many feminists are standing by a left that hates them.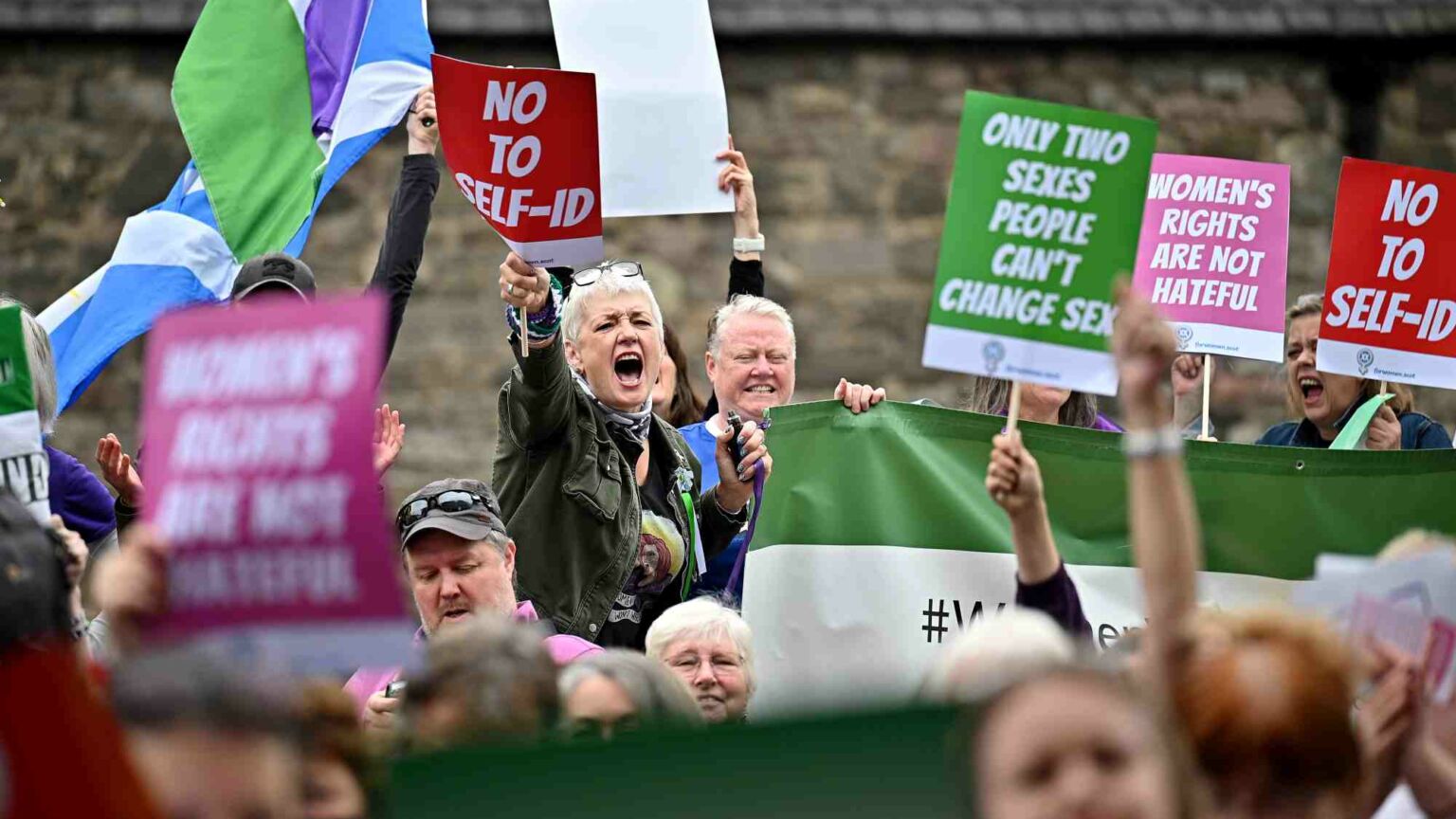 When I was at school, there were a couple of girls' names that had to come with a further description because said names were so popular. I remember Susans J and K, Karens T and G – and various Julies, including me, Julie B. But there was another Julie B – my friend, the beautiful, kind and smart Julie Bamford, who would be killed in a car crash while still young, when I'd turned my back on my brethren to run away to London – for fame, fortune and feminism.
I thought of my friend this weekend on reading that the estimable feminist writer and campaigner Julie Bindel had been accused of being me. Last week, she was banned by Nottingham Council from giving a proposed talk at a library after the usual geek chorus of cocks in frocks turned out to yell about TERFs. As she wrote in the Mail: 'On seeing the protesters gather, I walked over to them and asked if they had ever read anything I'd written. Two of them thought I was someone else entirely – former NME journalist Julie Burchill. They didn't seem embarrassed when I pointed out the mistake.'
I must say that on reading this, my first reaction was straightforward: 'Won't those idiots ever stop?' But my second thought was more ambiguous and tinged with amusement: 'Oh, she'll have hated that!' For a while now, Bindel has been tweeting 'I'm still not Julie Burchill' and because I'm an easy-going type these days, I haven't reacted. Then I began to feel a slow but sure feeling of defensiveness – 'former NME journalist'? What about Times, Mail, Telegraph, Spectator and Newsweek journalist, best-selling author of No1-novel Ambition, winner of an International Emmy for Sugar Rush? Nope – 'former NME writer', a job I left when still a teenager. 'Erasure' (as we TERFs are fond of saying about women) much?
Bindel's sour dismissiveness towards me consolidated a scrap that has been brewing for a while – the Good TERF / Bad TERF split. It was summed up well in a recent social-media post by Dr Julia Long, the radical lesbian feminist activist, lecturer and author. It was about a recent incident involving our mutual friend, women's rights campaigner Kellie-Jay Keen, also known as Posie Parker. Keen came to notice with her creation of the pressure group Standing for Women, whose eye-catching (and, hilariously, 'controversial') logo 'WOMAN / noun / ADULT HUMAN FEMALE' was first seen on a billboard in Liverpool in 2018. Adrian Harrop (a doctor who obviously swerved the human-biology classes) took offence at this plain truth, and tweeted to Primesight, who owned the billboard's space: 'Are you aware that Standing for Women is a transphobic hate group, disguising itself in an adulterated version of feminism in order to spread its propaganda and hate speech with impunity?' Primesight capitulated quickly, but for our humble heroine, it was just the start, as she and her equally attractive and mischievous sidekick Venice Allan quickly became the Cagney and Lacey of women's rights (they reject the word feminism as tainted by academia), scattering posters and clothing stating this simple fact in their wake as they made activism look like the most fun imaginable.
Back to what Dr Long said: 'See that one of the misogynists attacking the Standing for Women event held up a sign saying "Posie Parker – Racist Trash".' According to Long, the protester likely got this idea from another gender-critical feminist – from one of the self-declared 'good' ones who allegedly called her a 'racist shit'. In her post, Long also called out Bindel who once branded Parker a 'thick feck'.
Like me, Kellie-Jay has had the temerity to question whether it is desirable for tiny girls to be shrouded in hijabs, and whether it should be taboo to mention the ethnicity of the grooming gangs who have raped and trafficked thousands of girls: 'It seems we are at a time where you can offend everyone except Muslims and transwomen – the rest of us are expected to take it on the chin', she tweeted in 2018. This caused the left-wing gender-critical group A Woman's Place to distance itself from her and disinvite her from a panel. The stand-off between the Mean Girls and the Keen Girls had begun.
The whole weird dynamic between the left and the women who cling on to it can be seen in a statement by A Woman's Place made in response to Kellie-Jay's tweet: 'We know failure to recognise the concerns of women, as well as active mistreatment of women on and by the parts of the political left has led to many becoming estranged or ostracised from the socialist and labour movement. Our values remain of the left and progressive, and we still believe that equality, justice and solidarity are worth fighting for.'
Oh, he treats me bad – BUT HE LOVES ME! Our relationship's worth fighting for – I've put so much into it! Who will have me if I leave him? It resembles nothing so much as an abusive relationship. Gaslighting? Labour leader Keir Starmer thinks it's wrong to say only women have cervixes, David Lammy believes a cervix is something you can develop with hormone treatment, Dawn Butler claims that babies are born without a 'sex', while Anneliese Dodds says that the meaning of the word 'woman' depends on 'context'. The Transmaids of Labour think it's shocking how few rapists are convicted – but they're fine with actual convicted rapists being allowed to serve their time in women's prisons if they identify as such. And yet Julie Bindel can say, as she did to Katy Balls on Spectator TV recently, 'We shouldn't abandon the left… I will never vote Tory. And I think feminism has to remain on the left.' I felt like yelling, 'Just leave him, love – he's not worth it!'
Many of those Good TERFs pillorying Posie and me for being 'racists' are happy to take the shilling from the Telegraph and Mail – papers their young selves would have condemned as reactionary. Perhaps they need straw women to scream 'Racist!' at in order to convince themselves they're morally pure and are still lovely little lefties who would never pursue anything as right-wing as money. Well, it's all lunches at the River Café with JK Rowling now, but they can rest assured that soon the purity spiral will rebound upon them, and someone will be calling them racists in order to cancel their careers and invalidate their views – so I hope they're putting a few pennies away as they sell their wares in what they'd once have disdained as the 'Tory press'.
So, back to the mis-Julie-ing, where we came in. It's all very well for Miss Bindel to be irked at being mistaken for me – but has it ever occurred to her that I might be offended by being mistaken for her? We fell out once before, I recall – I took umbrage that she preferred Camilla to Diana, way back in the Noughties. I was silly then. But I'm not now. So in future, if anyone seems likely to confuse us, just remind them that she's the courageous, indefatigable campaigner for the rights of the most vulnerable women in our society, who nevertheless still feels residual loyalty to a left that refuses to even recognise what a woman is. And I'm the brilliant, boastful writer who is also – just this once, in my intent not to give my X to any party that doesn't recognise my sex – the sensible one.
Julie Burchill is a spiked columnist. Her book, Welcome To The Woke Trials: How #Identity Killed Progressive Politics, is published by Academica Press.
To enquire about republishing spiked's content, a right to reply or to request a correction, please contact the managing editor, Viv Regan.