Transgender Day of Remembrance is a ghoulish spectacle
Trans people in the UK are actually less likely to be murdered than the general population.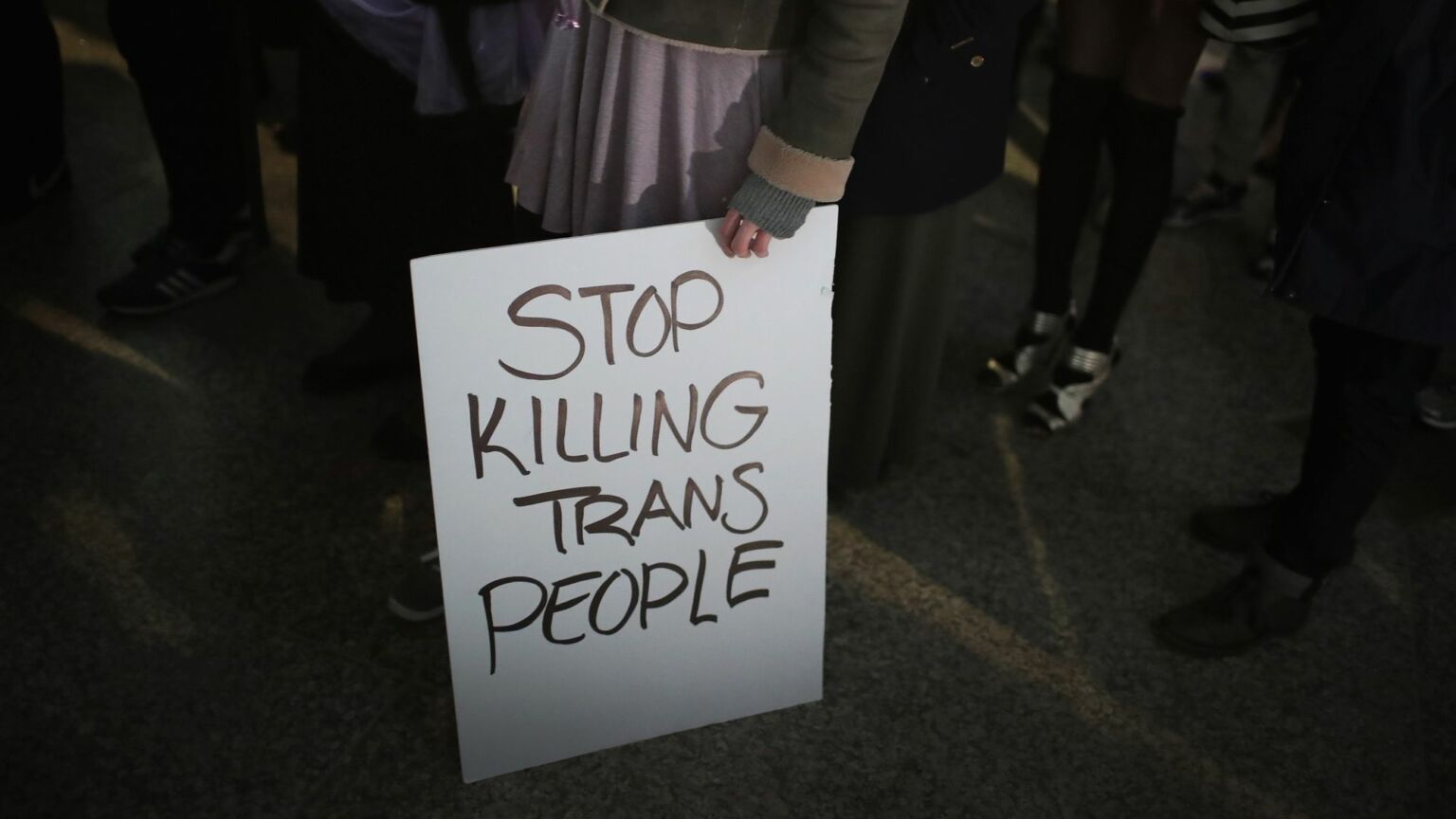 On Sunday, across the UK, local councils, politicians and media pundits all vied to be pallbearers at a phantom funeral, in order to mark Transgender Day of Remembrance – an annual event memorialising those who have been murdered as a result of transphobia. There were vigils, flags on public buildings and grim pronouncements on social media, all bemoaning an epidemic of murderous violence against trans people.
In reality, these mourners were essentially traipsing behind empty coffins, wailing about deaths that never actually happened. Because, thankfully, despite what the performative shroud-waving would have you believe, there hasn't been a single recorded murder of a transgender person in the UK for four years. More striking still, when Channel 4's fact-checking team dug into the data in 2018, it found that in the UK 'a trans person is less likely to be murdered than the average person'.
Nevertheless, on social media, the Welsh parliament chose to remember the 'trans individuals who have lived, loved, fought and fallen'. Not to be outstripped in the grief stakes, mayor of London Sadiq Khan tweeted in honour of 'the lives taken by anti-trans hate crimes'. On the BBC's Thought for the Week on Friday, priest Sarah Jones asked listeners to take the opportunity to 'remember the trans people whose lives have been cut short'.
This morbid fear-mongering does a disservice to those who identify as transgender – in particular to impressionable youngsters. People who view mainstream society as 'transphobic' and hostile will band together and become alienated, feeding off each other's paranoia. And while it is easy to laugh at the silly sods who claim to be wounded when a stranger doesn't defer to their preferred pronouns, their feeling of grievance is real and palpable. Given the high level of mental-health conditions among the trans-identifying population, perpetuating the myth that trans-identified people are at risk from the outside world is highly irresponsible.
Perhaps it is not a great surprise that the 'trans victim' myth persists, even in spite of the facts. For trans charities, tales of hostility combined with stories of personal suffering are a tried and tested method to loosen the purse strings of philanthropists and funding bodies.
One way that trans lobby groups maintain the myth around Transgender Day of Remembrance is by citing global figures. In 2021-22, just over 300 trans people are estimated to have been murdered worldwide, although the vast majority of these killings occurred in Latin America and the Caribbean. These numbers are then taken out of context and treated as indicative of the trans experience in the UK. But a young person in the UK who believes themselves to be nonbinary has little to worry about.
It remains an uncomfortable truth that many of the transgender people killed worldwide are in the Brazilian sex industry. And the pattern of deaths related to prostitution is replicated to a lesser extent elsewhere. The last recorded murder of a transgender person in the UK was of Naomi Hersi, who was stabbed in a hotel room by a man who had paid for sex back in 2018. I share this fact not to try to diminish the horror of Hersi's murder in any way. But rather to highlight that prostitution is the real risk factor here.
Some of those marking Transgender Day of Remembrance have sought to highlight 'hate crimes' against trans people more broadly, rather than murders. On Sunday, shadow women and equalities secretary Anneliese Dodds tweeted: 'Hate crimes reported against trans people rose by 56 per cent last year… Labour will tackle this rising hate by ensuring those who commit anti-LGBT+ hate crimes get longer sentences.'
The trouble with this claim is that hate-crime statistics are extremely unreliable. The Home Office's recent annual report on hate crime says it is 'uncertain' to what extent there has been any genuine rise in hate crime in recent years. It also says that the police-recorded data quoted by Dodds 'do not currently provide reliable trends in hate crime'.
The hate-crime figures are distorted further by the fact that just about anything can be recorded as a hate crime these days, so long as an individual with a 'protected characteristic' is involved. Worse still, police across the UK have become vociferous enforcers of trans ideology and have taken to regularly investigating and arresting women who believe in biological sex. Nowadays, to so much as fart in the vicinity of a trans activist is to risk a talking to from the police.
The spectacle of Transgender Day of Remembrance has exposed something important. It has shown that too many of Britain's thought leaders have bought into the myth that trans people are perpetual victims – even to the extent that they willing to mourn murders that did not happen. They have let a narrative get in the way of the facts.
Jo Bartosch is a journalist campaigning for the rights of women and girls.
To enquire about republishing spiked's content, a right to reply or to request a correction, please contact the managing editor, Viv Regan.