Why workers are right to rise up
Striking nurses deserve our support and solidarity.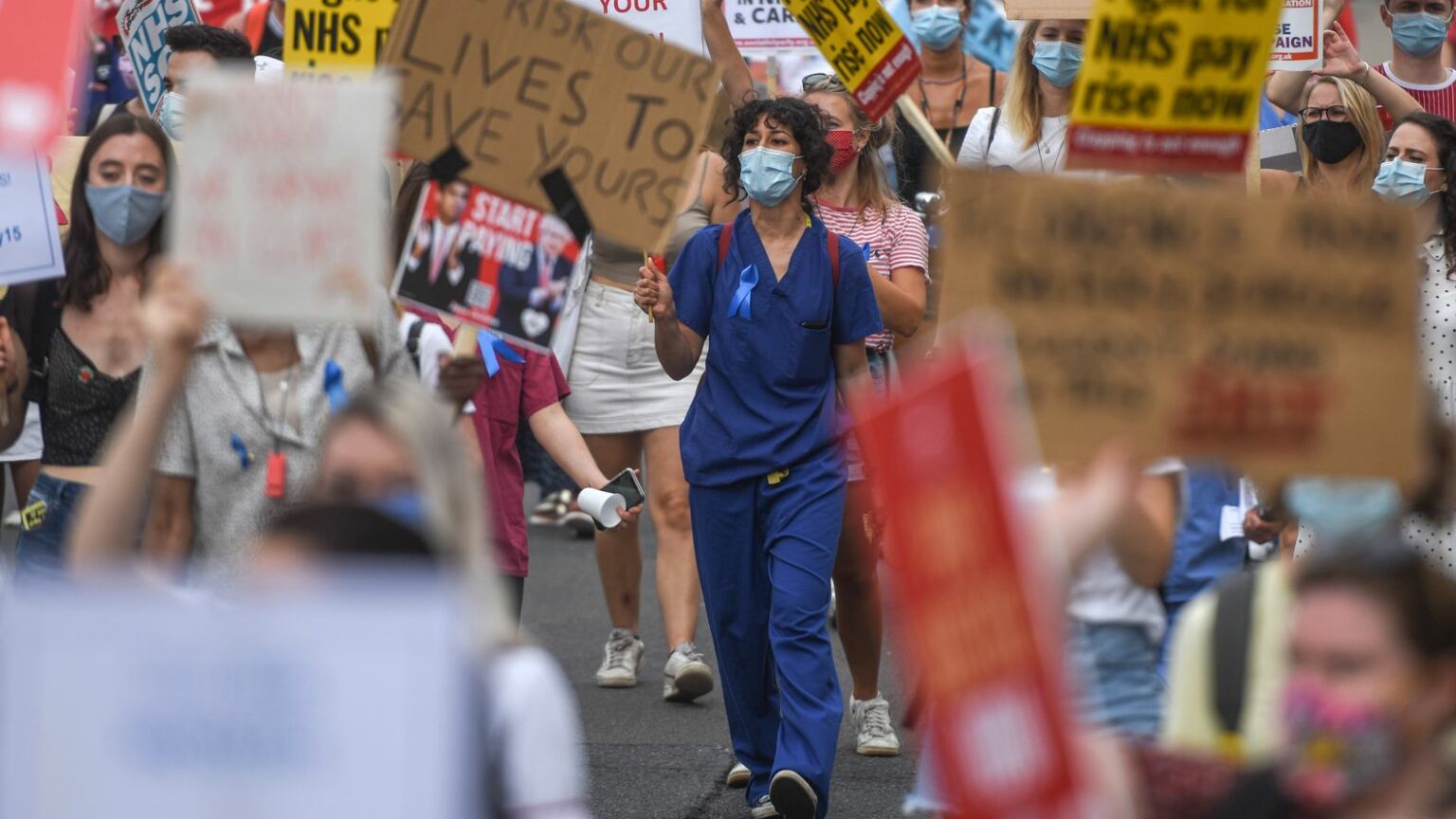 Nurses are the latest group of workers to join the wave of industrial unrest that has broken out across the UK. Last week, members of the Royal College of Nursing (RCN) decided to take strike action over pay – the first national stoppage in the nursing union's history. This has provoked a predictably hostile reaction from the press. Nurses stand accused of demonstrating mindless militancy and risking the wellbeing of patients.
I know what these nurses are experiencing. As a member of the Fire Brigades Union, I have voted on four occasions to take strike action (and may shortly be asked to do so again). It was always an agonising decision for me and my fellow union members. And we were never ignorant of the possible consequences. We hoped, having voted to withdraw our labour, that the dispute would be resolved before we ever set foot on a picket line – or at least, as soon as possible, once we had. Nurses will have wrestled with their consciences in similar ways.
Industrial unrest on the scale we are witnessing does not come out of the clear blue sky (and especially not these days, when Tory legislation has made it more difficult than ever for a union to get industrial action off the ground). This is especially the case when essential workers such as nurses and firefighters decide to join the fray. These types of workers choose their professions out of a sense of duty and compassion. They do not leave their posts without good reason. But, like millions of workers the length and breadth of the country, they are angry and bitter.
This is because British workers are feeling the effects of the longest pay squeeze since the Napoleonic wars. Their living standards have crashed in recent years. And the future continues to look bleak. The Trades Union Congress (TUC) warns that real wages will fall by a further £4,000 on average over the next three years.
Anyone blaming the current industrial discord on recalcitrant unions or greediness on the part of workers is emphatically misguided. Does anyone seriously think that workers, who are struggling to pay their mortgages and energy bills, whose disposable incomes are plummeting, are just going to continue sucking it up? While workers are told to tighten their belts, they see corporations registering record profits, executive pay increasing rather handsomely and the cap being removed from bankers' bonuses. Surely workers are entitled to show a bit of resistance in this climate.
We must remember that it wasn't wage claims that drove inflation to current levels. The ongoing cost-of-living crisis owes itself largely to the war in Ukraine and the catastrophic decision to lock down vast chunks of the economy during the pandemic. It is also attributable in no small measure to corporate profiteering, as evidence published by the Unite union demonstrates. Meanwhile, Britain's anaemic economic growth can be traced right back to the global financial crisis and the failed austerity measures that followed. Yet the UK's workforce is being told that it must pay the price for the disastrous decisions of politicians and bankers.
Any economic strategy designed to keep a rein on the spending power of workers, either through wage restraint or austerity measures, is likely to fail. Worse still, if workers' spending power continues to fall, this will only prolong and deepen the looming recession.
We need a new economic model in this country. One that elevates the needs of the productive sector – the real economy where people live and work – above those of finance capital. Government must make full employment the prime and immutable goal of economic policy. Britain's long-term deficiencies in competitiveness, productivity and investment must be addressed. We need to prevent house prices from rising to astronomical levels. Our central bank must be returned to democratic control. And power and wealth must be diffused more widely. Until we arrive at such a model, there will continue to be a reaction from workers.
We also need to recognise the importance of unions. In recent times, unions have become their own worst enemies, succumbing to the pernicious creed of identity politics, embracing the woke agenda all too readily and being far too willing to act as the mouthpiece of the London liberal class. But the current economic and industrial tumult gives unions the opportunity to return to first principles and demonstrate their value in standing up for the working people of Britain.
With prime minister Rishi Sunak and chancellor Jeremy Hunt preparing to inflict another round of austerity on the nation – a move that will cause grinding hardship among some of our most deprived families and communities – there is a choice to be made. Whose side are we on?
We must stand with the nurses, stand with our trade unions and stand with all workers fighting back.
Paul Embery is author of Despised: Why the Modern Left Loathes the Working Class.
To enquire about republishing spiked's content, a right to reply or to request a correction, please contact the managing editor, Viv Regan.