Why the Tories have failed to take on the thoughtpolice
Wokeness is now deeply embedded in British policing.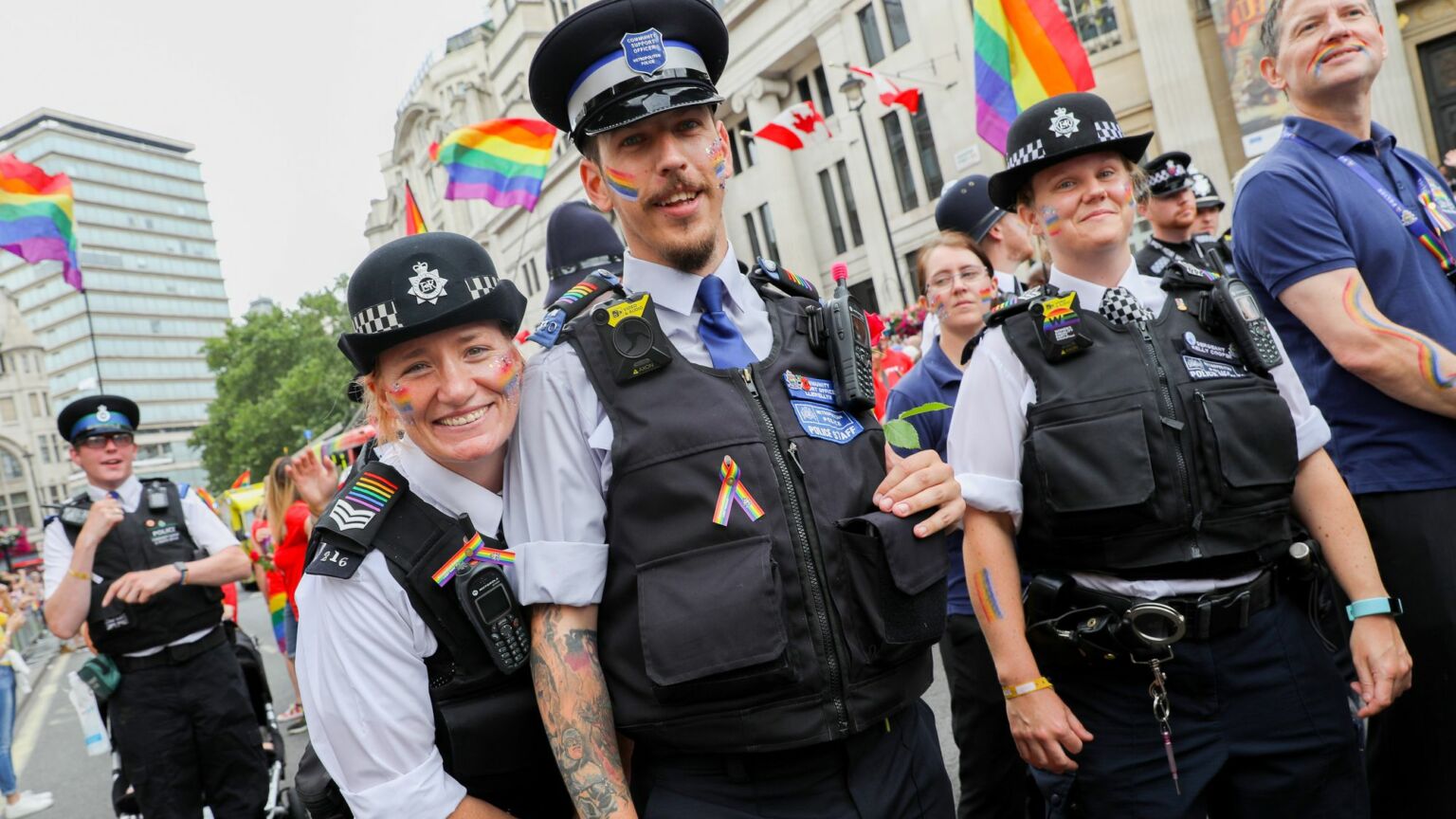 There is clearly a problem here. The police are continually wading into the culture war – and always on one side. Anyone who criticises trans ideology, for instance, can find themselves a target of the police. In January this year, a woman was detained by Gwent Police for putting up posters saying 'No men in women's prisons'. In August, protesters at a Pride parade were escorted away by police for holding up signs that read 'Lesbians don't like penises'. And in September, Sussex Police warned social-media users that they could be committing a hate crime if they 'misgendered' a recently convicted paedophile.
What's striking is that woke policing has become more and more extreme, even as more and more politicians and police officers have pledged to put a stop to it. Last year, then home secretary Priti Patel told police forces that they should investigate 'actual crimes, not hurt feelings'. 'Some current practices are having a dangerous impact on free speech', she warned. Back in 2018, Sarah Thornton, then chair of the National Police Chiefs Council (NPCC), promised that the police would 'solve more burglaries and bear down on violence', instead of focusing on 'incidents that are not crimes'. And in June, the newly minted chief inspector of constabulary, Andy Cooke, told officers that 'we are not the thoughtpolice'. 'Unless [thoughts] become actions, [they] aren't an offence. The law is quite clear', he told The Sunday Times. Yet the police on the ground don't seem to have got the memo.
Even when the courts have got involved, the police seem to take no notice. Back in 2020, the High Court ruled that ex-police officer Harry Miller should not have been investigated by Humberside Police for tweeting about trans issues. The judge was emphatic in criticising the police's overreach. 'In this country we have never had a Cheka, a Gestapo or a Stasi', he said. In a related case brought by Miller, the Court of Appeal found last year that the police practice of recording 'non-crime hate incidents' would likely have a 'chilling effect' on free speech. And yet the practice has more or less continued unabated.
The fact that this woke thoughtpolicing carries on – defying the wishes of the government, police chiefs and the courts – should raise alarm bells. It is testament to how deeply embedded woke ideology has become in the police force.
So how have the police come to adopt this outlook? And why do the pleas of politicians and others keep falling on deaf ears? Many woke ideas make their way into the police force via various quangos, or non-departmental bodies, which draw up guidance in collaboration with NGOs and lobby groups.
Take the NPCC, a body that represents top police officers. Its website shows just how closely it has worked with Stonewall, the UK's largest LGBT lobby group, to develop policies. One 2018 document on the NPCC website – Trans Guidance for the Policing Sector – was co-written by a Stonewall employee. One section, titled 'Demonstrating your force's commitment to trans inclusion', encourages each force to make 'a clear statement of inclusivity', to publish 'details of your trans policies on your website', and to 'communicate inclusive messages across social-media channels and on your intranet'. The guidance also includes 13 references to 'gender identity' and it refers to biological sex as something that is 'assigned at birth'. The ideological slant is clear.
The foreword to the Trans Guidance document is authored by assistant chief constable Julie Cooke. Cooke has long encouraged the police to become more politicised on trans issues. Minutes from a 2018 NPCC meeting, attended by at least 50 police chiefs, show Cooke proposing that 'all forces note the contents of the [trans] guidance and endorse it'. She is also the brains behind the police's decision in recent years to bring in 'hate-crime cars' – police cars painted in the colours of the Pride flag, designed specifically to encourage the reporting of hate crime.
The institutional dynamic at play here is clear. Guidance drawn up with lobby groups promotes woke ideas among the police force. Adherence to these ideas is presented as non-negotiable. Police forces that fail to demonstrate a 'commitment to trans inclusion', or fail to use the correct jargon around gender, will be considered transphobic or non-inclusive.
This doesn't stop at trans issues, either. Modish views on race have also become institutionalised. The website of the College of Policing – a quango responsible for training police officers – contains a 'toolkit' for 'Workforce Representation'. It consists of pages of suggestions for how to increase police 'diversity'. It tells each constabulary that it should have at least one officer whose goal is to make recruiting underrepresented groups 'a force priority'. It also says that 'forces must equip selection panels with unconscious-bias training for all those involved in the recruitment process'.
With so many police man hours devoted to identitarian causes, both on the beat and in the back offices, it is perhaps no wonder that fighting crime seems to have fallen by the wayside. Home Office figures reveal that, last year, only 5.4 per cent of offences resulted in a charge and / or summons – the lowest figure on record. As a result, public confidence in the police has fallen precipitously.
There are some flickers of hope, however. The case of Greater Manchester Police (GMP) shows that woke policing can be taken on, if there is enough will to do so. In June 2021, GMP was put into the hands of Stephen Watson, who the Telegraph describes as an 'arch critic of woke policing'. When he became chief constable, Watson immediately went back to basics. More bobbies were put on the beat and officers were expected to attend every burglary. He recognised that the public was 'fed up' with police virtue-signalling.
The turnaround has been extraordinary. Back in 2020, an external report found that, in the year to June, GMP had failed to record 80,000 crimes. Its response times to 999 calls were the slowest in the country. And in December 2020, GMP had to be placed into special measures by the police watchdog. But since Watson implemented his back-to-basics approach, arrests are up by 60 per cent, answer times for 999 calls have been slashed and successful investigations have increased by 42 per cent. Focusing on real crime, rather than obsessing over fashionable causes, can clearly work wonders.
Rishi Sunak's pledge to take on woke policing is welcome. It is high time the police stopped investigating speech that offends identitarian sensibilities and got back to fighting actual crime. But this pernicious trend will not be easy to reverse. Identity politics is now firmly embedded at almost every level of policing. It will take more than a few warm words from the PM to truly take on the thoughtpolice.
Laurie Wastell is an intern at spiked.
To enquire about republishing spiked's content, a right to reply or to request a correction, please contact the managing editor, Viv Regan.