The real American divide
Most Americans are moderate and pragmatic, but politics is dominated by cranks.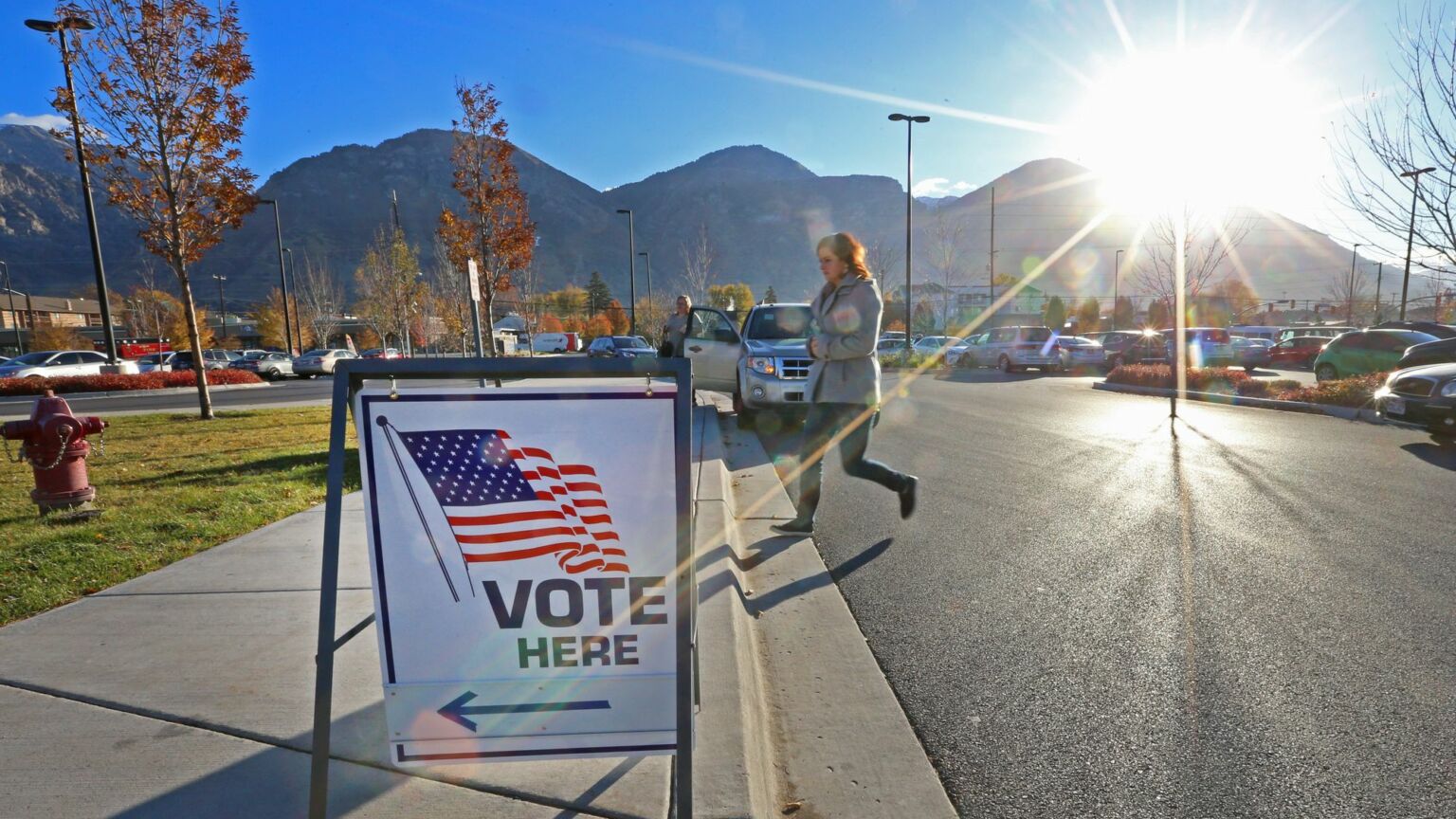 Elections are never easy to predict. But whatever the outcome of America's Midterms next month, it does seem certain that vast swathes of the American electorate will be largely ignored. In state after state, voters face a Hobson's choice between abortion-banning, election-denying Trump loyalists on the one hand and Democrats embracing the Biden administration's unpopular economic and cultural agenda on the other.
November's election will introduce a new crop of politicians who are either themselves on the ideological extremes, or who at least feel compelled to placate their party's most intemperate elements. A Republican victory in November seems set to continue this pattern: there are proposals for extreme abortion bans and calls for the impeachment of top administration officials, and there is also a growing personal focus on Biden's family scandals and, of course, Trumpista election denial.
But instead of appealing to extremes, America should return to a simpler politics centered on what the Swedish sociologist Gunnar Myrdal calls 'the American creed'. This, he explains, is Americans' 'abiding sense that every individual, regardless of circumstances, deserves fairness and the opportunity to realise [his or her] unlimited potential'. Given America's ideological, regional and racial diversity, we can best address the 'American dilemma' by adopting pragmatism as a guiding philosophy.
America's current ideological fixations are partly the result of the party primary system. Here the extremes tend to exercise more power, especially with the rise of ideologically purist Political Action Committees (PACs), which feed off discord and dysfunction. They prefer to focus on their opponents' failings rather than their own ideas. Ironically, this negative partisanship has been made worse by the Democrats' cynical support for far-right Republican candidates. On the grounds that an unpopular opponent would galvanise their own base, they supported Kari Lake in the Arizona primary, which Lake won in August. Now the Republican candidate for governor of Arizona, Lake, who is ahead in the polls, is accused by Democrats of being a 'threat to democracy'.
These cabals of party activists and operatives thrive in conditions where the media – with good reason – are distrusted. Indeed, almost all major institutions, from corporations to the military, the FBI, the education sector and even churches have lost public support. This is made worse by petty tyrants like speaker of the house Nancy Pelosi, senate majority leader Charles Schumer and his Republican counterpart, Kentucky senator Mitch McConnell. Each demands Stalinist conformity in votes in the House, meaning that representatives must always parrot the same line, even if that damages their constituents.
Politicians' ideological partisanship reflects a growing gap between the political class and the bulk of the population. Half of Democrats, for instance, still consider themselves moderate or conservative, while only 15 per cent see themselves as 'very liberal'. Another study found that in US society as a whole, 'traditional' and 'passive' liberals outnumber the eight per cent who are 'progressive activists' by three to one. Meanwhile, there are almost six times as many 'traditional conservatives' and 'moderates' than 'devoted' right-wingers, who comprise just six per cent of the population. Overall, according to a Gallup poll last month, 43 per cent of Americans now identify as independent, which is more than those identifying as either Republican or Democrat.
So while most Americans are moderate and pragmatic, they are often stuck with two unpalatable alternatives. Fewer than 10 per cent identify as either 'very conservative' or 'very liberal'. Yet, as University of Chicago political scientist Anthony Fowler notes, moderates 'are silent in no small part because in political surveys, the public is often not given the opportunity to express its moderate views'.
For regular people, factors like the economy, crime and schools determine their political allegiances. Despite their menagerie of irrational MAGA candidates, this year these factors favour the Republicans. According to an NBC News poll, for instance, nearly two-thirds of Americans say their paycheck is falling behind the cost of living. Meanwhile, Bloomberg reports half of Americans are now considering taking second jobs. It is no surprise that, in these conditions, the Republicans hold a 19-point advantage over the Democrats on the economy.
This gap shows how disastrous the Democrats' embrace of gender, race and especially climate issues has been – obsessions which Clinton-era strategist James Carville scathingly calls 'faculty-lounge politics'. It may be popular to demand 'Net Zero' emissions in Manhattan or Malibu. But if green policies hinder developing the natural gas and nuclear production critical for meeting America's energy needs, this will prove devastating to sectors like agriculture, manufacturing, warehousing and logistics – which employ blue-collar workers who traditionally favoured the Democrats. Inflation on food, energy and home prices also impacts traditional Democratic constituencies like minorities and the working class, as well as seniors, who have a high proclivity to vote. And while some progressives believe that climate change will doom the Republicans, this is wishful thinking. According to Gallup, barely three per cent of voters name environmental issues as their top concern.
The current economic crisis seems to be accelerating the working-class electorate's shift right-wards. As polling by Democratic analyst Ruy Teixeira suggests, whites without college educations now favour Republicans by almost two to one. This is particularly significant, notes scholar John Russo, in states like Ohio, Wisconsin and Iowa, where non-college educated whites constitute more than 60 per cent of the electorate.
The culture war exacerbates this alienation of working-class whites from the mainstream. Progressive activists and their media allies seem to have decided that America is afflicted with 'a white voter problem', as one Washington Post writer puts it. Only when people of colour are numerous enough to offset the white majority, so the argument goes, can real progress take place. Such grim rhetoric shows how the supposed racialism of the right, which progressives have long attacked, has developed a bizarre doppelgänger on the left.
Ultimately, the whole notion of a united 'people of colour' coalition is absurd, as evidenced recently by the crude racist remarks of LA's Latina former city council president. Nury Martinez resigned earlier this month after she described a white council colleague's black son as 'parece changuito', or 'like a monkey', in a leaked audio recording. It turns out that ethnic groups, whatever their colour, are often as diverse in their interests and attitudes as people in general. Asians and Latinos for instance, and even immigrants from Africa, do not necessarily share the perspective of African-Americans, for whom the American experience was historically birthed in servitude rather than in the search for opportunity.
Critical race theory and its radical agenda – racial quotas, hostility toward law enforcement and opposition to incarceration for all but the most heinous crimes – are unpopular with most voters. Asians in particular tend to seek out educational excellence for their kids, making them ill-disposed toward progressive ideas in schools. Many immigrants also own small businesses that are vulnerable to the current crime wave. Asians, alongside white parents, played an outsized role in recalling San Francisco's racially radical school board and its progressive prosecutor, Chesa Boudin.
Note to Biden and the Democrats: the make-up of minority America is changing. According to Pew, America's Hispanic population will swell to 29 per cent by 2050, which will be more than twice the black share. Asians, meanwhile, will have grown from barely 14million in 2005 to 41million in 2050, a three-fold increase. Taken together Asians and Latinos will account for 38 per cent of Americans, and the vast majority of non-whites.
This changing demographic reality, as Ruy Teixeira notes, will not solve the Democrats' problems. Minorities, like their white counterparts, also care about inflation, rising crime, poor schools and threats to their livelihoods posed by draconian green policies. Republicans have for several years made gains among these groups, particularly Latinos. Woke extremism is no winner here. Immigrants, according to one recent survey, are twice as likely as the general public to hold conservative social views while voting Democrat. Both immigrants and other minorities also tend to be more religious than whites. This puts them at odds with the identity politics that has now become central to the current Democratic belief system. And even more unpopular are progressive ideas about sex education, which include some graphic representations of sexual acts. These have provoked strong opposition from Latino, Asian, African-American and Muslim communities.
To avoid talking about the lousy economy, Democrats seek to make the election about issues like abortion and the alleged 'threat to democracy' posed by 'extremist' Republicans. Yet, as Bernie Sanders and others have pointed out, recent polls suggest that voters are still far more concerned with economic issues than abortion, even among independent women. Republicans, for their part, often resort to unhinged claims about 'rigged elections' and hysterical accusations that the Democrats are 'socialists'.
The worst effect of a possible GOP win lies in how Trump, reinforced by the media, will claim victory, and use the results to consolidate his hold on the party. But even among Republicans, Trump's vaunted popularity has faded somewhat, with support for Florida governor Ron DeSantis edging up.
And as it turns out, sanity is not entirely out of fashion. The most popular governors in the country tend to be middle-of-the-road Republicans like Maryland's Larry Hogan and Massachusetts' Charlie Baker. Glenn Youngkin, who last year achieved the unlikely feat of becoming a Republican governor in deep-blue Virginia, has urged his party to follow his pragmatic platform. And as pollster Sam Abrams notes, this tendency is not likely to change in future generations. For the majority of young people, wokeness and cancel culture are increasingly unpopular. The great generation gap that was supposed to cement a permanent Democratic majority has faded: now, Gen Xers, aged 45 to 64, are the most pro-Republican of all generations, while the margin among younger voters has fallen to only around 10 points.
Even in the bluest states there are swings towards the Republicans' pragmatic stances. High crime is leading to some surprising GOP gains in big cities, including in the city and surrounding parts of New York State. Last year Seattle, which was rocked by riots during the summer of 2020, elected a Republican as city attorney. And this year, it is entirely possible that a Republican could replace the ultra-progressive Kate Brown, with Christine Drazan poised to become the first GOP governor of Oregon in two decades. In ultra-blue Rhode Island, a middle-of-the-road congressional candidate, Allan Fung, could be the first GOP winner in three decades. Even Californians seem ready to elect a strong fiscal manager, Lanhee Chen, to be state controller, which would make him the first Republican to be elected statewide since 2006.
In California, and elsewhere, heavily Democratic business and professional communities are rethinking their commitments. Silicon Valley remains staunchly Democratic but the big money is shifting somewhat towards the GOP. Even long-time progressive funders, like Nike's Phil Knight, have had enough. Knight is putting $1million behind Christine Drazan's Oregon gubernatorial bid.
Often conservative pragmatists, these coastal Republicans could point the way to a viable post-Trump GOP. For the Democrats, meanwhile, post-election hopes are to be found in the success of down-to-earth moderates like Democratic incumbent governor Laura Kelly, who seems set to win in deep red Kansas. Last year, Democratic New York City mayor Eric Adams was handsomely elected on an anti-crime platform. Common sense is persuasive to voters everywhere.
The good news for Democrats is that as long as Donald Trump leads the GOP, many moderate and independent voters will look elsewhere for pragmatic politics. In the long run, each party's best hope lies in tapping the fundamentally reasonable instincts of the electorate. Democracy means many things, but practical policies and a willingness to compromise remain its all-too-unappreciated prerequisite.
Joel Kotkin is a spiked columnist, the presidential fellow in urban futures at Chapman University and executive director of the Urban Reform Institute. His latest book, The Coming of Neo-Feudalism, is out now. Follow him on Twitter: @joelkotkin
To enquire about republishing spiked's content, a right to reply or to request a correction, please contact the managing editor, Viv Regan.