Tony Blair is yesterday's man
His technocratic globalism has nothing to offer post-Brexit Britain.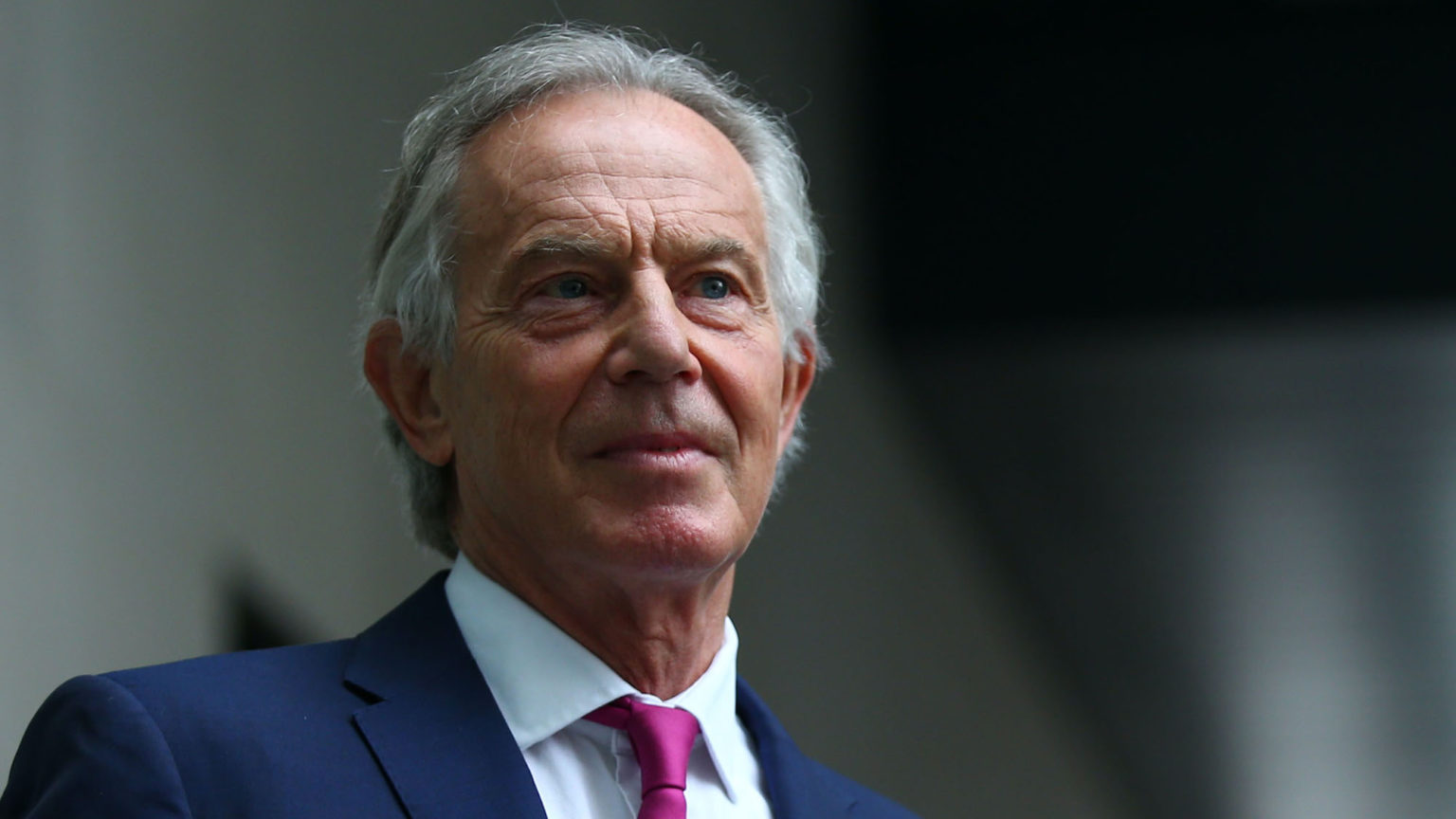 There is nothing intrinsically wrong with a former prime minister seeking to re-engage with the politics of his country to try to improve the lot of its citizens.
So perhaps Tony Blair is to be commended for pulling in the smart chaps who share his way of thinking to last week's Future of Britain conference – a cross-party conflab part-organised by Blair's new political vehicle, the Britain Project.
At the conference, this conclave of ageing centrist dads agreed that what Britain needs is not a new party, but 'a new politics' to handle three revolutions – technological change, the fight to contain climate change and the reordering of our international alliances necessitated by Brexit.
Presumably, the new politics Blair has in mind is also well served by the emerging informal alliance between Labour and the semi-resurgent Liberal Democrats, which wreaked havoc upon the Tories at the recent by-elections in Wakefield and in Tiverton and Honiton.
The Britain Project has also pulled in a few anti-Brexit former Tory cabinet ministers, such as David Gauke and Rory Stewart. This has made it all very reminiscent of past iterations of post-Blair Blairism, such as the formation of Change UK in spring 2019 and the demands for a so-called government of national unity later that same year.
Both these ventures failed spectacularly – Change UK crashed against the rocks of a marked lack of electoral support, while the anti-Brexit unity government never materialised. But that does not mean that it won't prove third time lucky for centrism, especially now that Boris Johnson's star has passed its zenith.
As for Tony Blair's Britain Project itself, we are surely entitled to wonder how serious its intentions are. Could we actually be seeing little more than a deluded, egotistical man, who has never come to terms with no longer running an important nation state, trying to surround himself with ghosts of former glories?
The themes advanced at the Future of Britain conference suggest as much. For starters, there is no reason to suppose Blair has any unique insights into the way tech is shaping our lives. Though he was always keen to depict himself, Harold Wilson-style, as a master of the white heat of technology while in office, his personal inability to master basic stuff like sending emails was legendary in Whitehall.
As for radicalism on climate change, this is already the new orthodoxy everywhere – embraced as much by Johnson as by the leaders of centre-left parties.
And is Blair, who considered Brexit such an inevitable disaster that he threw his weight behind the establishment plot to block it, really the man to look to for advice on how to make a success of it?
As someone who witnessed first-hand what was arguably the defining speech of Blair's premiership – his keynote address to the Labour conference in 2005 – it seems to me that he simply called the future wrong.
In that 2005 address, he told his activists: 'I hear people say we have to stop and debate globalisation. You might as well debate whether autumn should follow summer… The character of this changing world is indifferent to tradition. Unforgiving of frailty. No respecter of past reputations. It has no custom and practice.'
'It is replete with opportunities', he continued, 'but they only go to those swift to adapt, slow to complain, open, willing and able to change. In the era of rapid globalisation, there is no mystery about what works: an open, liberal economy, prepared constantly to change to remain competitive.'
Yet this is not how normal human beings operate or obtain satisfaction outside of the pathologically career-orientated metropolitan professional classes. For most of us to be happy, there has to be room in our lives for community, tradition, kinship ties, shared cultural norms, attachment to place, patriotism and stable employment.
As an early devotee of community-minded philosopher John Macmurray, Blair might once have been expected to appreciate this. But the globetrotter in him had already triumphed by the time of his 2005 speech, even to the extent that he swallowed whole the gross simplification that mass immigration is an unalloyed benefit to any society. 'People who come to work and make their lives here make Britain not weaker but stronger', Blair argued back then.
A year earlier he had lit the fuse on the policy decision that would do most to blow up his worldview in the eyes of his target demographics of Mondeo Men and Worcester Women – the granting of instant access to the UK labour market to the entire populations of the A8 EU accession countries.
Similarly, his liberal conceit that newly emerging powers would be easily absorbed into a rules-based international order also crashed and burned in due course. As did the neoconservative project to export democracy down the barrel of a gun, in which he became entangled through the wars in Afghanistan and Iraq.
As the only electorally successful Labour leader of modern times, Blair will always attract a following and his antennae are not completely dulled – witness, for instance, his recent warnings against Labour being dragged down the blind alley of wokeism.
But most of the excitement that greets his dipping of a toe back into the waters of UK politics is fuelled by nostalgia. If Paul McCartney can headline Glastonbury and the Rolling Stones still sell out Hyde Park, then why can't Blair strut his stuff on the political stage once more?
The reality is that none of them are what they once were.
Patrick O'Flynn is a former MEP.
To enquire about republishing spiked's content, a right to reply or to request a correction, please contact the managing editor, Viv Regan.