The dystopian nightmare of 'Zero Covid'
Shanghai's lunatic lockdown shows just how dangerous Covid fanaticism can be.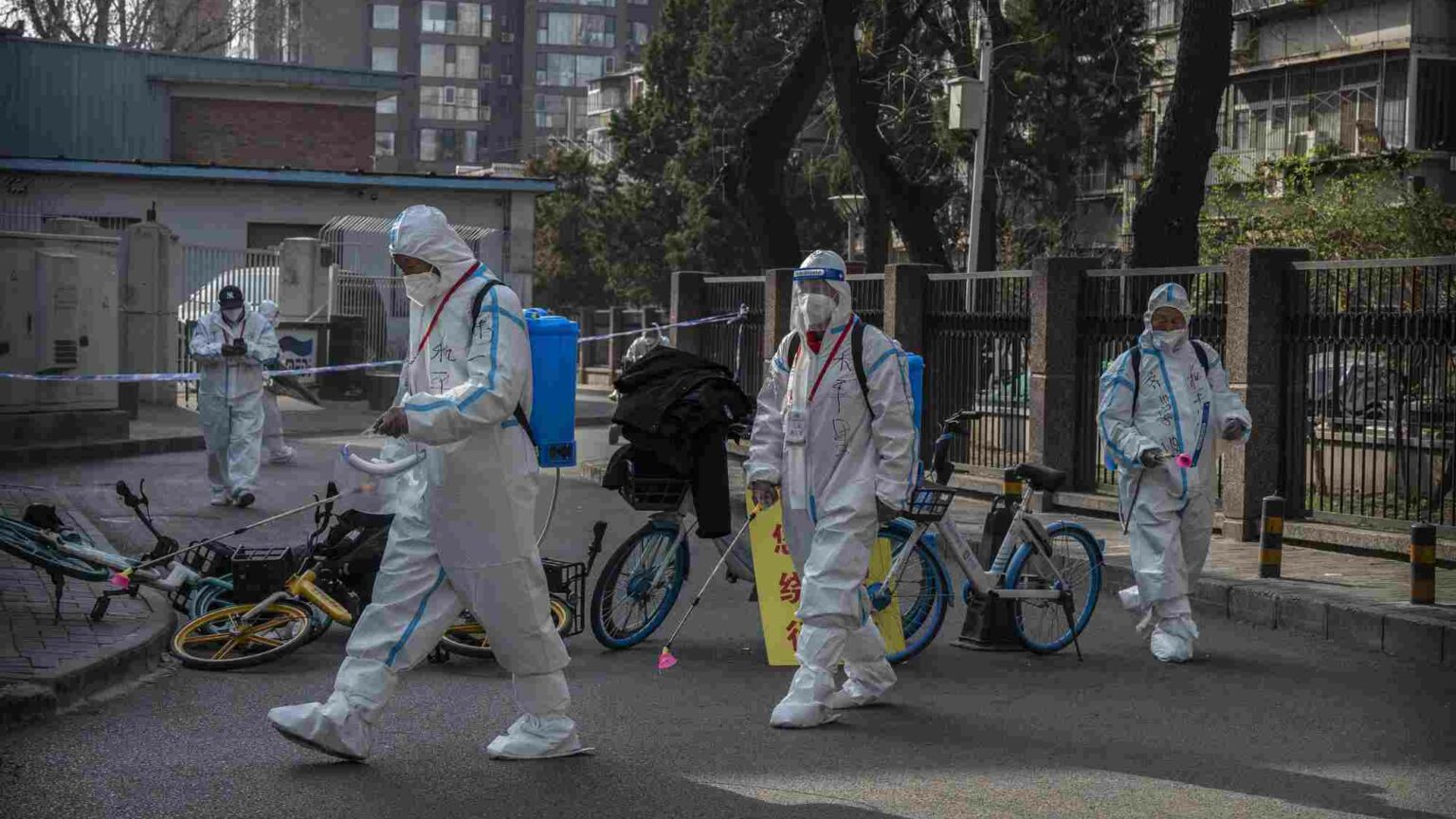 It was like a scene from a dystopian B-movie. Over a bleak, black city, in the dead of night, a drone emerged. From its speaker, it issued monotone instructions to the masses locked in their homes in the apartment blocks below. 'Control the soul's desire for freedom!', the robotic voice said. 'Do not open the window or sing!', the joyless flying machine said. Then came the robot dogs. They staggered through deserted streets, barking diktats at residents cowering behind their curtains: 'Wear a mask, wash your hands, check your temperature.' No one dares 'disobey the dog's diktats', according to one local newspaper.
Of course, this was no B-movie. This was not a cack-handed Hollywood attempt to do Orwell. No, it was real life, in a real city – Shanghai. Shanghai's severe lockdown has shocked people across the world. Following a spike in Omicron infections, all 25million of Shanghai's residents were forced into house arrest. Forget an hour a day of outdoor exercise and the right to buy milk and bread at the local supermarket – the tiny liberties we comparatively lucky Brits enjoyed during that mad first lockdown we had in March 2020. No, in Shanghai people are not allowed to leave their homes at all. For anything. Not even food and water. Instead, essentials are being delivered to them by masked key workers, adding to the sense that this city has become the backdrop for an episode of The Walking Dead.
Every aspect of people's lives is minutely governed. They are forbidden from walking out of their front doors. Streets and parks have become no-go zones. Covid testing is mandatory. Groups of people are frogmarched to testing sites to see if they're infected. Woe betide those who are – they are not allowed to isolate in their own homes, but instead are packed off to vast quarantine centres that are reportedly overcrowded and under-resourced. Most controversially of all, the Shanghai authorities have taken to separating children who test positive from their parents. This caused a backlash, not surprisingly, so officialdom made a compromise: if parents also test positive, then they are permitted to join their kid in one of the heavily policed isolation centres. What compassion!
Every day has become a struggle for survival in locked-down Shanghai. Residents report getting up at the crack of dawn to find out which, if any, food-delivery app has a free slot that day. People are running out of basic foodstuffs. This was 'the first time in my life that I have gone hungry', said one social-media user. Some families have limited themselves to one meal a day. Predictably, public fury has exploded. This is why that drone warned people not to open their windows – because the locked-up, food-deprived folk of Shanghai have had the temerity to yell from their apartment windows, 'We have no food to eat! We are starving to death!'.
Shanghai is not the first city in China in which officialdom's determination to stamp out Covid has led to extreme hardship. In December and January, the city of Xi'an in the north-west locked down its 13million residents. And, as in Shanghai, food supplies dried up. A social-media clip showed a man offering his Nintendo console for some instant noodles. Another offered to swap dishwashing liquid for apples. Residents complained of a 'return to primitive society'. The city of Yuzhou in Henan province was also subjected to an extreme shutdown, though its residents were lucky in comparison with the Shanghainese – they were permitted to go outside occasionally, to purchase 'daily life materials'.
Following balcony protests and a simmering atmosphere of revolt, the Shanghai authorities have announced they will start to ease their lunatic lockdown. But not much. 'Appropriate activity' will be permitted in neighbourhoods that have seen no positive Covid cases for two weeks. So if you're lucky enough to live in a Covid-free street, you'll be granted special government permission to take a stroll in the park. This all sounds extreme, and of course it is extreme. Complete house arrest, forced family separations, a lack of food and water – these are not normal responses to any problem, including the spread of a virus. And yet at the same time, let's not kid ourselves that China's drastic shutdowns are alien phenomena. Because the brutal truth is that the CCP has only taken to its logical conclusion the cult of Covid authoritarianism that has as many cheerleaders here in the West as it does in China.
If we're honest, we'll admit that the chilling message issued by that drone in Shanghai – 'Control the soul's desire for freedom' – was the unofficial slogan of our lockdowns, too. Sure, a nighttime drone didn't bellow those words from the skies. Our politicians are not so crass that they would utter such a sentence at a Covid press conference. But, like those Chinese cities, we suspended almost everything – civil liberty, democracy, the right to protest, the right to associate, the right to go outside (except for one hour a day) – in the name of tackling Covid. Public life and private life were made subservient to the war on a virus. In the UK drones didn't shout at us, but they did spy on dog-walkers in the Peak District. Cops threw people out of parks. A man was warned (wrongly) that he was forbidden from being in his own front garden. Let's not get on our high horse over China's crazy lockdowns – we did it, too.
What is being pursued in China is the mad and hopeless ideology of 'Zero Covid'. The lunacy in Shanghai is 'China's latest attempt to achieve Covid Zero', as the New York Post said. And we have our fair share of Zero Covidians over here: activist academics, 'experts', public-health fanatics and others who openly said society should be shut down until Covid had been eliminated. If they'd had their way, we would be like Shanghai now, putting on hold everything – from socialising to shopping, education to leisure – in pursuit of that most impossible of tasks: erasing Covid.
Indeed, some British experts praised China for its severe response to Covid. When it was revealed in late 2021 that the CCP had built a 5,000-room quarantine centre, UCL's resident doom-monger, Professor Christina Pagel, congratulated China for 'tak[ing] its Covid approach very seriously'. SAGE adviser Professor Susan Michie cooed in March 2020 that 'China has a socialist, collective system… not an individualistic, consumer-oriented, profit-driven society badly damaged by 20 years of failed neoliberal economic policies'. Then there was Imperial's infamous modeller, Neil Ferguson, who said he and his fellow lockdown promoters never imagined that they could 'get away with' the extraordinary measures being pursued in China at the start of the pandemic – but 'then Italy did it, and we realised we could'. We realised we could get away with doing to the people of Britain what China had already done to its citizens – that's what he meant.
Like China, our governments used fear to cajole the populace into obeying lockdown rules, punished people for going outside, and instructed us, in slightly more PC lingo, to 'control our soul's desire for freedom'. For decades our political leaders reprimanded China for its authoritarian rule, and yet when a health crisis whacked the world, they copied China. The misery being inflicted on Shanghai confirms how damaging the cult of Zero Covid can be, and it's a grim reminder that sacrificing everything to the campaign against Covid turns people's lives upside down and doesn't always get Covid under control – cases continue to surge in Shanghai and elsewhere in China. The people of China should have a reckoning with their rulers, and we should have one with ours.
Brendan O'Neill is spiked's chief political writer and host of the spiked podcast, The Brendan O'Neill Show. Subscribe to the podcast here. And find Brendan on Instagram: @burntoakboy
To enquire about republishing spiked's content, a right to reply or to request a correction, please contact the managing editor, Viv Regan.