Why we're all standing with Ukraine
Finally we have a country to be proud of. What a shame it's not our own.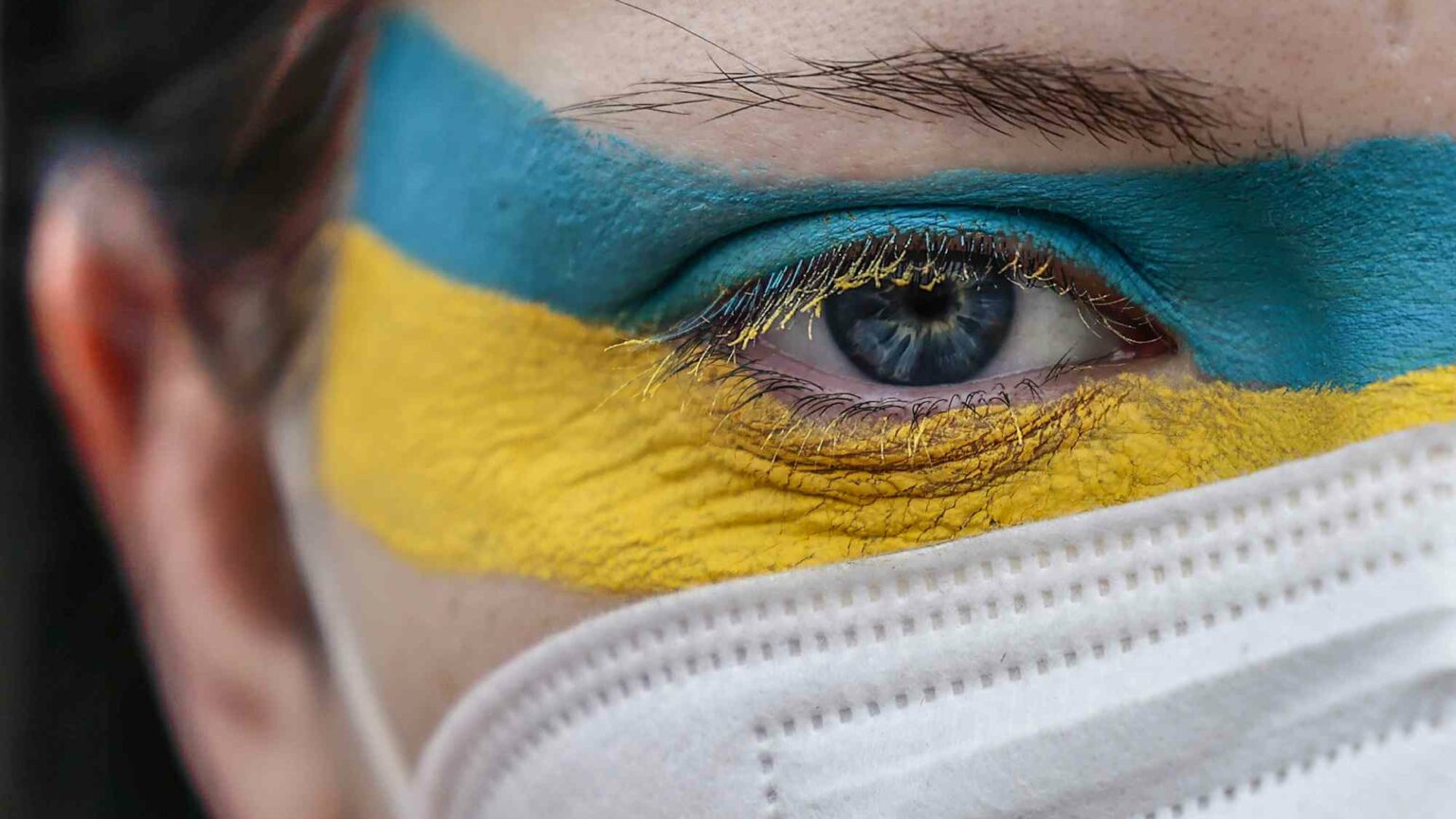 Though my last spiked essay was called 'Ukraine is not all about you', that was not to say that the events now unfolding in the east of our continent won't affect us. They will. Take the rise in prices of everything from bread to oil ('Bread and Oil' – already the situation begs for a Brecht, but we will probably have to settle for David Hare blaming it all on Brexit). With Ukraine known as 'the breadbasket of Europe', a long war could send global wheat prices soaring. The pandemic, which at the turn of the year seemed the scariest thing we had ever experienced, suddenly seems like a dry run – no scientist can find a cure for megalomania. But there is no point dwelling on the inevitable troubles ahead. We must soldier on and, while doing all we can to preserve the freedom of Ukraine, try to find some benefits to what has befallen us.
For example, I don't suppose that Volodymyr Zelensky meant to show up the leaders of the free world as bumbling, lily-livered clowns, but he has certainly done so. Still only 44, looking like someone employed by a tech company to talk nervous Luddites through changing their passwords, it is brilliant to think that just a few years ago he was playing the part of an absent-minded teacher who is elected president of Ukraine, after an anti-corruption speech is recorded by one of his students and goes viral on the internet. It takes him to power fronting a party called 'Servant of the People' – the name of both the TV show and his real-life political party. Zelensky said that he went into politics to restore trust in politicians and that he wanted 'to bring professional, decent people to power', which seems a modest request – and a middle finger up to all those Horrified of Hampsteads who recoil from 'populist' politicians. As Nigel Tufnel of Spinal Tap said about being sexist / sexy, 'What's wrong with being popular?'.
Cometh the (primetime) hour, cometh the man. In a world of politicians turned comedians, Zelensky's reverse trajectory is an inspiration at a moment in history when even the most Pollyanna-ish of us has lost faith in those who govern us. Their shoddiness was immediately summed up by the way Biden's people offered to airlift Zelensky and his family out of danger. They really didn't know how morally bankrupt that made them look, because that's what they would have wanted for themselves – to escape with their useless hides intact, and sod the people. 'I need ammunition, not a ride' will go down in history as the moment when David made Goliath – not just Russia, but the US, too – look like a big girl's blouse.
Who cares if Zelensky may be grandstanding? That he likes an audience? The old line has it that 'politics is showbusiness for ugly people', and then you remember Ed Balls strutting his shameless stuff on Strictly Come Dancing. How refreshing to see a man like Zelenksy, who started his career as a clown but has become a serious leader, put aside such childish things, when our own leaders tend to grab at showbiz trophies after being sacked off by the electorate.
In the light of Zelensky's leadership, I wonder how we will tolerate rotten politicians representing us on the world stage from now on, be it Boris's bluster or Biden's age-related challenges. For as well as being such a great leader to his people, Zelenksy has unintentionally shown up the rest of the world's leaders as being unworthy of their people. This is leadership – premier and people acting in perfect harmony, neither of them 'better' than the other. Spandau Ballet used to have a slogan – 'the music is applause for the audience' – and while this was a bit cringe when applied to numpties in blusher, it's perfectly applicable to Zelensky and the Ukrainians.
What a people! Our own over-nannied nation, forever being entreated to wrap up warm / practise self-care by those monstrous fuss-buckets 'Elf and Safety' and 'Mental Elf', has responded to the bravery of Ukrainians with a sort of collective nostalgia – we used to be like that, when bombs fell on us, before keeping calm and carrying on was just some empty message on a mug. Offering a lost Russian tank a tow back to Moscow, moving a bomb while smoking a fag – there's a surreal thread of humour running through the resistance (best seen in the meme of 'used Russian tanks' being advertised by Ukrainians on eBay) which shames us for our worried-well ways. Luxury Beliefs and First World Problems are revealed as the follies that they always were. In a world where unarmed civilians stand in the street singing their national anthem to Russians tanks, how can we ever again call someone who likes dressing up as the opposite sex brave?
The internet has had a good war – though social media previously appealed to our basest instincts, setting our brains pinging impotently around our rat-run heads, it now shows us what decency looks like. Remainers have had a bad war – even those used to the Big Sulk (La Grande Bouderie) will have been shocked by Anna Soubry's shameful tweet on 28 February: 'To journalists in Poland & Estonia – #BorisJohnson is visiting you tomorrow – I know it's difficult to believe but the scruffy clown really is PM) & you need to know something v important about him – he tells lies. Whoppers.' This isn't the politics of the playground, but of the kindergarten. It's not all about EU!
We have been vivified by the bravery of Ukraine, both individually – in Cambridge a couple painted their house in the colours of the Ukrainian flag – and collectively – a GoFundMe page started by the Kyiv Independent has raised more than £800,000 for independent news outlets in the country to help them survive the chaos of war. (Amusingly, I first read about this with the Guardian's permanent begging message below it, even with the massive wealth of the Scott Trust behind it.) Yes, the usual geek chorus will bleat about 'white-on-white violence' (one Marcus Ryder of the Lenny Henry Centre for Media Diversity urged us not to care too much about Ukraine at the expense of other, non-white-majority nations – when did it become a competition?), while last night Owen Jones was warning Zelensky that his army shouldn't be beastly to captured Russian invaders – that's him told!
'WAR! What is it good for? ABSOLUTELY NOTHING!', fumed Edwin Starr in the 1970 Motown toe-tapper. It's true that war is a terrible thing and that the stupidity of Putin will – as Sapiens author Yuval Noah Harari has pointed out – mean that money set aside to counter climate change and provide benefits for the poor will now likely be used on weapons as the West goes about the weary business of re-arming. But the fact remains that from the ashes of war many great things have come – the advancement of women in the workforce, the National Health Service, the rebirth of the state of Israel. As Ukraine faces the battle for Kyiv, it's not too outrageous to say that at last we have found a country to be proud of – it's just a shame it's not our own.
Julie Burchill is a spiked columnist. Her book, Welcome To The Woke Trials: How #Identity Killed Progressive Politics, is published Academica Press.
To enquire about republishing spiked's content, a right to reply or to request a correction, please contact the managing editor, Viv Regan.