The 'adults in the room' have failed again
Biden's empty threats against Russia have needlessly inflamed tensions.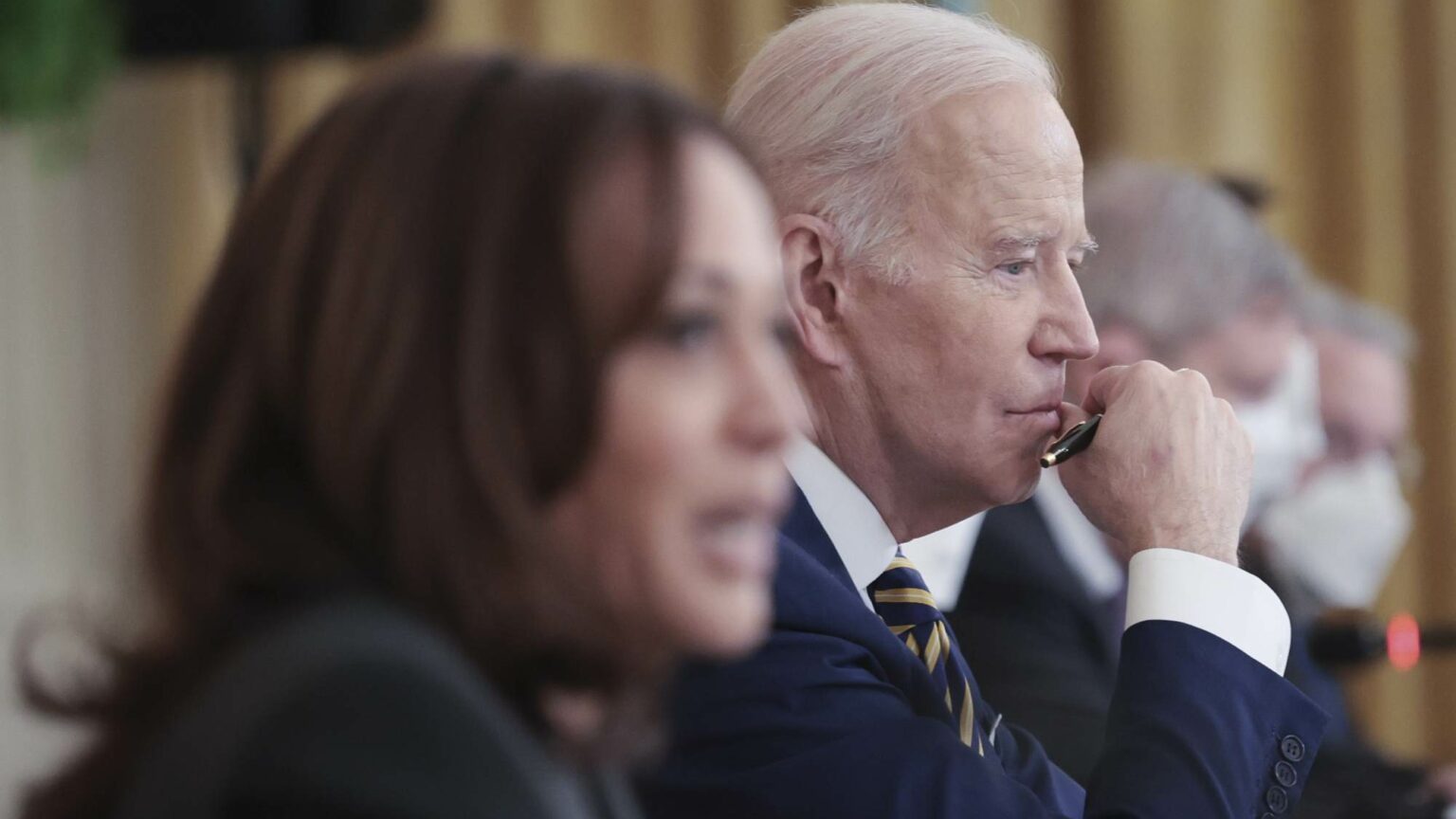 The 'adults are back in the room', we were told when Joe Biden assumed the US presidency. The turbulence of the Trump years was behind us, and a return to normalcy – both domestic and global – was all but guaranteed.
Things feel rather different now. With Vladimir Putin's decision to roll tanks into Ukraine, we are on the cusp of major destabilisation in world affairs. And while Putin alone is responsible for this unacceptable incursion on Ukrainian sovereignty, the Biden administration – the smart set, the sensibles, the adults, supposedly – has managed to bring about the worst of all possible worlds. It has invited Russian aggression, more or less forcing Putin's hand, while hindering any prospect of a diplomatic climbdown.
Back in 2021, in his first foreign-policy speech as president, Biden declared that 'Diplomacy is back at the centre of our foreign policy'. But attempts to find a diplomatic solution to the Ukraine crisis were never going to come easy – not least because Biden and Co had gone to such lengths to demonise Russia and Putin, often for puerile partisan reasons, over the past few years.
'Putin knows that when I am president of the United States his days of tyranny… are over', Biden warned in 2019. A year later, he returned to the theme: 'Vladimir Putin doesn't want me to be president.' The domestic political imperative to tar Biden's opponent, Donald Trump, as a stooge of Putin always came ahead of the more serious foreign-policy concern of actually having to deal with Putin. Earlier today, in his first speech since the Russian invasion, Biden insisted that the diplomatic door is still open. But this rings hollow.
The Biden administration's incessant demonisation of Putin creates two problems. First, by portraying Putin as merely a crazed tyrant hell-bent on expansion, any compromise or recognition of his oft-stated security concerns later down the line would appear foolish, weak or downright dangerous.
Second, the harsh rhetoric has ramped up the tensions and made a backlash from Russia more likely.
Worse still, while America's rhetorical sabre-rattling has gone into overdrive in the past month or so, everyone knows it has been mostly talk.
The repeated threat, aired by everyone from the US National Security Council in January to vice president Kamala Harris last week at the Munich Security Council, was that any Russian aggression would be met with a 'swift, severe, and united response' from the West.
Russia did not need Joe Biden's revealing gaffe – when he said last month that a 'minor incursion' by Russia would be met with a different punishment to a full-blown invasion – to foresee that the Western response would be neither unified nor decisive. In recent months, Western powers have taken different approaches to diplomacy, have different attitudes to sanctions and military aid, and clearly have divergent interests in their relations with Russia. When Biden last month announced that there was 'total unanimity with all the European leaders' on the crisis, everyone could see how hollow and performative this was. Now that Putin's incursion / invasion / offensive has actually happened, there is not even agreement among Western leaders as to whether it constitutes an invasion at all.
And as for the actual threat behind the sabre-rattling, this was always likely to be sanctions. Harsh sanctions, yes – but not the military threat that was often implied by the West's escalating war-like rhetoric. As the not exactly war-shy Obama once made clear in a 2016 Atlantic interview, it is simply not in the US's interests to defend Ukraine militarily: 'The fact is that Ukraine, which is a non-NATO country, is going to be vulnerable to military domination by Russia no matter what we do… This is an example of where we have to be very clear about what our core interests are and what we are willing to go to war for.'
What's more, the capacity of sanctions to do harm to Russia has diminished slightly in recent years, as Russia has oriented itself towards China and away from the West. The new Sino-Russian alliance, announced at the Beijing Olympics, is an uncomfortable one. These are not two like-minded nations drawn together through mutual admiration – rather, they are reacting and responding to Western attempts to turn them into pariah states.
Fundamentally, there has been a strange undercurrent of unseriousness to much of the West's dealings. Not only have the US and the West made threats they cannot back up – they have also displayed a real lack of grip or even basic knowledge of the situation at hand. As well as Biden's 'minor incursion' gaffe, we had Kamala Harris wrongly claiming there hadn't been a war in Europe for 70 years. (See also the UK's Liz Truss declaring that Russia shouldn't have sovereignty over parts of Russia.) We're not exactly sending our best.
The Ukraine crisis could have been resolved peacefully with compromise and diplomacy. But the adults in the room have failed us once again.
Fraser Myers is deputy editor at spiked and host of the spiked podcast. Follow him on Twitter: @FraserMyers.
To enquire about republishing spiked's content, a right to reply or to request a correction, please contact the managing editor, Viv Regan.