Liz Truss: an embarrassment to Britain
The foreign secretary's arrogance and ignorance has further damaged UK-Russia relations.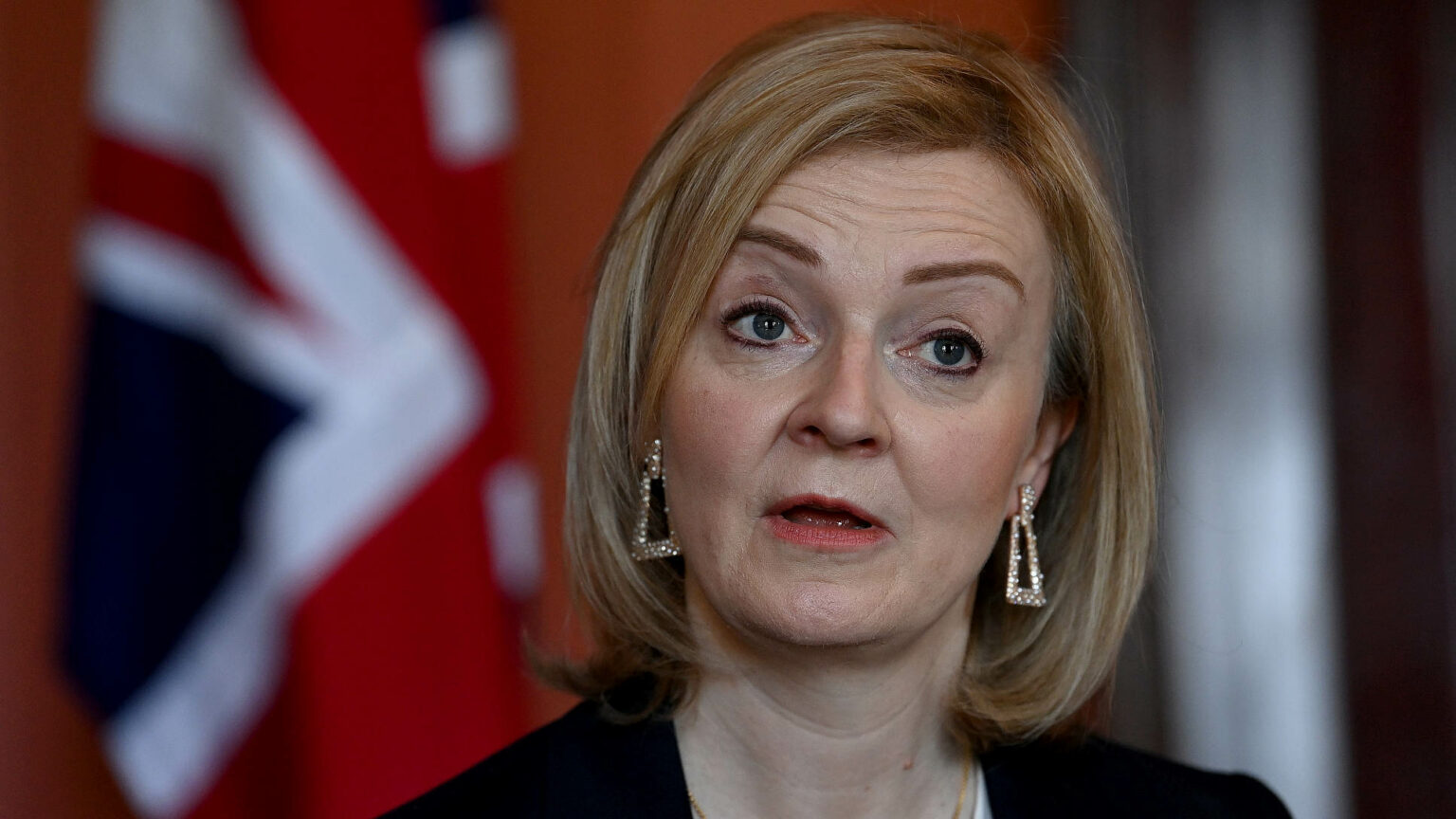 One of the most common questions I am asked by Russians is why, at an official level, the UK takes such an overtly hostile attitude to their country. After speculating about the proportion of diplomats and their advisers still locked in the mentality of the Cold War, another reason, I suggest, is that relations between our two countries have been so bad for so long that there is no diplomatic cost to the UK in being rude to Russia. Already at rock bottom, there is nowhere lower for relations to go.
Alas, I was wrong. They have just taken another dive, thanks largely to the single-handed efforts of the foreign secretary, aka the UK's 'chief diplomat'. Dispatched for little more than a day trip to Moscow, Liz Truss managed to confirm all of Russia's negative preconceptions about British diplomacy – arrogance, coldness and an attachment to hypocritical sermonising about 'values' – while adding at least one more: ignorance.
According to Russian media reports, not denied by the UK side, Truss's chilly encounter with her vastly more experienced Russian opposite number, Sergey Lavrov, included an exchange that went roughly like this.
Truss: 'Russia must move its troops away from the Ukrainian border, or else…' Lavrov: 'Why should we? It's up to Russia where it deploys its troops inside Russia' (which, of course, it is). He then asked, for good measure: 'Do you recognise Russia's sovereignty over the Rostov and Voronezh regions?' At which point Truss mounted her high horse and responded with all the authority of the UK's chief diplomat: 'The UK will never recognise Russia's sovereignty over these regions.'
This is where the UK's ambassador to Moscow, Deborah Bronnert, is said to have leant across to Truss and discreetly informed her that these regions were actually in Russia. Her assumption had apparently been that they were the two so-called breakaway regions on the Ukrainian side of the border.
It is not exactly clear what happened next. But the mistake, however rapidly corrected, fed into Lavrov's subsequent comment that talking to Truss was like 'speaking to a deaf person who listens but cannot hear' and of the UK diplomats as coming to Moscow 'unprepared'. And the point surely has to be that, if the central purpose of your diplomatic awayday is to upbraid the vastly more experienced representative of a much bigger country, you would be well-advised to get your facts right.
Truss's error posed the question, seized upon by the Russian media and others, as to why Truss had travelled to Russia at all. Why take a plane all the way from London to a snowy Moscow just to trot out what amounts to the same old thing UK officials have been saying for weeks about Russia and Ukraine? Then to let slip that you don't know what you are talking about?
Some unkindly souls have suggested that the visit was less about saving Ukraine than it was about Liz Truss's domestic ambitions and the attractions of a Moscow backdrop. And it is true that she seemed determined to channel Margaret Thatcher's 'iron lady', with fur hat, stout coat, frosty mien, striding by the monuments of Red Square. The problem was that she did all this without the slightest awareness, or so it seemed, of how it was that Russians – for it was they – came to award Thatcher that 'iron lady' soubriquet. It was not out of hostility, but out of respect for her toughness, for her straight-talking and – it should be added here – for her command of the facts.
The live Moscow talkshow in which Thatcher bested the crème de la crème of Soviet journalism on the finer points of arms control and the global power balance remains etched on the memories of those who saw it in 1987, and has been written into Russian journalistic folklore. Truss, Lavrov might have been tempted to say, echoing a famous US put-down, 'you're no Margaret Thatcher'.
If you exclude 'showboating' for the folks back home, then the purpose of the trip remains mysterious. You don't send your chief diplomat to talk to another country's chief diplomat if there is a risk that you come away with the state of play worse than it was before.
Then again, perhaps you do. Could the thinking be that it strengthens the unremittingly negative message UK officials have been putting out about Russia's intentions, if the foreign secretary returns home, having given no quarter and been 'dissed' by a contemptuous Lavrov? At least, you might say, Truss did not come back brandishing a billet-doux inscribed 'peace in our time'.
The trouble was that, by getting her political geography so signally wrong, Truss underlined the image many have of her as an ideologically driven lightweight – someone, that is, with an apparently hazy grasp of the difference between the Baltic and the Black Seas, and the distance between Estonia, where the UK has marginally beefed up its troop presence, and Ukraine. That does nothing for the heft of Global Britain abroad, or for the – already questionable – standing of the government at home.
And what made – or should have made – Truss's particular mistake so unnecessary was that there are dozens of British Russianists, maybe more, who spent a year or a term of their lives as British Council exchange students in either Rostov or Voronezh. There may even be some in the Foreign Office who had that experience, and will know beyond doubt where those regions lie. But the embarrassment should not stop there.
At a reunion of one-time Voronezh exchangees I attended a few years ago, a theme emerged: that the unique expertise we had gained – in the Russian language and in Soviet provincial reality – had not subsequently been valued or used by those government departments, in particular the Foreign Office, where it could have been of most use. Some even felt that their year in Voronezh – even on what was a British-government sponsored exchange – had somehow branded them as potentially disloyal citizens and so excluded them from such jobs.
I have no way of knowing how true this might be. I would, though, observe that other countries, including the US, Germany, France and Italy, seem more open to using the specialist expertise that their fellow countrymen and women have acquired at their own or at public expense – and that their diplomacy, including with Russia, benefits as a result.
Mary Dejevsky is a writer and broadcaster. She was Moscow correspondent for The Times between 1988 and 1992. She has also been a correspondent from Paris, Washington and China.
To enquire about republishing spiked's content, a right to reply or to request a correction, please contact the managing editor, Viv Regan.