The disarray of the West
The Russia-Ukraine crisis has exposed the fraying of the Western alliance.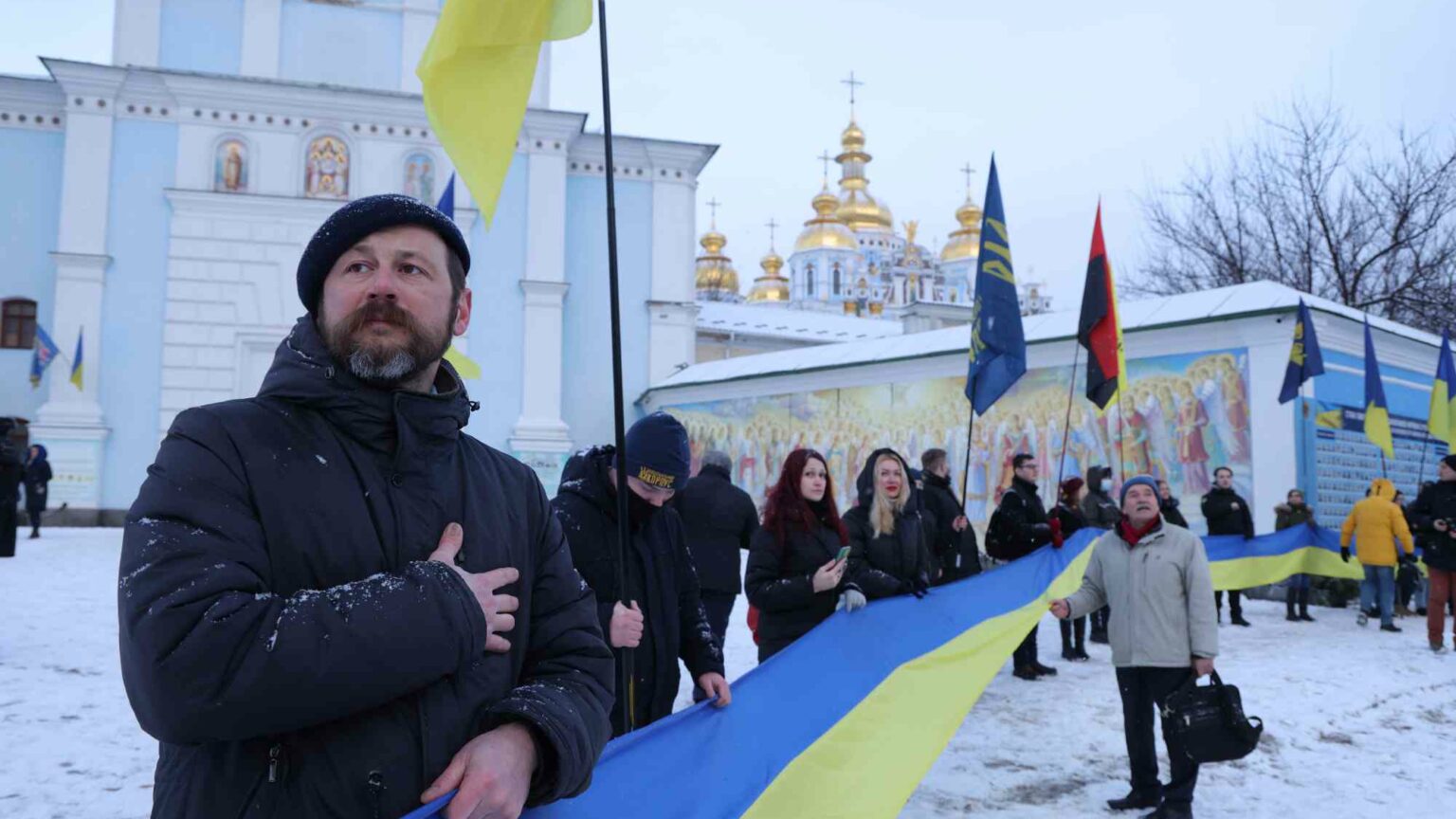 Representatives of the 'West', from the US and NATO to the European powers, all dialled in to Monday's confab to discuss the Ukraine crisis. US president Joe Biden emerged afterwards determined to put on a united front. 'I had a very, very, very good meeting', he said, adding, 'total unanimity with all the European leaders'.
This is at best wishful thinking. If anything, the Russia-Ukraine confrontation has exposed precisely the absence of unanimity among members of the Western alliance. Each nation and each institution has signally pursued its own divergent objectives, often negotiating and talking to Moscow independently, and, in the process, crossing wires, muddying waters and taking us further away from any realistic solution.
So for all Biden's talk of unanimity, and Downing Street's calls for 'international unity in the face of growing Russian hostility', what we're witnessing over Ukraine is the very opposite – namely, the further disintegration of the post-Cold War West.
The signs of this political fracturing have long been visible, of course. The era of triumphant liberal interventionism of the late 1990s and very early 2000s – when Western powers, organised under the auspices of NATO, forcefully promoted liberal, free-market norms around the world – drew to a close long ago. It exhausted itself in the blood, dust and chaos of the Middle East and later North Africa. The rise of China has complicated matters, too, undermining Western confidence and power.
In the absence of anything resembling a unifying purpose, the different political and institutional elements making up the West have started to come apart. The US, too often aided and abetted by the UK, has spent the best part of two decades trying to extricate itself from bloody messes of its own creation, above all in Afghanistan. European powers have vacillated on the world stage, with France blowing hot on Libya and cold on Iraq, and Germany, under the cautious hand of Merkel, seeking to plough its own pragmatic Realpolitik furrow. And all the while NATO has continued on its post-Cold War trajectory, seeking to expand ever further eastwards and, in doing so, conjure an existential USSR-style enemy out of Putin's Russia.
The Russia-Ukraine conflict, bubbling away for nearly a decade, has merely dragged the inchoate political and ideological disarray of the West out into the open. Each side now seems to be publicly pursuing its own agenda.
The US and the UK have been the most stridently anti-Russian members of the Western alliance. At virtually every stage of the current conflagration, Anglo-American politicians and media have hyped the Russian threat, tediously invoking the Nazis, and talking up the potential punishments, military and economic, that could head Putin's way should Russia invade Ukraine.
But even then, despite the military assistance they've both promised to Ukraine, there is a hollowness to the US-UK posturing. The Biden administration is more concerned with China, while the British government is more concerned with trying to focus on anything that's not partygate. The liberal interventionist zeal of the Clinton and Blair eras is absent. In its place is PR and puff, driven by little more than a desire on the part of the Biden White House, and Johnson's vacuous Downing Street operation, to try to keep up appearances. Hence Biden had to backtrack last week following his admission that NATO was hopelessly divided and might not retaliate against Russia if it conducted a 'minor incursion' into Ukrainian territory, rather than an 'invasion'.
Biden had of course merely let slip the truth – NATO members are hopelessly divided among themselves.
Take France. It was reported earlier this week that the French state, assessing intelligence provided by the CIA, simply does not envisage an imminent Russian invasion of Ukraine. This is an opinion echoed by the head of the German navy, who described fears of a Russian invasion as 'nonsense', before being defenestrated for his honesty earlier this week.
Moreover, French president Emmanuel Macron has both been striking out on his own, holding bilateral talks with Putin directly, and using the crisis to push for the European Union to develop its own military and foreign-policymaking capacity. This is Macron's vision of a 'Europe that protects', something he is keen to promote ahead of this April's presidential elections.
Then there's Germany, which is so far refusing to offer any military support to Ukraine, preferring instead to continue its own dialogue with the Kremlin. There are obvious economic reasons for what looks, to Anglo-American 1930s-obsessed eyes, like 'appeasement', chief of which is Germany's reliance on Russian gas supplies, writ large in the planned Nord Stream 2 gas pipeline.
But there also are deep social and historical reasons for Germany's particular approach to Russia, from the guilt-tripping legacy of the Eastern Front to East Germany's connection to the old Soviet regime. Indeed, there are segments of the German political class, especially among the now co-governing Social Democrats, that have long sought a closer economic and political relationship with Putin's Russia. In the summer of 2008, as the Russian army fought briefly in Georgia, then German SPD foreign minister, Frank-Walter Steinmeier, argued against EU sanctions. He claimed punishing Moscow would shut doors to rooms the EU might later want to enter. It is no coincidence that Gerhard Schröder, the last SPD chancellor, is now board chairman of Russian oil company Rosneft.
Even more so than France, Germany has no interest in pursuing a conflict with Russia. It simply does not share the view of NATO chiefs and parts of the Anglo-American foreign-policy establishment that Russia is a real threat, let alone the enemy. And German public opinion reflects this view. According to a poll earlier this month, more than half of East Germans and 35 per cent of West Germans favour collaboration with Russia, with only 22 per cent of Germans in total favouring a confrontation. This is not a nation about to march lock-step with the US and UK into imposing a punishing sanctions regime on Russia, let alone into a war – despite the more pugnacious noises this week from German foreign minister Annalena Baerbock.
So make no mistake, the Ukraine crisis is proving a catalyst for a geopolitical shift. Old alliances are breaking apart. And new ones are forming.
The political architecture of the West, with NATO its crowning achievement, was built in opposition to Communist Russia. It seems the attempt to oppose Russia today is exposing just how dilapidated 'the West' has become.
Tim Black is a spiked columnist.
To enquire about republishing spiked's content, a right to reply or to request a correction, please contact the managing editor, Viv Regan.