The truckers' revolt has exposed the left's class hatred
Every time working-class people rebel today they are instantly smeared as fascists.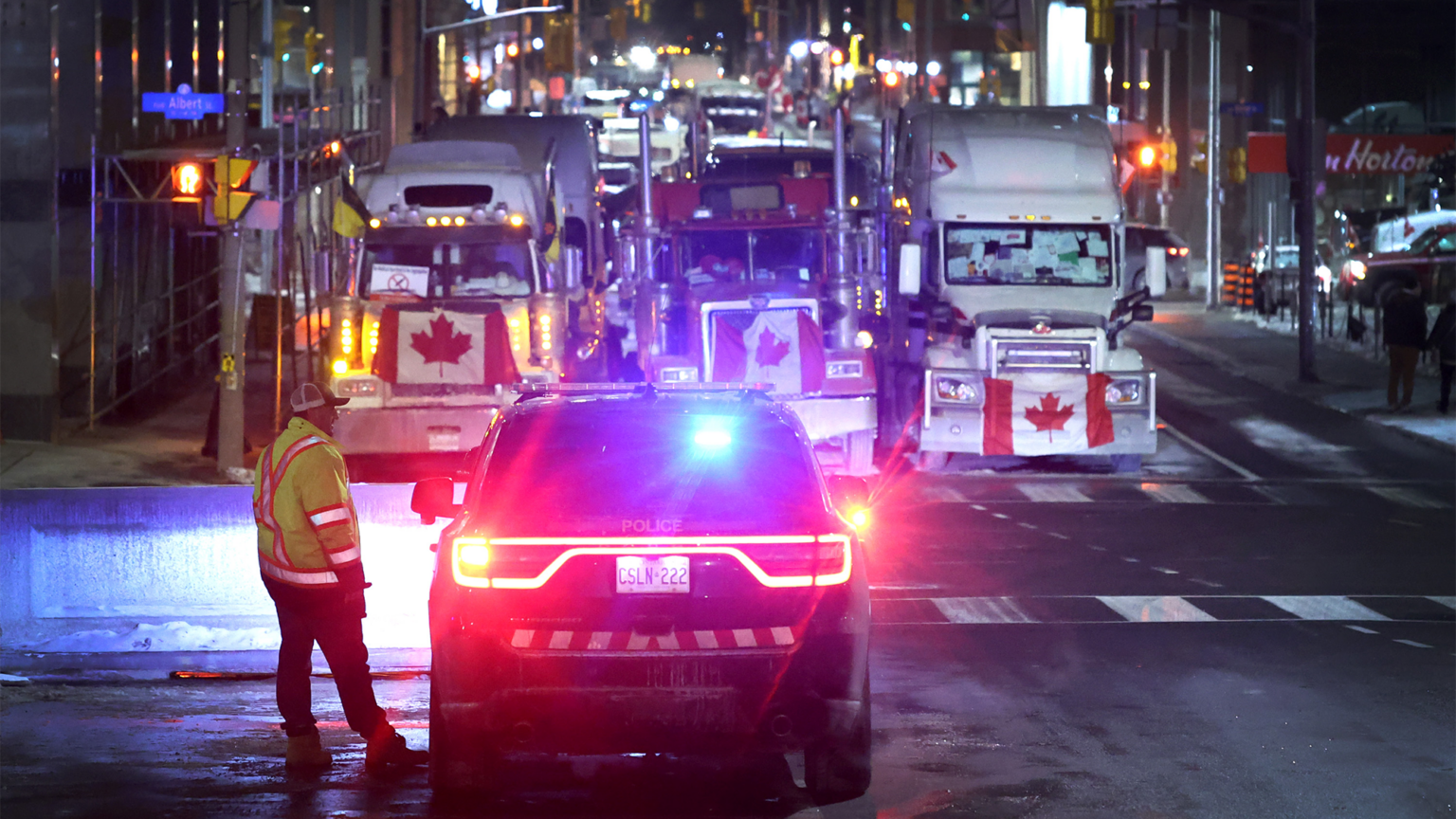 We need new political labels. That much has become clear amid Canadian prime minister Justin Trudeau's crackdown on the truckers' revolt – the now weeks-long protests by truckers and their supporters, in Ottawa and elsewhere, against Covid vaccine mandates.
This week, Trudeau invoked the Emergencies Act, for the first time in the law's history, allowing banks to freeze the accounts of anyone associated with the protests with no need for court orders. Deputy prime minister Chrystia Freeland added that the government was expanding rules on 'terrorist financing' to cover cryptocurrencies and crowdfunding sites. The vehicle insurance of anyone involved in the protests can also now be suspended, and police have been given new powers to imprison or fine protesters.
As disruptive as some of the truckers' tactics are – the point of protest, after all, is to cause disruption – this is a remarkably authoritarian move, made by a 'liberal' prime minister desperately trying to defend his authoritarian Covid policies. Since then, outcry from the international liberal set has been conspicuous by its absence. Perhaps it isn't authoritarianism when photogenic centrists do it.
Here we see Trudeau's Canada following the example of Biden's America, a 'liberal' government blithely casting dissenting citizens as a domestic-terrorist threat. But just as shameful – and revealing – has been the response from the supposedly pro-worker left. Leftists who claim to crave working-class revolt have been keen participants in the smear campaign against the truckers and their supporters.
Make no mistake: the so-called Freedom Convoy is a remarkable assertion of working-class power. Truckers from across Canada have descended on the capital to oppose vaccine mandates, and the threats to their livelihoods that they entail, drawing support from vaxxed and unvaxxed alike. Workers are refusing to do what they were told, and have brought the supply chains they work every day to a halt.
This may have been sparked by a new rule requiring unvaccinated truckers to quarantine when they return from the US, making it impossible for them to make a living. But it has swiftly grown into a populist movement against the entire 'laptop class' – the elite that has relied on workers more than ever throughout the pandemic, bringing them their Amazon deliveries and takeout while they typed away at home, and which has repaid these workers by clobbering them with one punishing, impoverishing Covid rule after another.
You can see just how much this protest has rattled the elites by the rogues' gallery that has coalesced in opposition against it. Big Tech has even tried to starve the truckers of donations, with GoFundMe withholding millions of dollars raised for the truckers. And even before Trudeau's power grab this week, banks had already frozen accounts associated with the Freedom Convoy.
What we have there is a bottom-up working-class revolt, for workers' rights and against state authoritarianism, with politicians, bankers and Silicon Valley tech types all lining up against it. And so the response from the left has naturally been to denounce the protesters as far-right scum and side with the powers-that-be.
Echoing Justin Trudeau's absurd smears – he has casually asserted that the protests are riddled with 'anti-Semitism, Islamophobia, anti-black racism, homophobia and transphobia' – left-wingers have done one better and presented the truckers as a would-be Fourth Reich. Canadian leftists have labelled them 'fascist'. American socialist magazine Jacobin has dubbed them 'noxious reactionaries', 'far-right populists' and a 'front for a right-wing, anti-worker agenda'.
Not to be outdone, Britain's Paul Mason has penned a typically mental article for the New Statesman. 'There is no mystery as to what kind of movement this is: it is 21st-century fascism', he writes. Mason naturally calls for the full force of the state to be used to crush the protesters and cut off their funding. He dubs it 'self-defensive democracy', all to the end of bringing the fash to heel.
Such fever dreams are born of pure prejudice, as a few isolated incidents and fringe elements have been wilfully used to smear the entire movement. As Rupa Subramanya, a columnist for the National Post, put it in a recent piece: 'I have spoken to close to 100 protesters, truckers and other folk… and not one of them sounded like an insurrectionist, white supremacist, racist or misogynist.'
If only this were a one-off. Essentially every time working-class people have revolted against the establishment in recent years the left has joined with the centrists to denounce them as fascists. The Brexit vote? Fascists! The Trump revolt? Super fascists! The gilets jaunes? French fascists! It's like a tic at this point, a form of political Tourette's bred of the left's profound disorientation.
Not all populist revolts are the same. Some are more positive or coherent than others. A previous generation of leftists might have hoped to shape such bubbling discontent with the neoliberal status quo. But today's leftists are so cloistered, so bourgeois, so much more comfortable in the faculty lounge than on the factory floor, that they not only can't lead these revolts, they really don't want to.
Instead, time and again, they have lent credence to elite campaigns to demonise working-class movements, to paint them as the death rattle of the old white man. Supposed radicals – up to their eyeballs in divisive intersectionalist politics – have become the useful idiots of a neoliberal ruling class keen to put voters firmly back in their place following the populist revolts of 2016 onwards.
Leftists across the Western world have become so alienated from working-class people that when they see truckers taking to the streets their immediate thought is, 'Oh fuck, the Nazis are back'. They essentially now fear working-class power. They think it is de facto fascistic. Demented anti-fascism is now one of many means through which these bourgeois posers peddle their class hatred.
We've known for some time that the left is morally lost, intellectually spent and in bed with the very elites it claims to rail against. But the truckers' revolt could well be the final nail in the coffin – for any claim contemporary leftists might once have had to be on the side of workers. The left as we knew it is gone, and it isn't coming back.
Tom Slater is editor of spiked. Follow him on Twitter: @Tom_Slater_
To enquire about republishing spiked's content, a right to reply or to request a correction, please contact the managing editor, Viv Regan.