Enough with these Christmas party stories
We are almost two years into this Covid state of emergency and journalists are shrieking about Zoom quizzes.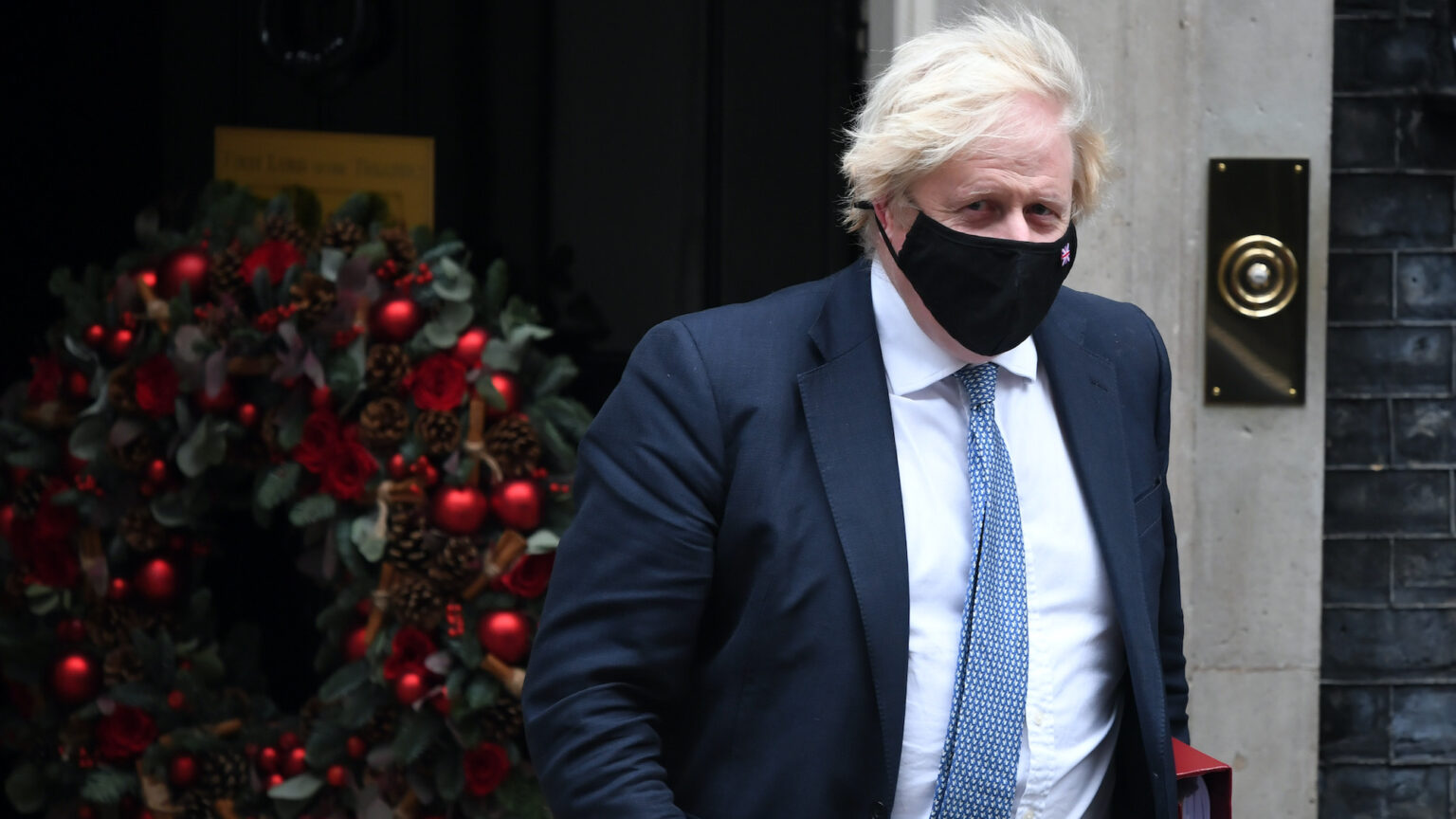 That's it. I've had enough of these Downing Street Christmas party stories. The great Zoom quiz scandal reported in the Sunday Mirror this morning, complete with that screenshot of the PM officiating at said illicit event last December, flanked by aides draped in tinsel, has sent me over the edge.
The first few of these Christmas party 'scoops' were fun and revealing and damning and all the rest of it. That leaked clip of former government spokeswoman Allegra Stratton laughing while talking about the big lockdown-busting Christmas bash at No10 last year boiled my piss, too.
Here we saw a government willing to deprive its fellow citizens, by law, of friends and family and social interaction while refusing to follow the same rules. It was infuriating.
Then the PM's attempts to waffle his way out of it, even launching a formal investigation into a growing number of get-togethers he maintains didn't take place, did even more damage. It looked dishonest as well as faintly ridiculous.
But it is really getting out of hand now. As the stories have piled up, the line between a clearly pre-planned party and a few beers after a big day at work has become a bit blurry. And this latest 'scandal' gets us into even more absurdly fine distinctions.
The quiz Johnson apparently presided over (for one round) was virtual, but Downing Street staff decided to take part from their desks rather than go home. Afterwards, some stayed on to have a few drinks and some even – brace yourself – 'mingled' with those in other offices within Downing Street.
This was all probably illegal at the time, because basically any social interaction was illegal at the time. As 'key workers', Downing Street staff could legally work alongside one another all day and night, but staying on for a glass of wine was a no-no. But this only underlines how bizarre the Covid rules were at various points during the pandemic.
Besides, the idea that everyone outside of a few miscreants – many of them in No10 – followed all the rules to the letter is a lie we all tell ourselves. Those who went into work throughout the lockdowns will have crossed the line between essential work and non-essential socialising more times than they'd care to admit.
I can't be the only one struggling to summon up any outrage about all this. These stories have become more cringey than anything else, revealing a No10 staff particularly given to lame Christmas hijinks. (I don't want to hear a political journalist utter the words 'Christmas jumper' ever again.)
No one is saying these stories shouldn't be reported. Tales of lockdown-breaking politicians, scientists and officials have revealed rank hypocrisy and provided some much-needed light relief throughout the pandemic. (The downfall of Shagger Ferguson and Handsy Hancock instantly come to mind.) But the media preoccupation with them has got a bit weird.
Indeed, the most damning revelation about the government this week had nothing to do with Covid and wasn't revealed by the media: it was the submission made by Foreign Office whistleblower Raphael Marshall to the Foreign Affairs Committee, in which he detailed the government's shocking bungling of the Afghanistan withdrawal, and the frankly sickening decision at one point to prioritise airlifting pets over humans.
Meanwhile, lobby journalists were running around banging on about party games and saying 'is it one rule for them and one rule for the rest of us?' for the 400th time. (Even though some prominent journalists were of course embroiled in their own lockdown-breaking scandals last Christmas.)
The pandemic exacerbated much of what was already wrong with the mainstream media. An obsession with lame gotchas, a tendency towards groupthink, a generally low view of members of the public… all of this laid the groundwork for the often one-eyed and moralistic Covid coverage we've had to endure over the past 20 months.
In March 2020, as ministers were about to strip citizens of their civil liberties to an extent not even seen during war time, all the journalists gathered at those daily press conferences could do was egg the government on. They unthinkingly slipped from holding the government to account to simply advocating lockdown.
They then settled into the role of glorified Covid marshals, only without the hi-vis jackets. Whether they were shaming members of the public for sitting too close together on beaches or going after ministers for breaking laws they had a hand in writing, their passion for the rules burned bright.
This all reached its mad crescendo with the Dominic Cummings affair and that now infamous trip to Barnard Castle. A big story, of course, but one that was not nearly as explosive as it was first presented to be. Certainly nothing deserving of a rose-garden press conference.
After all, Durham police's final word on the matter was that there 'might have been a minor breach' of lockdown rules. And they found 'insufficient evidence' to support another claim, reported by the Observer and the Sunday Mirror, that Cummings made a second law-breaking trip to the north-east.
Once again, no one is saying these stories don't matter. The problem is how much this kind of moralising journalism has dominated Covid coverage and media discussion. For one thing, journalists spent so much time essentially enforcing the rules that they never properly picked up on their clear adverse consequences.
Meanwhile, all this crowded out discussion of the government's other obvious and deadly failings. Cummings' drive to Durham has essentially gone down in history as the defining scandal of the first lockdown – rather than, say, the carnage in care homes, fuelled by a policy of discharging hospital patients into the care sector without the need for a negative test.
This was reported on, but it never set the narrative. It didn't run and run. Heads never rolled because of it. When Matt Hancock finally resigned as health secretary earlier this year it was over him copping off with his aide – in breach of the rules! – rather than the preventable deaths he presided over in post.
Now that we're almost two years into our Covid state of emergency, this myopia is even more unforgivable.
More restrictions are coming into force this week in England, despite there being dubious evidence to support them – all aimed at tackling a new Covid variant that we still know relatively little about, at a time when more than 95 per cent of people in England have Covid antibodies.
A government that is once again gripped by panic, and desperate to distract from its various scandals, is becoming increasingly authoritarian. It is bringing in vaccine passports it once damned as illiberal and discriminatory, and it is threatening a 'national conversation' on mandatory vaccination.
All this, and all the media are talking about right now is Zoom quizzes, tinsel and Christmas jumpers. They're shrieking about yet another borderline breach of the rules. It's pathetic.
How about this: the government should reimburse all of those fined for holding lockdown parties. Reportedly, 70,000 people were fined £200 for this 'crime'. Some students were fined a life-ruining £10,000 for hosting house parties smaller in number than those reportedly held in Downing Street. So it's the very least Johnson could do.
Then the media should get on with asking some rather more difficult questions. The kind they have utterly failed to ask throughout these grim two years.
Tom Slater is editor of spiked.
To enquire about republishing spiked's content, a right to reply or to request a correction, please contact the managing editor, Viv Regan.