There is no case for new Covid restrictions
The government must hold its nerve and let us live freely.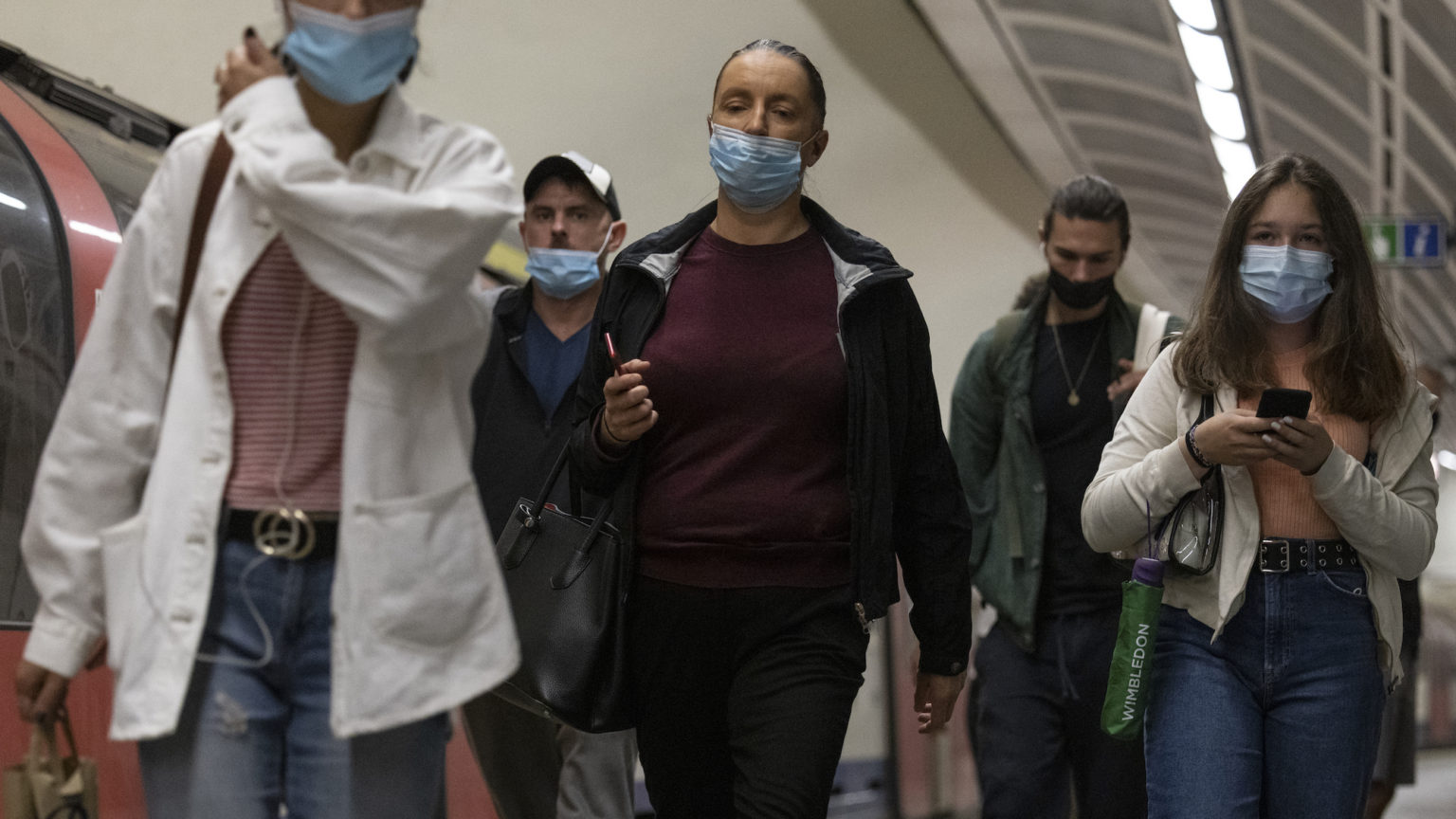 SAGE luminaries and NHS leaders have been calling for increased Covid restrictions in England this week. Some want the government to implement its 'Plan B' for the winter, which would mean mask mandates, vaccine passports and more working from home. There are even reports, strenuously denied by ministers, that a 'Plan C' could be drawn up that would put the UK back into lockdown.
The demands for more restrictions have been prompted by the UK's rising Covid cases. Since 'Freedom Day' in July Covid cases in the UK have oscillated between 25,000 and 50,000 per day, and there has been a noticeable uptick since schools returned and autumn began. Britain's case rates are now as much as 10-times higher than the rates in some European countries. Our Covid death rates are not exceptionally high, but even so, they are still higher than in much of Europe. Covid is still killing between 50 and 150 people every day and is accounting for between three and nine per cent of all deaths.
So why are the UK's Covid rates so high? Those demanding greater action say it is because the UK is 'running hot' with a 'vaccines only' policy, while other countries have 'vaccines plus' strategies – incorporating mask mandates and vaccine passports.
This view does not hold water. Scotland and Wales, unlike England, have kept their mask mandates in place and have introduced vaccine passports. Yet their Covid rates are just as high as in England.
Could it be the climate? Autumn comes earlier to the UK than to much of the continent, and autumn inevitably leads to greater viral circulation. But this hypothesis can easily be countered by the low rates in Scandinavia, which also has a northern climate. Heavy testing may make the UK's rates appear slightly higher, but not by nearly enough to account for the differences compared with other European countries.
The most plausible explanations relate to the vaccine rollout. The UK had a real headstart on the rest of Europe in its rollout, which might actually mean we are less protected going into this winter. The experience in Israel, where the vaccines were rolled out at breakneck speed, has shown very clearly that vaccine efficacy fades over a few months.
Other differences between the UK and European rollouts include the UK's greater reliance on the AstraZeneca vaccine and the decision to leave a two- to three-month interval between vaccine doses. The UK also has relatively low vaccination rates among children, which could be why under-18s account for many of the UK's cases. All of these are possible factors in our high Covid cases.
So what then should be done? Boosters for the over-50s and the most vulnerable should be prioritised to counter fading immunity. Booster jabs not only increase antibody levels, but data from Israel suggest that they can also stall a rise in infections.
Not everyone needs a booster jab, however. Most 'breakthrough' infections in young, vaccinated people are mild and these will strengthen their immunity to Covid. New treatments, including Regeneron's antibody mixture and Merck's molnupiravir pill, will help to keep patients out of hospital, so we should start using them urgently.
We must also maximise the number of hospital beds and prepare for a rough winter in the NHS. The challenges for the health service will include Covid, a backlog of patients and a likely resurgence of other respiratory viruses. These viruses were suppressed by last year's lockdowns, but they are now returning, finding susceptible people with diminished immunity.
But beyond all of that, there is a great deal we should definitely not do. We should not activate 'Plan B'. There is no evidence that it will achieve any good. The evidence in favour of masks is weak. And introducing mask mandates has never led to a step change in Covid cases.
My objections to vaccine passports are even stronger. They are illiberal and discriminatory. Plus, they are largely futile, given the extent of Covid infections among the vaccinated. Data from Public Health England show that most adult Covid cases (though not deaths) are now among the vaccinated. Excluding the unvaccinated minority from large events is therefore unlikely to bring cases down by much.
'Plan C' – ie, more lockdowns – should be ruled out unequivocally. It begs the question of when do we ever stop. I did not support last winter's lockdowns, as I considered their collateral damage to be disproportionate. But I could understand the logic of those who said that because vaccines were around the corner, we should just be patient for a few more weeks.
Now we are wiser to the limits of these vaccines, and there are no further vaccine breakthroughs in sight. To argue for another lockdown now is tantamount to arguing for indefinite and recurring lockdowns, despite all the collateral harms they cause to society. This would clearly be unsustainable. An NHS that is 'protected' by indefinite lockdown could not survive very long. The NHS needs a functioning economy to sustain it.
As for vaccinating children, this might well reduce cases in the short term. And 12- to 15-year-olds are being vaccinated for this reason. But for healthy adolescents the risks posed by the virus and the vaccines are finely balanced, hence why the government's vaccine advisers preferred to watch and wait for more data to emerge. What's more, immunity arising from the Covid infections that these youngsters will otherwise experience is more robust than the immunity conferred by the vaccines. In other words, not vaccinating the young could be better in the long run. Besides, from an ethical standpoint, vaccinating kids against Covid begs the question: since when was it children's duty to protect their elders?
Ultimately, there are three brutal and unavoidable facts we have to contend with. Firstly, SARS-CoV-2 is here to stay. 'Zero Covid' is unattainable.
Secondly, the vaccines are extremely valuable but they are imperfect. The protection they confer is incomplete and transient.
Thirdly, we will never develop the kind of herd immunity that squeezes Covid cases down to minimal levels, as with measles or rubella. Instead, as with common-cold coronaviruses, we are destined to live with the virus in a messy 'dynamic equilibrium' of occasional infection giving us immunity, followed by waning immunity and then reinfection.
This is what 'living with Covid' means. And if you haven't caught the virus yet, you will in time. When it happens, I hope your infection is mild and blunted by the vaccine. Occasional pandemics of respiratory viruses are simply part of the human condition.
Boosters and new treatments will help the vulnerable. But new restrictions will merely delay our journey to reaching a dynamic equilibrium, at great cost to society. Calls to institute new restrictions should be vigorously resisted. The government should hold its nerve with 'Plan A' and the rest of us should get on with our lives.
David Livermore is a professor of medical microbiology at the University of East Anglia and is on the editorial board of Collateral Global.
Picture by: Getty.
To enquire about republishing spiked's content, a right to reply or to request a correction, please contact the managing editor, Viv Regan.