Making misogyny a hate crime won't make women safer
Criminalising boorish sexism will do nothing to stop the next Wayne Couzens.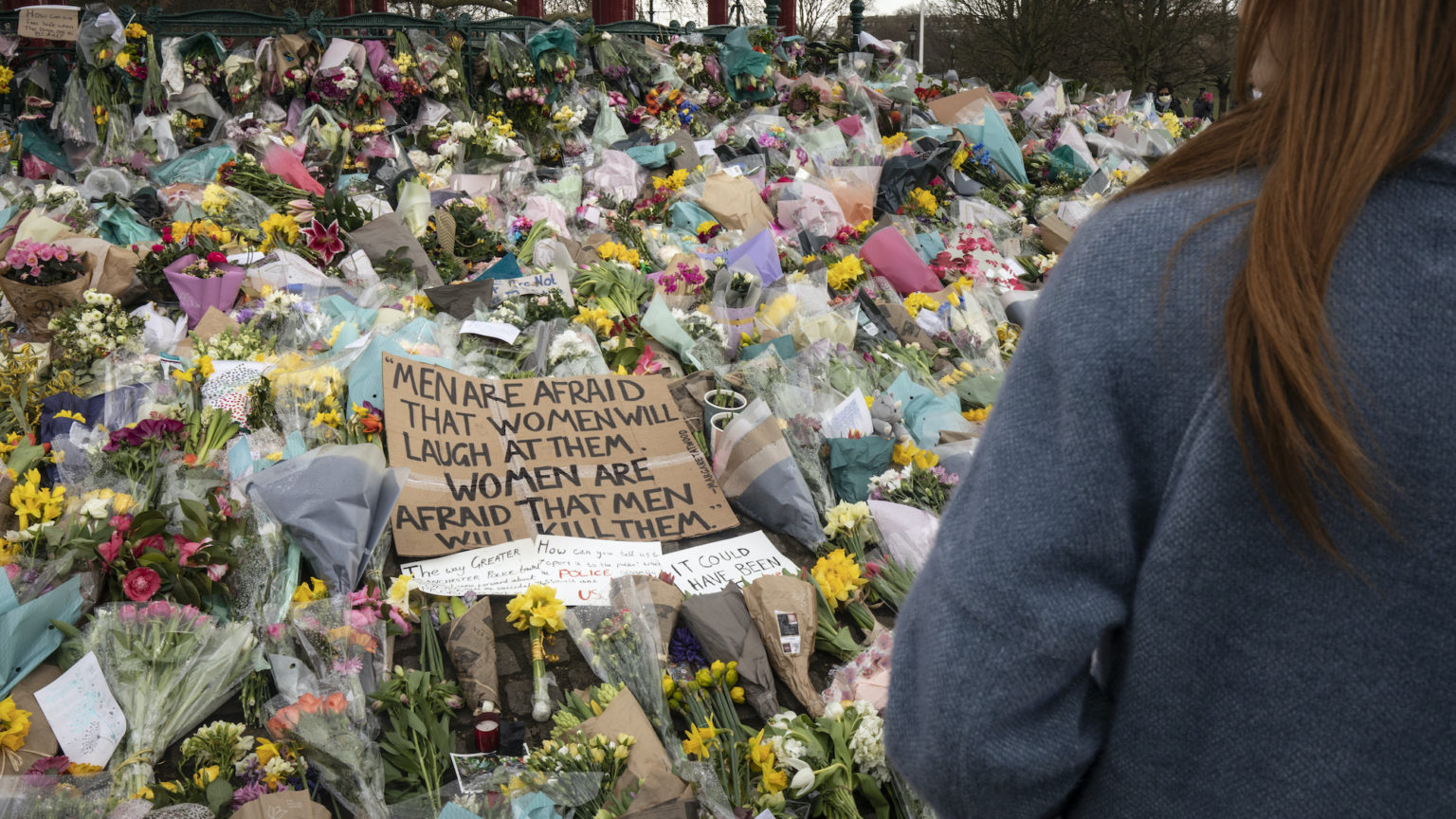 The horrific details of Sarah Everard's kidnap, rape and murder have understandably led to demands for an explanation. Women want to know how this crime could have happened and what needs to change to prevent such a horrendous event from ever happening again. But some of the public discussion that has raged since last week's sentencing of Wayne Couzens risks making it seem as if misogyny killed Sarah, and not this one uniquely depraved individual.
The murder of Sarah Everard is being held up as proof that the Metropolitan Police force is institutionally misogynistic. Accusers point to a 'canteen culture' in the police. They ask how the Met could have allowed Couzens to be recruited and keep his job despite the fact that he has been accused of indecent exposure. They point to his participation in sexist WhatsApp group chats with fellow officers. Campaigners argue that a culture of misogyny leaves women unable to trust the police.
It is incredibly serious to tell women that the police are misogynistic and cannot be trusted. Such claims could put the lives of vulnerable women in jeopardy if they do not seek the help they need. Yet these accusations are being reinforced at the very highest levels. Sue Fish, the former chief constable of Nottinghamshire Police, has slammed Met chief Cressida Dick for failing to tackle misogyny in the force. The Met itself issued the bizarre advice that women should flag down a bus if they are fleeing a male police officer they do not trust. This is the opposite of reassuring.
Anti-police anger gained momentum following the death of George Floyd and the subsequent wave of Black Lives Matter protests that swept the globe in the summer of 2020. Campaigners are now using the death of Sarah Everard to fuel this sentiment. Feminist activist Caroline Criado Perez writes that, 'women will never trust the police until they admit Sarah Everard's murderer was no isolated "bad un"'. The idea that white, middle-class feminists should assume All Cops Are Bastards is not only bizarre but also dangerous – it sends a message that no one in authority can be trusted.
We need to be absolutely clear. It wasn't a rotten culture in the police force that killed Sarah Everard. And neither was she killed by a set of unfashionably sexist attitudes. It was Wayne Couzens who killed Sarah Everard.
To blame Everard's murder on misogyny suggests there is a sliding scale with catcalling at one end and murder at the other. This lets Couzens off the hook. It says it is not he who is to blame for his actions but a society that lets misogyny flourish. In other words, we are all to blame. This notion of a continuum of misogyny relativises rape and murder. It makes them out to be not despicable acts of unthinkable evil, but just further examples of the unpleasantness women routinely endure.
Bizarrely, at the exact same time as telling us to mistrust the police, campaigners are also calling for the police to be handed new powers. There are growing calls to make misogyny a hate crime. Conservative MP and chair of the Justice Committee Sir Bob Neill has argued that this could be one solution to the lack of trust in the police. London mayor Sadiq Khan has joined in as well, reiterating his call for misogyny to become a hate crime.
Making misogyny a hate crime is extremely unlikely to prevent one murder or one rape. It seems to have been forgotten that not only murder and rape, but also indecent exposure, stalking, voyeurism, sexual assault and domestic abuse, are already criminal offences. None of these existing laws stopped Couzens committing his vile attack on Sarah Everard. There is nothing to suggest additional laws would have been any further deterrent.
One thing is certain: making misogyny a hate crime will hand vast swathes of new powers to the police – the very people campaigners are currently saying women cannot trust. If misogyny is made a hate crime then police will have the power to question people, keep their personal details on record and potentially arrest every sexist social-media user, lecherous drunk and socially inadequate teenage boy looking to impress his mates with lewd remarks. This is a massive commitment of police time that could be better spent patrolling the streets and preventing actual crimes. And as we have seen over the past 18 months, when the police are given sweeping new powers, such as those to enforce the coronavirus restrictions, they can overinterpret legislation and apply it unevenly. In the absolute worst cases some, like Couzens, deliberately abuse these powers.
Talk of making misogyny a hate crime in response to the killing of Sarah Everard is more about making women feel safe than actual crime prevention. But no amount of legislation can make women feel safe. In fact, the opposite is the case. Adding to the list of hate crimes sends a message to women that misogyny is rife and the world is a dangerous place for them when nothing could be further from the truth. The chances of women walking alone at night being raped or murdered by a stranger are vanishingly small. The chances of this happening at the hands of a serving police officer are smaller still.
No quick-fix legal solutions can ever prevent evil individuals from carrying out utterly horrendous attacks and we should not pretend otherwise. But what we can tell women is that the chances of them encountering such a creature are negligible.
We don't need new laws – the streets are already safe for women.
Joanna Williams is a spiked columnist and the director of Cieo.
To enquire about republishing spiked's content, a right to reply or to request a correction, please contact the managing editor, Viv Regan.