How the US defeat in Afghanistan could reshape the global order
China, Russia, Pakistan and Iran see a Taliban-run Afghanistan both as an opportunity and a threat.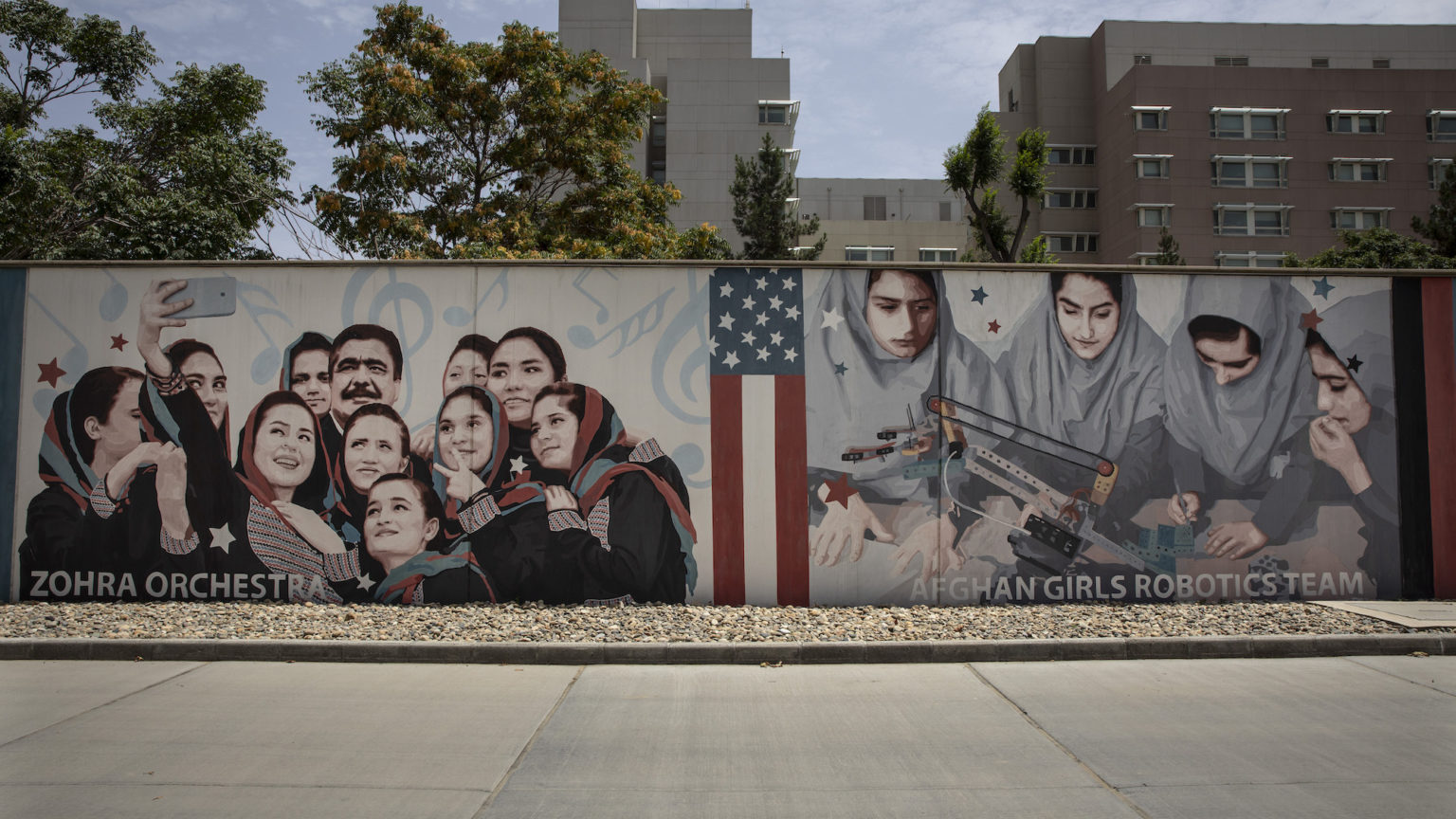 It is telling that only three particular nations are still running embassies in Afghanistan – namely, Pakistan, China and Russia.
Because it is these three – alongside Iran, which shares its eastern border with Afghanistan – which potentially have most to gain from America's defeat in Afghanistan and the seemingly effortless resurgence of the Taliban. After all, none of them appreciated the presence of America in their shared backyard. They are all likely to welcome the grand humiliation of the US in yet another foreign field, and more broadly what it represents – that is, the decline of a US-led global order and the emergence of a new one, driven by the economic dynamism of China. And no doubt, with a new non-US-aligned regime in situ, they will all hope to pursue their divergent political, military and economic interests in and through Afghanistan.
Pakistani prime minister Imran Khan was perhaps the most effusive in his praise for the Taliban's restoration. He said Taliban fighters had 'broken the chains of mental slavery in Afghanistan' and 'freed their country from superpowers'.
China, Russia and Iran were more measured in their responses. In China, the state-backed Xinhua News Agency called the Taliban's victory a 'turning point in the decline of American hegemony', while insisting that the CCP would prevent Afghanistan becoming a staging ground for 'acts detrimental to China'. Zamir Kabulov, Russia's presidential envoy to Afghanistan, said he 'had long since decided that the Taliban is much more able to reach agreements than the puppet government in Kabul'. And Iranian president Ebrahim Raisi stated that 'America's military defeat and its withdrawal must become an opportunity to restore life, security and durable peace in Afghanistan'.
Their circumspection is telling and understandable. While a new regime in Afghanistan offers opportunities, this is still the Taliban we're talking about. It is still a brutal Islamist movement, committed to the rule of Sharia law. And, insofar as it backs and inspires other Islamists, the Taliban still poses a significant security threat to all those regional powers hoping to take advantage of its retaking of power.
Even to Pakistan. Of course, the Pakistani state has long enjoyed a close relationship with the Taliban, allowing it to criss-cross its 2,670-kilometre border. This unofficial support for the Taliban, mediated by Pakistan's Inter-Services Intelligence agency, has always owed much to Pakistan's opposition to the US-backed Kabul governments, which were seen as being too close to Pakistan's main regional adversary, India. The Taliban has therefore been used by the Pakistani military as a tool in its long-running conflict with India, especially in the disputed, Muslim-dominated territory of Kashmir, which shares a border with Afghanistan in the north.
But a resurgent Taliban could potentially destabilise and threaten Pakistan, too. The porous border between Afghanistan and Pakistan could become a significant source of further Afghan migration into Pakistan in the coming days. And then there's the persistent menace of the revamped Pakistani Taliban (TTP), which is loosely affiliated with the Afghan Taliban. The TTP was responsible for a nationwide terror campaign between 2007 and 2014, which cost the lives of thousands of Pakistanis. As Husain Haqqani, a former Pakistani ambassador to the US, has put it, 'Islamist extremism has already divided Pakistani society along sectarian lines, and the ascendance of Afghan Islamists next door will only embolden radicals at home'.
Indeed, as the Taliban has surged in Afghanistan, the TTP has already been re-escalating its terror campaign, targeting Pakistani security forces, political opponents and, increasingly, Chinese interests in Pakistan. In July, a TTP suicide bomber killed at least 13 people, including nine Chinese nationals working on a China-funded dam project in north-west Pakistan.
Which brings us to China itself. It is clearly keen to strike up a working relationship with the Taliban, hence the photos issued by Beijing last month showing foreign minister Wang Yi shaking hands with Taliban co-founder Abdul Ghani Baradar. But it is important to understand that this is a significant public turnaround. For decades, China has accused the Taliban of harbouring ethnic Uyghur fighters from the so-called Turkestan Islamic Movement – which the CCP blames for unrest in its troubled Xinjiang region. And the recent attacks on Chinese nationals carried out in Pakistan by the TTP will only reinforce Chinese anxieties about the rise of the Taliban.
Likewise, Russia is similarly concerned about the Islamist threat the Taliban poses. Indeed, Russia still designates it as a terrorist group, and is particularly anxious about any Islamist insurgencies in the buffer states of Uzbekistan, Turkmenistan and Tajikistan, which also border on Afghanistan. Little wonder, then, that in recent months Russia has been conducting military drills with Uzbekistan and Tajikistan, and has been working alongside China on joint military manoeuvres aimed, as a Russian press release put it, at 'demonstrating the determination and ability of Russia and China to fight terrorism'.
And the same security fears apply to Iran, too. Representatives of the Islamic Republic may have been openly meeting Taliban leaders over the past few years. But before that the largely Sunni Muslim Taliban, and the assorted militant groups it works with, have been seen as a problem by Shiite Iran. Furthermore, Iranian forces have been quietly fighting the Islamic State in Afghanistan over the past decade. So while Iran will not be sorry to see the departure of the US, it will be keen to see stability, brutally enforced or otherwise, in Afghanistan.
So what immediately unites China, Russia, Iran and Pakistan in the aftermath of America's defeat is a shared interest in ensuring their mutual security. Their willingness to meet, work with, even officially 'recognise' a Taliban government is motivated principally by this desire to rein in any Islamist overspill. And to reduce any of the accompanying chaos, from huge migrant flows to rampant drug trafficking. In this they all have a common realpolitik aim.
But beyond that their interests in this new US-free, Taliban-run Afghanistan diverge. For Pakistan it is useful to have an almost like-minded religious bulwark against India as a neighbour. For the embattled Iranian regime it is a chance to strengthen economic ties with another nation freed of its American nemesis. And for China, perhaps the most significant beneficiary, Afghanistan is potentially both a huge, mineral-rich investment opportunity and a vital regional bridge in either its economic corridor with Pakistan or its Belt and Road Initiative. China's relationship with Russia could also become even closer – and it is already closer than at any point since the mid-1950s – with both powers sharing so many common economic, political and security interests in Afghanistan.
Afghanistan may no longer be occupied by the US and its allies. But an arguably even fiercer international battle for its future could well begin. And this battle, with Russia and especially China to the fore, could well accelerate the re-shaping of the global order.
Tim Black is a spiked columnist.
To enquire about republishing spiked's content, a right to reply or to request a correction, please contact the managing editor, Viv Regan.