Why it's time to move on from Covid
The Delta variant may have dashed hopes of herd immunity, but we can still live with the virus.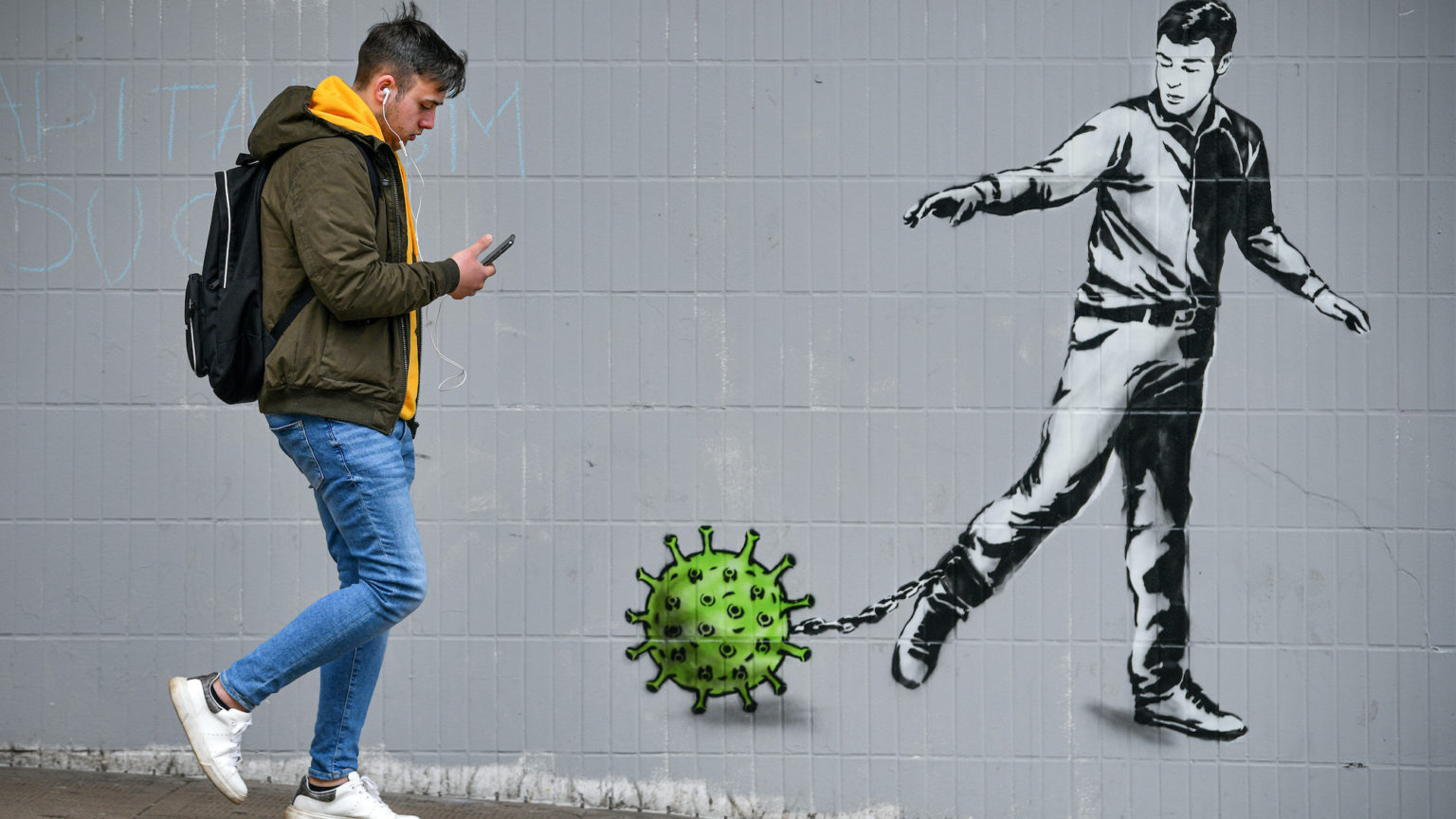 When will Covid be over?
During the winter and spring the swiftly developed vaccines began to show startling success. Deaths from Covid fell, and severe side effects were rare. The UK rollout was among the most efficient in the world. Matt Hancock's initial plan, laid out back in January, was to 'cry freedom' once the over-50s, the vulnerable and healthcare workers had been vaccinated. But then the goalposts were moved. It was decided that all adults should be offered the vaccine before we properly unlocked. Freedom was delayed and diluted in the meantime.
The logic was that near-universal adult vaccination would reduce the pool of hosts for the virus, delivering a true 'herd immunity' from Covid-19 – just like the kind we have from measles. Depriving the virus of hosts would also prevent the evolution of variants, it was argued. A 'Zero Covid' aim – through vaccination instead of lockdown – was surreptitiously adopted.
This goal was probably never very realistic. Measles vaccines, like measles infection, confer lifelong immunity. So long as enough people are vaccinated, the virus loses traction, and the few who haven't been vaccinated are protected. This is quite different to our relationship with the four long-established coronaviruses, which cause around 10 to 20 per cent of colds.
With these viruses we enjoy what's called a 'dynamic equilibrium'. We get infected and develop an immunity that fades swiftly, leaving us vulnerable to reinfection. For coronavirus NL63, we usually get reinfected with the same strain. For OC43 or 229E, there are pools of variants that can infect us at different stages. In fact, it is plausible that the great 'Russian Flu' pandemic of 1889 to 1894 was actually caused by the coronavirus OC43. At the time it emerged, it led to over 125,000 excess deaths in Britain from a population half the size of today's. Could Covid follow the same trajectory?
In any event, this covert Zero Covid approach will fail thanks to the arrival of the Delta variant. That's because Delta can infect even the fully vaccinated (as Piers Morgan and Sajid Javid have famously shown). Infection rates are maybe 50 to 60 per cent lower among the vaccinated than in the unvaccinated. But this is not enough to suppress a variant that is so highly transmissible. My former colleagues at Public Health England report that when the vaccinated do get infected, their viral loads – and therefore the potential for transmission – are just as high as they are in the unvaccinated.
None of this is to say that the vaccines are failing. They are doing their job protecting against severe disease and death, though there is likely a need for regular booster shots. Instead, the obvious conclusion is that SARS-CoV-2 is, perhaps unsurprisingly, behaving just like the other coronaviruses – conferring only transient immunity and having the potential for reinfection. What's more, Covid is now endemic and so eradication is not a feasible option.
In the future, therefore, we will have five circulating coronaviruses rather than four. And we should expect to live in a dynamic equilibrium with Covid as we do with the other four. Children and future generations will experience repeated early Covid infections, prompting them to develop a high degree of immunity. Waning immunity will allow for periodic reinfections, but these should be mild. Those of us longer in the tooth have been given protection by the vaccines.
At a population level, increasing immunity will limit the harms posed by Covid. The big waves of infection will stop. Significant numbers of people will continue to die, however, just as they currently do with influenza.
So what does this mean for our approach to the virus? First, it means vaccine passports are futile, not to mention illiberal. It won't be long before the vaccinated comprise the majority of people infected. Pillorying the unvaccinated as breeders of vaccine-evading variants is also wrong.
Second, the continued reporting of daily Covid cases is pointless. We don't do this for other infections and it just frightens people needlessly. What matters now is the tally of hospitalisations and deaths.
Third, bringing back social restrictions is pointless so long as there is no danger of hospitals being overwhelmed. Even if these measures slow the rate of infection, this will only delay us reaching equilibrium, adding collateral costs for no advantage.
Fourth, with hopes of a measles-like herd immunity dashed, the Zero Covid countries of Asia and Australasia now find themselves in a very dark place. They need to accept that Covid has to reach an equilibrium or they will be stuck with permanent isolation and recurrent lockdowns.
Two questions remain, however. First, should we vaccinate adolescents and young adults who are unlikely to suffer from severe Covid? It is unclear whether vaccination or infection will offer them the best protection in the long run. Vaccines elicit a stronger immunity to the virus's spike protein. But infection also delivers antibodies in respiratory secretions, which may be critical to preventing reinfection. It also produces antibodies that target the virus's nucleocapsid protein. The result is that, while mild infection is being observed more and more often among the vaccinated, reinfection remains rare among those who caught Covid a year ago in the first wave. In other words, there is not much to justify the rush to vaccinate 16- or 17-year-olds.
Second, should we worry about vaccine-evading variants? Concerns about the Beta and Gamma variants seem overblown. The spike proteins of these variants have reduced antibody binding in the lab. But both of these variants have failed to become dominant in the real world. For the future, we need vigilance. We should carry on sequencing viruses from hospital admissions, and then we must ensure we have the capacity to swiftly adapt and deploy modified vaccines if necessary.
Overall, vaccines have blunted Covid but won't eradicate it. And nor will a return of life-sapping restrictions. It is time to recognise the world as it is, not as we'd like it to be. Let's declare a limited victory and learn to live with the residual virus. The alternative would only lead to overreach and hubris.
David Livermore is a professor of medical microbiology at the University of East Anglia and is on the editorial board of Collateral Global.
Picture by: Getty.
To enquire about republishing spiked's content, a right to reply or to request a correction, please contact the managing editor, Viv Regan.