Macron is playing with fire
Forcing vaccines on a sceptical public could breed even more distrust.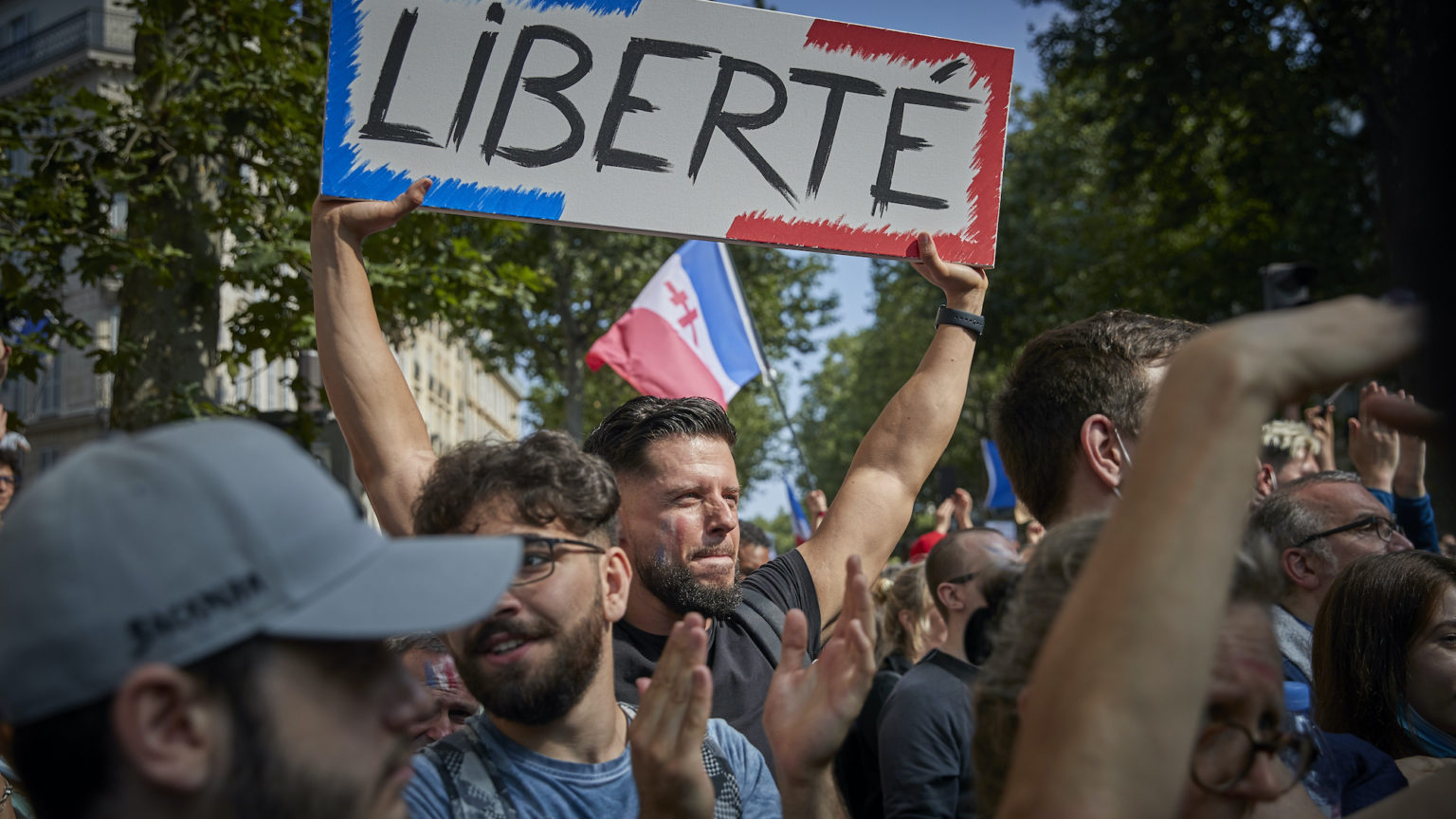 No vaccine, no freedom. That was the stark message issued by an impatient Emmanuel Macron to one of the most vaccine-sceptical countries in the developed world.
When the first Covid-19 vaccines were announced, a majority of the French public told pollsters they had no intention of getting one. In early December 2020, when France was averaging around 500 Covid deaths per day, 61 per cent of people told an Ifop poll that they weren't interested in getting vaccinated.
Before the Covid pandemic, the French were topping global surveys of vaccine hesitancy. In 2019, 33 per cent said that vaccination, in general, was unsafe, while 20 per cent said vaccines were ineffective. Though all countries have to contend with anti-vaxxers, there are numerous factors specific to France that have made the public so sceptical.
Major medical scandals have done a great deal to undermine trust in public-health initiatives. In the early 1980s, nearly 1,300 haemophiliacs were infected with HIV and 400 died of AIDS, after they were given transfusions with tainted blood. French officials knew that the blood contained the HIV virus, and the head of the National Blood Centre was eventually jailed for his complicity.
In the late 1990s, medics began voicing concerns about a possible link between the hepatitis B vaccine and multiple sclerosis. This link has since been discredited, but it has shaken many people's faith not only in the specific vaccine but also in vaccination more broadly. And in 2009, confronted with the H1N1 swine flu pandemic, the French government purchased 94million doses of vaccine. This was a wild overestimate of the need – less than 10 per cent of the doses were used in the end. The big beneficiaries of this extraordinary waste of public money were, of course, the pharmaceutical giants – a theme that many vaccine sceptics pick up on.
When it comes to the Covid-19 vaccination programme, the French government has once again not covered itself in glory. The rollout got off to an extraordinarily slow start. Like other EU countries at first, France had many issues getting adequate supplies. But there was also an explicit motivation for starting slower – the government was keen to demonstrate that the vaccine was not being forced on anyone. In the first week of the Pfizer vaccine rollout, while the UK vaccinated 130,000 people, France gave out just 516 doses. Now the government has changed tack entirely. It wants the public to know they must be vaccinated or else.
Macron himself has also done great damage to vaccine confidence. In February, he infamously declared the Oxford / AstraZeneca vaccine to be 'quasi-ineffective' at protecting the most vulnerable. Not for medical reasons, but because the EU was having a dispute with the manufacturers. He was joined in this smear campaign by other European leaders, including Angela Merkel and Ursula von der Leyen. Just as past vaccine scandals have impacted views on vaccination more broadly, the government-promoted belief that one brand of vaccine is useless has undermined confidence in all of the Covid vaccines. A bad situation made worse by short-term politicking.
Now Macron has reached for the stick. As of this week, anyone entering a venue with a capacity of more than 50 people will need to show proof of vaccination or a negative Covid test. From August, these restrictions are set to be extended to restaurants, bars, shopping centres, retirement homes and essentially any public space you would visit in the course of a 'normal' week. And from the autumn, Covid tests will have to be paid for – essentially leaving vaccination as the only option for anyone who wants to lead a hassle-free life.
For now, it seems to be working. At least in the narrow sense that vaccine take-up has improved. Since Macron's address last Monday, more than three million vaccination appointments have been booked. At one point, the online booking service crashed under the weight of demand. New polling by Odexa suggests that eight in 10 adults have either already taken the vaccine or are planning to – an extraordinary jump.
The French example has already inspired other governments to forget persuasion and to go for coercion instead. The UK government, a week after France, announced its plan for vaccine passports from September, despite ruling them out multiple times – and in strong terms. Germany has hinted that lockdowns could be reimposed in the autumn – but not for the vaccinated. Back in 2020, Italy's descent into lockdown gave other liberal democracies the green light to place their citizens under effective house arrest. Now Europe is contending with the Delta variant, will France lead it into a brave new world of health passports?
Although vaccine take-up has improved, and the French public is broadly favourable to the passport scheme, it has also faced fierce opposition. Protests drew crowds of over 110,000 people, gathering in more than 100 rallies across the country, according to the Interior Ministry.
Yes, there were many conspiracy theorists and outright anti-vaxxers at the protests. But opposition to the passports on civil-liberties grounds has come from across the political spectrum. François-Xavier Bellamy, a philosopher and prominent MEP for the centre-right Républicains, and Loïc Hervé, a leading senator for the Centristes, wrote a joint op-ed in Le Figaro opposing the measures. A requirement to present health data for access to public spaces represents a 'profound and unprecedented' challenge to French society, they said.
Many in the far-right National Rally have come out against vaccine passports, while left-wing MP François Ruffin denounced Macron's imposition of them as a 'monarchical' attempt to 'humiliate' the population. Many business leaders fear the scheme will be impossible to implement. Restaurant owners warn it could even 'crash the economy'.
Macron is playing with fire here. A successful rollout – aided by coercion – could well break France's habit of vaccine scepticism. But there is a real danger that making vaccination a condition for everyday life will breed yet more distrust and resentment. There will surely be more health crises after Covid that will need the public to trust their governments to get through. And should there not be a full return of liberties after Covid, too? The world is watching.
Fraser Myers is assistant editor at spiked and host of the spiked podcast. Follow him on Twitter: @FraserMyers.
To enquire about republishing spiked's content, a right to reply or to request a correction, please contact the managing editor, Viv Regan.