The woke set doesn't understand the first thing about football
So what if many in the England team are descended from immigrants? It's irrelevant.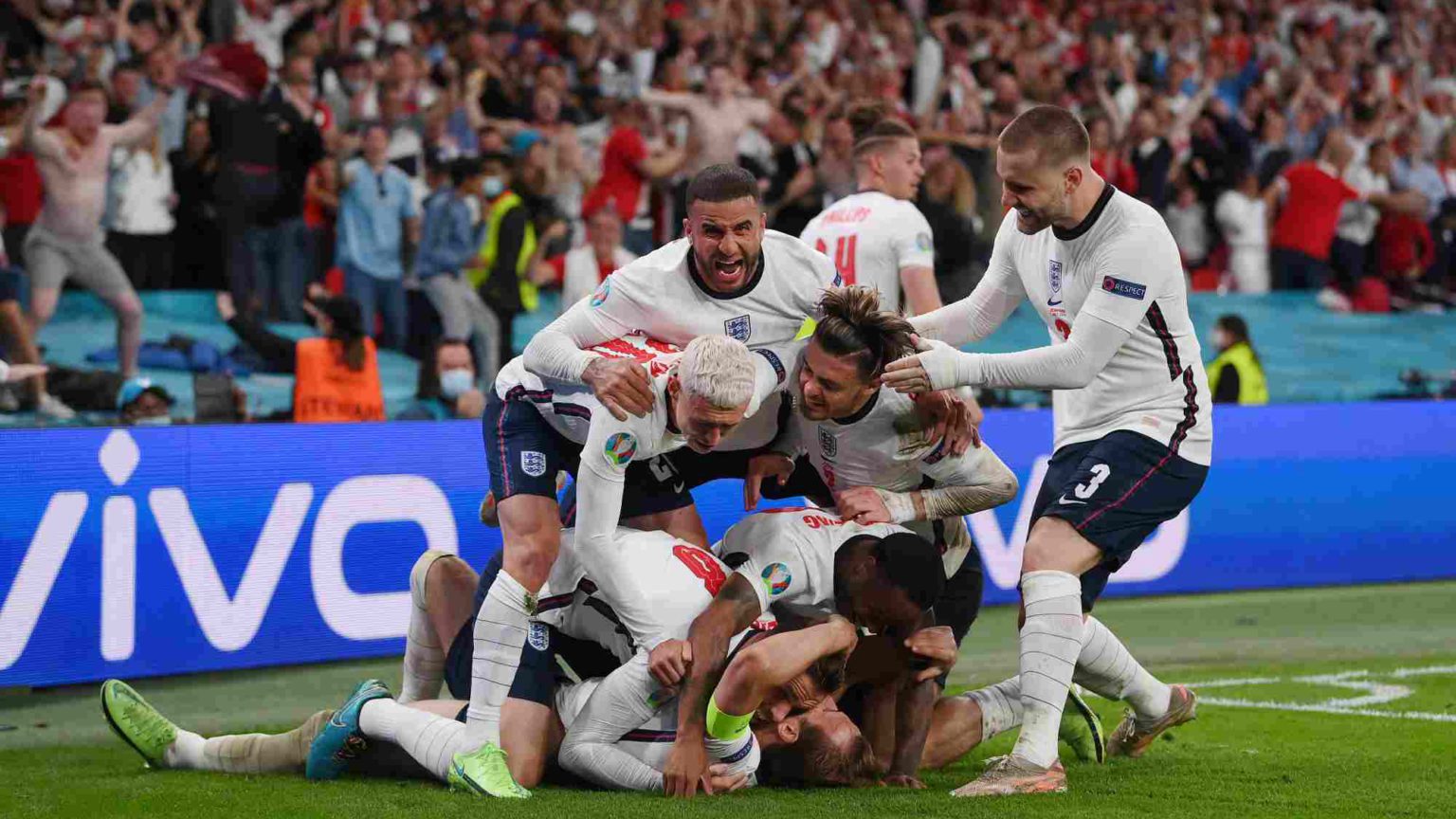 Another day, another vicious pile-on against the most high-ranking ethnic-minority politician in the UK. Yes, the definitely not racist woke mob are once again going for the jugular of Priti Patel, this time because she had the temerity to tweet a photograph of herself cheering the England team in their clash with Denmark.
They haven't quite called for this uppity brown politician to be deported, as Howard Beckett of the Unite union scandalously did in May. There hasn't yet been any cartoons depicting her as a cow – that is, an animal, and an animal that's sacred in Ms Patel's religion, no less – as there was in the Guardian last year. But the kind of people who will call the cops if anyone so much as mentions Diane Abbott's bad maths – racist! – are again deriving pleasure from hounding and insulting the most successful Indian-heritage politician in the UK.
What has the chattering classes' least favourite politician done now? She tweeted a pic of herself in an England top screaming with joy as England took the lead against Denmark last night. Who the fuck does she think she is? 'None of this is for you', one respondent said, and that's one of the politer replies. Well, she is an Indian-heritage woman who probably deserves deportation, so what is she doing watching our team?
She's been branded a hypocrite. Just a couple of weeks ago she raised questions about all the knee-taking nonsense England players have been engaging in – she called it 'gesture politics', which it irrefutably is – and said fans had the right to boo it. 'So you defend the right of racists to boo England and then expect us to believe you support England?', her obsessive haters cry, revealing once again that in the eyes of the smug NuFootball middle classes who are dominant in the commentariat and the Twitterati, working-class fans who just want to enjoy the match are racist scumbags. Actually, anyone in possession of a St George's cross, a beer belly and a loud, common accent is a racist in the view of these snobs masquerading as progressives.
But the most serious accusation made against Ms Patel after she had the gall to cheer England was that she is Britain's deporter-in-chief, forever driving out immigrants, whereas the England team is mostly made up of young men descended from immigrants. 'Gotcha!', you can almost hear the moral infants of the woke crowd cry as they point out that if the likes of Patel had her way the England team would only have Shaw, Stones and Pickford in it. No Harry Maguire (Ireland), no Raheem Sterling (Jamaica), no Bukayo Saka (Nigeria), etc etc.
This argument has been doing the rounds for a while. '[T]he England team of 2021 is one that simply would not exist if Patel had been in charge of the Home Office a generation ago', said a writer for the New Statesman. This is a team 'built on migrant labour', he said. Joe magazine, always as desperate as a teenage Instagrammer to go viral, produced a meme showing the England team with the faces of those descended from immigrants crossed out. The message is clear, and it isn't only aimed at Patel. It is also implicitly targeted at the dim, tabloid-reading, knee-booing fans who haunt the fantasies of the middle classes who like 'footie' but loathe its traditional followers. It's a message that says: 'You cretins. You don't even realise that your beloved sport would be shit if it wasn't for mass immigration.'
This is yet more politicisation of football. It is political grandstanding, designed to showcase the morally superior outlook of football's new fans and to ridicule and demean Priti Patel, the Tories more broadly, and also those knuckle-dragging plebs who booed the knee nonsense. It is further proof that football is being invaded by the politics of identity. We cannot allow this to go in. It's disastrous.
Flagging up the immigrant origins of England's players is not the killer argument the woke set thinks it is. And I say this as a first-generation Brit who knows that many things in this country were built on 'migrant labour', including the plush flats and offices the NuFootball bores inhabit, many of which will have been built by the migrant wave my own father was part of.
First, the idea that it was mass immigration that made England or the UK a global force to be reckoned with, and that without immigration we would be a sad little country with no good sport or art or food, is just nonsense. Britain was a global superpower in all kinds of ways long before the dawn of mass immigration.
Secondly, if the fact that England has many immigrant-descended players proves that immigration is good, isn't the converse also true? That if England happened to be made up primarily of English-descended men, then we would see the pointlessness of immigration?
The 1966 team was all English-heritage men. If some twat had said back then, 'Look at the England team – it proves we don't need those Windrush types over here!', he would rightly have been ridiculed. Justifying a pro-immigration stance by pointing at today's more diverse team is no better. It makes immigration contingent upon unusual, often superhuman success. 'Your community can't produce a footballer of Sterling's stunning calibre? Then what are you doing here?' – that's the unwitting implication of the fashionable obsession with the England team's heritage. If you want to make the case for a liberal immigration policy – something we at spiked support – then make it. Don't say 'Look how many blacks and Irish are in the England team!'. That's not an argument. It's glib political posturing. It is designed to get one over on Tory politicians and Brexiteers and 'racist' fans, not to seriously make the case for mass immigration.
And thirdly, this take, this posture, constantly draws attention to the presumed foreignness of the men who play for England. Apparently Maguire, Kane, Rice, Sterling, Saka and the rest aren't really English. Not really. They're from somewhere else. They are celebrated by the woke set for their heritage rather than their contributions, for their origins rather than their talent – a talent, by the way, that they have devoted to the country they consider home. The England team is actually proof of the importance of integration, of drawing all people into a sense of national togetherness and solidarity. But many in the identitarian mob loathe the idea of integration, viewing it as borderline fascistic, and so they obsess over the fact that some England players are black and some are Micks.
The irony is too much. These people accuse traditional fans of being racist, but it isn't working-class followers of football who are going on and on about Sterling's blackness or Maguire's Irishness. It's them. It's the identitarians. Normal people watch England and see England. The cynical identity grifters of the new elite watch England and see Jamaican people and Nigerian people and Irish people. They see difference; they emphasise it, in fact. This is the re-racialisation of football, and it must be opposed.
We need to get real about what the identitarian elites are doing to football. From their effusive celebration of taking the knee – which is increasingly a signal designed to antagonise traditional fans – to their grandstanding over the racial and national origins of England's players, they are trying to turn football into a big, noisy advert for their divisive worldview. Surely fans didn't spend years kicking racism out of football only to see it reintroduced in a new, apparently PC guise by elites who want to politicise and racialise everything. We don't care where you come from. We don't care that the home secretary is of Indian heritage. If you're English, you're English. Now let's prep for Sunday.
Brendan O'Neill is editor of spiked and host of the spiked podcast, The Brendan O'Neill Show. Subscribe to the podcast here. And find Brendan on Instagram: @burntoakboy
To enquire about republishing spiked's content, a right to reply or to request a correction, please contact the managing editor, Viv Regan.