Priti Patel and the rise of left-wing racism
Identity politics is fuelling anti-Indian bigotry.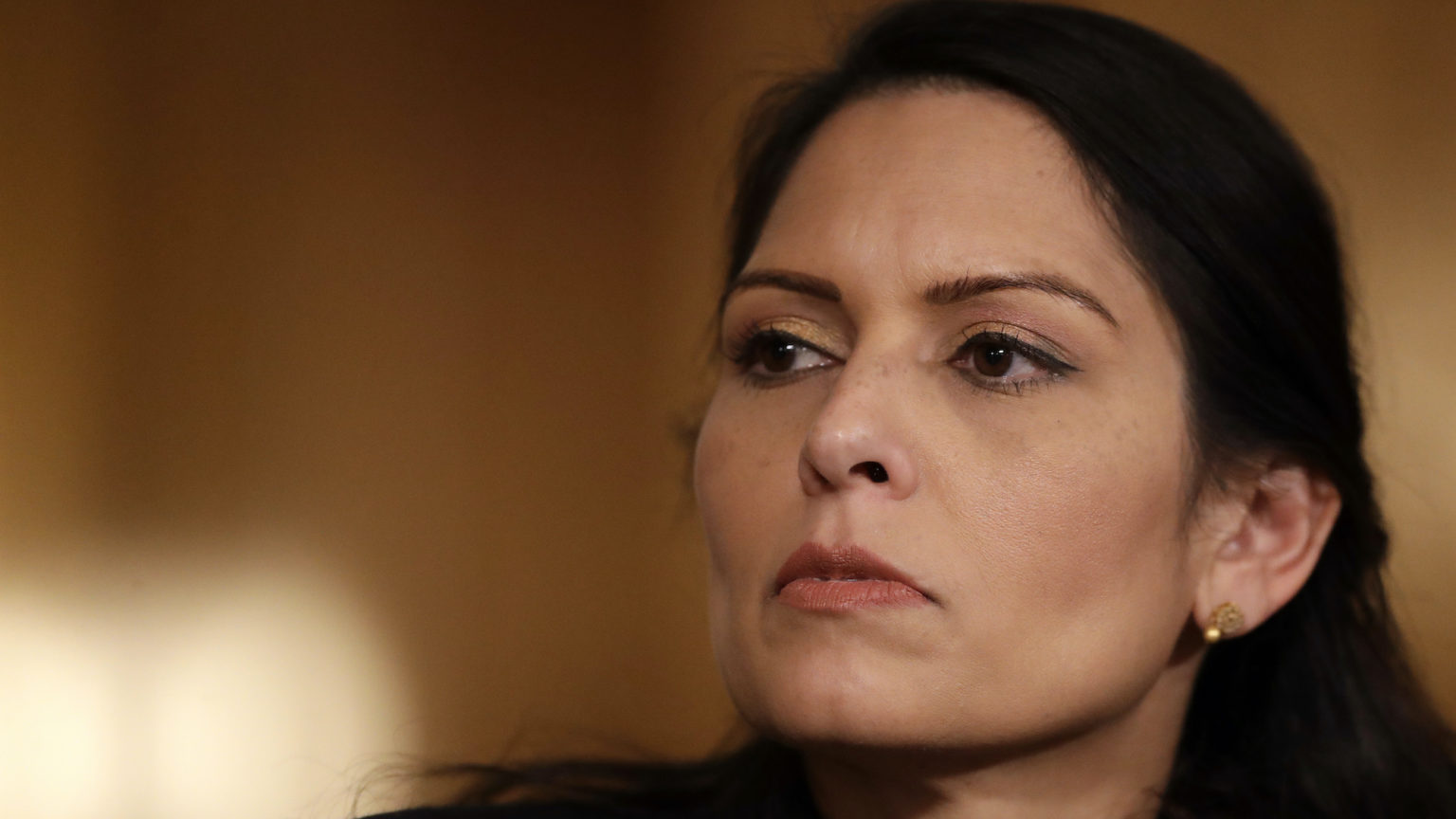 Crowds gathered yesterday in Glasgow to protest the detainment of two asylum seekers by immigration-enforcement officers. After protesters surrounded and blocked the Home Office van for several hours, the detainees were released.
Social media lit up with condemnation of the immigration raid. Howard Beckett, the assistant general secretary of Unite the Union, posted a tweet arguing that Indian-heritage home secretary Priti Patel should have been deported instead. After deleting the tweet, Beckett dug himself an even deeper hole. He tried to justify his response by saying he was angry that the Home Office was deporting Muslim refugees on the morning of Eid-ul-Fitr – the end of Ramadan – even though the two individuals detained were Sikhs.
Beckett has now been suspended from the Labour Party. His outburst is emblematic of a number of troubling features of the modern left. The racial abuse of non-white people who don't hold left-wing beliefs has now been normalised. Often this is then justified on supposedly anti-racist grounds.
The tepid reaction of the Twitterati to Beckett's statement illustrated this perfectly. For instance, Guardian contributor Jason Okundaye limply described Beckett's tweets as 'misguided'. According to Okundaye, Beckett's apparent confusion was 'more a consequence of the inherent contradiction of an ethnic minority operating over a white-supremacist border regime'. Of course, one of the Indian-origin home secretary's flagship policies has been the creation of a bespoke immigration route for Hongkongers escaping Chinese state oppression. This does not strike me as a particularly 'white supremacist' regime. The reality is that the hysterical use of terms such as 'white supremacy' and 'white nationalism' have drained them of their historical weight and significance.
The other problem Beckett's statement revealed is the left's tendency to conflate all non-white groups. Beckett's attempt to exploit an Islamic religious holiday to excuse his abuse towards a British Hindu woman is a case in point. Similarly, both SNP first minister Nicola Sturgeon and justice secretary Humza Yousaf referred to Eid-ul-Fitr to justify the release of the two non-Muslim migrants.
The anti-racist credentials of the left and the trade-union movement have been seriously undermined in recent years, particularly given Labour's anti-Semitism scandal. Less commented on is the growth of anti-Indian bigotry on the left.
Economically successful and socially integrated British Indian communities are an inconvenience for identitarian leftists. They demonstrate that stable family structures and a belief in self-reliance are integral to success in modern-day Britain. Indians are also the most pro-Brexit non-white ethnic group in the UK. Many are patriotic and have a strong attachment to British identity. That Indians are outperforming whites in the job market and in education undercuts the nonsense narrative of 'white privilege', which blames most inequality on racism.
Finally, it is worth noting that a London-born home secretary is under no obligation to create a liberal immigration and asylum system simply because of her own family's migration history. Such an expectation is rooted in identitarian bigotry.
There is nothing wrong with questioning Priti Patel's policies and views – but we should leave her race out of it.
Rakib Ehsan is a spiked columnist and independent expert in social cohesion and institutional trust.
To enquire about republishing spiked's content, a right to reply or to request a correction, please contact the managing editor, Viv Regan.