Why big business loves Black Lives Matter
No one should be surprised that BLM's co-founder is buying million-dollar mansions.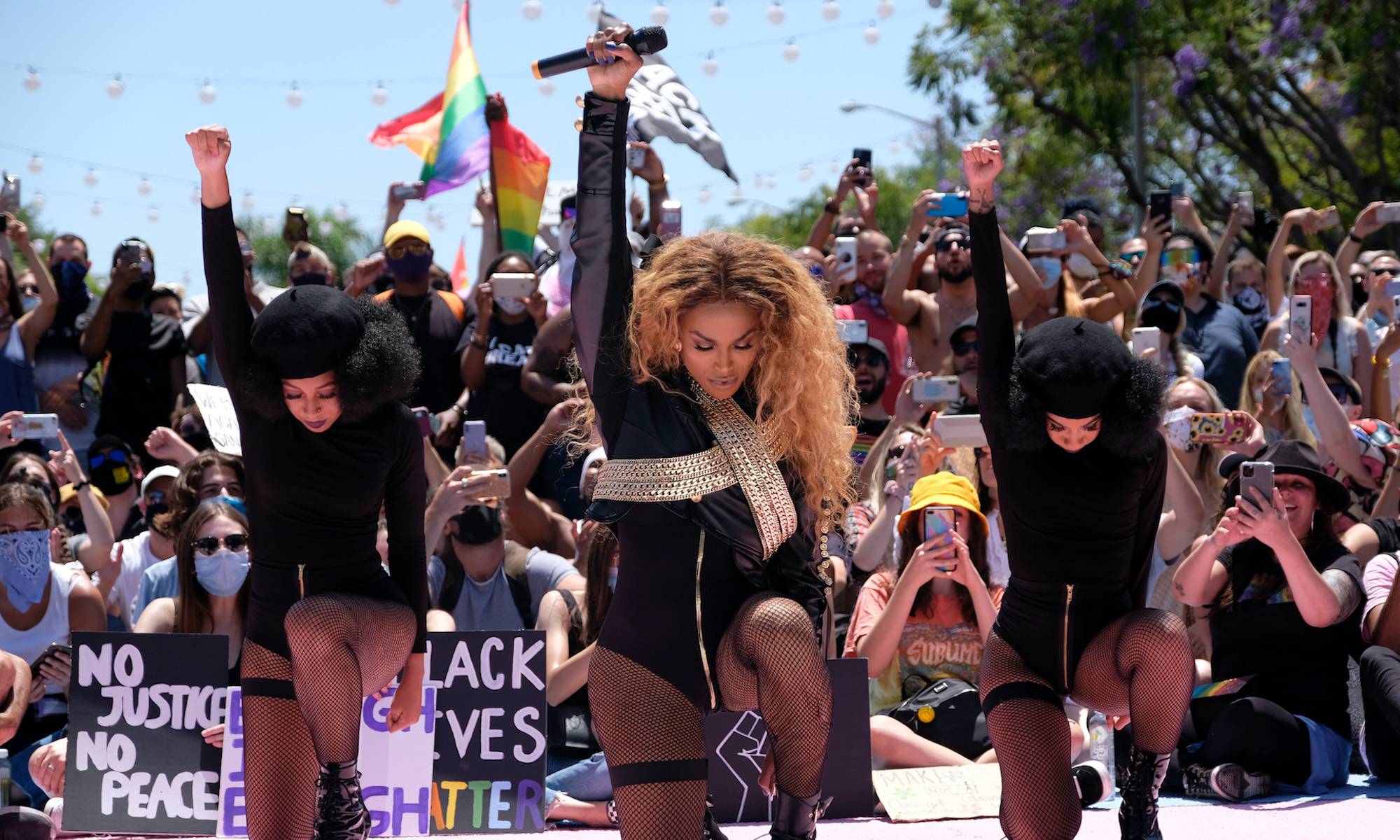 One reason Black Lives Matter is so difficult to talk about, and it elicits such a vast range of reactions, is that no one can pin down exactly what it is.
No decent human being could disagree with the assertion that the lives of black people matter – and if they don't currently, then they should. But to agree with the claims made by protesters, activists and campaigners marching under the banner of 'Black Lives Matter' is a different question entirely.
Do you agree that US police forces are committing a 'genocide' of black Americans? And, if you do think this is happening, do you agree that actions that go beyond peaceful protest are justified in addressing this? Is it enough not to be racist, or must society be reorganised to be actively 'anti-racist'?
And when we talk about the Black Lives Matter protests, do we mean the peaceful or the violent elements? The summer of Black Lives Matter in 2020 brought vast numbers of non-violent protesters out on to the streets. But it also gave rise to the most destructive rioting in US history. The 'fiery, but mostly peaceful' riots reportedly caused between $1 and $2 billion in property damages (as measured by insurance claims) – far in excess of the 1992 LA riots.
Then there is the friendly, corporate face of Black Lives Matter. BLM has been embraced by big businesses of practically every sector. Last summer, companies fell over each other to advertise their BLM-friendliness. Whether it was McDonald's changing its name temporarily on social media to 'Amplifying Black Voices' or the CEO of JPMorgan Chase 'taking the knee' in front of an open bank vault, BLM and big business became best buddies.
And when big corporates open up their wallets to a cause, their money has to end up somewhere. Last week, the Dirt, a blog focusing on property owned by celebrities, revealed that Patrisse Khan-Cullors, co-founder of Black Lives Matter, had recently bought a $1.4million compound a short drive from Malibu. As the New York Post pointed out, this followed a string of property purchases, including four high-end homes, worth at least $3.2million (Khan-Cullors was reportedly also eyeing up a place in an elite enclave of the Bahamas, but it is not known if she bought it).
Khan-Cullors helped to hashtag BLM into existence in the wake of George Zimmerman's shock acquittal for the murder of 17-year-old Trayvon Martin. But the campaign really took off for the first time after Michael Brown's killing by police, which prompted days of unrest in Ferguson, Missouri, and was, of course, given nuclear-powered rocket boosters by the death of George Floyd.
Confusingly, there are a number of organisations claiming to represent 'Black Lives Matter' in some capacity. Khan-Cullors is involved with two: the non-profit BLM Global Network Foundation and the for-profit BLM Global Network. (To make matters even more complicated, another big recipient of donations intended for BLM is the Black Lives Matter Foundation, which has no relation to either of these entities and promotes a diametrically opposed line on the police.)
Much has been made of Khan-Cullors' claim to be a 'trained Marxist'. Initially, this was used by right-wingers to promote a 'red scare' narrative around BLM, as if the unstated goal of the movement was communist revolution. Now many (including some BLM fellow travellers) have looked at her property purchases and have branded her a sellout. But the relationship between BLM and big capital has always been mutually reinforcing, so we should not be surprised by Khan-Cullors' fortunes.
There are many layers to this relationship. There is the immediate branding boost companies can gain from associating with BLM. According to an Edelman survey of 35 countries, 64 per cent of customers say they would reward firms for taking a stand on social issues. Brands like to win over consumers young so they can stay loyal for life – and many young people are uncritically supportive of BLM.
Woke politics has also been useful for firms hiding all kinds of unsavoury practices. Many firms will proclaim allegiance to BLM one day, while lobbying against curbs on forced labour the next, for instance. Indeed, whether you take the Marxist view, that all firms in a capitalist system exploit labour anyway, or the Adam Smith view, that sellers in a marketplace act out of self-interest rather than kindness, it is surely hard to take any company's proclamations of righteousness too seriously.
But there is more to all this than cynicism and wokewashing. Many of the ideas about race being pushed by BLM – particularly the ubiquity of structural racism – are now part and parcel of corporate culture and the white-collar workplace. Race experts are invited to give workshops and training on diversity and inclusion. Employees are tested for their unconscious bias. An entire race industry worth billions has mushroomed. The most famous and sought-after race entrepreneurs, like Robin DiAngelo and Ibram X Kendi, can earn vast sums of money in the corporate sector – sometimes tens of thousands of dollars per hour. Those BLM protesters setting fire to police stations were not radical revolutionaries — they were more like the militant wing of the human-resources department.
Why has this happened? Clearly, these kinds of workshops are wasting precious work hours and don't actually produce anything that can be sold. Perhaps what is most useful to the capitalists in these 'anti-racist' campaigns is their relentless attempts to re-racialise society. The Coca-Colas and the Nikes of the world are very keen on highlighting the racial differences between working people at every opportunity. According to leaked emails, insiders at Amazon-owned Whole Foods consider the 'racial diversity' of its workers in each branch an important metric in determining how likely they are to form unions.
Campaigns for 'racial awareness' seem almost perfectly designed to foreground apparent differences between their employees, to pit the 'privileged' against the 'oppressed' among the workforce, to downplay their common interests as workers. The potential for racism in the workplace – whether overt or in the form of microaggressions – has also given management much more authority to monitor workers' interpersonal relationships, and even their private lives and political activities (particularly on social media). Race has always been relied on by elites to divide and manage people. But where they once drew on racist tropes, now they draw on 'anti-racism'.
That one of the co-founders of BLM is earning a fortune and amassing a property empire is not a bug but a feature of elite-driven racial politics. Black Lives Matter is the best thing to happen to capitalism in years.
To enquire about republishing spiked's content, a right to reply or to request a correction, please contact the managing editor, Viv Regan.