Are we allowed to call them riots?
The policing of language around the upheaval in the US is deeply concerning.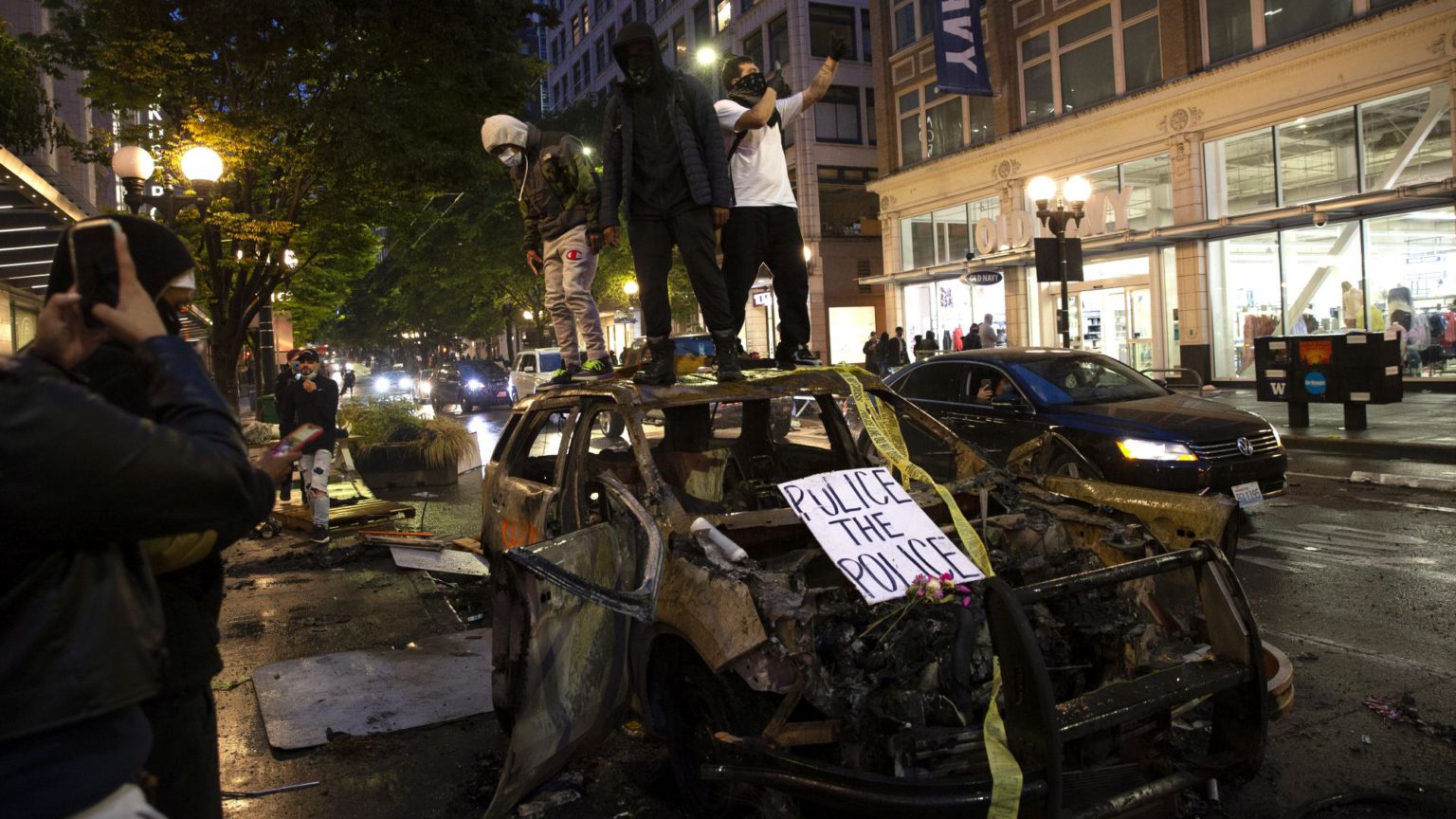 I understand why so many Americans took to the streets after witnessing the slow, painful execution of George Floyd. A powerful sense of racial injustice, combined with concerns about the devastating impact that the Covid pandemic is having on African-Americans, gave rise to a heady mix of anger and rage. I can also understand how protests for justice can create the conditions for an explosion of civil unrest and rioting. And for many individuals, the protesting has provided an opportunity for looting and vandalism and antisocial violent behaviour.
In one sense, there is nothing unusual about the protest and violence in the US right now. There are many examples of minority communities taking to the streets following an act of police violence. However, there is something very different, and frightening, about the current cycle of unrest. What is truly disturbing is that America has clearly become a society that struggles to find a language with which to describe and discuss the problems it is facing.
The collapse of language in the US is not accidental. For some time now, there has been a Culture War about what can and cannot be said. Increasingly, words are used with the express goal of avoiding reality, of refusing to grapple with what is going on. So Tim Walz, the Democratic governor of Minnesota, sought to deflect attention from the unstable situation in his state by blaming it on domestic terrorists. President Trump followed suit, characterising the riots as a form of 'domestic terrorism'.
Over the past decade, all sides in the Culture War have adopted this unhelpful tactic of labelling violent acts as terrorism. As the criminologist Simon Cottee has noted, a misogynistic murderer is currently being prosecuted as a terrorist. 'It is the first time that terrorism charges have been brought in a case connected to the so-called "incel" ideology', observes Cottee.
Calling rioters domestic terrorists is bad enough. What's even worse is the use of a vocabulary of evasion to try to sanitise the current upheaval and deny that it is violent and in some cases deeply disturbing. This approach was clearly illustrated by Craig Melvin, an MSNBC host and co-anchor of Today. He tweeted: 'While the situation on the ground in Minneapolis is fluid, and there has been violence, it is most accurate at this time to describe what is happening there as protests – not riots.'
Some go even further than Melvin and insist that using the word 'violence' in relation to urban unrest is itself an act of racial injustice, or at least an acceptance of racial injustice. Emily Tamkin, the US editor of the New Statesman, argues that 'white America excuses its own violence' by shifting attention from the killing of black Americans to the 'violence of the ensuing protests'.
Rebecca Solnit, writing in the Guardian, goes further: she wants to abolish the use of the word violence in relation to the current upheaval. She warns that it is 'important to be clear about who is violent and what violence is'. She claims that 'property destruction and harming human beings are profoundly different actions, and with a few exceptions… virtually all the violence visited on human beings during this round of civil unrest across the US has been inflicted by police'.
There is of course a case for justifying the violence of the protesters. But to deny that there has been violence is to be dishonest and to avoid facing up to the destructive reality that is unfolding in front of our eyes. It not only seeks to censor language – it is also an attempt to alter how people see the world.
This project of changing the traditional meaning of words like rioting and violence is systematically pursued by so-called academic experts. Robin Kelley, a professor of history at UCLA, questions the use of the term violence when it is 'defined as attacks against property rather than against people'. Numerous commentators have redefined rioting to the point where it is portrayed as just a normal feature of American life. Writing in Slate, Steven Thrasher argued that 'property destruction for social change is as American as the Boston Tea Party'.
Now that experts seem to agree that burning down buildings and destroying people's property is as American as apple pie, a disturbing number of people have gone on record to excuse and even to celebrate what would traditionally have been seen as very destructive acts of violence. New York-based fashion designer Marc Jacobs went out of his way to demonstrate that he understands the new situation. He confirmed that one of his stores had been 'destroyed' but he praised the behaviour of the people who carried out the destruction. 'Never let them convince you that broken glass or property is violence…Property can be replaced, human lives cannot', he said.
Denuding violence of its classical meaning, and almost defining it out of existence, is driven by a conviction that anyone who uses the v-word right now is siding with police brutality and racial oppression. As one writer declared: 'Putting the focus on stealing objects from a store (during a pandemic, no less!) rather than on the injustice behind the looting, the horrific loss of life and racial violence that black folks live with every day, is sending the message that property matters more than people. It just demonstrates the way that white supremacy sees more value in a TV set than in the life of a black man.'
It is legitimate to say that people should understand why some in the US have resorted to violence and looting. But it is quite another matter to pretend that this is not a big deal, or that it's a form of violence that doesn't matter very much.
This normalisation of violence, and the broader policing of language around the riots, is closely linked to the cultural project of delegitimising the views of white people on the current upheaval. Numerous commentators use the term 'white fragility' to flag up the moral inferiority of white people who hold supposedly wrong views on the current protesting and rioting. Whiteness has been pathologised; it has become a secular equivalent of original sin that demands constant contrition and penance. A video doing the rounds that shows a group of white people kneeling in front of a group of black people and begging for their forgiveness for the history of racism is the latest example of the bizarre practice of checking one's 'white privilege'.
The people who promote the idea of 'white fragility' are not really demanding that white people make an effort to understand racial oppression – they are demanding an acknowledgement of guilt and a form of penance. One convert to this worldview admonishes his fellow white people for worrying too much about violence and rioting. He writes that 'by focusing first on judging the nature of the protest rather than truly considering their purpose, you are once again invalidating that long history of injustice'. 'As a result', he continues, 'you're becoming a part of that injustice'. And his views are not up for debate. In his mind, that whiteness is a scourge is an incontrovertible truth. 'If you won't accept me calling you a racist, then all I'll say is this: you're certainly thinking like one', he writes.
The collapse of public language is paralleled by a refusal to get to the bottom of the current crisis. Blaming whiteness for the problems of the world might sometimes look like a genuine act of racial contrition, but all it really does is reduce the issues facing America to a simplistic racial common denominator: whiteness. Instead of serving as a tool of liberation, the Culture War against whiteness actually allows sections of the cultural elite to consolidate their moral and political authority.
Historically, the ruling classes have tried to deflect attention from the problems in their society by blaming unrest and violence on 'outside agitators'. Such externalisation allowed them to evade responsibility for problems in their communities. A similar approach has been adopted during these riots. Tim Walz blamed domestic terrorists and external agitators for what he called 'an assault on Minneapolis'. Peggy Flanagan, the lieutenant-governor of Minnesota, blamed white supremacists and anarchists for the riots. In Cleveland, police chief Calvin Williams blamed out-of-town protestors for riots in the downtown area.
In numerous instances, the riots were blamed on white supremacists or on white antifa agitators. Clearly white antifa activists have been involved, often opportunistically, but blaming the unrest on them is a ridiculous fantasy. The invention of the white outside agitator highlights the refusal of state and local authorities to acknowledge what is really going on. It shows that the collapse of public language is quickly followed by a wilful loss of sight.
To enquire about republishing spiked's content, a right to reply or to request a correction, please contact the managing editor, Viv Regan.