Don't impeach Trump – censure him
The Democrats' impeachment plans look like a partisan stunt. There is a better way to rebuke him.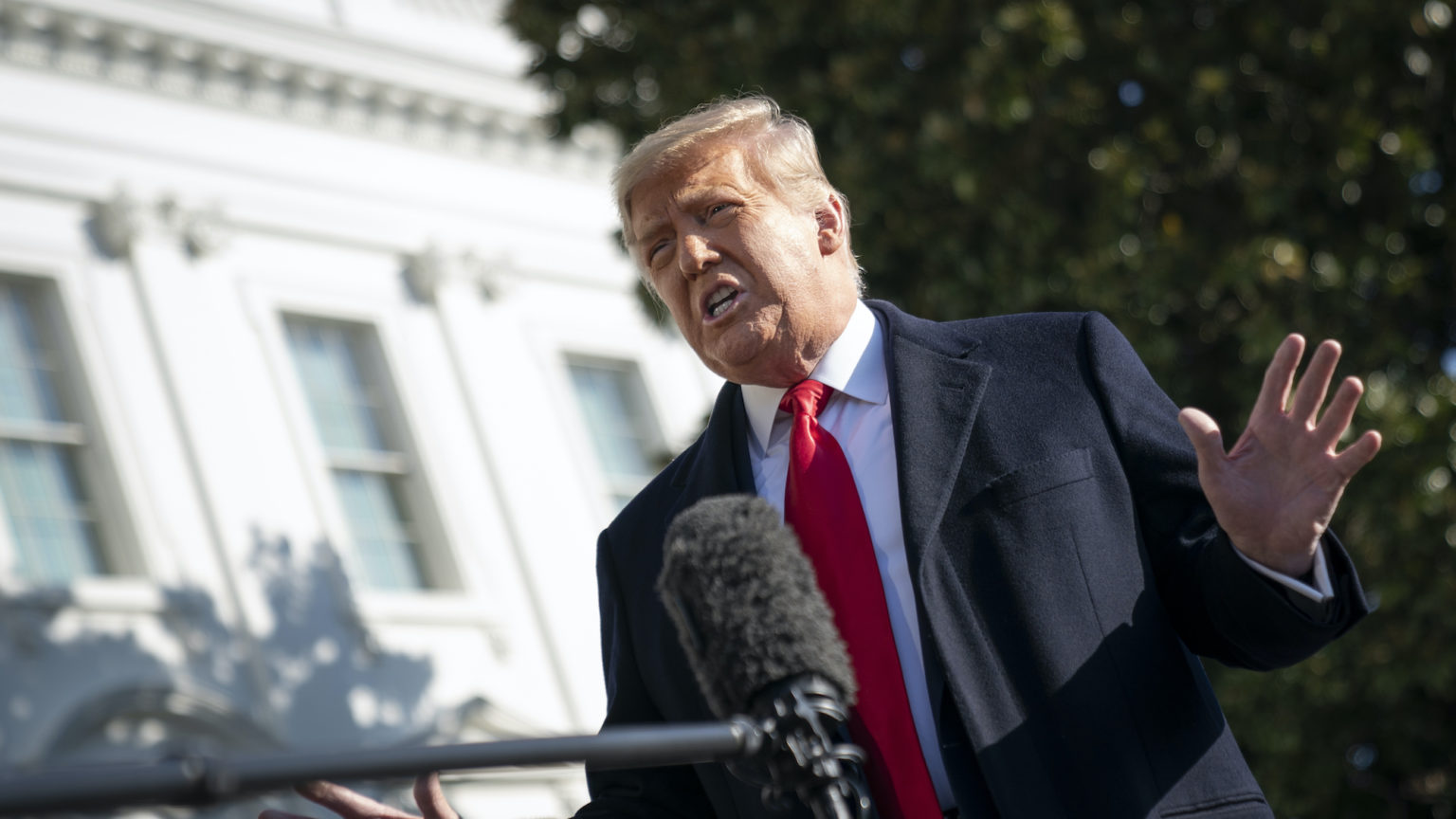 In the wake of last week's storming of the Capitol by a pro-Trump mob, Democrats in the House of Representatives plan to vote on impeaching Donald Trump on Wednesday. With a majority in the House, Democrats are likely to have enough votes to impeach, but conviction in the Senate is questionable, given that a two-thirds supermajority is required and it is not clear there are sufficient Republicans in favour.
There is an issue of timing. The earliest a Senate trial could begin would be 19 January, the day before Joe Biden's inauguration. That means that the main punishment for impeachment – removal of a president from office – would be a moot point in Trump's case, as he will have already left the White House. A Senate conviction would, however, bar Trump from holding office again in the future.
Trump deserves to be impeached, in my view. But the Democrats' article of impeachment, which charges Trump with 'incitement of insurrection', misses the mark and risks inviting a broader clampdown on political expression. What should be a bipartisan defence of Congress against an anti-democratic executive is likely to appear to many as just another exercise of the kind of partisanship we've seen over the past four years.
A president takes an oath to 'preserve, protect and defend the Constitution'. Trump's actions in seeking to overturn the November election have shown that he has violated that oath. There is ample evidence that Trump damaged democracy and is unfit for an office of public trust. He not only expressed the view – without evidence – that the election was 'stolen', he also actively sought to thwart the process.
On a 2 January call, Trump pressured the secretary of state of Georgia, Brad Raffensperger, to 'find 11,780 votes' to overcome his margin of loss to Biden. He urged Raffensperger to do so by 'saying, you know, that you've recalculated'. In this way, Trump was using his official authority to interfere with an election.
Trump also sought to stop Congress from certifying the election results. He specifically tried to force vice-president Mike Pence to ignore the results and decree who would be president. The day before the Capitol raid, Trump tweeted 'the vice-president has the power to reject fraudulently chosen electors' – something that is clearly false and unconstitutional. Seeking to intimidate Congress to not perform its constitutional duty to count the states' votes, he encouraged his supporters to gather in Washington and march to the Capitol. Again, these are the actions of a president seeking to use his office to interfere with an election and the transfer of power.
But framing the article of impeachment in terms of 'incitement of insurrection', as the Democrats have done, is problematic. First, 'insurrection' is an exaggeration. According to Merriam-Webster, an insurrection is 'an act or instance of revolting against civil authority or an established government'. What we saw last week was a mob that entered the Capitol and started a riot; a 'revolt' is a more conscious and organised action than what occurred. Like the use of the word 'coup', which has also been used to describe the storming of the Capitol, the term 'insurrection' is being used to inflate the threat posed by the intruders.
Even more difficult to defend is the use of 'incitement' in the article of impeachment. In the general sense of encouragement, referring to Trump as 'inciting' the protesters is fair enough, as it is pretty clear that he did stoke their anger. But given that 'incitement' has a particular meaning in criminal law, the use of that term is problematic in an article of impeachment. For Trump to be convicted of inciting a crime of violence, it would require proving that he intended to cause violence, that he specifically called for it, and that it was direct and immediate to the violence. None of that happened.
Trump was irresponsible in talking of a conspiracy of corrupt (including Republican) election officials, corrupt (including Republican) state legislators, and corrupt (many Trump-appointed) judges. His rhetoric of a 'stolen' election and 'taking back' the country was certainly fiery. And even if the Trump-supported gathering at the Capitol did not descend into rioting and violence, it would have been anti-democratic in content, given its objective of stopping an election. But to describe all of this as 'incitement' in an article of impeachment immediately brings to mind the crime of incitement to violence. It is reasonable for Republican representatives and senators to object to and vote against this move.
Beyond the judgement on Trump himself, we need to consider how the language in this impeachment could be used against other participants in politics and social life. As Mick Hume has noted on spiked, the use of 'incitement' has First Amendment and free-speech implications. Endorsing a verdict of 'incitement' against Trump raises the spectre of criminalising speech more generally among the public (not unlike how Twitter's ban on Trump can and will be used to silence others as well).
Democracy needs to be valued and upheld, and that's why Trump's anti-democratic actions deserve some punishment. But, as in other cases, it's important that justice is seen to be done. For that reason, it's unfortunate that the Democrats have, by undertaking their partisan anti-Trump 'Resistance' over the past four years, squandered the moral authority to indict Trump in the eyes of Americans generally.
We all know how Hillary Clinton, other leading Democrats and their friends in the media pursued a conspiracy theory that Russia got Trump elected in 2016. They also voted to impeach Trump on a frivolous case regarding a phone call with Ukraine's leader. These steps called into question the legitimacy of US elections and democratic processes. The Democrats' playing fast and loose with the American people's confidence in elections does not justify Trump's latest antics, but they do make it harder for them to be seen as credible and non-partisan actors as they pursue Trump's second impeachment. Now, as they charge Trump with a hyped-up 'incitement of insurrection', they appear to be continuing their vendetta against Trump.
No matter how late in Trump's term in office, his actions should not go without condemnation. To defend democracy and for the sake of posterity, there should be a joint statement made by both parties that Trump's attempts to thwart an election were unacceptable. Congress should also put down a marker that it will not tolerate an executive organising against its constitutional duties. At this stage, the better alternative would be for Congress to censure Trump, not impeach him. Both parties in Congress should reject unnecessary inflammatory language, and cite how, by his actions, Trump has abused his office. This can be done before the Biden inauguration on 20 January, and allow the country to acknowledge Trump's abuses and move on.
Censure of Trump by a majority of political representatives would be a show of mature leadership – something we have not seen much of from either party these past four years.
Sean Collins is a writer based in New York. Visit his blog, The American Situation.
Picture by: Getty.
To enquire about republishing spiked's content, a right to reply or to request a correction, please contact the managing editor, Viv Regan.