Who's to blame for anti-vaxxer sentiment?
The origins of vaccine scepticism lie in the anti-humanist turn of the 1990s.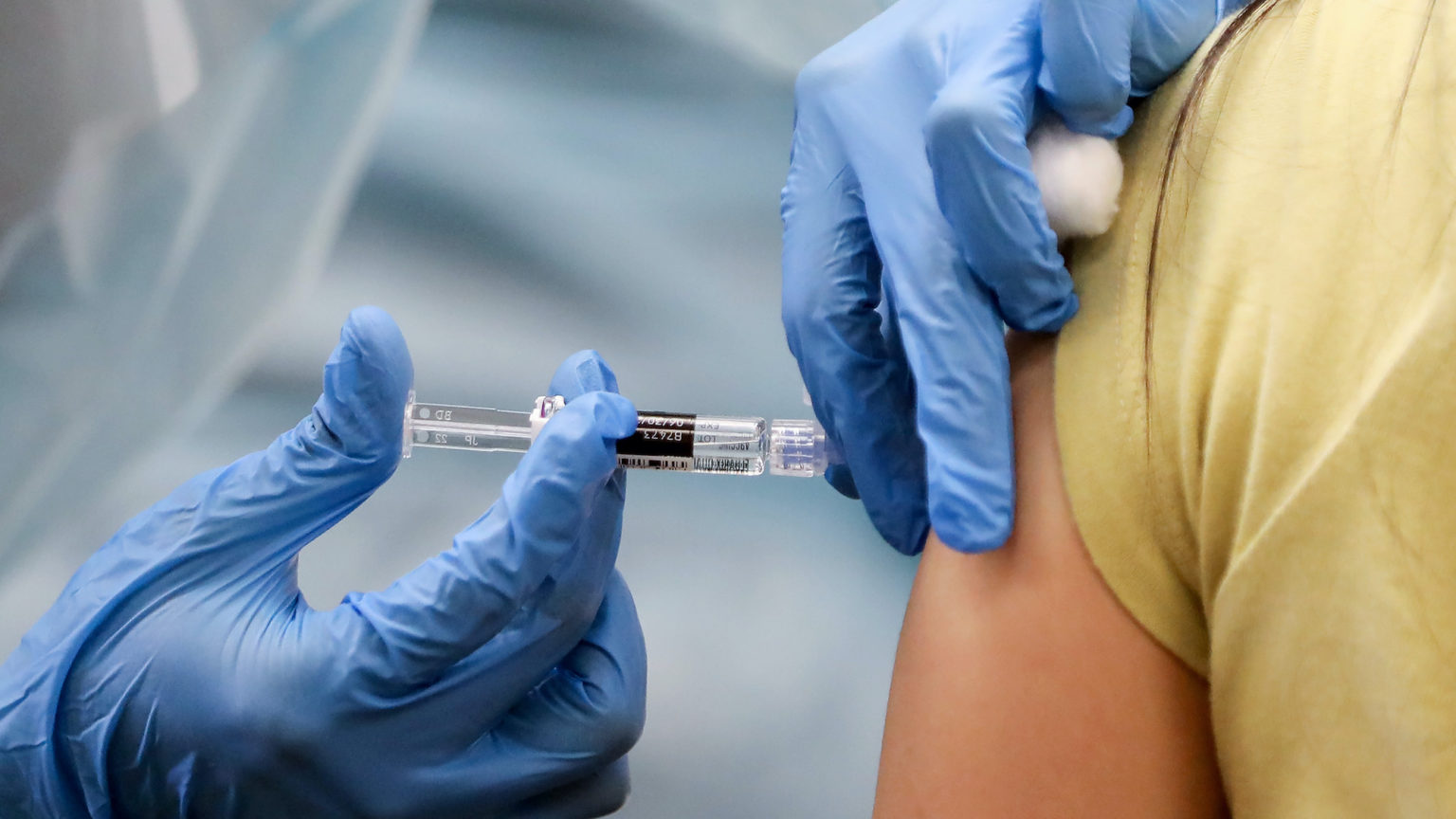 Listening to those from the displaced centre of British politics, those whose worldview up until 2016 prevailed over a distant demos, you would think that anti-vaccination claptrap was the preserve of the right, and the frankly nutty, with their dark, disinforming talk of deep conspiracies.
Labour is merely the latest to push this narrative of dangerous right-wing anti-vaxxers spreading fear and confusion, with its call for social-media companies to be legally forced to 'stamp out dangerous anti-vaccine content' or risk financial punishment. Labour even cites claims that 'anti-vaccination conspiracy theories provide a recruiting ground for the far right'.
It is a comforting story for centrists to tell themselves. Anti-vaxxers, so the story goes, are a morbid, proto-fascistic symptom of our populist times. They have been emboldened, as one op-ed argued in 2019, 'in countries with vocal populist or anti-establishment parties'. And, in turn, 'right-wing populists' are riding a 'wave of mistrust of vaccine science', as the Guardian put it. They are 'far-right crusaders', as Mother Jones calls them, exploiting an environment in which mistrust of institutions and distrust of experts is rife.
Blame is not being explicitly laid at the door of Brexit, Trump and the other supposed triumphs of right-wing, post-truth, anti-expert demagoguery. But that implication is there all right. And so combating anti-vaxxers – censoring them, silencing them – appears to those leading the charge as a chance to fight back, to undo the past half-decade of damage to public trust in medical and scientific authority. As Richard Horton, editor of the Lancet, and implacable opponent of Boris Johnson's Brexity Tories, tweeted back in June, 'We may have a vaccine in the next 12 months… And already we are seeing the rise of an anti-vaccination movement… We in the public-health community need to build public trust in the evidence.'
In itself, Horton's pronouncement is a sensible one. Anti-vaccination talk needs to be met with the clear case for the vaccine(s). Not coercion à la Labour, which tends to be counterproductive, but information delivered with a bit of conviction.
But the portrait of the anti-vaxxer movement as a right-wing phenomenon, indeed the use of it as a means to beat populism around the head for its supposed disease-embracing stupidity, grates somewhat. Because the roots of the modern anti-vaccination movement do not lie on the right, let alone in the populist revolt against technocracy.
They lie, rather, in the far more respectable, largely middle-class turn against modernity, science and experimentation that simmered away for much of the second half of the 20th century, before erupting amid the political disorientation of the 1990s. This was the moment when green activists would tear through fields of genetically modified crops, on the ground that such crops were contaminating the food chain. And they were cheered on while doing so, not by right-wing nutters, but by posh nutters, such as the Guardian's George Monbiot and Prince Charles, who declaimed in 1998, 'What actual right do we have to experiment, Frankenstein-like, with the very stuff of life?'. This was the moment when a microbiologist, Dr Richard Lacey, could warn that eating beef contaminated with Bovine Spongiform Encephalopathy (BSE)-inducing prions could bring on the debilitating brain illness, Creutzfeldt-Jacob disease (CJD). And, despite the risk of this happening being minimal, he could be cheered on, in fearful anticipation, by large sections of the media and political class. Indeed, this was the moment when environmentalism itself started to provide the apocalyptic muzak to daily life with which we're now all too familiar.
It was a time in which humanity's interaction with nature in all its forms, from agriculture and industry to science and technology, was being conjured up in the public's imagination as a source of often dire unintended consequences, from toxins in the food chain to, well, vaccine-induced illnesses and conditions. And it was being done so by those at the very centre of political and cultural life, including the heir to the throne himself.
This, then, was the proper birthplace of the anti-vaccination movement – not on the populist periphery of the 2010s, but in the bowels of an elite long disillusioned by the very modernity that had borne it aloft.
What's more, Horton knows this himself, because he played a key role in the birth of the anti-vaccination movement he now decries. For it was under his editorship that, in 1998, the Lancet published the now infamous and discredited paper by gastroenterologist Andrew Wakefield, who claimed there was a link between the MMR (measles, mumps and rubella) vaccine and autism. Horton didn't only publish the paper. He defended it for years, only retracting it in 2010.
The malign influence of Wakefield's paper, and subsequent PR campaign, was marked. As Brendan O'Neill pointed out earlier this year, 'uptake of the MMR vaccine… fell from 92 per cent in 1996 to 84 per cent in 2002. In parts of London, it fell to 61 per cent, which is far below the uptake necessary to avoid the spread of measles. And, predictably, measles did spread.'
Experts debunked Wakefield's 'research' as early as 1999. But it didn't matter. Such was the political and cultural willingness to suspect the ill-effects of our Dr Frankenstein-like meddling with nature that Wakefield's research was embraced and promoted by the mainstream media.
As Dr Michael Fitzpatrick, a tireless critic of the MMR panic, noted at the time, the media were only too willing to treat Wakefield's anti-vaxxer claims as some sort of whistle-blowing truth. In 2002, Lorraine Fraser was named Health Reporter of the Year for her anti-MMR articles in the Daily Telegraph. That same year, Private Eye published a 32-page special report, 'MMR: The Story So Far', pushing the anti-vaxxer line. Such was Wakefield's veneration among sections of the cultural establishment that he was the subject of a 'hagiographical' ITV series, Hear the Silence in December 2003.
Wakefield's star did eventually wane towards the end of the 2000s, and he was eventually struck off the General Medical Council in 2010. But by then the damage had been done. For several years, the media and assorted celebrity campaigners had championed his anti-vaccination claims. They had painted him as a brave truth-teller, faced down by the medical establishment and Big Pharma. And, as a result, they had systematically and repeatedly undermined public trust in medical authority.
So for the likes of Horton and large sections of our political and media class to now pose as proud champions of vaccinations sticks in the craw. They are part of that same grouping which through a mixture of credulity, disillusionment with modernity and sheer anti-humanism was all too happy to promote the claims of a crank, and sow the seeds that grew into today's anti-vaxxer movement. They want to tackle scepticism about vaccinations? They should look in the mirror.
Tim Black is a spiked columnist.
Picture by: Getty.
To enquire about republishing spiked's content, a right to reply or to request a correction, please contact the managing editor, Viv Regan.