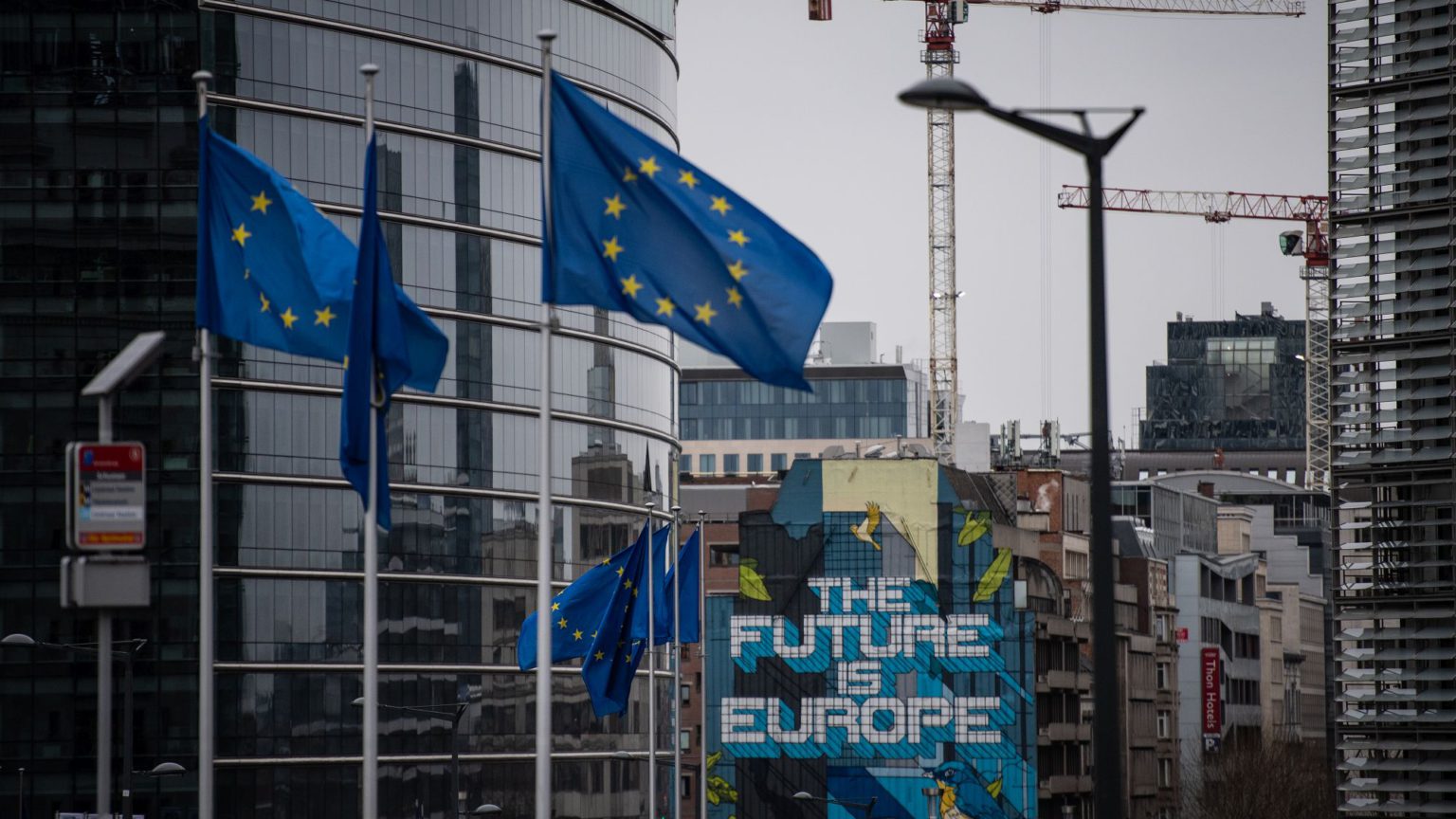 The tyranny of the EU's state-aid rules
If the UK government is serious about taking back control, it must reject the EU's attempt to bind us to its rules.
The esoteric area of European Union state-aid rules has become a focal point in the dragging negotiations between Britain and the EU. Alongside access to British fishing grounds, the question of the UK continuing to adhere to the EU's rules for state aid is reported to be the big sticking point jeopardising an agreement on future trade terms. On top of this, the same issue of state-aid rules is prominent in the furore over the publication of Britain's Internal Market Bill. The European Commission's condemnation of the Conservative government's proposals to override parts of last year's Withdrawal Agreement spotlighted the UK's obligation to notify Brussels of any state-aid decisions that might affect Northern Ireland's goods market.
Why have the state-aid rules attained such importance in the fraught UK-EU relationship? Why are they so crucial for the European Commission (EC)? The irony is that this has little to do with the real impact of state spending on the economic workings of any member-state countries, and much more to do with the inner workings of the EU and its troubled attempts to maintain its integrity.
State aid itself is a pertinent topic since modern states intervene enormously in advanced industrial economies. However, the state's economic impact extends far beyond the specific state-aid measures to which the EU rules apply – namely, aid that is deemed to benefit particular businesses, thereby 'distorting competition' within the Single Market area.
The EU's most recent State Aid Scorecard reported that approved state aid over the past decade averaged about 0.6 per cent of annual economic output. Yet since average EU state spending relative to gross domestic product (GDP) amounted to about 47 per cent in the latest reported year (2018), it seems clear that 'state aid' is far from a complete measure of how the state impinges on a country's economic life.
Excluding the indirect economic effects of social spending on pensions and other forms of income support, which is less than half of this overall state expenditure, a good chunk of the remaining 27-28 per cent of GDP – including spending on health, education, economic affairs, housing and defence – percolates through to private businesses. In particular, national state authorities in Europe spend around 14 per cent of GDP directly on the public procurement of goods and services. The EC recognises that this procurement expenditure 'is clearly important for competitiveness because of its size. This is true especially in sectors such as energy, transport, defence, IT and health services, where the public sector is a key source of demand.' The EC itself highlights that this broader spending is 'crucial' for economic growth, jobs and innovation. These operations go far beyond specific state-aid subsidies.
Nor is the current attention justified by state aid being an area in which Britain is likely to be a particular irritant for EU countries. There is no specific evidence that British governments have been champing at the bit to increase state aid once free of Brussels' shackles. On the contrary it is well known that even when it was in the EU, Britain conducted less approved state aid than most other EU members.
In 2018, Britain's official state-aid spending amounted to 0.34 per cent of GDP, about half the EU average of 0.76 per cent. It was far below that of the other two big member states, with Germany's state-aid spending amounting to 1.45 per cent and France's to 0.79 per cent. This below-average spending in Britain extended the pattern of previous years. It would be hard to make a case that the UK has previously been pushing up against the limits of the state-aid rules.
Similarly, it is striking how the EC has shown little interest in identifying particular spending areas of concern. It is also a red herring to suggest Britain's recent warming to industrial policy is the prompt for the focus on state-aid rules, given the active pursuit of industrial policies by other European members.
In fact, the EC has not focused on the specifics of state aid, but much more on the principle of rule-following. So why is the EC focusing so much on rules covering a relatively small part of overall state spending? The answer goes to the core of supranational authority.
Not only are there a lot of state-aid rules, but given the scale of government spending in modern economies, and the many rules exemptions, including for public spending that is 'justified by reasons of general economic development', there is much scope for interpretation. This is where the EC steps in as the body empowered to oversee what countries do and to enforce compliance with its interpretation of the rules. There is an elaborate process, all under EC auspices, for exemptions, notification requirements, formal approvals, investigatory and decision-making procedures and enforcement provisions. The EC's extensive control of state-aid rules is a prime example of the institution's overall power and authority over its member states.
The tyranny of rules-based institutions
The robust stance on state-aid rules being taken by the EC is driven more by the character of top-down rules-based systems than by the economic substance of what is being regulated. Technocratic rules-run institutions tend to be rigid and inflexible because the rules soon take precedence over the legitimacy of the reasoning behind them.
The EC asserts that a 'level playing field' is an essential element of the Single Market. This shows how the rules over what constitutes state aid have attained a disproportionate importance because of the EC's need to override the sovereign rights of member states. Hence, every year the EC makes a big deal of enforcing the rules, calling out and disciplining countries that have breached them. These actions are politically driven, rather than economically driven. And it is because of Brussels' need to assert its supremacy over its member states that such rules have become the focus of the EU's negotiations with Britain. The EC is maintaining its insistence that Britain retains close alignment because it regards the sacrosanctity of the rules as a quintessential principle of the EU.
The EC's political determination is untouched by the fact that it has effectively waived the application of many of its state-aid rules during the lockdown-induced recession. When the economic going gets tough, even the EC recognises that excessive interference within member states can be an unnecessary extra burden. Hence many of the rules have been in abeyance this year, just as they were during the financial crisis a decade ago.
This discretionary practice calls into question the supposed inviolability of the rules governing the Single Market. Yet, because the use of discretion is still under the EC's control, Brussels probably doesn't recognise any inconsistency between routinely relaxing the rules while simultaneously asserting their inviolability.
Moreover, the EU's troubled situation today probably adds to its apparent obduracy. In any toughly contested negotiation, strong parties tend to be the ones that are better able to resolve logjams. They have the resources, and the confidence and the courage, to offer sensible concessions to attain movement and ultimate agreement. Weaker parties tend to be more unbending and inflexible because they feel they have less to give away and are more fearful of finding themselves in an even worse situation. A strong, secure and confident EU could therefore have been more amenable to compromise over the state-aid rules with a departing country.
In contrast, the EC's actual hardline over Britain's future trading relationship is likely reinforced by the current strains within the supranational EU. The region has become bedevilled over the years by north-south tensions, amplified by the eurozone crisis and migration flows, and by east-west disputes. As a result the EC is more driven to stick to its guns, or more literally to its rules-based system. Brussels doesn't want Brexit to be regarded by anyone, especially by people in other disgruntled member territories, as a straightforward and pain-free decision.
The EU's odium that a member has had the impudence to leave its embrace no doubt stiffens its refusal to treat Britain like the normal independent sovereign country that it became again on 1 February. Although Brussels has now had to accept that Britain has formally left, it is still unable to treat it as a genuinely autonomous nation. Unlike other countries with which the EU has negotiated trade deals, such as Canada, Japan, or South Korea, EU negotiators seem to expect Britain to fall into line and continue to follow its ways like a member state. Hence the firmness of its demand, so far at least, for the UK to adhere to its state-aid rules in exchange for an unexceptional trade treaty akin to those it has struck with other nations.
In response, the British government is fully justified in similarly taking a robust line in the negotiations with the EU, including rejecting attempts to be bound by the EU's own state-aid rules, whether for Northern Ireland or for the UK as a whole. Regardless of the actual economic impact of such rules, the only issue here is national sovereignty. The Brexit vote aimed to take national control of the laws and the rules that apply within Britain's borders. After taking so much effort and time to win such powers back, this sovereign capacity should not then be given away again in exchange for a trade deal.
It is therefore also entirely appropriate to put national sovereign law-making above adherence to an international treaty such as the Withdrawal Agreement. Such treaties are only meaningful as fair agreements between sovereign parties, and intrinsic to sovereignty is the right to amend or walk away from such agreements. National democratic law-making takes precedence over appeals to international law.
In terms of its moral reputation in the world, the Johnson government should not try to justify its position as some minor technical clean-up. Instead, the government should make and win the argument in parliament that its Internal Market Bill is what is required to establish the genuine political independence that people voted for in 2016. Britain's current firm stance rejecting EU interference is warranted because it is for Westminster to rule over and regulate its domestic affairs, including state aid and other areas of economic policy.
What type of state economic intervention?
With regard to the substance of state aid and state intervention a distinct though vital debate is required. State economic intervention is neither good nor bad in itself: it depends on its overall effects. To simplify a wide-ranging discussion, the crucial question is: does the state intervention, through public spending or other policy measures, impede or foster economic development? In today's circumstances, the economic pros or cons of governments providing aid to their business sectors rests on whether the measures promote economic renewal. Do they help with creating enough new decent jobs, or do they instead, whether by intent or effect, clog up the economy and preserve old lousy jobs?
Larry Elliott, the Guardian's economics editor, succinctly and clearly explained the challenge and the choice. Britain, he wrote, is,
'now at a fork in the road. One way leads to the place on the map known as "business as usual". This involves talking a lot about the need for fundamental change and the importance of doing better next time, but in reality means carrying on as before.
'The other route offers potentially greater rewards, but is far tougher because it requires behavioural change on the part of government, companies and individuals. It means a national business plan, ambition, hard graft and tons more patience than has been shown in the past.'
Elliott argues that the coronavirus crisis provides Britain with another opportunity to stop almost two centuries of economic decline, but starting to do this would take a lot of courage. If the current government proves courageous enough to reject the EC's ultimatums about having to stick to EU rules, then maybe it could also apply itself with courage to this historic economic task.
Phil Mullan's Beyond Confrontation: Globalists, Nationalists and Their Discontents is published by Emerald Publishing. Order it from Emerald or Amazon (UK).
Picture by: Getty.
To enquire about republishing spiked's content, a right to reply or to request a correction, please contact the managing editor, Viv Regan.