Five myths peddled by Black Lives Matter
We need to push back against this fact-free, divisive ideology.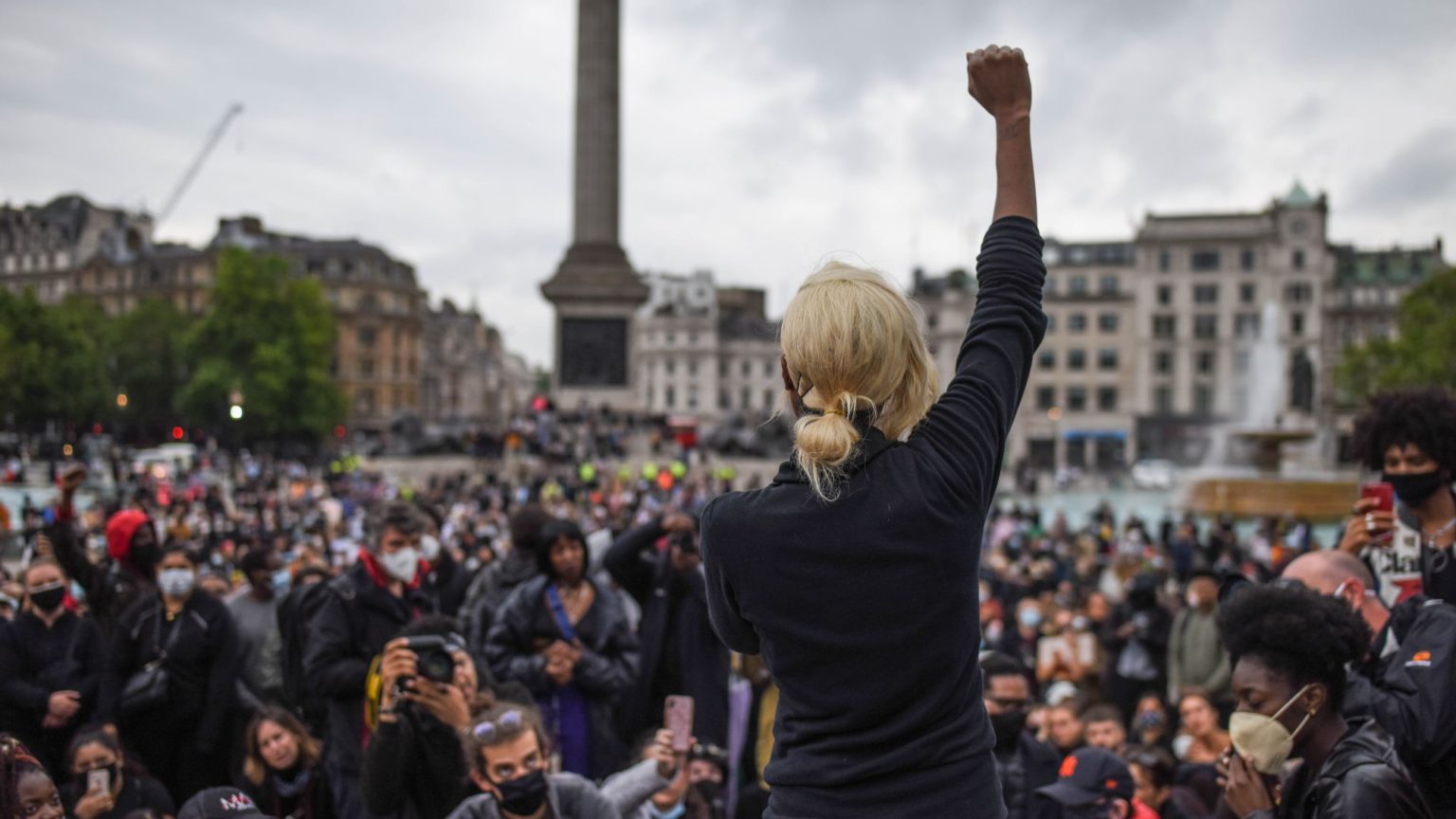 The Black Lives Matter movement has made some stark claims about the level of racism in British society today. But are they actually backed up by the evidence? Is Britain really the institutionally racist nation these activists insist it is? Here, we consider some of the campaign's core assertions, and see how they stand up against some much-needed scrutiny.
'Britain is a racist country'
Britain is said to be an irredeemably racist country – everything from Brexit to the tabloid treatment of Meghan Markle is held up as proof that racist attitudes are prevalent from the top to the bottom of society. But what do most Brits actually think about race?
In Britain today, 93 per cent of people think you do not have to be white to be British. This is an increase of 11 percentage points since 2006. This increasing liberalisation in attitudes is having a clear effect: the mixed-race ethnic group is the fastest-growing in the UK, with nearly half of men of Caribbean descent partnering with white women. The vast majority of Brits are comfortable with this: 89 per cent say they would be happy for their child to marry someone from another ethnic group, up from 74 per cent in 2008. And overall, less than one per cent of the population admit to holding very racist views.
It is sometimes claimed that Britain is becoming more racist, with recorded hate crimes increasing significantly in recent years. But much of the rise can be explained by changes to recording methods. In 2014, the definition of hate crime was significantly expanded to include any incident which the victim – or anyone else – perceived to be motivated by prejudice. This change in definition was accompanied with the statement that 'Targets that see success as reducing hate crime are not appropriate'. Numbers have risen accordingly, now that police have no incentive to doubt reports.
But by other measures, hate crime is falling. The Crime Survey for England and Wales found that hate crimes had fallen by an astonishing 40 per cent in the past 10 years. Prosecutions for hate crime have also fallen, despite a rise in what is reported to police. Hate-crime prosecutions peaked in 2015-16, with 15,442, and have fallen every year since to 10,749 in 2018-19 (the latest year available).
Compared to other European countries, the UK scores well when it comes to discrimination against black people. An EU investigation into anti-black racism in Western Europe found the UK had the lowest rate of any of the nations considered.
'Black people are being killed by police'
Lots of placards at the BLM demos in London say 'The UK is not innocent' when it comes to police racism, trying to draw a link between the killing of George Floyd and policing in Britain.
Very few people of any race are shot or killed directly by police in Britain, and so the focus here is on the disproportionate number of deaths in police custody. Of the 163 people who were registered as having died in or following police custody in England and Wales in the decade up to 2018-19, 13 were black – just under eight per cent. But looking at the proportions of those arrested who die in custody, rather than of the wider population, arrested white people are actually more likely to die in such circumstances than arrested black people. Black people in the decade up to 2018-19 made up nine per cent of arrests, but eight per cent of deaths in custody, whereas white people were 79 per cent of arrests and 85 per cent of deaths in custody.
Black people are also over-represented among the prison population, making up approximately 12 per cent of inmates despite making up only three per cent of the wider populace. But we should compare the proportion of black inmates to the proportion of serious crimes committed by black people – 20 per cent of convictions for robbery and 15 per cent of convictions for murder. In this context, the 12 per cent figure seems appropriate.
'Black people are treated unfairly by the justice system'
It is not just the police who are accused of institutional racism. The justice system has been a target of sharp criticism, particularly in the Lammy Review of 2017.
But jury conviction rates are actually higher for white defendants than black defendants – 85.3 per cent compared to 78.7 per cent respectively in 2017. It is hard to argue that courts and jurors are generally racist when white defendants are more likely to be convicted.
There are other factors at play when it comes to the courts. For example, black people are less likely to plead guilty when doing so might win them a more lenient sentence or help them avoid prison altogether. Some argue that this is because black people are less likely to trust their lawyers or the criminal-justice system as a whole. Perhaps if campaigners were not so insistent that the justice system is racist, more black people might trust their lawyers, leading to better outcomes.
'Ethnic minorities are falling behind in education'
It is regularly claimed that ethnic minorities fall behind white people in education. But the government's Progress 8 measures, which track development between the ends of primary and secondary school, suggest that in state schools black children in fact slightly outperform white children.
There are some measures on which black kids perform worse than white kids in schools. This is the case at A-Level, although Chinese, Indian and Irish Traveller kids perform better than white kids. But at GCSE, white British children only slightly outperform black children. Although white kids do noticeably better than those of black Caribbean descent, those of black African descent actually outperform white children. If systemic racism is at play here, then that suggests it is so sophisticated and nuanced that it prefers one group of black children over another. This seems unlikely.
After school, black kids are more likely to go to university than white kids, though a quarter fewer go to Russell Group universities.
'Ethnic minorities are falling behind in employment and income'
Black people have the highest unemployment rate of any ethnicity, registering at more than double that of white Brits. The disparities were decreasing before the Covid-19 recession hit, though it remains to be seen how the impact of this will be shared. Black unemployment fell significantly from 13 per cent in 2004 to nine per cent in 2018, while unemployment among white people in 2018 was at roughly the same level as it was in 2004 (four per cent).
Looking at income, there are some surprising results. On average, ethnic minorities earn 3.8 per cent less than white ethnic groups. Average hourly pay is lower among black people than white people, but white Brits are by no means the highest earners. The highest hourly earners are Chinese, followed by Indians. In 2018, employees from the Chinese ethnic group earned 30.9 per cent more than white British employees. The success stories of two ethnic groups who have also faced historic prejudice and discrimation suggests the relationship between race and employment is far more complex than campaigners make out.
Conclusion
We need an open and honest discussion about racism in the UK. It is clear we have made significant progress in tackling both racial prejudice and racial disparities in recent decades.
We put that progress at risk if we obsess over race and insist that everything from education to work to crime is inherently defined by it. In overemphasising the degree of racial intolerance in our society, we encourage non-white people to see themselves as marginalised, where they may not be. This can become a self-fulfilling prophecy, regardless of the facts on the ground.
We should not pretend the battle against racism is won. But we live in one of the most tolerant societies on Earth, and that has to be one of the foundations of any honest conversation about what needs to be done to improve things.
To enquire about republishing spiked's content, a right to reply or to request a correction, please contact the managing editor, Viv Regan.