Baden-Powell's legacy should be celebrated, not toppled
The Scout movement he founded has brought people of all races, classes, nations and cultures together.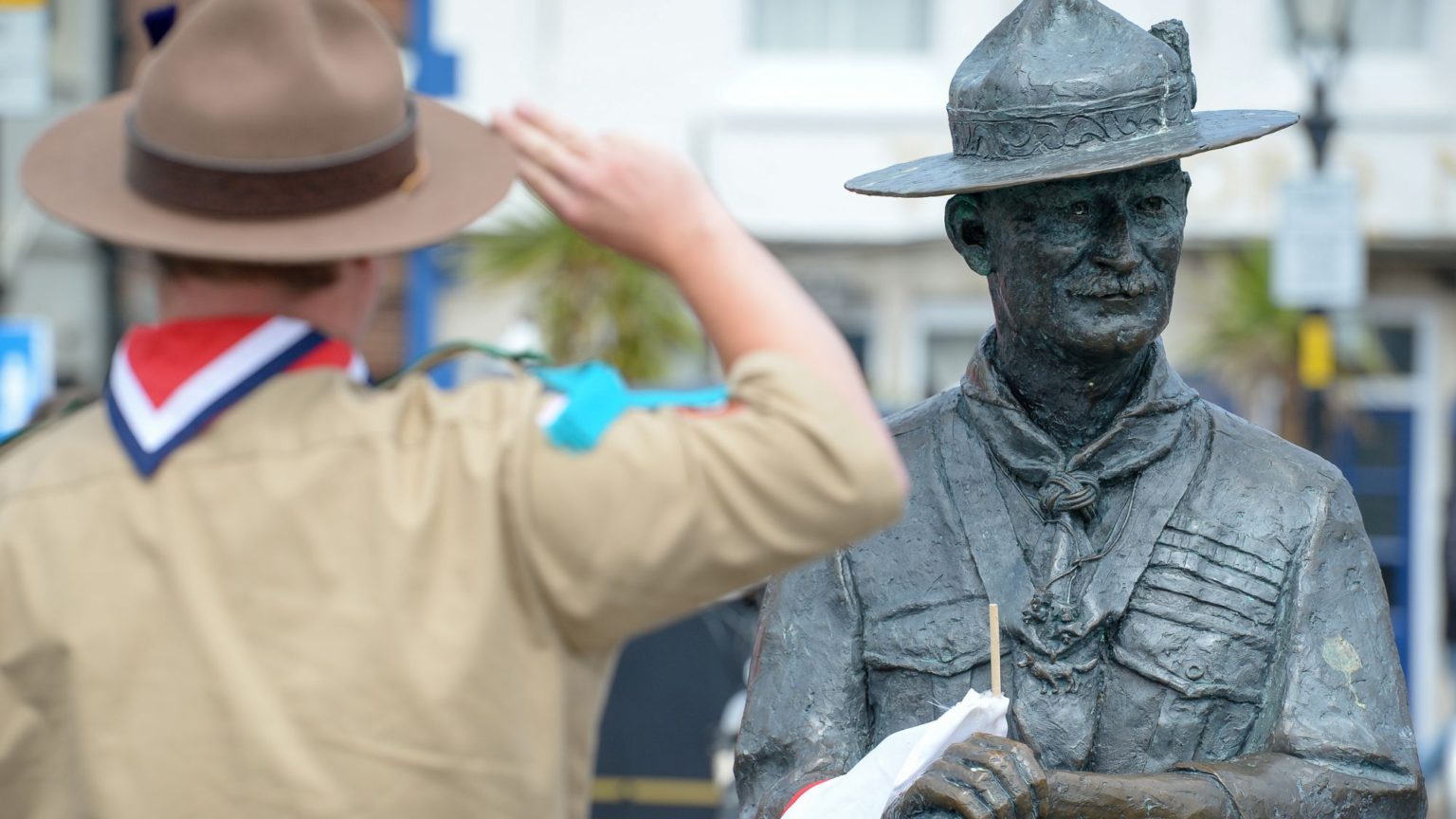 In the aftermath of the toppling of the statue of slave trader Edward Colston in Bristol, a website called Topple the Racists has produced 'a crowdsourced map of UK statues and monuments that celebrate slavery and racism'.
The map has been shared on social media by well-known campaigners, including Guardian columnist Owen Jones. It includes the statue of the founder of the Scouts, Lord Robert Baden-Powell, on Poole Quay, looking out to Brownsea Island, the site of the very first Scout camp. Now the local council wants to remove it and place it in safe storage to counter the supposed threat from campaigners.
Baden-Powell served in the British Army from 1876 until 1910 in India and Africa. He was heroically involved in relieving the Siege of Mafeking during the Second Boer War. 'BP' specialised in scouting, map-making and reconnaissance, and trained soldiers in these essential skills. On returning home in 1903, he found that the handbook he had written for soldiers, Aids to Scouting, was being used by youth leaders and teachers. William Smith, founder of the Boys Brigade, asked Baden-Powell to devise a citizenship training scheme for boys. The experience of the Boer War had led to fears that British youth lacked the fitness and skills necessary for the military.
In 1907, Baden-Powell took 20 boys to Brownsea Island on an experimental camp. Boys from different social backgrounds participated in camping, observation, woodcraft, chivalry, lifesaving and patriotism. This was the start of scouting. There was soon great interest and demand for scouting across the world. Today there are over 54million scouts, operating in almost every nation on earth.
I know about this legacy not from my own experience – I was never much of a scout – but from my family. My father was a scout and scout leader. He played a part in widening the horizons of thousands of young people in Paisley and then Derby where he lived. He was proud of the legacy, and rightly so.
My own children have benefited greatly from being in the scouts. One of them, when aged 14, attended the 23rd World Scout Jamboree in Japan. He returned having made friends from many countries, rich and poor, black and white, and with an invaluable insight into the world and its cultures. Local scout leaders are community heroes, without whom the lives of many children would be poorer. At a time when children can feel their lives are overregulated, and parents that their offspring don't get out enough, the scouts are especially important.
How many people have left a legacy of this magnitude and worth? The statue-toppling crusaders prefer to ignore Baden-Powell's real legacy and focus on aspects of his life that were reactionary, yet commonplace at the time he was alive. On retirement in the 1930s, he warmed to some of Hitler's visions, and in a 1939 diary entry he described Mein Kampf as 'a wonderful book, with good ideas on education, health, propaganda, organisation etc'. A certain admiration for Hitler was, in fact, shared quite widely among sections of Britain's elite in the 1930s. Besides, none of this has any bearing at all on his scouting legacy today.
More significant than the 'Topple the Racists' website has been the official response. Vikki Slade, leader of Bournemouth, Christchurch and Poole council, when announcing the removal agreed with the statue topplers that 'there are some aspects of Robert Baden-Powell's life that are considered less worthy of commemoration'. Such conformism is dangerous. Authorities who remove statues in this way, based on little more than a handful of nameless people putting a map on a website, amplified through social media, are encouraging campaign groups to feel they can have a veto on public culture.
The idea that Baden-Powell's statue has some connection to the murder of George Floyd, or contemporary issues affecting black people in the UK, such as the Windrush scandal, is risible. Rather, this is performative outrage by a minority seeking to ride on the back of the horror of Floyd's murder to assert a quite different agenda.
I have never met anyone involved in the scouts with any sympathy for racism. They are far too busy looking after and providing great activities for the boys and girls in their group. I am sure no one walking past Baden-Powell's statue has ever, as a consequence, been attracted to his views on the Nazi Party, homosexuality or masturbation (views which are thankfully no longer influential). His legacy is an organisation that brings young people together across race, class and culture. The world's largest youth movement will continue to do far more to challenge racism than the removal of a statue ever could.
Jim Butcher is a lecturer and writer on tourism and politics. He blogs at politics of tourism and tweets at @jimbutcher2.
To enquire about republishing spiked's content, a right to reply or to request a correction, please contact the managing editor, Viv Regan.