Abolishing the police: a cruel denial of justice
Crime blights the poorest and the most marginalised far more than the woke middle classes will admit.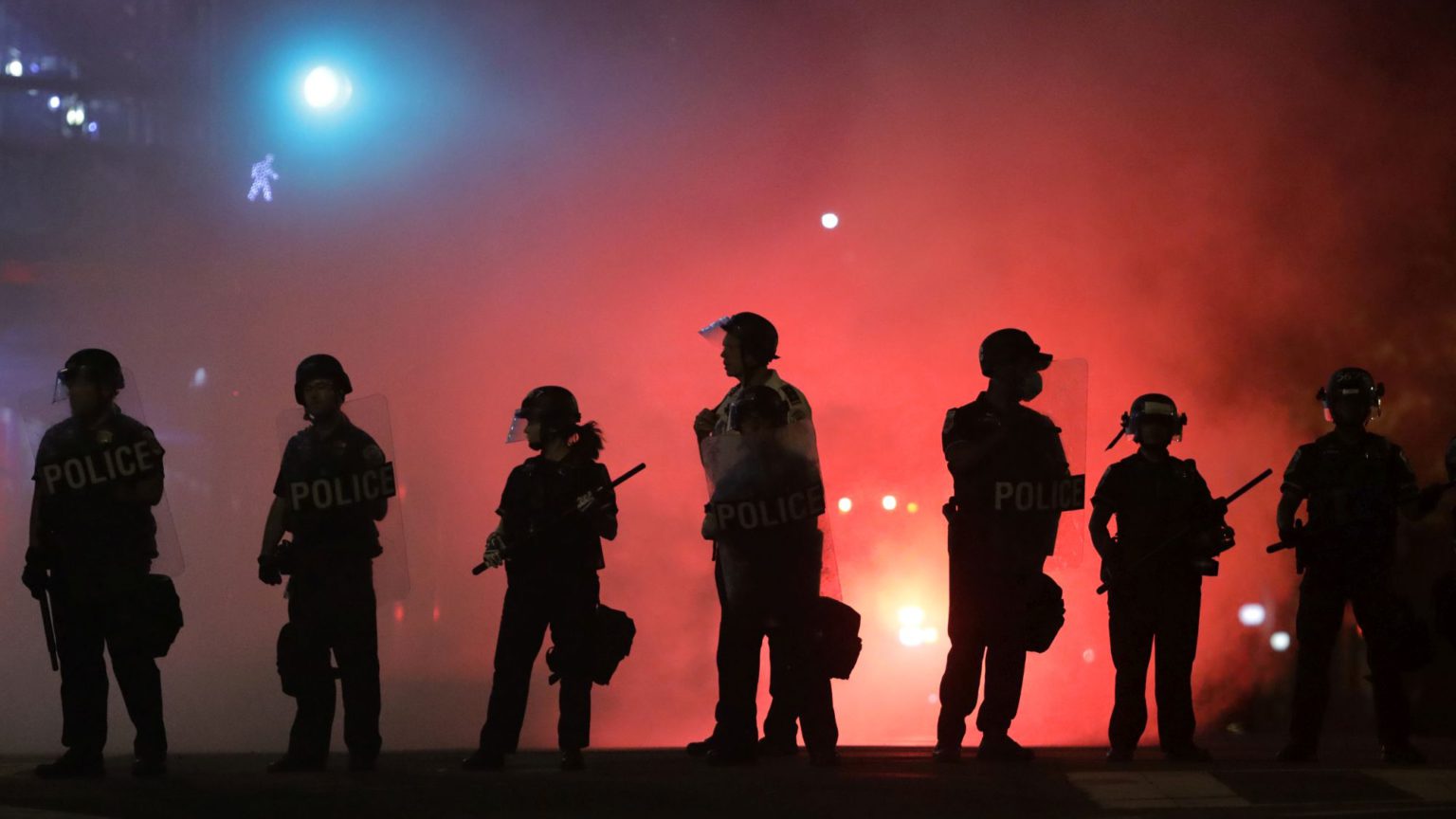 Politics seems to have changed in the blink of an eye. One week mass gatherings and protests were considered selfish and murderous because of that pandemic thing people seem to have forgotten about. Now protest is essential and life-saving, as long as the protesting is against the supposedly deadlier 'pandemic' of racism.
Attitudes to the police have similarly turned on a dime. Not long ago, democracies around the world became police states overnight – and progressives were at the forefront of demanding this. Now, it has become progressive to demand the complete abolition of the police force.
The calls to abolish or drastically defund the police come, of course, in the wake of the shocking police murder of George Floyd. Instead of being on their best behaviour following the killing, the police have done themselves no favours, whichever way you look at it. On the one hand, they have brutalised those protesting against police brutality, as well as journalists reporting on the protests. Videos of a militarised police force attacking unarmed civilians have proliferated on social media. In other parts of the US, they have not managed to keep order as rioting, looting and violence spiral out of control.
Amid the chaos, calls to abolish, disband or defund the police are gathering steam. A 'veto-proof majority' of Minneapolis City Council – whose Third Police Precinct was effectively surrendered to the mob last week – has now voted to disband the city's police force entirely. Minneapolis mayor Jacob Frey was opposed to the move. He was booed and jeered relentlessly at the protests for not caving in.
But what exactly the policy will be replaced with is less than clear. Minneapolis City Council president Lisa Bender appeared on CNN to explain, but could only offer word salad. Alarmingly, when she was asked who would respond to a call about a burglary, Bender insisted that such fears 'come from a place of privilege'.
It is impossible to overlook just how insane this response is. It is, of course, Bender's and her supporters' privilege which has allowed them to take leave of their senses in this way. A bizarre narrative seems to have emerged among Black Lives Matter supporters that suggests the only function of the police is to enact racism. Therefore, if you abolish the police, police racism will go away and everyone will be happy.
In the real world, crime blights the lives of the poorest and most marginalised far more than it does the privileged. The presence of police in certain areas may be experienced as oppressive by many – and there is no doubt that some sections of society are overpoliced and criminalised more than others. But it is also true that police do not patrol certain areas for no reason at all. It is high levels of crime that create demand for a greater police presence.
Amid the chaos at the weekend, Chicago experienced its most violent 24 hours in six decades. Eighteen people were killed on a single day. Between Friday and Sunday, 25 people were killed and 85 were wounded by gunfire. Locals described the weekend as 'open season'. 'I heard people saying all over, "Hey, there's no police anywhere, police ain't doing nothing"', an anti-violence campaigner told the Chicago Sun Times.
While police shootings rightly cause more anger – police are charged with protecting civilians, after all – the breakdown of law and order is far more dangerous and deadly. Last year, police in the US shot nine unarmed black men – nine too many. But this is just half of the people who were fatally shot in a single city on a single day by mob violence. As Heather Mac Donald has pointed out, police shootings represented just 0.01 per cent of all African-Americans who were killed last year. In fact, a police officer is 18.5 times more likely to be killed by a black male than an unarmed black male is to be killed by a police officer.
The calls to abolish the police neglect these dangers. They come from the identitarian middle classes who generally don't have to deal with much crime at all. There is a reason why many black communities were historically in favour of 'law and order' policies, including the notorious crime bills that led to mass incarceration. The lawyer Randall Kennedy made the now controversial point in Race, Crime and the Law that black people were suffering enormous harm from police failure to protect them from crime – that is, underenforcement of the law rather than overenforcement was the greater denial of justice, in his view.
Today many of those policies are rightly recognised as excessive and having contributed to racial disparities in the justice system. But while criminal-justice reform is necessary, criminal-justice abolition would be madness.
If the defunding or disbanding of the police ever started to pose a danger to the middle classes who are championing this move, no doubt this would lead to white flight, gated communities and a rise in private security. The poorest and most marginalised would, however, be abandoned to lawlessness. This would be an obscene denial of justice.
Fraser Myers is a staff writer at spiked and host of the spiked podcast. Follow him on Twitter: @FraserMyers.
To enquire about republishing spiked's content, a right to reply or to request a correction, please contact the managing editor, Viv Regan.