Our culture of fear has driven us to irrationality
The lockdown was a product of society's pre-existing anxieties and conditions.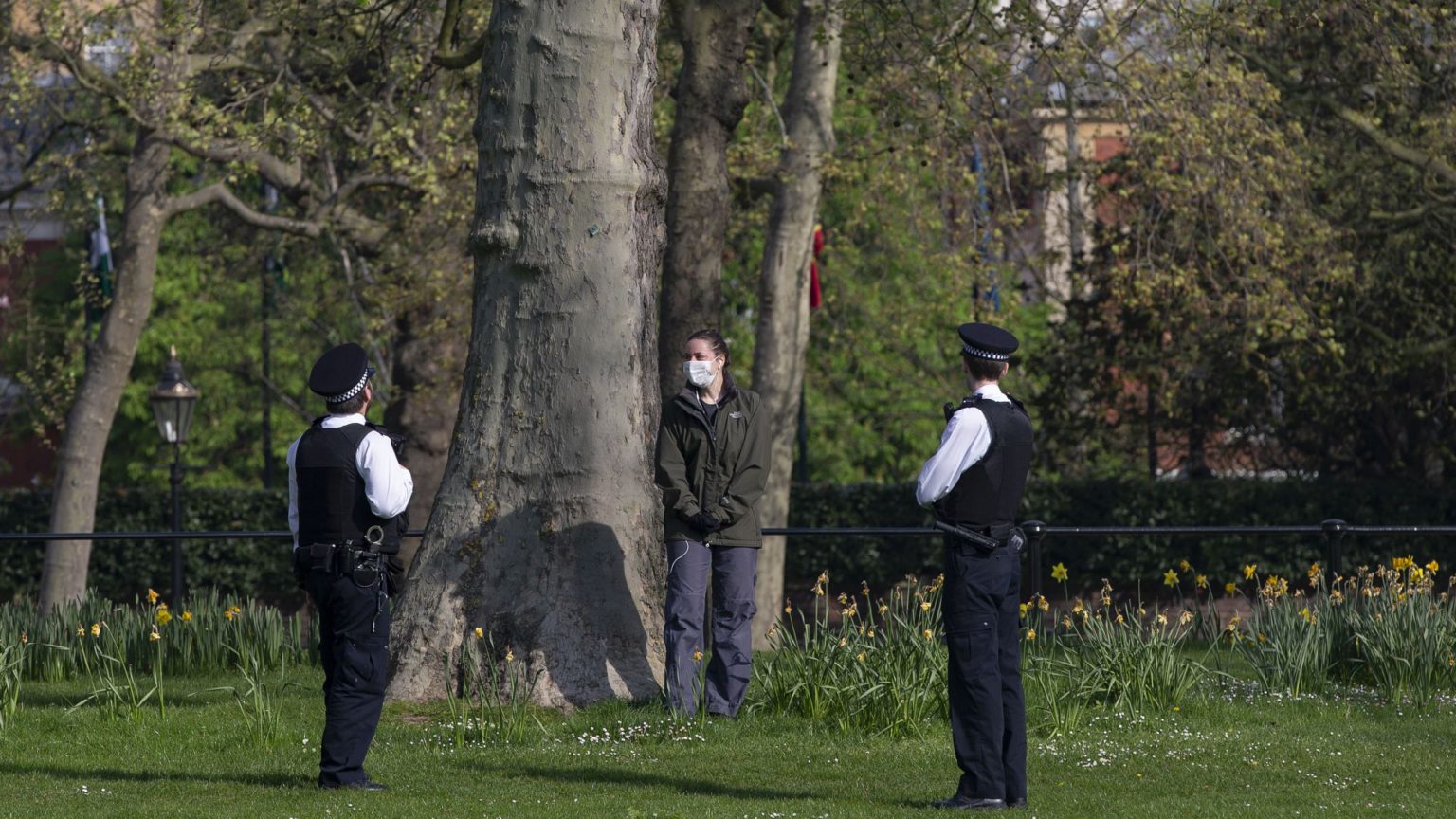 All of a sudden, the kinds of extreme measures many of us never thought possible, particularly in a free and open democratic society, are a reality. Not only are these measures in place – large numbers of people demanded them and welcomed their arrival. The erosion of personal autonomy and the hyper-surveillance of people's actions has become normal. But was it inevitable?
No. The coronavirus did not tell us how to respond to its emergence. Our own values, norms and choices shaped our actions towards it. Our response to the coronavirus resulted from a decades-long cultivation of a culture of fear and the sanctification of safety. It also built on the increasing hyperregulation of everyday life and the growing normalisation of censorship and suppression of dissent.
Despite the eerily unified choir of voices saying so, it was never a question of saving lives versus 'letting people die'. Our response to the pandemic – a nationwide lockdown – could also lead to thousands of unnecessary deaths, as well as having devastating psychological and economic consequences.
The lack of honesty in this debate is astonishing. In reality, we make implicit cost-benefit analyses about life and death every single day. The paradox of the lockdown is that the more you attempt to control a complex system, like a modern society, the more likely you are to bring about some very bad unintended consequences.
Millions of people drive, knowing that thousands of people die or are seriously injured in car accidents every year. Millions of people overeat, knowing that it significantly increases the risk of a wide range of diseases. We make complex, moral choices all of the time. And most importantly, our decisions are our own.
We are not powerless in the face of this complexity, either. In fact, quite the opposite is true. Recognising complexity involves seeking a wide range of viewpoints and deciding for ourselves. It means becoming active participants in shaping our shared reality. Fear and panic, on the other hand, create powerlessness. Fear consumes you. And that fear has been building up under the surface of social life for decades now.
Indeed, if we look at a number of social and political trends, we can see that the response to the coronavirus has been an acceleration of pre-existing developments. Social relations have become atomised, and are increasingly mediated through technology. The securitisation and hyperregulation of everyday life was also a pervasive feature of the pre-coronavirus world – from the government's counter-extremism Prevent strategy to the 'hostile environment' immigration policy.
We have also seen the growth of technocracy and of an 'expert' class which has infantilised the public and kept us distant from decision-making. We have witnessed a growing willingness to suppress dissent and ideological diversity with the rise in cancel culture and No Platforming and the policing of online speech.
The mainstream media establishment has all but given up on journalistic integrity and the pursuit of truth and traded it in for 'gotcha' journalism, click-bait and emotionalism. From Brexit to climate change, the worst-case scenario is assumed to be the most likely outcome, while the human creativity, innovation and spontaneity which could shape that outcome are removed from the equation. Our response to coronavirus has exposed and amplified all of these pre-existing conditions.
We also seem to have lost all sense of proportion. Any uncertainty – small, medium or large – is framed in binary, existential and simplistic terms. When things are framed in this way, it can justify the most extraordinary and repressive measures – from the years of attempts to overturn democracy in response to Brexit to placing the country under house arrest in response to Covid-19.
All of what is now being justified in the name of coronavirus had its roots in the society we already lived in. But have any of these measures and trends made our lives better, let alone 'safer'? I would say not. The level of public debate is lower, as is our sense of community and social cohesion. Our feelings of suspicion, fragility and precariousness are greater. It is worth asking if lives which are full of fear, loneliness and risk-aversion can really be considered rich and meaningful. Many have written about how our culture came to be like this. Frank Furedi's book, How Fear Works, now appears rather prophetic.
Accepting a short-term curtailment of our liberties to save a proportion of lives is not necessarily unreasonable. But as I have outlined, we were already on a trajectory towards these measures. It would therefore be wrong to assume that the sacrifices we have made will not be made permanent in one way or another. The threat of new infectious diseases will likely always be there, and perhaps some will argue that social-distancing measures need to be, too. What we need is a calculated understanding of the risks, while also accepting that disasters like pandemics do happen and, tragically, some people will die. We should research and improve future responses to pandemics rather than rely on these stifling measures.
For our response to be more rational, we first need to depoliticise the pandemic. In contrast to today, US president Woodrow Wilson did not make a single public statement on the Spanish flu, which killed 50million worldwide. All the pronouncements on the issue were made by his chief medical officer. Of course, this is an extreme example, but it shows the extent to which the issue had not been politicised by either opponents or the media, in stark contrast to today.
Then we must recognise that if this is not the society we want to live in, then we must actively create one which is liveable. Just as we collectively galvanised to radically halt our lives, so we must mobilise to address the problems revealed by the pandemic. I do not want to live in a future in which we become even more atomised and even more fearful, and in which freedom is permanently reconceptualised as 'what the government allows us to do'.
The realities of the pandemic are painful, traumatic and confusing. But how we responded to it was always a choice. There were other paths we could have taken. It is not too late to change course.
Ultimately, it is understandable that many of us want to feel secure – financially, socially and physically. But, to me, it would be far more comforting to have competent and fair-minded leaders, a truth-pursuing media establishment, a vibrant and rich intellectual culture, and high levels of institutional trust. I am not confident that this is what we have now.
Only if we find our voice again can we look forward to a positive outcome. However, there have been glimpses of hope. From the thousands that signed up to volunteer to the writing off of NHS debt, our individual and collective choices can alter the type of world we create and live in. And for that, I am still optimistic.
Inaya Folarin Iman is a writer.
Picture by: Getty.
To enquire about republishing spiked's content, a right to reply or to request a correction, please contact the managing editor, Viv Regan.