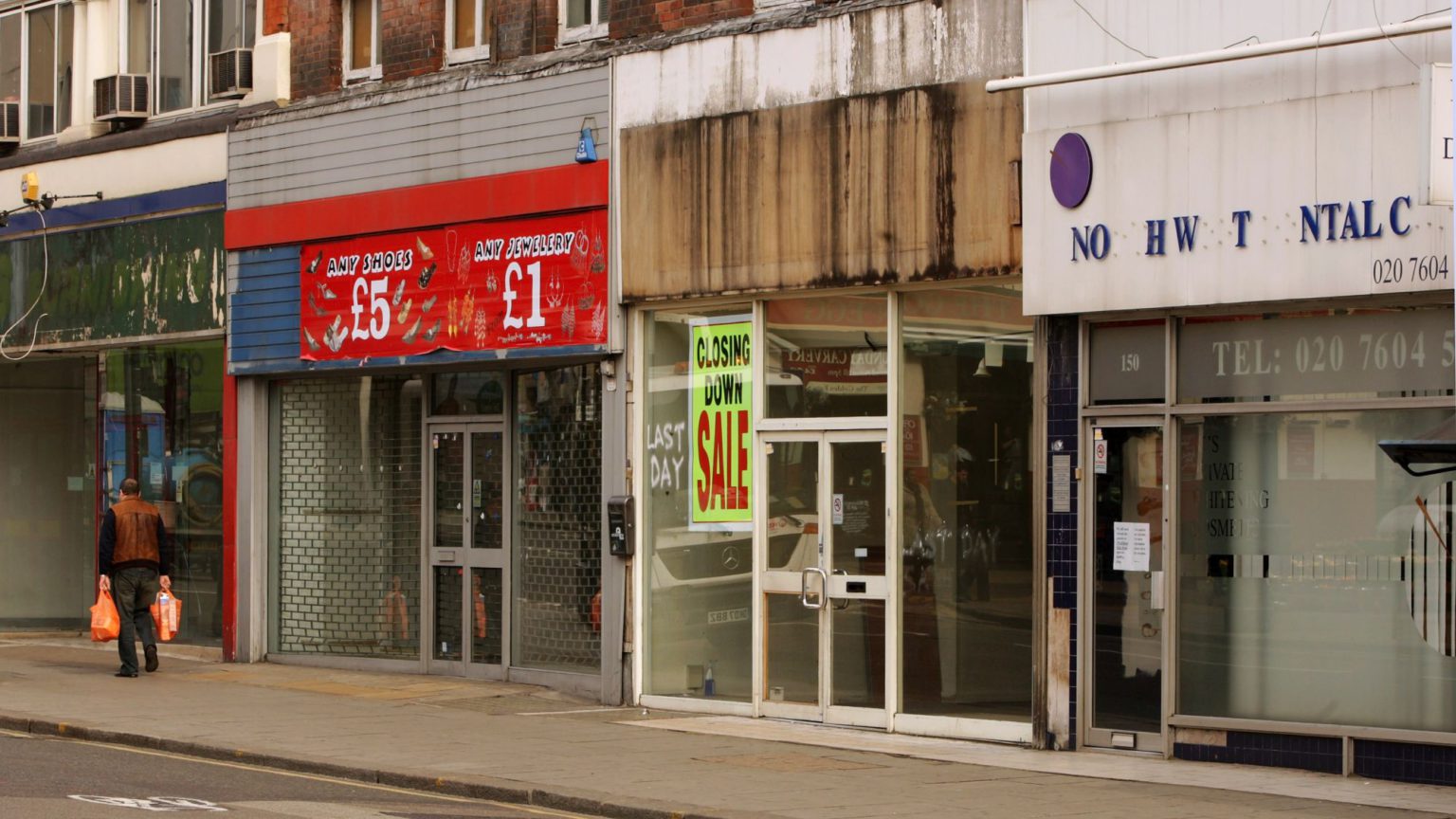 The making of an economic crisis
The UK government is in danger of making a bad situation far worse.
The UK's Office for Budget Responsibility (OBR) has offered a grim projection of a one-third fall in output in the April to June period. Even without a second Covid-19 wave precipitating another government shutdown later in the year, the OBR anticipated a full-year contraction of about 13 per cent of national output, worse than anything in recorded history. Some economists speculated this scale of collapse could be greater than any since the Great Frost of 1709 (though, of course, no one was measuring anything like gross domestic product then). This shows how unprecedented this government-determined recession really is.
However, at a Downing Street briefing last week, Rishi Sunak, the chancellor of the exchequer, said something that was even more disturbing and, ultimately, economically damaging. Acknowledging the 'tough times' flagged up by the OBR, Sunak sought to offer some comfort: 'But we came into this crisis with a fundamentally sound economy.' On the back of this he went on to insist that the economy will 'bounce back'.
The great danger of this false portrayal of the past is that today's self-imposed and brutal recession could be extended into a self-imposed and much more vicious depression than we have experienced up until now. This is not inevitable. We could instead see something closer to the covert, disguised depression of recent decades, where steadily rising indebtedness has given a semblance of economic stability and low-level growth.
But how the government proceeds from now, and how communities and businesses react and respond, will have a substantial impact on the way economic life unfolds. And the official message so far is massively concerning. Sunak was no doubt trying to be reassuring, but his premise that the economy was 'fundamentally sound' until a few weeks ago is clueless, condescending and counterproductive.
His assessment is clueless because a precarious, debt-reliant economy, with more than a decade of stagnant productivity, and frozen or falling incomes for most of its inhabitants, is not 'fundamentally sound'. Britain, alongside many other mature industrial economies, entered 2020 with many New Year forecasts raising anxious questions. How long would it take the many financial bubbles to start bursting? How long could the huge mismatch between stock markets and real production endure? How long could a recession be delayed? We now know the answers to all of these questions: not long. These prior concerns demonstrate that the shutdown has been as much a trigger for a recession waiting to happen as its proximate cause. The economy was fragile, not 'sound', well before the pandemic.
Sunak's view is condescending because he is not being honest with people. He is assuming they can't handle discussing hard issues and tough prospects. Instead, he offers glib assurances that everything will be all right, and the economy will bounce back when its temporary hibernation is over.
But the consequences of Sunak's messaging are even graver. By painting the pre-pandemic world in a positive light, people are discouraged from getting to grips with how broken things were before.
This conceals the desperate economic need for a deep restructuring to clear away the detritus after decades of atrophy and sclerosis, and to replace 'just about managing' businesses with innovating and expanding ones. Indeed, according to the Bank of England, about 50 per cent of businesses have experienced effectively no rise in productivity growth since at least the start of this century, with 49 of the remaining 50 per cent averaging growth of only around one per cent a year.
Covering this stagnation up sanctions a problematic focus on what economists are already discussing as the 'scarring effects' of the recession. These are the supposedly permanent economic consequences of today's precipitous recession plunge. This approach is a problem because when serious economic troubles persist after the recession, continuing to ruin millions of livelihoods, it will all be blamed on the shutdown. The use of the medical term 'scarring' suggests a wound that will either take time to heal, or could be permanently disfiguring or impairing.
The 'scarring' narrative exacerbates a fatalistic approach to economic life that disparages and deters transformative interventions. It sustains the TINA perspective, which today implies 'there is no alternative' to a sluggish economic environment. When things decay further, possibly becoming chaotic, we are supposed to accept this as another sign of the inevitable coronavirus scarring that we can do little to avoid.
For instance, a common example of economic scarring is the long-term damage to employment for young people. It is already being predicted that they will have greater difficulty finding their first job and that this will disadvantage them throughout their working lives. This can sound sensible: there are bound to be fewer job opportunities in the short term. But this scarring scenario accepts that few new jobs will be created after the recession.
People should not have to put up with and accept these supposedly inevitable scarring features of a brutal recession. Instead we should recognise what this recession is helping bring to the surface: that the economy is fundamentally unsound, and we need a radical post-pandemic reset in order to create lots of new businesses, sectors and decent jobs – for people of all ages.
This is why Sunak's misleading positive picture of the past is counterproductive for economic prosperity. His false assurance is making things a lot worse. First, because the hardships of the shutdown are superimposing themselves on many who have been scraping by for too long already, building up their own personal indebtedness. Some people, hitherto keeping their heads above the water, will now be pushed under.
Secondly, the complacency in this statement reduces the pressure on Downing Street to act decisively, contributing to the slowness and caution of its economic responses. For Sunak and the cabinet, the most pointed aspect of the OBR's scenario should not have been the 35 per cent cut in output, or the 12 per cent jump in government borrowing as a share of national income, but the warning that more than two million people could lose their jobs, leaving around one in 10 of the working population unemployed. The unemployment rate is projected to more than double by the end of June, rising from four per cent to 10 per cent.
Economic contraction and increased public spending are predictable consequences of the shutdown. However, mass redundancies were not inevitable. This will be a product of the government's failure to honour its repeated pledge to do 'whatever it takes' to sustain businesses in order to protect employment. It didn't need to be like this. Other hard-hit countries, such as Switzerland, put cash into the hands of businesses quickly, minimising additional joblessness.
The Swiss government's actions make clear that a huge hike in unemployment is unnecessary as a result of a business shutdown. Within a few days of its lockdown, the government had fast-tracked emergency loans to more than 76,000 small businesses (56 per cent), out of about 135,000. Unemployment went up modestly from 2.5 per cent in February to an adjusted 2.7 per cent in March, which is roughly where the International Monetary Fund projects it will stick.
This compares with the British emergency loan scheme which, after four weeks, has paid out to only about 16,000 out of about 1.4million small-employing businesses, or just over one per cent. Businesses, many of which have run out of cash, are being forced to lay people off because they cannot access the government schemes. Sunak's complacency is already being paid for by far too many unnecessarily unemployed people.
A third, longer-term consequence of Sunak's sanguine statement is that it diminishes the prospect of a government-initiated post-pandemic transformative reset. Without a comprehensive state-funded, locally organised action plan, an economy stuck in a covert, disguised depression for decades could rapidly descend into an overt and much more disruptive phase. National and local conversations about this should start immediately in order to prepare people for this potential turmoil and what to do about it. Instead, Sunak seeks to soothe people with talk of a bounce back.
Indeed, the debate over the economic aspects of a slower or faster easing of the shutdown is a diversion from this bigger economic challenge. Economic departments of government should be planning now for post-pandemic policies appropriate to reversing the protracted atrophy.
Besides, there are more pressing reasons to end the lockdown: that it is unnecessary to contain the Covid-19 infection; that it is causing more deaths from other causes; that its restrictions on people's freedoms are no longer justified. But the economy per se should be much further down the list of considerations.
Frustration and anger at the economic consequences of the shutdown is fully justified. People's livelihoods, incomes and living conditions are being damaged. But it is more constructive when directed against the government's failure to fulfil its commitment made to the public to protect businesses and jobs. These are extraordinary circumstances, so it is doubly unacceptable that the government should allow itself to continue to be hamstrung by the cautious, rules-driven, leaden-footed approach to implementation that has taken over in recent decades. Specifically, 'moral hazard' concerns – the fear of incentivising counterproductive business practices – should be speedily dismissed during the lockdown. These emergency time-specific schemes are supposed to be about mitigating problems caused by the government, not by businesses.
Even after weeks of foot-dragging, the Treasury could still deliver an effective business- and personal-income compensation package. This should be its economic priority today. Not using 'the economy' as a cover against 'the science' in deciding its next steps on containing Covid-19.
Dealing with a public-health crisis should be approached as a public-health issue. This is not an occasion for drawing up an economic or 'wellbeing' cost-benefit analysis. Ending the lockdown is a matter of political judgement, and should be neither 'science'-determined nor 'economy'-determined. There is no 'economy-lives' balance or 'wealth-health' trade-off that can resolve what the government should do. There is simply the urgent matter of a government acting to serve the best interests of the society that elected it.
There is, though, a matter of sequencing. Once the health crisis is contained, then the government should shift to act on the national economic crisis. And with more decisiveness than it has sometimes displayed over the coronavirus one. That economic policy task will equally be an undertaking requiring political judgement over both substance and detail.
Ironically, the cabinet squabble over the timing of lockdown easing on economic grounds is of little economic import compared to its self-created recession. This ought to be a wake-up call to restructure the whole economy. Health and liberty issues push for an earlier easing. But for our long-term economic futures there's little difference between ending the business shutdown next month or a few months later, given that ministers' common perspective seems to be merely to return to an old normal of negligible growth, debt bubbles and squeezed incomes. Moreover, their complacency over the economy's pre-existing weaknesses is blinding them to the fact that a return to the precarious and decrepit status quo ante is not the likeliest outcome.
So, to reduce the possibilities of a chaotic, uncontrolled post-pandemic depression, the government must level with people that the economy was a shambles long before anyone had heard of Covid-19. This, at last, is the time for addressing the economy's malaise. Our broken realm of production needs a government-led shake up so that people can start to take collective responsibility and control of the economic future.
Phil Mullan's new book, Beyond Confrontation: Globalists, Nationalists and Their Discontents, will be published by Emerald Publishing later this year.
To enquire about republishing spiked's content, a right to reply or to request a correction, please contact the managing editor, Viv Regan.