Long-Bailey: undermining women's right to choose
The Labour leadership candidate's comments on abortion show how little she thinks of women's freedom.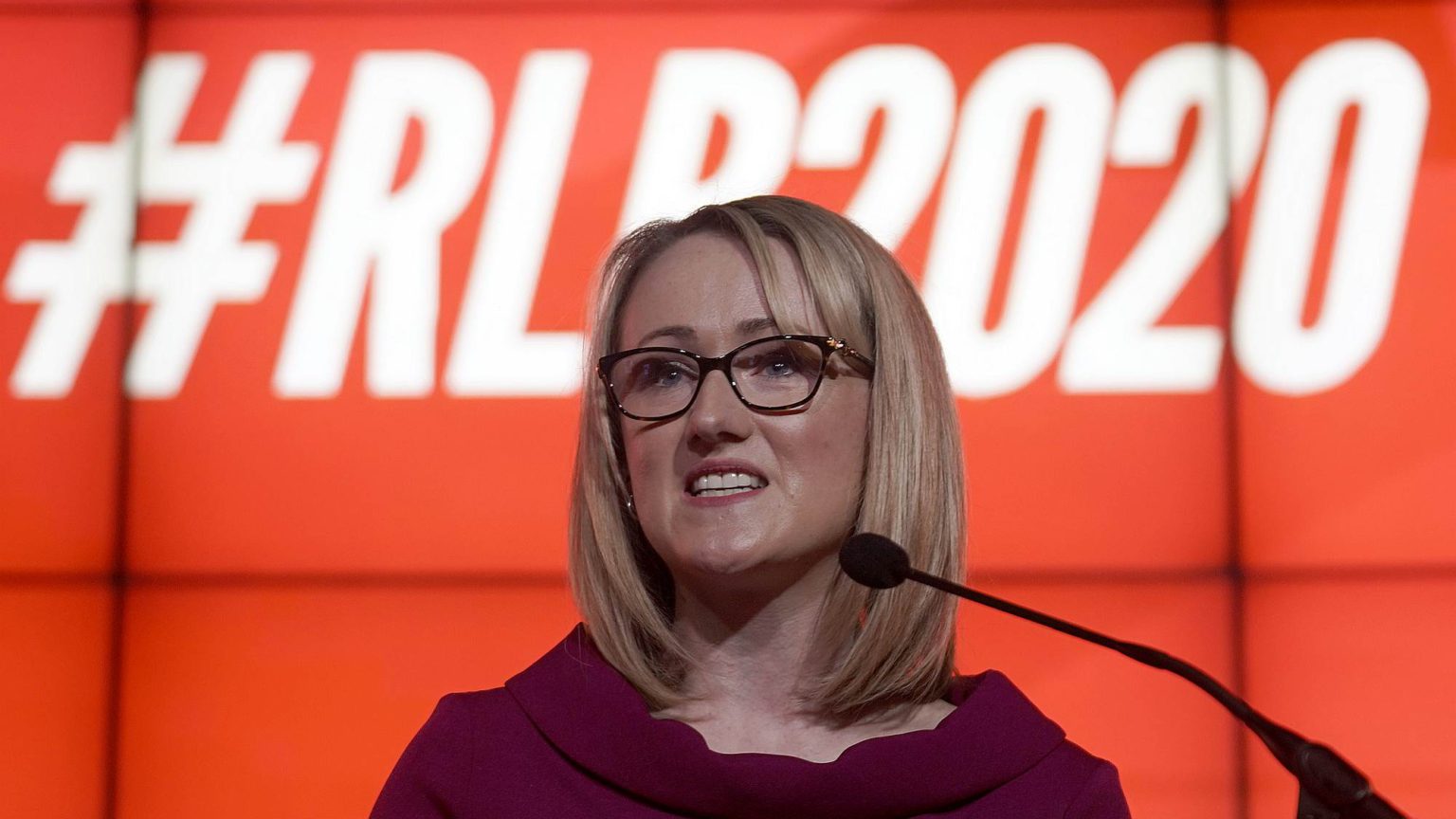 Party leadership elections can be exciting events. But not Labour's, which has been pretty dull so far. That was until quotes emerged from the Corbyn Continuity Candidate Rebecca Long-Bailey concerning abortion rights.
In a series of questions put to politicians in Salford during the 2019 General Election, Long-Bailey was asked by Catholic priests whether or not she would lower the gestational limit for abortion. She said that she 'would never contemplate abortion', but she has 'tried to understand the agonising decisions many feel forced to make'. She said she was worried women were using the internet to procure 'dangerous and unregulated products, without the advice and support they may desperately need', and were 'putting themselves in danger and making a life-altering decision without counselling or knowledge of the real emotional implications it will have'. When asked whether she thought women should be allowed to have abortions on the grounds of disability (an allusion, presumably, to improved tests available for Down's syndrome during pregnancy), Long-Bailey said they should not. She cited the words of the Disability Rights Commission to support her position: 'The context in which parents choose whether to have a child should be one in which disability and non-disability are valued equally.'
Long-Bailey is a Catholic. That much is clear. And while she should be free to hold her own personal position on something like abortion, the fact she said what she said in the context of Labour's 2019 election manifesto is worrying. For that manifesto promised to 'uphold women's reproductive rights and decriminalise abortions'. The reason I, like millions of other women, welcomed this promise is that it would take abortion out of the purview of criminal law, and allow it to be regulated like any other healthcare service. It would mean, finally, granting women freedom over their own bodies and life choices. And it would be a genuine statement of trust and faith in women's ability to make the 'life-altering' choices Long-Bailey talked about.
It is is this promise that was undermined by Long-Bailey, when she said Labour needed 'to have a discussion about what a comprehensive, safe, properly regulated approach would be', and that 'we have not stated that time limits will be reviewed, and definitely not that they should be increased'.
Politicians lie all the time. But Long-Bailey's admission that Labour's promise to decriminalise abortion had nothing to do with actually changing women's access to abortion is shocking. Long-Bailey made mention of the 1861 Offences Against The Persons Act, which criminalises abortion, and the 1967 Abortion Act, which allows abortion in certain circumstances, under certain restraints. But she doesn't seem to understand what role these laws play. Decriminalising abortion would mean repealing the 1861 act, rendering the 1967 act defunct.
The much-lauded 1967 act was only ever a compromise. It was designed to protect doctors from prosecution. But it also took the decision to have an abortion away from women, and placed it in the hands of two doctors, before whom women must prove that their abortion is necessary to protect their 'physical or mental health'. Decriminalising abortion, as Labour promised, would mean there was no need for the 1967 act, and no need for time limits which were a fictional necessity created as part of that act. After all, there is no medical, logical or moral reason why a woman at 23 weeks and six days should be allowed to have an abortion, and a woman at 24 weeks and one day should not.
The response to Long-Bailey's comments from some Labour supporters has been disappointing. Journalist Paul Mason displayed his well-known illiberal tendencies by going after Long-Bailey for being a Catholic. Others apologised on her behalf, and drew attention to the fact that Long-Bailey's quotes were published on the anti-Corbyn website The Red Roar. Some are even claiming the attempt to shaft Long-Bailey by outing her abortion views is a ruse by fans of leadership rival Jess Phillips.
For her part, Long-Bailey has angrily stated that she supports a woman's right to choose. But she continues to add the caveat that the disabled community are worried that abortion rights might lead to discrimination. This is a low blow from Long-Bailey. Suggesting that women who make the difficult decision to terminate their pregnancy in cases of disability are discriminatory and immoral has long been a ploy of anti-abortion campaigners.
The reason all this matters is that a politician's stance on abortion rights tells you a lot about the rest of their political views. Supporting a woman's right to choose isn't just about access to abortion services. It is also about how much we trust women to make choices for themselves. It is about whether one believes women should be free to exercise their moral autonomy. Clearly Long-Bailey does not think women should. Given she is one of the favourites to be the next Labour leader, this raises profound questions about just how serious the Labour Party is about supporting a woman's right to choose.
To enquire about republishing spiked's content, a right to reply or to request a correction, please contact the managing editor, Viv Regan.