The end of 'Trudeaumania'
Canadians have had enough of Justin Trudeau's empty gestures.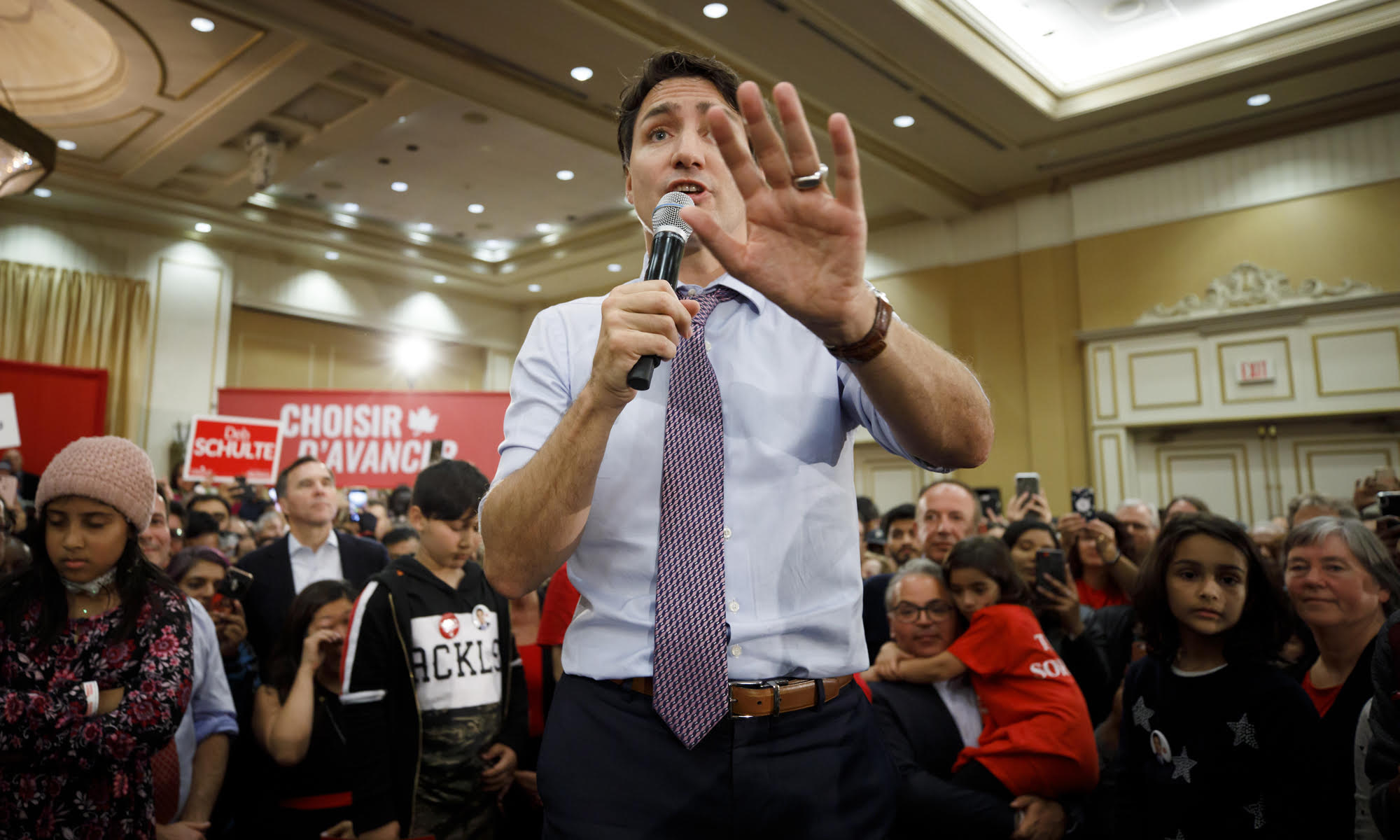 'Congratulations to Canada's first black prime minister', said more than one wag on Twitter after Justin Trudeau, the erstwhile darling of liberals everywhere, just managed to scrape his way back into power this week.
Trudeau first became internationally famous for photographs of him shirtless and later infamous for photographs of him wearing blackface. But his love of dressing up was not the only thing to undermine 'Trudeaumania' – a term coined when Justin's father Pierre Trudeau was prime minister in the 1960s and 1970s.
This week's election had no real winners. Trudeau's Liberal Party lost 27 seats in the House of Commons. His share of the popular vote also dropped – by 6.4 percentage points, from 39.5 per cent in the 2015 election to 33.1 per cent in this year's. The Conservatives won the largest share of the popular vote this year – 34.4 per cent – but came second in the seat count. The New Democratic Party, under Jagmeet Singh, who surged in the polls as the election approached, was down 3.8 percentage points from 2015. Bloc Québécois and the Greens, however, both gained around three percentage points.
Trudeau sought to consolidate liberal support by legalising marijuana and imposing a carbon tax. He gained from the relative buoyancy of the US economy, with which Canada's economy is closely intertwined. He promised 'sunnier days' when taking office. He was the master of gesture politics, famously appointing a gender-balanced cabinet 'because it's 2015'. And as Donald Trump promised to build a wall between the United States and Mexico, Trudeau tweeted: 'To those fleeing persecution, terror and war, Canadians will welcome you, regardless of your faith. Diversity is our strength #WelcometoCanada.' Thousands of Haitians and central Americans took him at his word, crossing the US-Canada border that year, largely into Quebec, fuelling the resuscitation of the near-dead separatist party, Bloc Québécois.
These gestures ensured the support of liberals abroad – Barack Obama, for instance, expressed his support for Trudeau in the run-up to the election – but not Canadians. The blackface scandal made the press throughout the world, but Canadian voters also had the SNC-Lavalin scandal on their minds. Jodie Wilson-Raybould – who Trudeau, as he appointed her, boasted was the first indigenous Canadian attorney general – resigned from the Liberal Party after she claimed Trudeau subjected her to 'inappropriate' lobbying aimed at preventing SNC-Lavalin, an engineering company and Liberal Party donor, from facing a criminal trial over alleged corruption. Wilson-Raybould, standing as an independent, handily won the Vancouver Granville seat, despite a huge effort by Liberals to retain it.
One of Trudeau's favoured gestures is the meaningless mea culpa. Rather than apologising to Wilson-Raybould – which would have had some meaning – he much prefers apologising for incidents with which he has little connection. Within six months of taking office, he said sorry for the 1864 hanging of five Tsilhqot'in chiefs; he said sorry to passengers of the Komagata Maru, a ship transporting people from the Indian subcontinent to Canada who were denied entry on racial grounds in 1914; and he convened a national inquiry into unsolved killings of indigenous women. After the inquiry, Trudeau entered the realms of conspiracy theory by accusing the Canadian government of 'genocide'. (As a police report noted in 2015, almost all killings of indigenous women are by an intimate or by someone known to the victim.)
Many of Trudeau's symbolic gestures have exacerbated the fault lines between First Nations communities and others. Public meetings in Canada now open with a statement of acknowledgment that the meeting is occurring on land formerly held by indigenous people. But this has done nothing to help these communities today. A pre-election poll found support for the Liberal Party among First Nations peoples had halved from 40 per cent in 2015 to 21 per cent. Such gestures did not endear him to the majority of Canadians, either.
The dog that didn't bark in this election was the much-feared 'populism'. The People's Party of Canada (PPC) clinched no seats and attracted less than two per cent of the popular vote. Party founder Maxime Bernier, who left the Conservatives last year, blamed 'nasty and shameless attacks' from opponents for the PPC's poor showing. There may be some truth to those claims. The Globe and Mail reported that a strategist, Warren Kinsella, had been hired by the Conservatives to 'seek and destroy' Bernier's upstart party and portray its supporters as racist.
But Bernier was most likely hoist with his own petard. Many of his policies were the same as the Conservatives'. The only real difference concerned immigration. Despite Canada being a nation of immigrants, with many being recent immigrants, Bernier tried to hype up fears of immigration. He even promised to build a Trump-style fence along parts of the Canada-US border to thwart irregular migration. But the idea of having a fence along the largest land border in the world is frankly ridiculous and Canadians know it.
Having failed to secure a parliamentary majority, Trudeau will now have to broker a deal with the left-wing NDP or the Bloc Québécois. The most likely ally for Trudeau is the NDP's Jagmeet Singh, who has made commitment to climate-change targets and funding healthcare key requirements for their cooperation. But such an alliance could provide the Conservatives with more support in the future.
Trudeau's 'sunnier days' have clouded over. Even though he has clung to power in this election, his days are surely numbered. Gestures can only get you so far.
Kevin Yuill teaches American studies at the University of Sunderland. His book, Assisted Suicide: The Liberal, Humanist Case Against Legalisation, is published by Palgrave Macmillan. (Buy this book from Amazon (UK).)
Picture by: Getty.
No paywall. No subscriptions.
spiked is free for all.
Donate today to keep us fighting.
Donate online
To enquire about republishing spiked's content, a right to reply or to request a correction, please contact the managing editor, Viv Regan.