Trudeau, not Trump, is the real demagogue
Media swooning over the Canadian PM has become a cult of personality.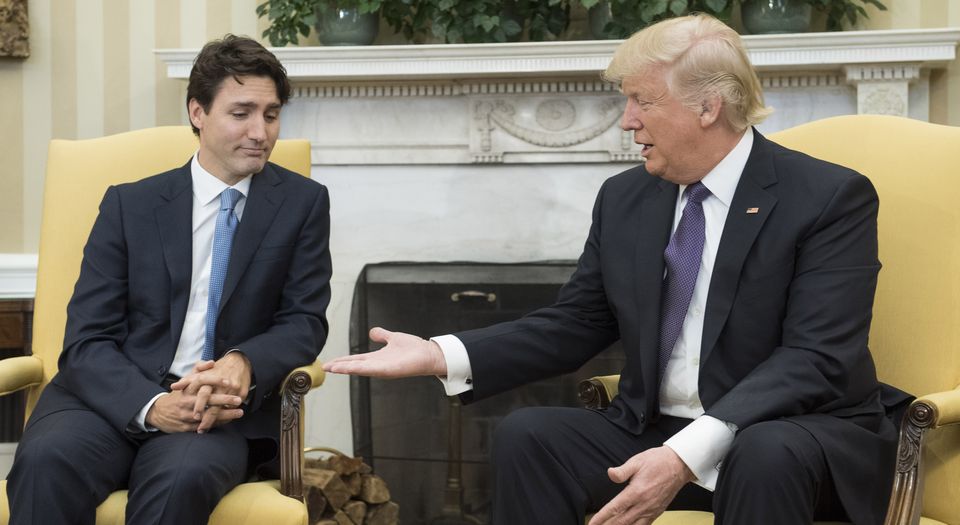 Canadian PM Justin Trudeau is sometimes referred to as the Anti-Trump. Which is strange because he's as much a demagogue as Trump is. More so, in fact.
The same journalists who scoff at the proles for falling for fake news are more than happy to lap up Trudeau's tweets and videos without question. And yet these viral moments are almost entirely disingenuous. They, too, are fake news, used to prop up the reputation of the shallowest of liberals. Observers discourage engagement with Trudeau's policies or actions – what does he actually believe? – and instead condescendingly invite us to enjoy photos of and banal statements from this glorious leader.
Members of the international press are far enough removed from Trudeau never to be affected by his policies. Canadians aren't so lucky. And more and more Canadian liberals have taken to the pages of the Guardian, Slate and the Huffington Post to air their bemusement at the international adoration of Trudeau. His approval ratings in Canada have been declining since he took office, especially after he delivered a widely unpopular budget that made his Liberal party fall below the Conservative party in the polls. Shirtless pics don't do much to help Canadians struggling to make ends meet.
​Why does a prime minster spend so much time creating hoax publicity stunts? A recent example was the picture of Trudeau 'photobombing' some students on their way to the prom. The PM can be seen jogging and smiling in the background. It's meant to look spontaneous, typical Justin hanging out in public, in shorts. But actually the photo wasn't taken by a member of the public, but by Adam Scotti, Trudeau's official photographer. It was first published on Scotti's Instagram. Trudeau did not 'hilariously' crash someone else's photo – he posed for a pretty painstakingly arranged photo taken by someone who is paid by the government to take such photos. And yet journos shared it widely and swooned, as usual.
​Even his most famous displays of supposed principle are a facade. After Trump announced his travel ban on people from certain Muslim-majority countries, Trudeau tweeted: 'To those fleeing persecution, terror & war, Canadians will welcome you, regardless of your faith. Diversity is our strength.' In truth, Canada's current policy dictates that any refugees arriving in Canada from the US after being refused refugee status will be automatically sent back to where they came from, without their claims even being heard. The myth of an open Canada, ruled over by the caring Trudeau, was cemented by a photo of a Mountie helping a refugee child over the US-Canada border. Photos of the child's family being immediately arrested did not receive the same coverage, of course. Nothing can be allowed to muddy the image of the demagogue Trudeau.
The press lazily uses Trudeau quotes to highlight how 'evil' other, more conservative politicians are. Journalists contrasted his heartwarming tweet on the travel ban with Theresa May's delayed condemnation of it. And yet to this day, Trudeau has never publicly condemned the ban. 'The last thing Canadians expect is for me to come down and lecture another country on how they choose to govern', he whimpered.
​People fantasise that Trudeau stands up to Trump. A widely shared photo showed him looking at Trump's hand questioningly before shaking it. It was the 'biggest display of dominance in the history of Canada', said one tweeter. Never mind what happened the rest of that day, which was taken up with discussions about Keystone XL, a pipeline which will carry oil from Canada to America. Liberals who normally are quite concerned about environmental matters overlooked that in favour of whooping over the allegedly delayed handshake.
​The same commentators who complain about tabloids and their readers taking photos out of context have no qualms about sharing pics of Trudeau apparently being swooned over by Angela Merkel, Ivanka Trump or the Duchess of Cambridge. This is tabloid dross in supposedly respectable newspapers. The interpretation of these photos actively encourage the treatment of a politician as a sex object and female public figures as incapable of controlling their emotions.
​Trudeau's international celebrity is without substance. His clickbait is perpetuated by the very journalists who sneer at those sections of the public who fall for Trump's bluster or phoney stories. They claim we are victims of populism and demagoguery, but cannot see the exact same failing in themselves. It's time they woke up from the political dreaming about Trudeau.
Christian Butler is a spiked columnist. Follow him on Twitter: @CPAButler
Picture by: Getty
To enquire about republishing spiked's content, a right to reply or to request a correction, please contact the managing editor, Viv Regan.