Fake news? I quite like it
The press is dull and out of touch – no wonder pretend news is thriving.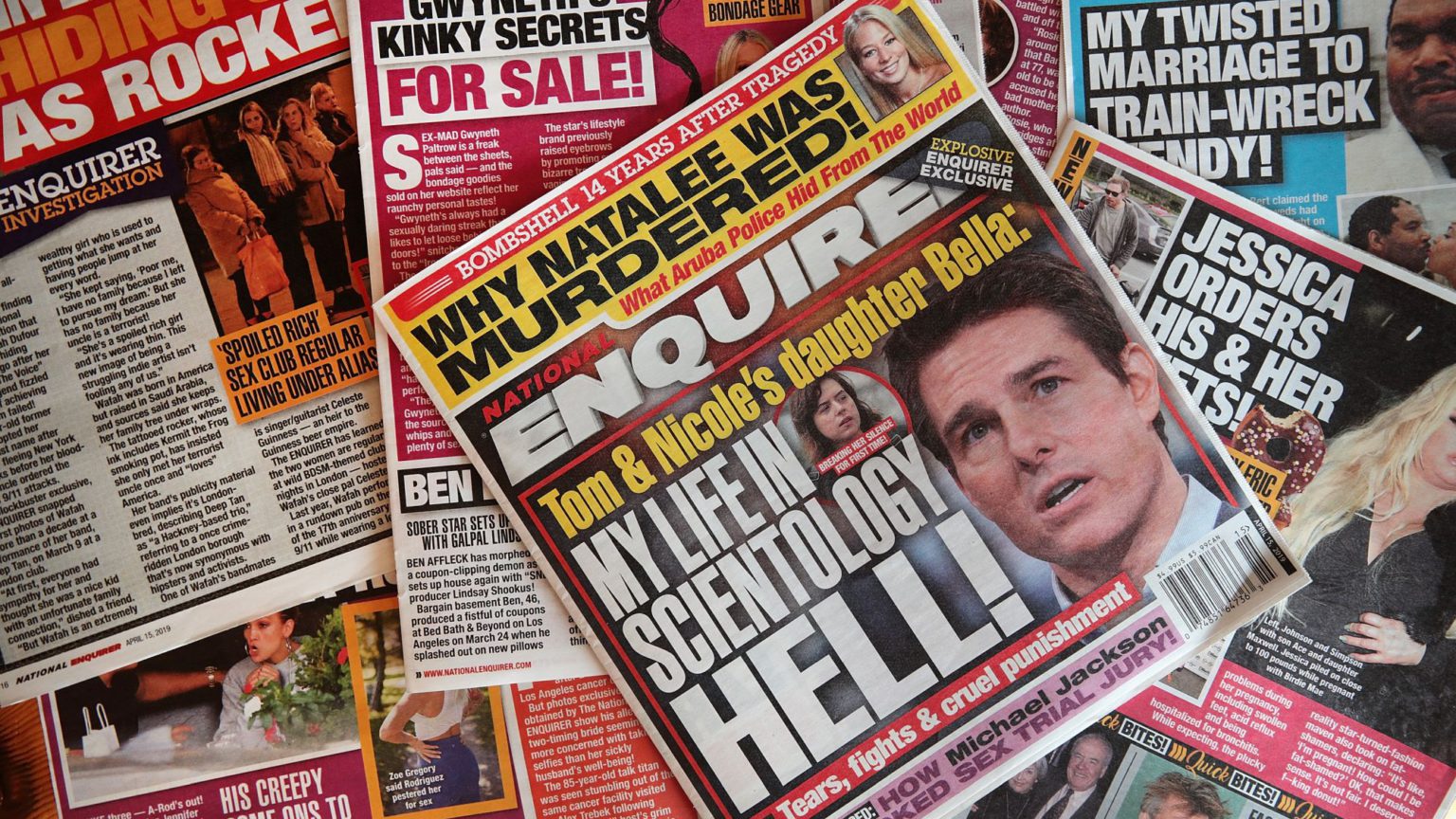 The free press is under threat. Almost no one cares. At the time of writing, British newspapers are not printing the truth about the most newsworthy extramarital affair since a certain celebrity's spouse was caught cheating in a paddling pool full of olive oil. And so 'the misdeeds of the rich, the powerful and the pompous' go unexposed – as only Paul Dacre had the balls to warn at the Leveson Inquiry – because the right to privacy reigns supreme over the public's right to know.
Nowadays, the printing of the juiciest scoops relies on some obliging soul exercising his parliamentary privilege. Last year, it took Peter Hain standing up in the House of Lords to reveal Sir Philip Green's quite exceptional back catalogue of unprintable abuses. Our punitive libel laws otherwise prevented it. But would the former honourable member for Neath have been so keen if it was the MPs' expenses scandal that the Daily Telegraph wanted to air, and which would now fall foul of the Bribery Act – the good baron having slapped a tin roof for his wood shed on the taxpayer's tab?
Currently what is suppressed is common or Kensington Gardens shagging. According to human-rights law, infidelity is a private matter. But should it be when we're paying for their weddings? Sophisticates will say we shouldn't mind, but in a free society I want to read all about it if only for the principle of the thing. It used to be that the citizens of foreign dictatorships escaped to the West to learn basic realities in their own societies. Today, my Polish best mate has to fill me in on what's freely printed in Gdansk.
Such constraints on the news-news ought to cause a bit of a panic as to what – if this trend is not reversed – this might mean for freedom of expression and the future of democracy. But your average Hampstead dinner party is only likely to suffer an attack of the vapours when it comes to so-called 'fake news' which is fingered for hoodwinking the masses into voting the wrong way in the elections of 2016.
But was fake news to blame for Brexit and Trump, or were Trump and Brexit to blame for fake news? The popular argument goes that fake news completely distorts what people think. But did it? Or did people's 'distorted' thinking cause them to click on and like ads and stories that reflected their own political wants and needs – even if it did turn out to be duplicitously produced by a bunch of enterprising Macedonian teenagers – because they couldn't find it in a newspaper?
Looking back, there are other 'likes' which – completely objectively – might have signalled what a shock was in store at the ballot box. One could, for instance, have predicted a Trump victory by looking at what vehicles Americans chose to drive. In the aftermath of Trump's win, some wag on Twitter asked how many journalists – who confidently foretold a Clinton victory – knew anyone who owned a pick-up truck. The argument was that if the liberal elite had bothered to speak to anyone who did, they might well have discovered that Clinton wasn't half as popular as they believed:
'Donald Trump won every single state in which the Ford F-150 is the most popular vehicle (even Pennsylvania). He won all but four of the states in which the Chevy Silverado is the most popular vehicle, including Iowa, Michigan, Ohio, and Wisconsin.'
And yet no one is demonising Ford for being something Trump voters 'liked' en masse. Facebook isn't in the business of judging and censoring. It is a tool of mass surveillance which has monetised by selling stuff according to the preferences with which you feed it. So perhaps we're looking at fake news the wrong way: contemplated backwards, it starts to look more reliable than the news-news in foretelling what the news ultimately turned out to be.
After Trump moved into the White House – apparently all thanks to fake news – it seemed churlish of him to start attacking fake news, too. But in typical schizoid fashion, the 45th President of the United States had hit on something. With his repeated cry of 'you are fake news' to a CNN reporter at an early press briefing, he demonstrated that the charge may be barked – most usefully – at anyone whose news contradicts your worldview.
Take Labour's Andrew Adonis, who has spent the past three years haranguing the BBC for 'pro-Brexit' bias because its reporting did not suggest that Brexit was something that might be thwarted. 'We 'Remainers' are apparently bush fighters unaware that "the war is over"', Adonis has thundered. 'But the war isn't over and declaring it so is fake news from the #BrexitBroadcastingCorporation.' (Ironically, now he's standing for election – and has to bother to appeal to working-class voters – the peer has done an about turn on the issue and might now have to castigate himself for the same sin.)
In certain senses, fake news is just better than real news. It is said to be pernicious because it spreads so inexorably. A study by Massachusetts Institute of Technology Media Lab followed 126,000 stories on Twitter and reported that 'truthful tweets took six times as long as fake ones' to circulate. Of course fake news spreads faster – it provides the sort of delicious dopamine hit you get from the speech bubbles on the cover of Private Eye or headlines such as 'Stevie Wonder can see again!' splashed across the front of the National Enquirer.
(Take Royal Wedding day, when a story went viral claiming Prince Harry had met his bride at the altar with the words 'I'm shitting it'. A qualified lip-reader later proved that he'd actually said 'you look amazing' before biting his lip and adding, 'I'm so lucky.' Which is just dull by comparison.)
Facebook, meanwhile, has been put under so much pressure to combat fake news it issued a 10-point guide on how to spot it. Unfortunately, much of its guidance could be applied to any kind of news. Rule number one – be 'sceptical of headlines' – would do for retro tabloid delights such as 'Freddie Starr ate my hamster' and the Sunday Sport classic 'Gordon Ramsay sex dwarf eaten by badger.'
Point five is 'consider the photos' – which would utterly debunk 2015's most notorious scoop about David Cameron once having put his penis into a pig's head while trying to gain entry to the Piers Gaveston society at university.
Even the Observer's prize-winning fake-news exposé would fall foul of Facebook's rigorous tests. Take Carole Cadwalladr's reliance on Christopher Wylie, the young 'data nerd' slash Liberal Democrat reject whom she describes as 'the gay Canadian vegan' who somehow ended up creating 'Steve Bannon's psychological warfare mindfuck tool'. 'Trump is like a pair of Uggs, or Crocs, basically', Wylie has explained. 'So how do you get from people thinking "Ugh. Totally ugly" to the moment when everyone is wearing them?' Interrogating such colourful statements line by line, you can't help but apply Facebook fake-newsspotting tips 3, 7 and 9: 'investigate the source,' 'check the evidence,' and 'is the story a joke?'.
It's so convenient to blame Trump and Brexit on roughly half the electorate having been too stupid to know what was real and what was fake. If only everyone had voted according to that pro-Remain leaflet the government shoved through every letter box, accessed those proper facts, made the right choice… But surely it is better to be sceptical and question absolutely everything we read than to have centrally agreed 'truth' doled out to us Pravda-style. Not everyone thinks the same and a press that is in touch with popular opinion (however unpalatable) is vital.
Fake news may reduce our trust in news-news. But so does press regulation. How is it possible to blame anyone for having faith in what facts they discover for themselves on the internet when after 300 or so proud years of press freedom British newspapers can no longer afford to publish and be damned?
Emily Hill is author of the short story collection Bad Romance, published by Unbound.
Picture by: Getty.
To enquire about republishing spiked's content, a right to reply or to request a correction, please contact the managing editor, Viv Regan.