The Woke Inquisition is wrong about Angela Smith
She's obviously not a racist, but that didn't stop Corbynistas from branding her as such.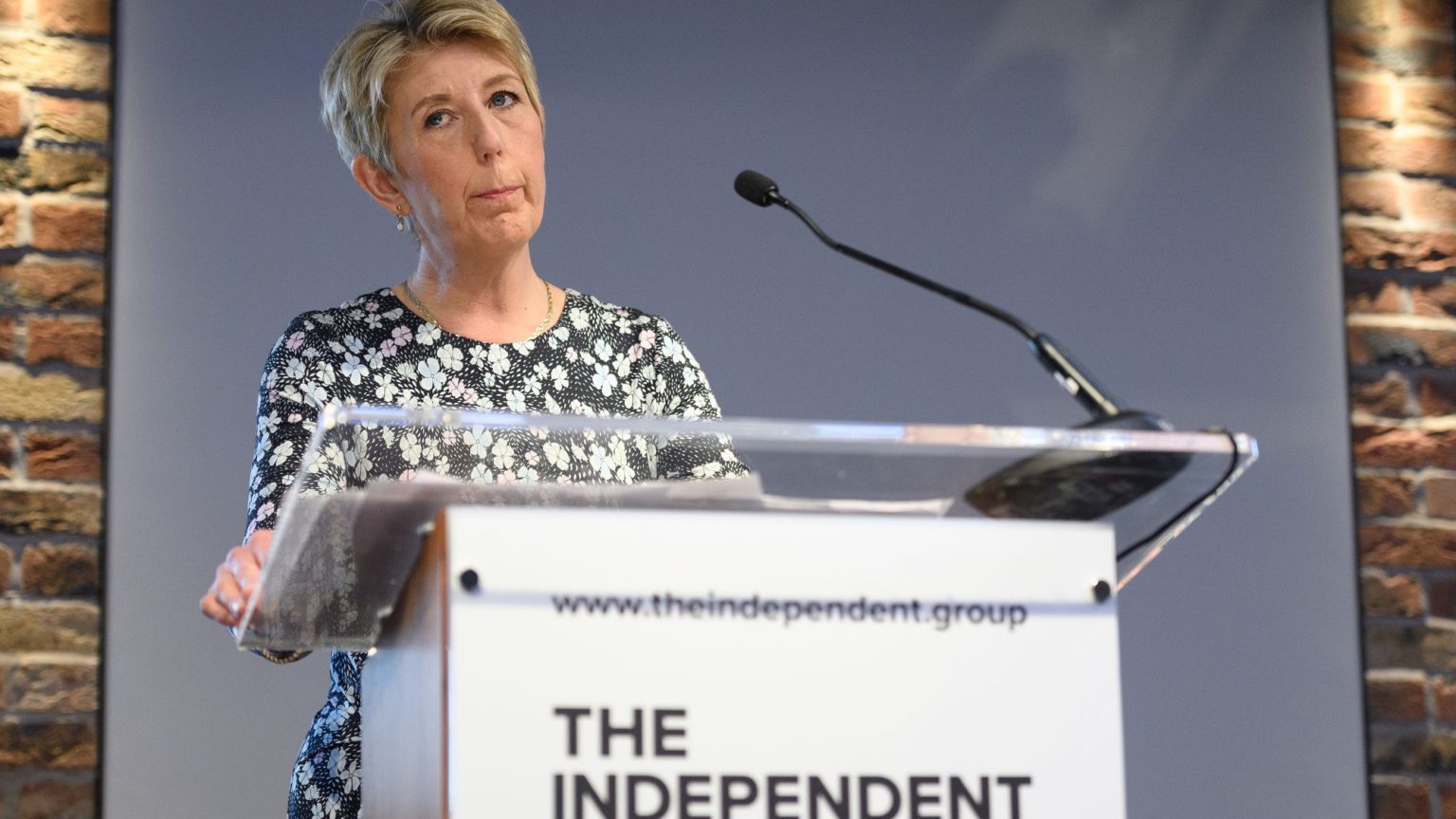 It will have been pretty clear from our exchanges on Politics Live on BBC Two yesterday that I disagree with the Labour MP turned independent MP Angela Smith on many things. But the idea that she's a racist, as the Woke Inquisition is now claiming, is bizarre. Even worse, this accusation of racism is so transparently being made to try to bury the discussion about a genuine and widespread form of racism today – left-wing anti-Semitism.
During the show we talked about racism and identity politics. Robin DiAngelo came on to plug her book White Fragility. Here's where an irony creeps in: DiAngelo, like many identitarians, promoted a highly racialised approach to public life. She pushed the idea that people should be judged according to their race, particularly white people, whom she talked about in the kind of racially sweeping terms that were once cruelly applied to non-white people. The left-wing journalist Ash Sarkar agreed with her. I criticised their racial determinism and suggested it turns back the clock to view people as racial beings rather than as individuals. But there hasn't been a peep about their promotion of the racial imagination. No, the invective has been reserved for the person on the panel, Smith, who simply got her words garbled.
During the discussion on race, Smith wanted to make the point that racism isn't all colour-based. Many people hate Jews, too, she said, and they are usually white. As she was saying this, she said that it is of course wrong to hate people on the basis that they are black or some 'funny tinge'. 'Funny what?', asked Ms Sarkar. Cue meltdown online, where bitter Corbynistas peeved about Smith's departure from the Labour Party with six other MPs denounced her as a racist. The media got involved too. Then Smith apologised in a weird, hostage-like video posted online.
The whole thing is perverse. Anyone who has even a sliver of honesty would have recognised that Smith was merely acting out how racists think as part of her denunciation of racism. She was effectively saying, 'To racist people, black people or anyone with a funny tinge is seen as a hate figure'. She was saying that racists see certain non-whites as being of a funny tinge. I was sat next to her. I could tell this is what she was doing. But she fluffed it, realised it wasn't coming out right, backtracked, and looked a bit daft. She's guilty of a lack of clarity not racial hatred.
That didn't stop the Woke Inquisition from kicking into action. Nothing ever does. And so we had the depressingly predictable spectacle of the two sides in the Labour Party hollering 'RACIST' at each other. This is tragically what left-wing politics has come to. The Labour splitters view Corbynistas as institutionally racist against Jews, while Corbynistas excitedly seized upon Smith's botched sentences to argue that actually it is her new Independent Group that is truly racist. It's all so infantile and ridiculous. And all the while some of these very same people rehabilitate racialised thinking via their promotion of the politics of identity. 'YOU'RE RACIST', they yell as they reinvigorate the old politics of race in new ways.
Perhaps the worst thing about this is the cynicism of the Smith-bashing on the Corbyn side of Labour. Many of these people will do anything to bury the story about left-wing anti-Semitism. They'll say, 'But what about Islamophobia?'. They'll say, 'It's okay to hate Israel, though! Don't censor me!' They'll say the anti-Semitism crisis has been overblown or cooked up by Blairites. Distract, distract, distract – that is their policy when confronted by strong proof of a serious streak of Jew-hatred in the new left. They might not themselves be anti-Semites but they are doing anti-Semites a great favour. Their policy of distraction and downplaying is a green light, maybe a red rag, to those who hate Jews. In making a public spectacle of Smith for mis-speaking in order to denude the Independent Group of its presumed moral authority on the issue of anti-Semitism, these Corbynites once again inflame anti-Semitism through distraction.
Brendan O'Neill is editor of spiked and host of the spiked podcast, The Brendan O'Neill Show. Subscribe to the podcast here. And find Brendan on Instagram: @burntoakboy
To enquire about republishing spiked's content, a right to reply or to request a correction, please contact the managing editor, Viv Regan.