Divided, divorced from voters, and devoid of ideas
What the Tories and Labour have in common.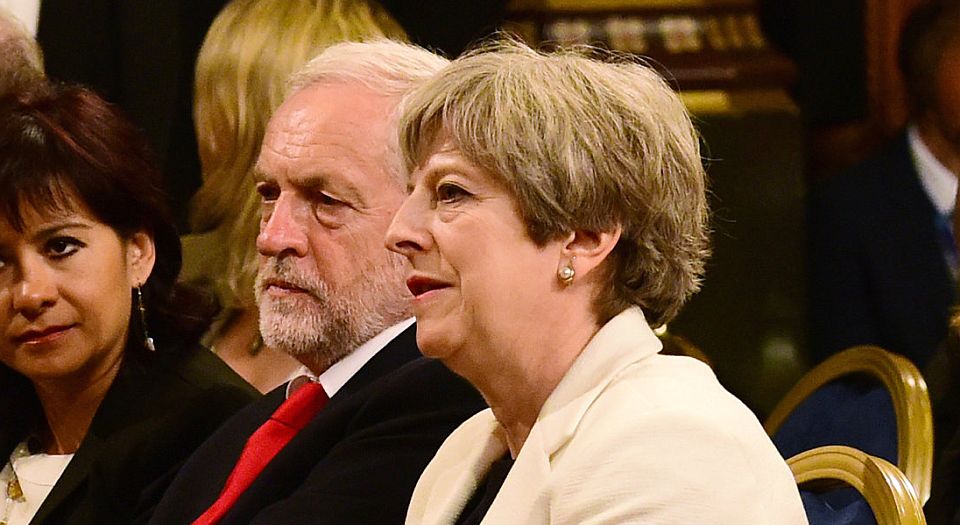 A week, as Labour prime minister Harold Wilson once said, is a long time in politics. This week the news is all about the governing Conservative Party being bitterly divided, lost and clueless, a dead Tory walking at its annual conference. By contrast, we are assured, last week's Labour conference showed a government-in-waiting, focused on a radical agenda for change with a powerful message that is connecting with voters.
How soon we forget. No doubt most of what is being said about the dire state of Theresa May's Tories is true — and some of it even underestimates their problems. But a look at Labour should remind us that Jeremy Corbyn's party is afflicted by many of the same problems — and in some ways is even worse off.
In short, the 2018 conference season looks like an advert, not for the virtues of Labour over the stricken Tories, but for a political realignment that could leave both zombie parties behind — and breathe some life into democracy through the battle for Brexit.
Here are a few things they have in common.
What's in a name? Not much.
Both of Britain's established political parties now exist in name alone. The Conservatives are led by managerial technocrats rather than traditional Tories. Labour has become a clique of the metropolitan middle classes whose idea of 'labour' is posting two tweets an hour.
And both outfits are split so deeply and widely it is a wonder they have the cheek to use the brand 'party' at all. Reports of 'toxic family'-type Tory divisions over Brexit dominate the news this week. But Labour, too, is deeply conflicted over the biggest issue in British politics, even if nonentity 'rebel' MPs such as Chuka Umunna cannot capture headlines like Boris Johnson.
Today's intra-party divisions are not simply along the old left-right lines. They are more about Brexit and democracy, bound up with personal manoeuvring. Thus the 'Bollocks to Brexit' Labour lobby for a second referendum unites Blairites with the Corbynista Momentum lobby — and both with Remainer Tory lords and elitists.
Another thing that Tories and Labour have in common is that the dissident MPs on both sides so far lack the guts to challenge the leadership or split. So the zombie parties stumble on.
Divorced from voters
There has been much media comment this week about how May's Conservative Party has 'stopped caring about voters' (The Times) and is even 'laying waste to its own voters' (the Guardian).
The conference has certainly confirmed the yawning gap between the Tories and 'ordinary people' — and not only the young voters with whom the party appears obsessed. May's betrayal of Brexit shows the contempt in which she holds millions of Tory Leave voters. Even when leading Tories try to connect with that constituency, by grandstanding against immigration, they only demonstrate how deeply they share the Remainers' misplaced prejudice about Brexit supporters being ignorant xenophobes.
Yet the Labour conference also revealed an elitist party living in a bubble, isolated from the mass of voters outside the hall. As nervous union leader and Corbyn ally Len McCluskey pointed out to the second-referendum fanatics, Labour MPs and activists might oppose Brexit, but millions of Labour voters back it. In this sense Labour looks even more divorced from its traditional base of support than the Tories.
Even when Labour tries to reach out to the working class, it only shows how far it has lost touch. Thus a Corbynite MP won a standing ovation at a Momentum rally by fantasising about a 'General Strike' to bring down the Conservative government — at a time when ordinary strikes in the UK are at their lowest level since records began, and the only barricades in British streets are the traffic-banning ones erected by motorist-hating, cycling-obsessed Labour city councils.
Nothing new to say for themselves
The paucity of Tory thinking has been amply demonstrated this week, with some leading Conservatives rehashing tired ideas about tax cuts solving everything – while proposing tax increases to fund the NHS – and others declaring that they need 'to offer change' without any serious notion of what that might mean.
The technocratic Tory leadership's boast that its attitude to Brexit is not principled, but 'practical and pragmatic', captured the impression of its conference as a politics-free zone. The one 'radical' idea that seemed to enthuse the government was, as May told the BBC, 'leading the war against plastics' — as if banning symbols of progress such as plastic straws and synthetic nappies could somehow transform society for the better.
By contrast, Corbyn's Labour has been praised for the clear and radical agenda for change presented at its conference. Yet Labour's rehashing of state-socialist ideas about nationalisation as an economic solution seemed as tired as the Tories' tax-cutting fetish. Far from being symbols of socialism, for example, state-run railways are the norm across much of Europe, regardless of who's in government. Commentators with longer memories pointed out that Corbyn's proposals were not quite as radical as those endorsed by the moderate Labour governments of the 1970s. And Labour's plans for more state-backed regulation of press freedom and free speech are arguably more reactionary than anything put forward by the Conservatives.
The one truly radical issue in UK politics today is Brexit. The revolt by 17.4million Leave voters against the entire political establishment was easily the most far-reaching demand for change in our political lifetime. Yet that is the cause abandoned in practice by both the Remainer leaders of the Tory Party and the Remainer members of Labour. When it comes to the radical idea of breaking with the anti-democratic EU, they are all small-c conservatives now.
The problems that the zombie parties have in common should raise questions about another lazy assumption surrounding this conference season — the notion that Corbyn's Labour would definitely win any General Election now. The unravelling of the old political parties and loyalties should have taught us that nothing is certain in politics any more. Nothing, perhaps, apart from the crying need for something new to sweep away all the rubbish strewn about in the conference halls of Liverpool and Birmingham over the past two weeks.
Mick Hume is spiked's editor-at-large. His latest book, Revolting! How the Establishment is Undermining Democracy – and what they're afraid of, published by William Collins, is out now.
Picture by: Getty Images.
To enquire about republishing spiked's content, a right to reply or to request a correction, please contact the managing editor, Viv Regan.