Trump's new world dis-order
US foreign policy is now conducted on the president's whim.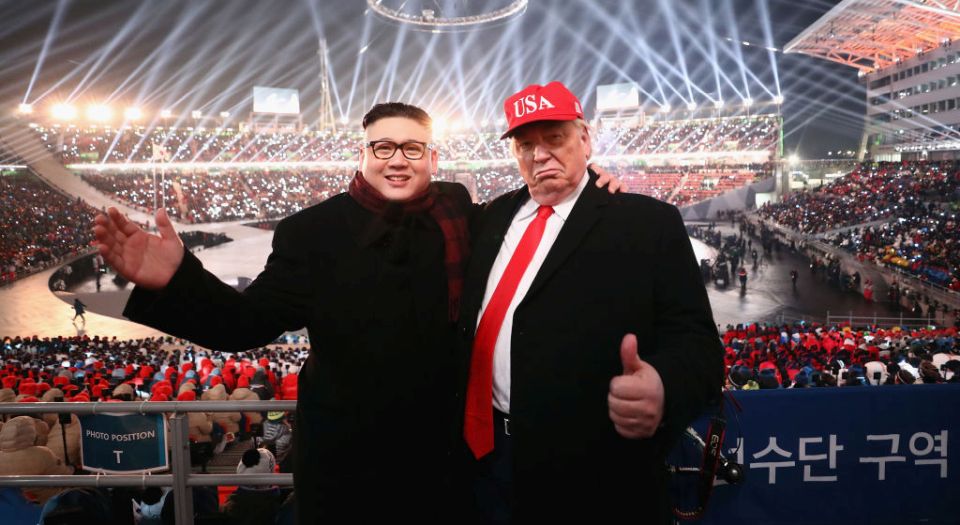 Donald Trump's sudden, very public rapprochement with North Korea and its leader, Kim Jong-un, or 'Little Rocket Man' to use Trump's favourite sobriquet, is certainly preferable to the nuclear warmongering of the past year. Even the proposed summit's rather pencilled-in nature – it might happen at the end of May at a location yet to be agreed – can be overlooked for the time being, given that even Trump-style diplomacy is more stabilising than threats of mutually assured destruction.
Yet at the same time, it is difficult to escape the sense that this prospective summit does not mark an end to the caprice, chaos and diplomatic cluelessness currently holding sway at the White House. On the contrary, it is a product of that very same political dynamic – that caprice, chaos and diplomatic cluelessness – that led to Trump threatening to unleash 'fire and fury' on Pyongyang just a few months ago. Both approaches seem somehow underdetermined, directed not so much by strategic or national interest than by The Donald's fancy.
Not that the summit is actually Trump's idea – although no doubt he will say it is. More importantly, it is not the US driving this new phase of engagement with North Korea. And it is not the product of months of diplomatic legwork on the part of American negotiators. In fact, Joseph Yun, America's main diplomatic point of contact for North Korea, the man who kept a line of communication open with Pyongyang throughout Trump's trolling of Kim, retired two weeks ago, with a source close to Yun saying he was tired of the Trump administration's 'lack of coherence' on North Korea. No, America's and Trump's role here appears to have been limited to Twitter, plus a belated appearance at the South Korea-hosted Winter Olympics by Trump's daughter Ivanka.
The push, the driving force behind this prospective summit, the guiding rationale, has come from South Korea and its new president Moon Jae-in, who has made improved and closer relations with the north an understandable priority. It was Moon who pushed for North Korea's involvement in a unified Korean team at the Winter Olympics; it was Moon who conducted negotiations with North Korea and Kim during and after the Olympics in the demilitarised zone; and it was Moon who came up with the plan for a US-North Korea summit in May, a few weeks after Kim and Moon's own proposed summit.
That's why everyone in the US was taken aback by Trump's announcement of a summit last week – because it did not originate as a plan or strategy in the US or the White House. In fact, as one report has it, South Korean envoy Chung Eui-yong took Kim and Moon's proposal to Trump at the end of last week, served it up with lashings of flattery and praise – 'diplomats have discovered this is a key to approaching Trump' – and Trump accepted it 'on the spot'. Remarkably, this is how US foreign policy, it seems, is now being conducted – without consultation, forethought or even clear objectives in mind.
This is why, following the announcement, delivered, tellingly, not by a Trump spokesman but a South Korean official on the White House driveway, members of the Trump administration have been scrambling around to provide it with some after-the-fact detail. So on Friday, White House press secretary Sarah Sanders said the meeting with Kim would take place only if some, as yet undefined, or no doubt yet-to-be-defined, conditions were met by North Korea on denuclearisation. Which is difficult given North Korea and Kim's survival has long seemingly depended on their potential to pose a nuclear threat. 'Let's be very clear', Sanders said, clearly very aware that it was not very clear, 'the United States has made zero concessions but North Korea has made some promises. This meeting won't take place without concrete actions that match the promises that have been made by North Korea.' What those promises are is not very, well, clear.
What has become clear is that US foreign policy seems to be being conducted on a whim, its direction set by the mood of the president. So on the same day that Trump is celebrating the North Korean summit announcement, and congratulating 'Chinese president Xi Xinping' (or President Xi Jinping as he is otherwise known) for being 'helpful', the US imposed its much publicised steel tariffs against China. So, while posing as a peace-loving dealmaker alongside China in one tweet, he is happily and simultaneously ramping up a trade war with the same ally-cum-opponent in another tweet/policy.
Indeed, even in the case of North Korea itself, the switches in position, the sheer, nonsensical multi-facedness of the approach, are startling. Not only had Trump spent the best part of a year ratcheting up the tensions with North Korea, promising to 'totally destroy North Korea', mocking the 'short and fat' Kim, and boasting about the size of his nuclear button, but his own team was also still continuing the anti-North Korea stance a mere day before Trump sent out a South Korean official to announce the America's newfound regard for Kim. So we had secretary of state Rex Tillerson telling reporters that the US was a 'long way from negotiations', while vice president Mike Pence was busy declaring that Washington's position on North Korea remained unchanged. And, within hours, everything had changed. Or rather, Trump's mind had changed.
And that's the problem: the most powerful nation on the planet and its relations with other nations and blocs appear to be governed by the caprice of a very vain man. US diplomacy under Trump seems to derive its direction from the way in which a foreign policy position affects his self-image. In the run-up to the election in 2016, and afterwards, Trump has lambasted his predecessors for talking to, and therefore failing to rein in, North Korea, because he enjoyed the pose of the strong man facing down a key point on the axis of evil. But told by a charming South Korean envoy that a meeting with the leader of North Korea is an unprecedented chance to make history, Trump performs a volte face. He doesn't seem to know what the aim of the summit is, or grasp that, historically, summits, like deals or treaties, are meant to be a culmination of diplomatic negotiations, not starting points.
This whimsical, unpredictable, ungoverned mode of governing means that even when seeming to stabilise world affairs, as diplomatic engagement with North Korea surely should, Trump is simultaneously proving a destabilising force. Because everything he does, thoughtlessly and on impulse, necessarily creates a profound sense of uncertainty, of irrationality right at the heart of geopolitics. Trump may be conciliatory today, but what is to say he won't be ramping up sanctions and campily storming out of a summit tomorrow?
Yet, in many ways, what is more troubling than Trump, and his ungoverned way of governing, is the state of the state that has allowed him to flourish. There seems to be a lack of diplomatic nous, of guiding interest or strategy, or of even just good counsel. Not only has Yun resigned, but also the position of US ambassador to South Korea has remained vacant for over a year. But it goes deeper than that. There also seems to be a vacuum at the heart of the US political machine, a retreat by a political establishment no longer confident in its ability to rule. And this vacuum has been filled by Trump and his small coterie of family and friends with chaos and passing fancy. Trump's chaotic role in global affairs is a testament not to his strength, let alone anything like his international acumen, but to the American political establishment's weakness. Its international disarray is an expression of its internal disarray.
Tim Black is a writer at spiked.
Picture by: Getty Images.
To enquire about republishing spiked's content, a right to reply or to request a correction, please contact the managing editor, Viv Regan.