Fire and Fury: a Trumpist soap opera
Michael Wolff's book gives us a lot of gossip but little insight.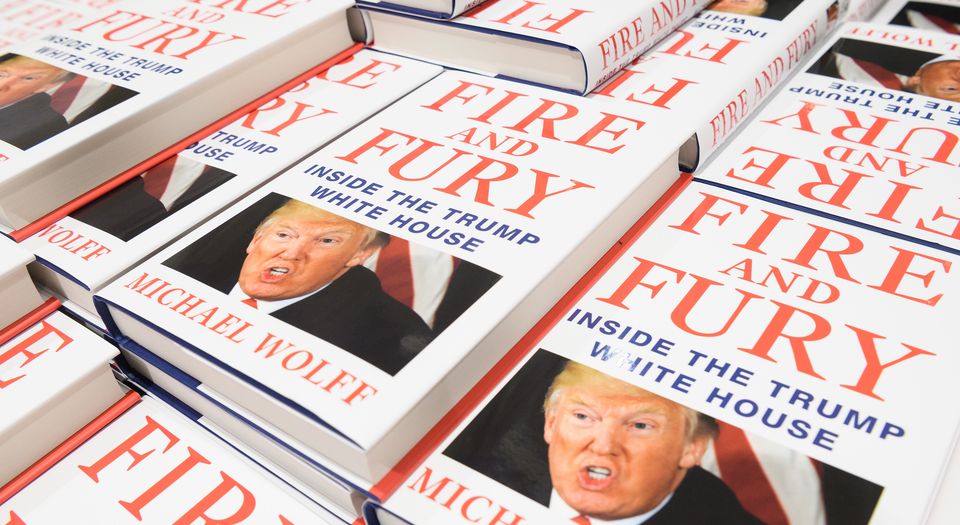 'Public life… lacks coherence and drama. (History, by contrast, attains coherence and drama only in hindsight.)' So writes Michael Wolff in his incendiary expose on the Trump administration, Fire and Fury. That pap reflection unintentionally reminds us that this 300-page piece of palace-intrigue journalism, hastily written just months after he spent 200 or so days hanging around the White House, is too seeping with soap-operatic drama for it to feel remotely credible. As you leaf through this 'insiders' take' on the chaotic Trump White House, and the definitely unhinged and potentially infirm man at the centre of it, one's inbuilt bullshit detector doesn't stop buzzing.
From the off, Wolff is taking some Trumpish liberties with the truth. The story begins with a dinner attended by Breitbart populist turned Trump strategist Steve Bannon and the disgraced Fox News founder Roger Ailes in a 'Greenwich Village townhouse', in the midst of the Trump transition. What Wolff fails to mention is that it was his townhouse, and he cooked the dinner. His previous work stands accused of botching quotes, elaborating on scenes from second- or third-hand sources, and filling in the blanks. And throughout this book his style is strangely omniscient, floating in and out of rooms and conversations he may or may not have been in, often unclear what details he gleaned from whom.
There are some glaring factual inaccuracies. Trump, Ailes tells Wolff, didn't know who John Boehner, the former Republican speaker of the House, was when his name came up – in fact, the two have golfed together. Then there's the claim that, on Brexit day, Trump had no idea what Brexit was – actually he'd been tweeting about it for months. But beyond the howlers, much of Fire and Fury is simply impossible to verify. And the primary sources for it – terrified or frustrated aides in open warfare with one another – mean that Trump, the man at the centre, becomes a caricature, an accumulation of other people's blunt takes. At one point he's described playing with his bottom lip and staring into space like a toddler as an aide tries to explain to him the Constitution.
That's not to say it's all fake news. Much of this recycles the stories of infighting and Trump's improvised, hair-trigger decision-making that have been leaking out of the White House since day one. Indeed, there's not really one big scoop in this. From the firing of Comey to Don Jr's meeting with the Russians to Anthony 'the Mooch' Scaramucci's expletive-filled, 11-day tenure as communications director, the most dodgy, explosive and hilarious moments of Trump's presidency are already matters of public record. What is new (and again, unverifiable) is just salacious gossip, stories of Trump eating cheeseburgers in bed, creating elaborate schemes to sleep with his friends' wives, or demonstrating his ignorance of basic political issues with comic aplomb.
Wolff paints a stark picture of an administration obsessed with the media and a media, in return, given to hysterical reaction and cheap shots. 'The New York Times, in its efforts to cover a presidency that it openly saw as aberrant', he writes, began highlighting, 'often in frontpage coverage, the sense of the absurd, the pitiable, and the all-too-human'. One story, involving Trump staggering around the West Wing in a bathrobe, obsessed Trump for days. 'Do I seem like a bathrobe kind of guy, really?', thunders the leader of the free world, who seems to expect the love and respect of a liberal media he wilfully riles. His obsession with the media is painted here as all-consuming. Though Trump claims to speak for the common man, his core audience, like so many politicians before him, is the media class.
But this is all hard to square with the fact that this entire book elevates the trivial over the political. The moment in which Trump, in a riff during a press conference about the opioid crisis, threatens North Korea with 'fire and fury', bringing the world 'to the precipice of an international crisis', is dealt with in a few paragraphs. Meanwhile, the battle for influence between Jarvanka (Bannon's nickname for Trump's daughter Ivanka and son-in-law Jared Kushner) and Bannon's nationalist-populist faction consumes most of the second half of the book. This may all preoccupy Trump's backstabbing courtiers, but a serious work would try to filter out their own preoccupations to look at the wider, more terrifying consequences of Trump's unhinged statecraft.
Like so much of the liberal press, Fire and Fury is also far too obsessed with Steve Bannon. Since day one, the idea that the gruff populist was 'Trump's brain' has been a convenient fiction for Bannon and the media alike: it allowed Bannon to project his downbeat, inward-looking brand of right-wing politics on to the Trump vote, and it allowed the media to project Bannon's flirtations with the alt-right on to the electorate. Fire and Fury takes this to the next level. His bitter voice permeates it, and the most memorable bits are his salty put-downs: Ivanka is 'dumb as a brick'; he saved Trump's 'broke-dick campaign'; Trump's attempts to woo Putin over the years were 'star-fucking' rather than collusion. He's the only one who's really quoted at length.
But Fire and Fury only shows up how exaggerated Bannon's influence, intellect and connection with the electorate really were. Trump goes from seeing him as a sycophant to a bit of a brain to an embarrassing slob. He resents any suggestion that Bannon is whispering in his ear, and his most explosive Breitbart-y moments – particularly his infamous 'on many sides' press conference after the white supremacist march in Charlottesville – seem to have had little to do with Bannon, the result of 'Trump being Trump'. As for Bannon's much pored over 'ideology', it goes from batshit crazy (he wants a trade war with China) to reactive trolling. At one point, he claims the botched travel ban was designed to cause chaos so 'the snowflakes would show up at the airports and riot', pushing liberals further to the left. This is not a serious man.
The book ends with Bannon, now sacked, back in the 'Breitbart Embassy' in DC, and assorting a motley crew of right-wingers for upcoming Senate races, chosen to bring out Trump voters and provoke righteous liberal indignation. Given the fact that just before Christmas Bannon's candidate in Alabama, the theocratic loon and alleged paedophile Roy Moore, handed the Democrats their first Senate seat in Alabama for decades, it seems this 'auteur of Trumpism' isn't as in touch with the American people as he thinks. Even Trump voters, apparently, care about more than competitive outrage, and don't think Trump (who also backed Moore) is the 'stable genius' he claims to be. Forget Fire and Fury: I want to hear more about them, about who they are, what they want, and why they were so frustrated that they voted for that clown in the first place.
Tom Slater is deputy editor at spiked. Follow him on Twitter: @Tom_Slater_
Picture by: Getty
To enquire about republishing spiked's content, a right to reply or to request a correction, please contact the managing editor, Viv Regan.