Making that existential leap
Dolan Cummings has written a crime novel for morally uncertain times.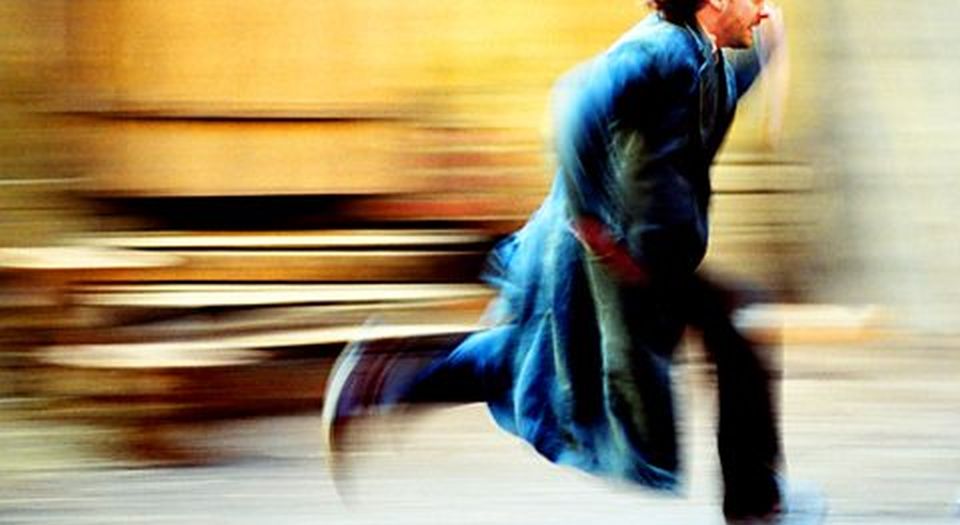 'How dreadful the knowledge of truth can be', says the unfortunate hero of Sophocles' Oedipus Rex, 'when there is no help in truth'. So concludes one of the Western canon's earliest extant detective stories – a cool rational attempt to uncover the source of a society's malaise, which, ultimately, leaves us wondering what the point of it all is.
Still, the genre of crime novels and detective stories has flourished in modern times. It seeks to reassure us of the fundamental soundness of society's laws and institutions, while creating attractively lone, determinedly individual heroes to do so. It recognises the persistence of evil, but provides us with the consolation that it can be temporarily halted.
But why, a reader might wonder, has author (and regular spiked contributor) Dolan Cummings dressed up his debut crime novel, That Existential Leap: A Crime Story, in the esoteric language of existential philosophy? Perhaps it is because almost all crime stories require us to take an existential leap at some point, in deciding, for instance, to side with the criminal or the law, the desire for justice or the appearance of it.
While the majority of That Existential Leap's action takes place in New York and Glasgow, it would be a foolish TV producer who pitched this novel as CSI meets Taggart. It centres on a detective and a criminal, and features a high enough body count in its 200 pages to keep crime-genre fans happy, but it is far from a straightforward take on the genre. It might just get by as True Detective meets Gregory's Girl, after a few drinks.
Structurally, the novel sets itself up as a classic struggle between a compelling criminal and a doubt-struck detective. Siegfried is an otherwise unremarkable but supremely resourceful young man who, in one daring act of fraud and another opportunistic act of selfless larceny, flees Glasgow for New York and becomes – in a possible nod to the contemporary TV Sherlock's Moriarty – a sort of consulting criminal.
Back in Scotland, DI Alexander (we never find out his first name) is stuck investigating a crime for which there is little social benefit in solving – the murder of a petty criminal and thug by a protective older sister – and a series of occult-related deaths for which there is a clear social benefit in solving, but little actual evidence. At work he is facing pressure from an NGO with a strong purpose and sinisterly ill-defined demands. And at home, his head is being turned from a loveless marriage towards an underage schoolgirl through some possibly psychotic visions of the devil.
Our criminal spends the novel not committing crimes but solving problems; our detective manages to solve most of his problems but hardly any of the crimes. Yet the novel neither damns the law nor advocates extra-judicial killing. As an orthodox crime story then, That Existential Leap is an unqualified disaster.
Fortunately, it is clearly not intended as such. Alexander and Siegfried are only tangentially connected; the novel is largely told from the perspective of Siegfried's girlfriend Claudette, a precocious Indian-American college student. It is predominantly through her conjecture, assumptions and fantasies about the interior worlds of others that the action of the novel unfolds. It is she who eventually develops as the most interesting character.
That Existential Leap gradually reveals itself to be not so much a battle between good and evil, or law versus natural right, as a portrait of the contemporary besieged individual trying to come of age in a world of few clear moral certainties.
Such an approach – evident in its Wagnerian leitmotif and its dark picaresque – may seem a curiously convoluted one. Then again, you only need to spend an afternoon trawling through the demi-worlds of online youth culture to remind yourself how thrillingly exhausting it is to develop an individual ethical framework where your only references are pop culture.
From the social-justice warfare of Tumblr to the bracing cruelties of alt-right trolls, we are never far from the spectacle of young people attempting to make some kind of moral and intellectual sense of the world with few traditional institutions to guide them. It is an often grisly sight, especially as the unresolved intra-generational culture wars move increasingly into the real world.
In many ways, That Existential Leap is a sincere attempt to grapple with and articulate that struggle between the individual and society, and perhaps find a way to transcend it. Siegfried initially appears as a kind of ultra-individualist Übermensch ripped straight from the pages of Ayn Rand: resourceful, pro-active and hyper-rationalist. Alexander is the self-reflective guardian of the social good, whose work has come at the cost of his own life and those closest to him.
Yet while Sartre's oft-misunderstood claim that 'hell is other people' may be every teenage existentialist's maxim, That Existential Leap gives other people a much better hearing. It is left to the most infuriating and well-rounded character to suggest there may be a third way between the rugged individual and society's sacrificial lamb:
'Somewhere between individual self-mastery and the slings and arrows of outrageous fortune is, or ought to be, real life. That is the human world of possibilities and constraints that make sense because even if we are not individually responsible for them, we are in some sense connected to them, complicit in them…Isn't the point of human society to diminish contingency, or at least to render it human? To make us all, collectively if not individually, the authors of our own destiny?'
This is the door that That Existential Leap prises open for the reader.
That is not to say there aren't problems with That Existential Leap. It can be overly episodic and suffers at points from being poorly structured. But it can also be very funny and, in showing how self-alienation suffocates attempts at human connection, it is beautifully observed. This is a debut of genuine promise.
Like all fiction, That Existential Leap is not much of a manual for living. Yet it does start to provide a glimpse of how you could start. Hopefully we'll get to see where Cummings leads us next.
David Bowden is a writer and reviewer based in London.
That Existential Leap: a crime story, by Dolan Cummings, is published by Zero Books. (Buy this book from Amazon(UK).)
To enquire about republishing spiked's content, a right to reply or to request a correction, please contact the managing editor, Viv Regan.